iPhone Screen Black But On? Find 6 Tips Here
Category: iPhone Issues
3 mins read
"My iPhone running iOS 14 stopped responding after updating a few apps. To get it to work again, I decided to factory reset the device. As a result, however, all my data on the device was gone! I'm so anxious now but I don't know what to do. Can anyone help me get my data back?"
Hey there! My iPhone screen went black but the phone still works, I can't figure out what exactly happened to my iPhone 12? I tried restarting it multiple times, but the problem still persists. Please help! I am wondering what would cause an iPhone screen to go black and how to get rid of this annoying problem?
We understand the dilemma you must be going through. But, don't worry. We have the answers for your problem. Try the below mentioned tips to work out the iPhone screen going black but still on problem, even when the device is not turned off.
1 click to exit 'support.apple.com/iphone/restore' screen for free.
6 Tips to Fix iPhone Screen Black But On Problem
1

Press iPhone Externally

When you iPhone screen turns black but still on, you can try connecting the display connector within the iPhone. You need to carefully press the iPhone body and screen across the top portion of the iPhone, specifically around the camera and display connector area. Sometimes accidental drops and bumps dislodge or weaken the connections with the display connector. Firmly press your iPhone for about 30 seconds at once to reconnect the connectors and resume your iPhone's normal activities.
2

Force Restart iPhone

Force restarting your iPhone would fix the problem of iPhone screen black but still works.

For iPhone 6S, SE or older version

Step 1. Hold down the 'Home' and 'Sleep/Wake' keys concurrently unless you see the Apple logo start appearing on screen.

Step 2. Un-hold the buttons and let your iPhone start.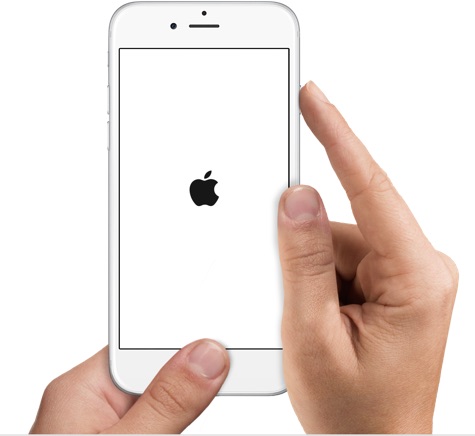 For iPhone 7/7 Plus:
Step 1. Hold down the 'Power/Lock' and the 'Volume Down' key till the Apple logo surfaces on screen.
Step 2. Let the iPhone restart.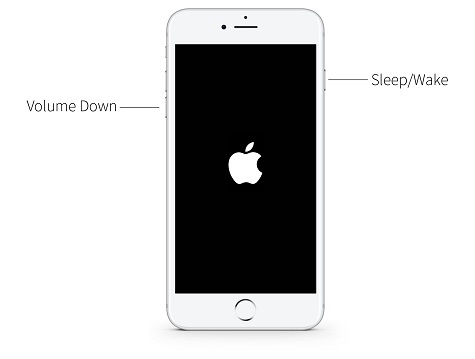 For iPhone 8/iPhone X/iPhone 11/iPhone 12:
Step 1. Tap and immediately release the 'Volume Up' key, and repeat the same for the 'Volume Down' key.
Step 2. Hold down the 'Power' key until the Apple logo shows up. Restart your iPhone.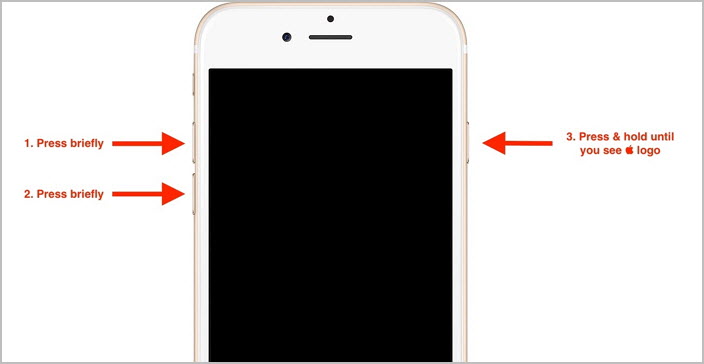 3

Charge Your iPhone

At times low battery can wreak havoc and force your device to behave abnormally. It might even force the iPhone screen go black but on. Ensure that your iPhone gets charged enough and then restart your device. The issue might get resolved once the iPhone is charged to the optimum.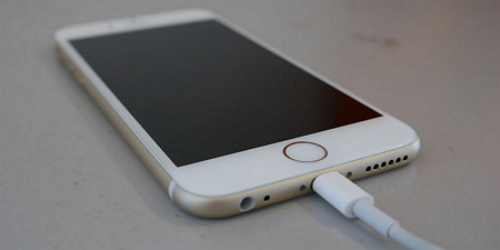 4

Fix iPhone Screen Black But On without Data Loss

When your iPhone screen is dark but it's working, there could be some problem with your iOS. You need to go for a trustworthy solution that would resolve the iOS issue but without ruining your device data. iMyFone iOS System Recovery is the ultimate answer. It is also a good solution for an iPhone/iPad/iPod that got stuck on recovery mode, Apple logo, black/white screen, apps crashing problem, or other problems, for example, iTunes cannot restore your iPhone and some errors occur. This tool can even unlock your iPhone and resolve crucial iOS issues by reinstalling the firmware after completely wiping it.

Here is the step-by-step guide for iMyFone Fixppo:

Step 1.  Install and Launch iMyFone Fixppo on your computer and then get your iPhone connected through an USB cable. Now, tap on the 'Standard Mode' from the iMyFone main screen.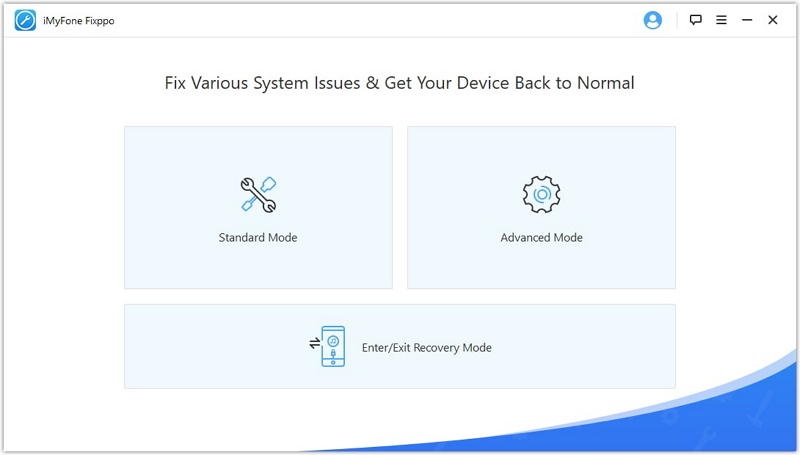 Step 2.    You will now be prompted to enter 'DFU Mode' or 'Recovery Mode' in order to start fixing your iPhone. You need to follow the onscreen procedure to put your iPhone into DFU mode or Recovery Mode.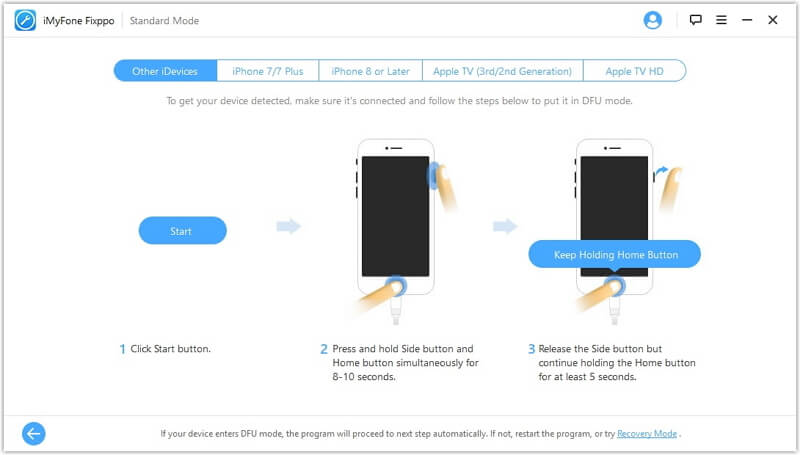 Step 3.  Once your iPhone enter DFU mode or Recovery Mode, it will detect suitable firmware for your iPhone. Click 'Download' to download and install the firmware.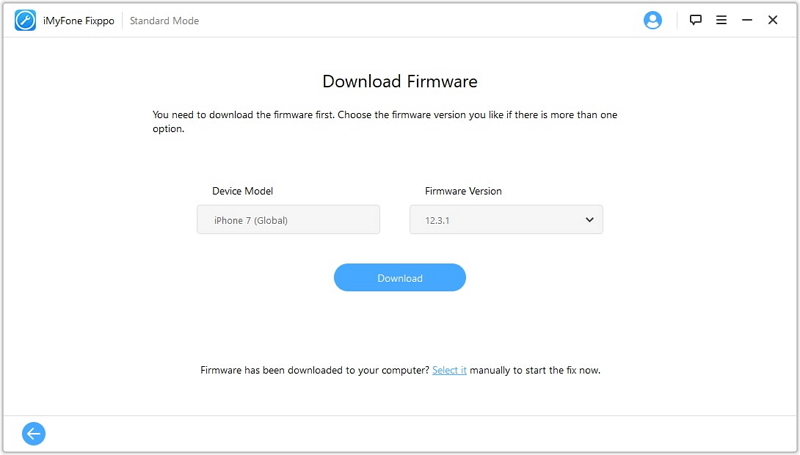 Step 4.    After installation of the firmware, you need to tap 'Start to Fix' button. It will automatically start fixing the device and brings it back to action.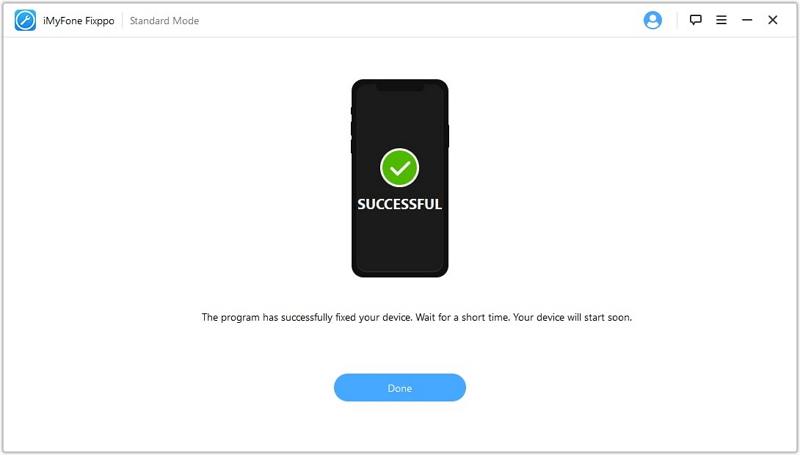 5

Try DFU Restore with iTunes

If the above solution doesn't work, you can even try to restore your iPhone with iTunes using the DFU mode. This will completely erase the data on your device.

The step-by-step guide to resolve this problem under DFU mode

Step 1.  Connect your iPhone and computer together and launch iTunes. Before you start restoring, ensure to take a backup of your device, as restoring with iTunes would erase everything.

Step 2.  Concurrently press and hold the 'Sleep/Wake' and 'Home' (iPhone 6S and older)/ 'Sleep/Wake' and 'Volume Down' (iPhone 7 to latest iPhone 14) keys for 8 to 10 seconds.

Step 3.  Release the 'Sleep/Wake' key and still hold the other button until you see the notification 'iTunes has detected an iPhone in recovery mode' on screen. Then un-hold the 'Home' (iPhone 6S and older)/'Volume Down' (iPhone 7 to latest iPhone 14) key soonafter. For iPhone 8, please check the instruction shown on the program iMyFone Fixppo.

Step 4.  Once you have entered DFU mode the iPhone screen turns black. Click on 'Restore iPhone' and then tap 'Restore'. Confirm your action and let your iPhone get restored back to normal smoothly.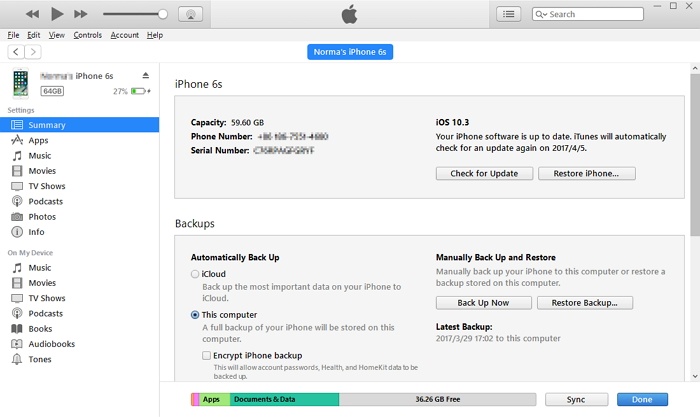 Once you restore your iPhone, the backup files you have made can be used to restore your iPhone backup.
6

Contact Apple Store

After trying all the above mentioned tips, if your iPhone screen still stay black but on, then it might be a hardware problem. The device's display connector or cable might have gone out of order or some other serious hardware issues are there. You need to rush to the nearest Apple Store and get it checked with certified Apple personnel to fix the issue.