After recent updates of Facebook, it has been reported by many users that they are facing issues while browsing Facebook. One of the most reported problems is a Facebook black screen. No doubt, this problem has been experienced by many users before but it has become common in recent times.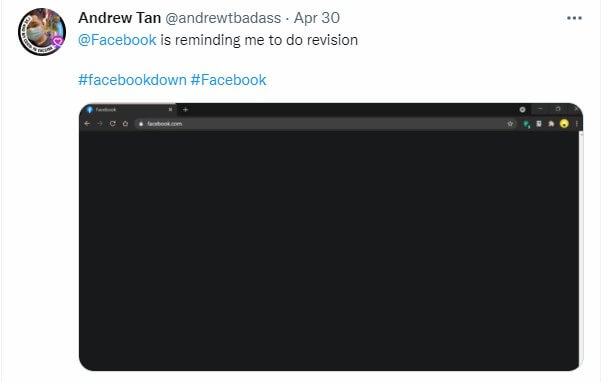 What Can Cause a Facebook Black Screen?
Multiple reasons will lead your device screen into full black or transparent screen while using Facebook. It is better to know about the exact culprit behind this issue to get to know about a reliable solution.
Before fixing the issue of the Facebook black screen you'd better check the following list of reasons that might cause Facebook black screen:
Cookies settings.
Unstable internet connection.
Installation of some inappropriate extension in Chrome.
Hardware incompatibility.
An old version of the browser.
Old dated Android/iOS version (For mobile app).
These are some reasons that may cause Facebook black screen issue. You must keep them in mind while looking to find the solution from the following list of methods, just keep reading for extracting the reliable methods that will work for you.
9 Solutions to Facebook Black Screen Issues on Chrome/Safari/Firefox
First of all, it is not a problem that can be solved within minutes but you have to be patient as you have to try several methods. We try our best to find a useful list of solutions to get rid of the Facebook black screen issue on Chrome/Safari/Firefox.
Here is a fine list of those methods with the complete process to implement.
1

Refresh the Website and Re-login Facebook
At the top of the list, we have a simple method to solve this problem. If you have been using Chrome or any other browser, you have tried this method with other websites. As you have an slow internet connection that takes time to show the complete interface of Facebook within a short time.
In such a case, the screen will get black from top to bottom or left to right. Hence, you must try refreshing your browser or window. Whenever your internet connection will become smooth, the interface of your account will be shown.
In addition to this, you can try logging in to your account again after getting out. Here are some steps that you can follow to log out from your account even if you have saved the password.
Go to Chrome or your browser's settings.
Check for saved passwords or search in the given bar.
Tap on the accounts list.
Go to Facebook and refresh the browser.
Re-log into your account again using specific credentials.
2

Use Incognito Mode in a New Window
Sometimes, you are unable to remove the Facebook black screen. In such a case, there might be some issues at the backend of your browser or Google account.
Most of us know that there is a specific browser mode we call incognito mode that is considered the secured browser. It is a specific window in which your activity is kept private and not saved in your account's history. You could switch to this mode and try logging into your account using it:
Tap on the three dots available in the upper right corner (position varies with browsers).
Look for New Incognito window.
Open Facebook and add your accounts credentials.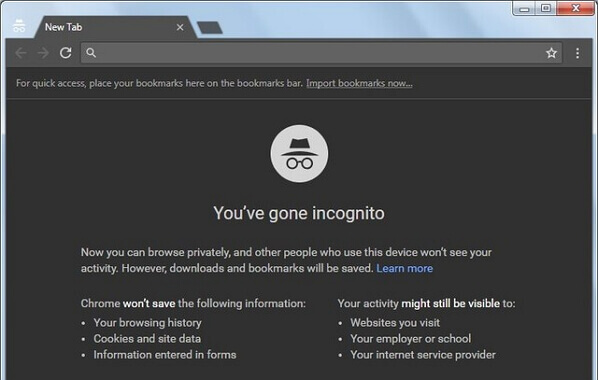 Tips
Use keyboard shortcut combination on Chrome/Safari/Firefox to open an incognito window:
On Chrome: Ctrl + Shift + N (Windows) or Command + Shift + N (macOS).
On Firefox: Ctrl + Shift + P (Windows) or Command + Shift + P (macOS).
On Safari: Command + Shift + N.
If your Facebook screen is not black now, it is a hint that your original and simple mode of browser has some issues.
3

Check Extension Conflicts
If we have downloaded some extensions having almost the same working, these will conflict with each other. It can also happen even if you have no extensions for the same purpose. In such a case, you need to find those extensions and get rid of them.
No doubt, it is not possible to delete all extensions and download them again to find such culprits from the all. But we will show you a way in which you won't have to delete extensions but disable them.
Go to your browser and check for "Manage Extensions" upon the right top of the screen.

Toggle off button available under the name of all installed extensions.
Refresh the browser and go to the Facebook accounts page.
Reload that page too and check if the issue has been resolved.
If yes, it means that there are some extensions conflict due to which you are getting a Facebook black screen. Now, you have to enable extensions one by one after a short time interval to find the exact extension. When you have found extension(s), you should remove it on a priority basis.
4

Clear Facebook Cookies from the Browser
We all know that Facebook or any other website uses cookies to save our activity or some basic data. Sometimes, we allow all cookies without getting a look at them. When your browser has some cookies of other websites, that set of cookies might interrupt the working of Facebook.
You may accumulate a lot of cookies and this will, in turn, slow your system down. It is common to get the Facebook black screen when your device does not have sufficient storage to save cookies. In such a case, you need to remove those cookies using the following simple steps. Take Chrome as an example:
At the top-right menu, click the three dots.
Click More tools and then Clear browsing data.
At the top, choose a time range. To delete everything, select All time.
Next to "Cookies and other site data" and "Cached images and files," check the boxes.
Click Clear data.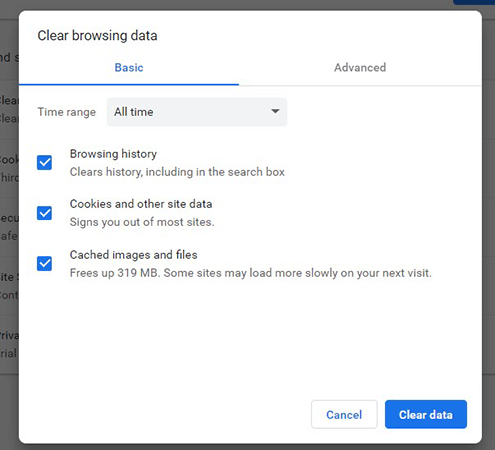 5

Disable Hardware Acceleration
By default, Chrome will use hardware acceleration to extract better performance while using it. You must need to disable hardware acceleration when you are facing the problem of Facebook's black screen. You should customize the settings of the browser to solve this issue. Read here what you have to do and how to do it on Chrome.
Open Settings on Chrome.
Scroll down and open the "Advanced" settings, tap on System.
Toggle off the button on Use hardware acceleration when available.
Relaunch the browser to apply changes.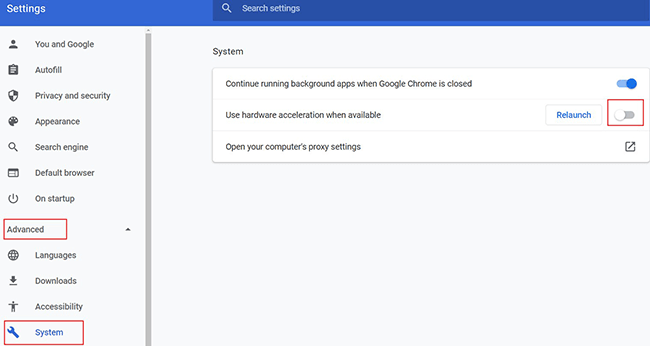 6

Try Using a Different Web Browser
If you have used all the above methods on your desired browser, let say Chrome, you should now move towards the other one. There are many browsers like Opera, Firefox, Microsoft Edge, and many others. You only have to download a browser that is compatible with your system properties and then, you can log into your Facebook account and use it freely without any problem. Check if it solve the Facebook black screen issue.

7

Reset Browser Settings
Some people do not want to use any other browser as they find it hard. If you are one of those users, you should try to reset your browser's settings to get rid of Facebook black screen. Here are the steps that you can follow for this simple task.
Open your browser and tap on the three dots.
Hover your mouse to Settings.
Click on it and scroll down the page to check for the Advanced option.
Look for the Reset and clean up settings.
Click on "Reset settings to their original defaults", then tap on the "Reset Settings" button.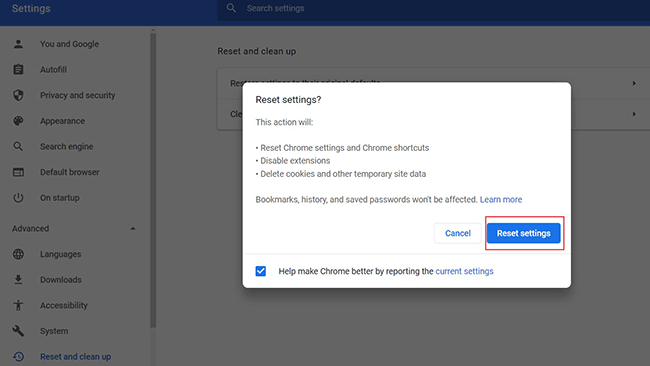 8

Restart Your Computer
If any of the above solutions is not working to solve the problem of the Facebook black screen, you should try restarting your computer. It might be possible that there is some problem in the hardware of the device that might be causing inappropriate display.
In such a case, it might be possible that the computer finds a way to troubleshoot the problem and get your device back in smooth performance.
9

Report to Facebook Support Team
Sometimes, the issue might be at the backend of Facebook. You can check for possible Facebook failures on sites like DownDetector.
Therefore, if nothing is working for you from the above list of solutions, you should try to report to the Facebook Support or visit Fackbook Help Center. Another way is to send a direct message to @Facebook via Twitter. It will enable you to get an idea of where the problem is and how you have to solve it with proper steps.
6 Tips to Troubleshoot Facebook is Black Screen on iPhone/Android
When you are using a Facebook application on your Android or iPhone, you might have to adopt different steps to solve the black screen Facebook issue. It is not the same as we have discussed above in step by step manner. You have to read the following sections and implement these processes to find the right one for you.
1

Force Stop and Reboot Facebook
First of all, you could try to force stop the application and reboot it to check if the problem has been solved or not. It is pretty simple if you are aware of the settings of your mobile phone and know where are specific sections.
For iPhone users:
Swipe up from the bottom (the Home bar) of the iPhone screen, and you will see the App Switcher.(If your iPhone has a physical Home button, just double-press it to open the App Switcher.)
Find the Facebook app, swipe up on its preview.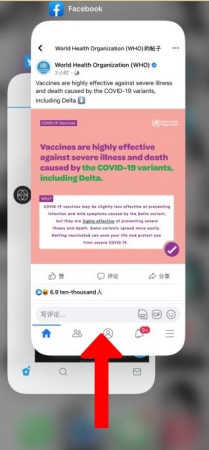 For Android users:
Go to settings of your phone and search for app manager.
Open that section and scroll down to look for the Facebook application.
Tap on the name and check for the FORCE STOP button.
Click on that button and confirm it by clicking on the box that might be shown on the screen.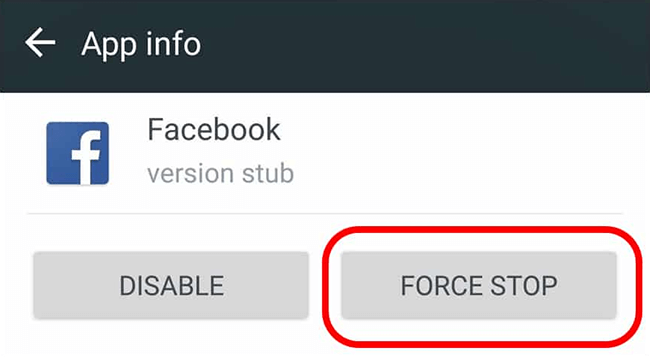 Note: Keep in mind that this method might delete the password of your account from the application. Therefore, you should make your password secure before you force to stop this application.
2

Use the Latest Version of the Facebook App
Sometimes, you might not know that there is the latest version of Facebook available. Normally, the applications get updated while there is some Wi-Fi connection. But if you have disabled this option, your device will not update the application. In such a case, you might get Facebook black screen android application. Please always keep in mind that use the latest version of Facebook.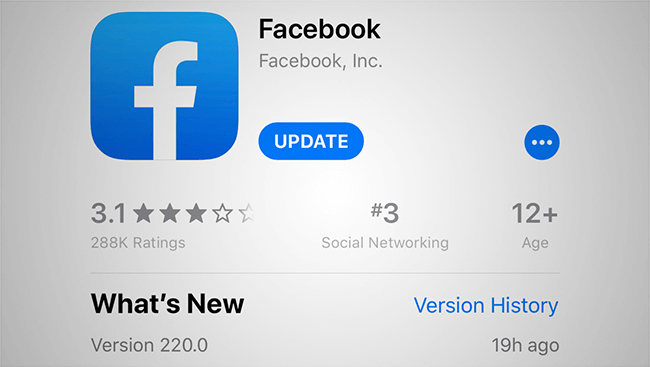 3

Clear Cache and Cookies
Sometimes, Facebook has black screen on iPhone/Android because it includes a lot of junk files and inappropriate data. It happens when you do not clear junk data that might be collected by your phone whenever you open the application. So, you should clear junk and cache from your phone.
4

Free Up Phone Storage Space
Only a few mobile users know that every application covers some space whenever we use it. When we are using an application for a long period, it will cover a lot of space on your mobile. In such conditions, the application can't be used properly with a smooth display of the content.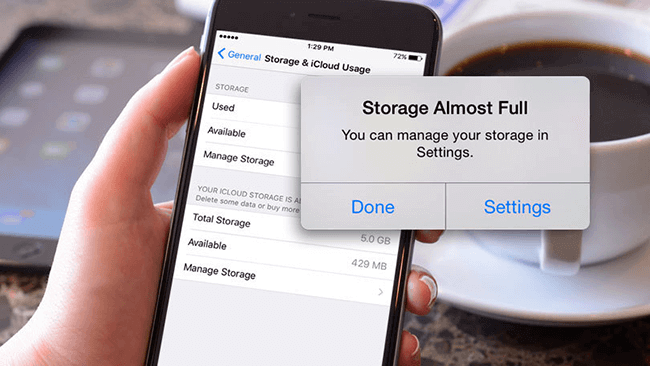 It might also cause Facebook black screen and you have to free up the storage of your phone. You can easily do this task by checking the storage settings of your phone.
5

Update Your Operating System
If you are getting black screen issues in using Facebook or any other application, you might need to check for system updates. Sometimes, your phone's performance will be affected badly if you have not installed updates in the operating system. It is pretty simple to go to settings and look for updates to install them on your phone.
6

Factory Reset Your Phone
The last solution to solve the black screen glitch in Facebook or any other application is a factory reset of your mobile phone. It will take a few minutes to complete this process but there is a huge chance that you will get your account back in normal condition.
For iPhone users: Go to Settings > General > Reset.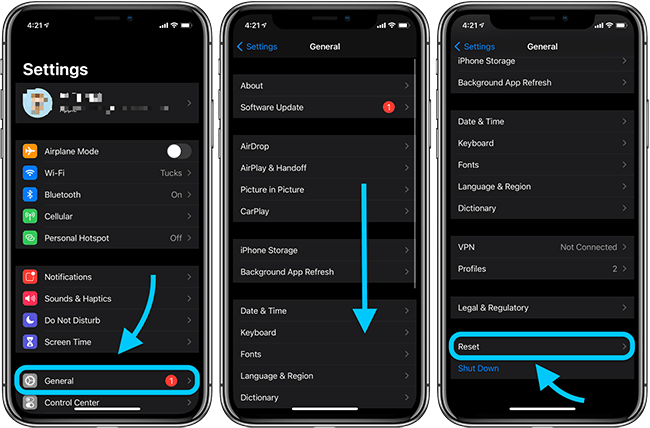 For Android users: Go to Settings > Backup & reset > Factory data reset & Reset phone.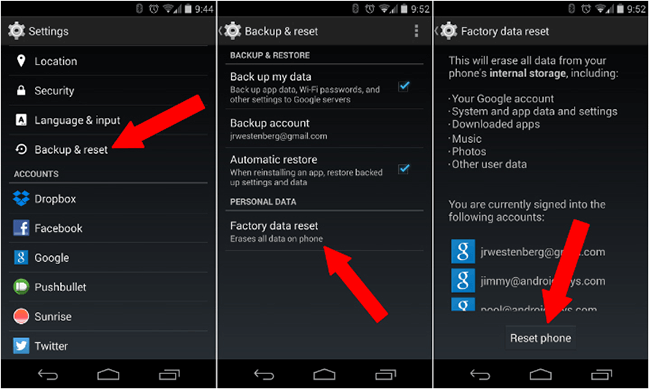 Note
Before you reset your phone, you should make sure that you have
backed up
the essential data. Some of your data may be deleted during the restoration process of your mobile's settings.
Fix Facebook Black Screen on iPhone/iPad via Professional System Repair Tool
iMyFone Fixppo is an iOS system repair tool which can help you solve such kinds of black/white screen problems. You must give a try to this repairing tool and get your device back in smooth performance to fix Facebook black screen issues.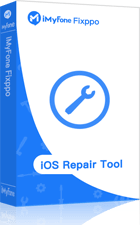 iMyFone Fixppo
Fix your iPhone/iPad without losing data.
One click to reset iPhone/iPad.
Support the newest iOS 16/15 and iPhone 14/13 models.
Here is how you can use Fixppo if Facebook is in a black screen:
Step 1: Download and initiate Fixppo on the computer.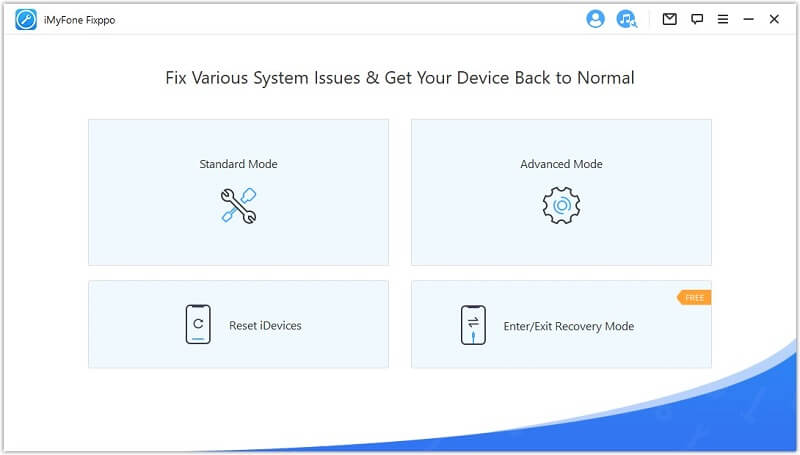 Step 2: Pick the standard mode to save application-related data.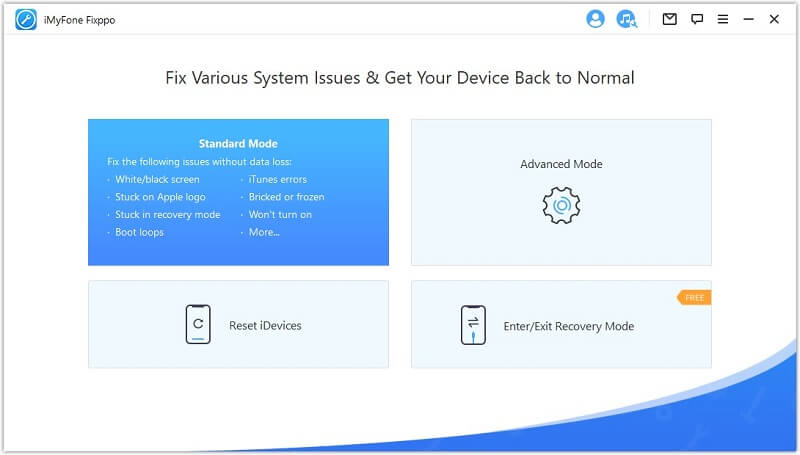 Step 3: Now connect your device to the computer and click next. You may need to unlock the phone before clicking next if running an iOS version 12 or higher.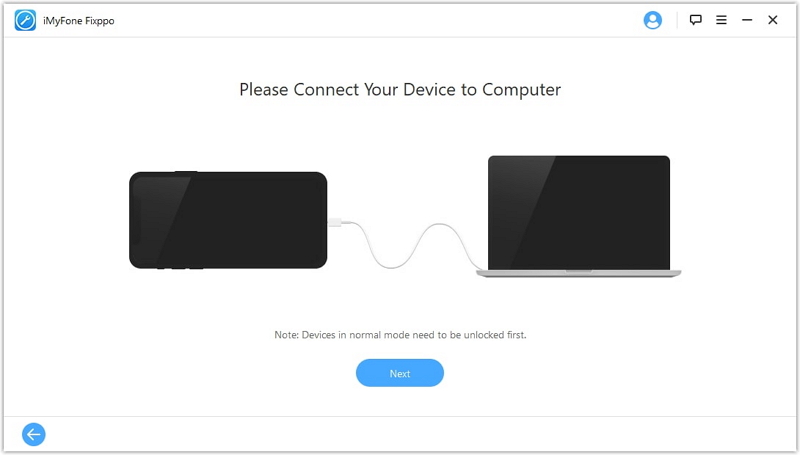 Step 4: Let the software recognize your phone. It will automatically move forward to the next step once your phone is detected by the software.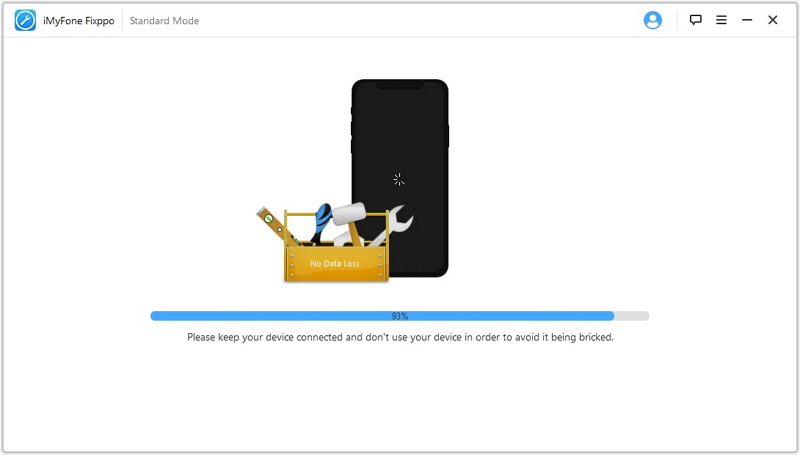 Step 5: You can check whether your device can restart normally after the fix.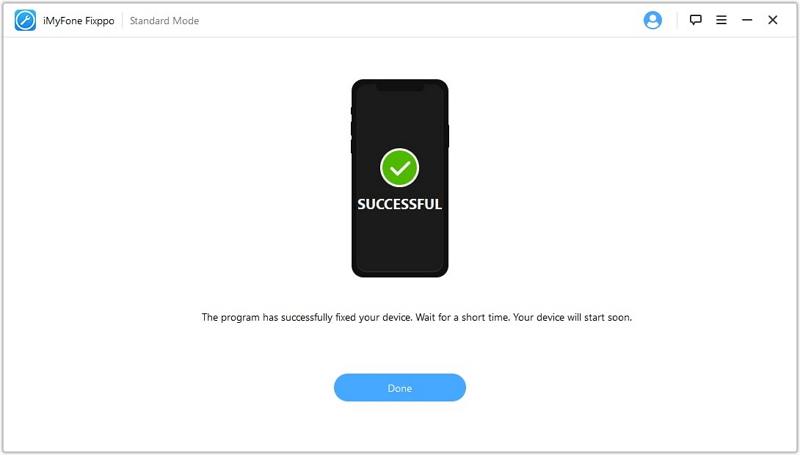 FAQs about Facebook Black Screen Issues
1

Why is my Facebook video ad displaying my videos as a black screen, but playing the audio?
There are multiple reasons like unstable internet or hardware acceleration but the most common is an incompatible video player. Most of the Facebook videos use a codec to play videos that might not be compatible with your Android. That is why you might be able to only hear the sound instead of the video display.
2

How to fix black screen error when live streaming on Facebook?
Facebook Live is a free service for users, like YouTube Live. But from time to time there may be outages. The API might throw an unsteady and cause glitches. Please always check for software or firmware updates that may be required to restore connectivity to Facebook Live. Besides, you can follow a complete process as above.
3

Any suggestions to fix the black screen issue when trying to log in to the game on the Facebook Gameroom?
It is common to get the Facebook black screen when we are trying to log into Facebook Gameroom. You must adopt some steps while looking to solve this problem. The most useful method is to reboot the application and clear caches to generate space to let the games settle down.
Bottom Line
By the foregoing methods, I believe your Facebook black screen problem can be solved confidently. You should try to explore all the available methods one by one to find the exact one that will work for you.
We here recommend iMyFone Fixppo to be the first choice if you find there is something wrong with your iOS system that can cause software app issues. What's your opinion? Don't forget to leave a comment below if you know any other useful methods to share them!