Are you having problems with Gmail not loading on your iPhone? Read on to find some handy tips to solve this issue and let your emails load again!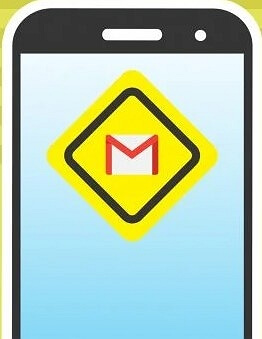 Why Is Gmail Not Loading on iPhone?
So, firstly, why does this issue happen? Gmail is a free email service provided by Google, which is very strict about its security. Both companies and users want the highest security available, to protect data from being stolen by third parties.
However, sometimes these security measures can work a little too well, which can lead to problems such as Gmail not loading on iPhones. An example of this is when you try to log in to Gmail from a new location that you haven't used before. Google notices this and sometimes assumes someone else is trying to get into your account and therefore blocks the login attempt.
A similar situation can also occur if you attempt to sign in to your Gmail account on another device that you haven't previously used for Gmail. Hopefully, everything works normally again once you get back.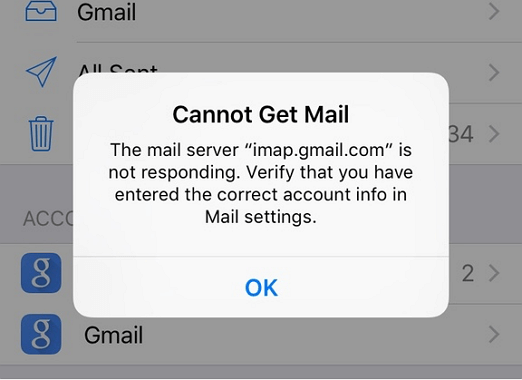 However, if Gmail won't load at all, it will be different. Many other issues that can cause Gmail to not load on iPhone, such as the Gmail applicatio on your iPhone being out of date or becoming corrupt, your Gmail account settings not being optimized to allow your Gmail application to download emails, or the presence of problematic cache on your iPhone is preventing the Gmail application from loading.
Alternatively, it may be a problem with your browser that is preventing Gmail from being able to load on your iPhone. These can be issues such as your browser is incompatible with Gmail, a conflicting browser extension preventing Gmail from loading on your iPhone, browser cache and cookies causing a problem with Gmail, or your browser privacy settings getting in the way of Gmail being able to function correctly.
How to Fix Gmail Will Not Load on iPhone (Application)
Before trying out these tips, make sure that your internet connection is stable and is working properly. A good internet connection is essential for Gmail to load emails properly. Move on to the following tips if Gmail is still loading on your iPhone.
1. Restart Gmail App
The first thing you can try is restarting the entire Gmail application on your iPhone. It may be the case that you launched Gmail previously without closing it, so the app became corrupted or crashed while running in the background. To restart the Gmail app, you can follow these steps:
Go to the Home screen.
Swipe your finger up and then pause.
Swipe right or left to find the Gmail app card or preview.
Then, swipe up on the app's preview to close it.
If there are multiple applications open in the background, try closing them all to prevent one of them from interfering with the Gmail app when you open it.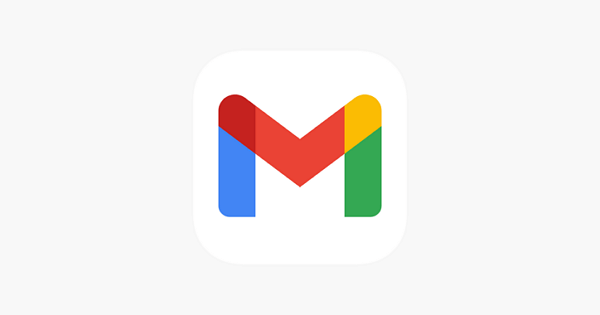 2. Use IMAP and Ensure It Is Enabled
IMAP (Internet Message Access Protocol) is a standard protocol used by Gmail to retrieve email messages from the Google servers and deliver the mail to your iPhone or other devices. If you are using an older  type of mail delivery system POP and Gmail is not loading on your iPhone, go through the following steps to use IMAP:
Log into your Gmail account using your email address and password. You can do this step either on your iPhone or using another device. If you log in on your iPhone, you may see a prompt appear asking you to download an app. If you see this popup, select the option to Go to the mobile Gmail site instead.
Once Gmail has fully loaded, click on Settings and then Forwarding and Popping IMAP.
Make sure that the IMAP access status is set to Enabled. If not, tap to enable it.
Restart your iPhone and open the Gmail application to see if Gmail is now loading on your iPhone.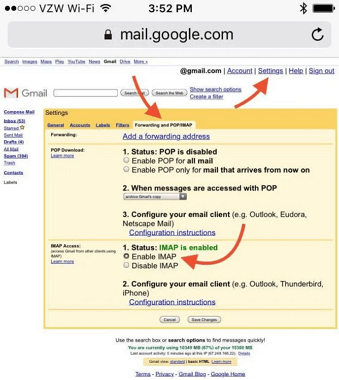 3. Delete Your Email Account and Reset It up
If none of the above steps have worked for you, the next tip to try is to delete your Gmail account from your iPhone and set it up again, because incorrect Gmail account information may be causing Gmail to not load on your iPhone. Here's how to remove your Gmail account from your iPhone:
Open Settings.
Tap Accounts & Passwords.
Tap Accounts.
Select the email account that is causing issues, then tap Delete Account.
Depending on the prompt that comes up, tap Delete Account or Delete from My iPhone to confirm.
After you've completed these steps, restart your iPhone and set up your Gmail account on your iPhone again.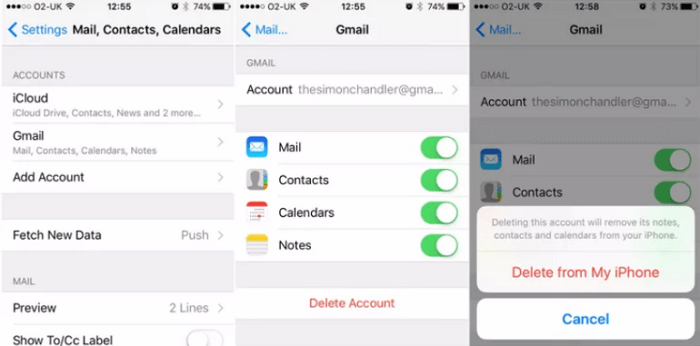 4. Force Restart Your iPhone
If the above tips haven't worked for you, the next thing you can try is performing a force restart on your phone. In addition, force restart the iPhone requires differentiation of phone models.
For iPhone 13/12/11/X/8, here's how to perform the force restart:
Press and quickly release the Volume Up button.
Press and quickly release the Volume Down button.
Finally, press and hold the Side button until the Apple logo appears.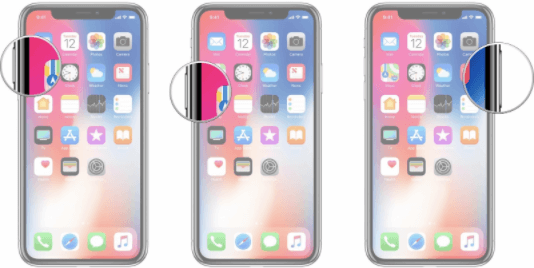 For other iPhone models, please follow the steps to force restart your iPhone.
5. Uninstall and Reinstall the Gmail Application
If the above steps have not solved the issue of Gmail not loading on your iPhone, the next thing you can try is uninstalling and reinstalling the Gmail application on your iPhone to ensure that you have a clean version of the latest Gmail application. You can do this by following these steps:
Tap and hold down the Gmail app until the icons start jiggling.
Tap the on the Gmail app icon.
Tap Delete when asked to confirm app deletion.
Once the Gmail app is uninstalled, navigate to the App Store and search for and download the latest version of the Gmail application for your iPhone.
6. Fix Gmail App Not Loading on iPhone in One Click
Another method you can try is using a reliable tool that you can use yourself, such as the iMyFone Fixppo iOS system recovery. This allows you to repair your Apple devices by yourself.
It is simple to use, and you do not need to be tech-savvy.
You can fix your iPhone/iPad/iPod touch without any data loss with a 100% success rate for repairing. Even iOS 15/14 and iPhone 13/12/11 are supported.
It is developed using the latest technology and can easily fix the software-related errors in iPhone, such as iPhone stuck on charging screen, iMessage stuck sending.

Other Tips to Fix Gmail Not Loading (Web)
If you are using Gmail from the website and met the issue of Gmail not loading on your iPhone, you can try these general tips.
Clean the browser cache and cookies.

Open Settings > tap Safari > Tap Clear History and Website Data.

Disable crowser extensions.

Open Settings and tap Safari > Tap Preferences > tap Extensions > Deselect the checkboxes next to all extensions to disable them.

Adjust the browser Privacy Settings.

Open Settings and tap Safari > Tap Privacy & Security > Disable all options.

Reinstall or switch the browser.
Conclusion
Hopefully, one of the above tips has helped you to fix your issue of Gmail not loading on your iPhone.
If nothing has worked for you, then you may have to try contacting Google and Apple support for help, loading Gmail on another device, or making a brand-new Gmail account for your mail.