Question
My iPhone has been behaving abnormally for quite a while now. I think this might be as a result of an iOS bug. I would like to go back to the iPhone setup screen and set up the device afresh but I don't know how to start. Does anyone know how to get back to iPhone 7 setup screen?
– Elias
iPhone having bugs is a normal thing that happens to numerous iPhone owners. However, the good thing about iPhone is that a bug can be eliminated by simply resetting the device and getting back to iPhone setup screen to start over. In this article, we will focus on showing you how to get back to iPhone setup screen and reset your iOS device.
1. Preparation before Getting Back to iPhone Setup Screen
When resetting your iPhone, the likelihood of you losing all your data is very high. For this reason, you will need to back up your data first. In case you lose your data, you will only need to restore your backup to get them back. Backing up an iPhone is not complicated. In fact, we have already written an article that can help you learn how to back up your iPhone.

2. How to Get Back to iPhone Setup Screen?
To get back to your iPhone setup screen, you will need to erase your iPhone. This is easy to do. Follow the steps we have outlined below:
Step 1: Open Settings, tap General and then click Reset.
Step 2: Click Erase All Content and Settings.
Step 3: Enter your Apple ID password or passcode when asked. Confirm you need to erase the device.
Step 4: Wait for the device to finish the erase process. Depending on your iPhone, the erase process may take a few minutes. After the device is erased, you should see the iPhone setup screen.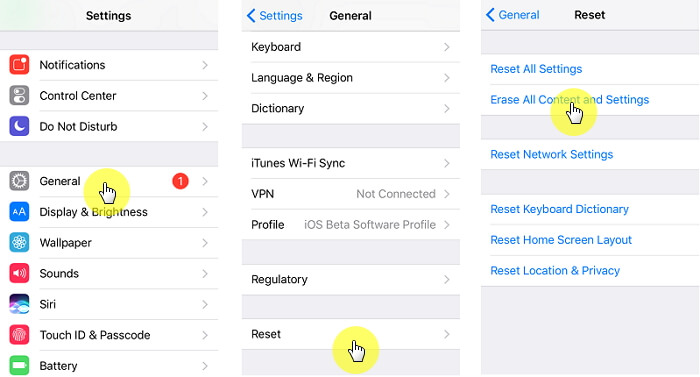 3. What's Next after Getting Back to iPhone Setup Screen?
After erasing your device and going back to the setup screen, you have two options. You can either set up your device as new or you can restore your iPhone from a backup you had created and Apple has offered detailed instructions to users. When restoring your iPhone, you may want to restore only certain data types, which is impossible when using either iCloud or iTunes to restore the data. Both iTunes and iCloud do not support selective iPhone data restoration and you will have to restore the whole backup, or get nothing from the backup.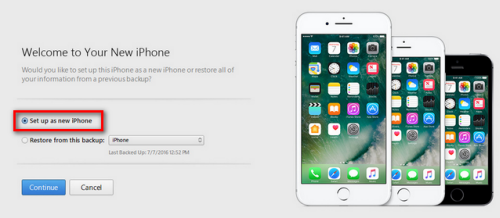 However, you can restore your data selectively using a third-party tool known as iMyFone iTransor.
What Is iMyFone iTransor and What Can It Do?
iMyFone iTransor works on all iOS devices. It will help you back up and also restore your backup on iPhone 8/8 plus, iPhone X, and other iOS devices running iOS 11.3. The features you get in iMyFone iTransor include:
You can back up your WhatsApp, WeChat, contacts and messages separately.
The tool will help you back up your device without damaging or overwriting the previous backups.
You can easily restore iTunes, iMyFone, and iCloud backups selectively. You get to preview the backup data before restoring it to confirm what you wish to restore.
You can extract more than 20 data types from both your iOS device and backup files.
4. How to Selectively Restore iPhone from Backup?
Before you begin following the steps outlined below, you will need to install iMyFone iTransor on either your Windows PC or Mac, launch the tool, and connect your iPhone to the computer.
Step 1: On the left panel choose Restore Backup to Device and select one backup you need to restore to the iPhone which has gotten back to setup screen.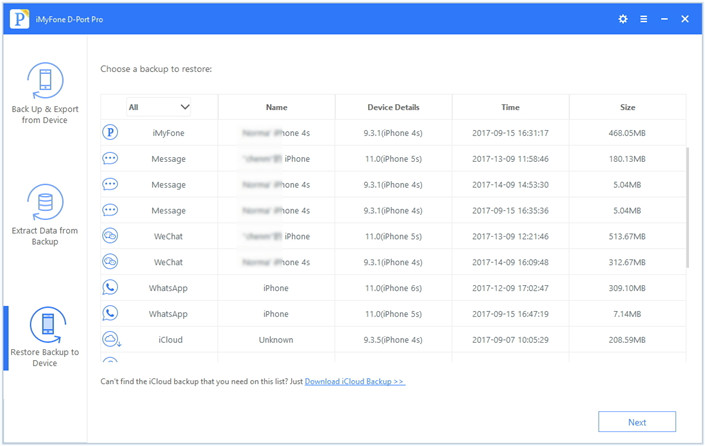 Step 2: Tap Restore Partial Backup after choosing a single backup. Tap Next. You will be prompted to select the data types you would like to restore. If you prefer, you can choose them all.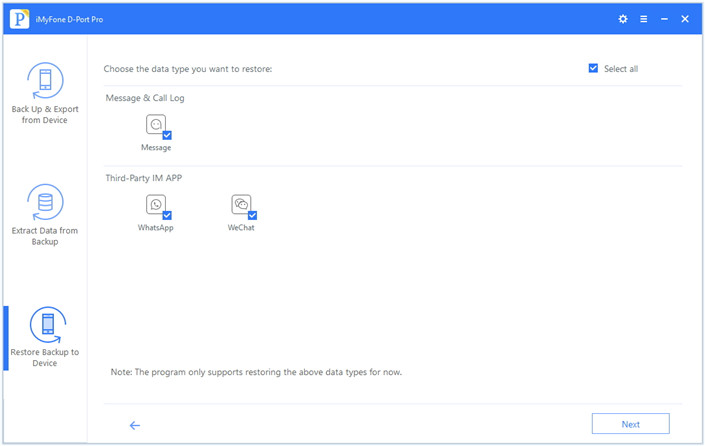 Step 3: After choosing the data type you would like to restore, click Next and wait as iMyFone iTransor scans the backup.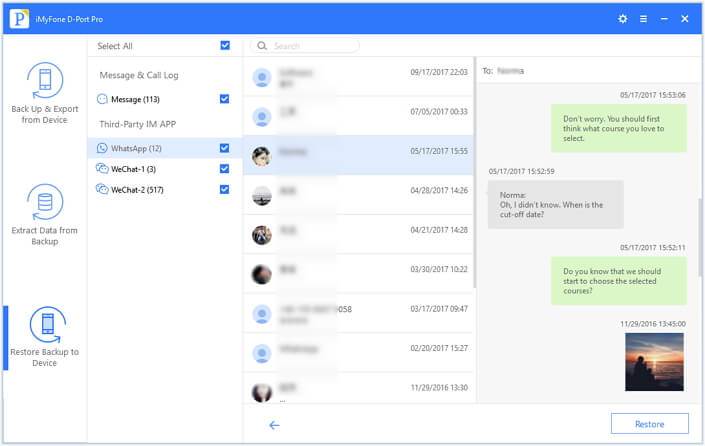 Step 4: After the scanning, you can preview the data you had chosen in step 2. Select the data to restore and then tap Restore.
iMyFone iTransor will start the restoration process immediately. If you had any other data on your iPhone, iMyFone iTransor will not affect this data. Keep your device connected to the PC or Mac until the process is finished.
If your iPhone is behaving abnormally, you can fix this by going back to the setup screen and setting up the device afresh. To avoid losing your data, it is important you back up the iPhone first. When restoring your backup, iTunes and iCloud don't allow selective backup restoration. However, selective backup restoration can be achieved using iMyFone iTransor. You can download the free trial version of the program to check what it can do for you.