Question
"I've been concerned with what my daughter has been doing on her phone recently. She has become too secretive and I'm worried plus she is always texting. How do I monitor what she is doing and read her messages?"
It is not advisable to spy on other people but if you have real concerns about what someone is doing on their phones, the information they are sending and receiving, then there are a few ways you can see someone else's text messages. In addition to parental monitoring purpose mentioned in the above question, there are many other situations where you need to read other's phone text messages, like monitoring employee's activities, catching a cheating spouse, etc. There are ways to get the job easily done even without having their phone, and the steps are discussed below.
iMyFone Fixppo - System Repair
One-stop iPhone Troubleshooter:
Repair 150+ iOS/iPadOS/tvOS system problems like stuck on Apple logo, screen won't turn on, recovery mode loop, reboot loop, and black screen, etc.
Instantly enter/exit Recovery Mode on iOS devices for Free.
One click to reset iPhone/iPad/iPod touch without passwords.
It's 100% secure to use without losing data.
Limited Time 10% OFF Coupon Code for iMyFone Fixppo: YTR5E7
Option 1. Read Someone Else's Text Messages Through iTunes Backup
Is it possible to view text messages on someone's iPhone without accessing it? The answer is a big Yes! This is done using an efficient and secure iTunes and iCloud backup extractor called iMyFone D-Back . It can be used to read iPhone data that is stored on backup files. Due to the fact that Apple recommends making a regular backup a of iOS devices, you will be able to check most of text messages using D-Back. Below is a step a step guide.
Step 1.First, download and install the iMyFone D-Back on your PC/Mac. After that, launch the software, click on 'Recover from iTunes' and select 'Start'.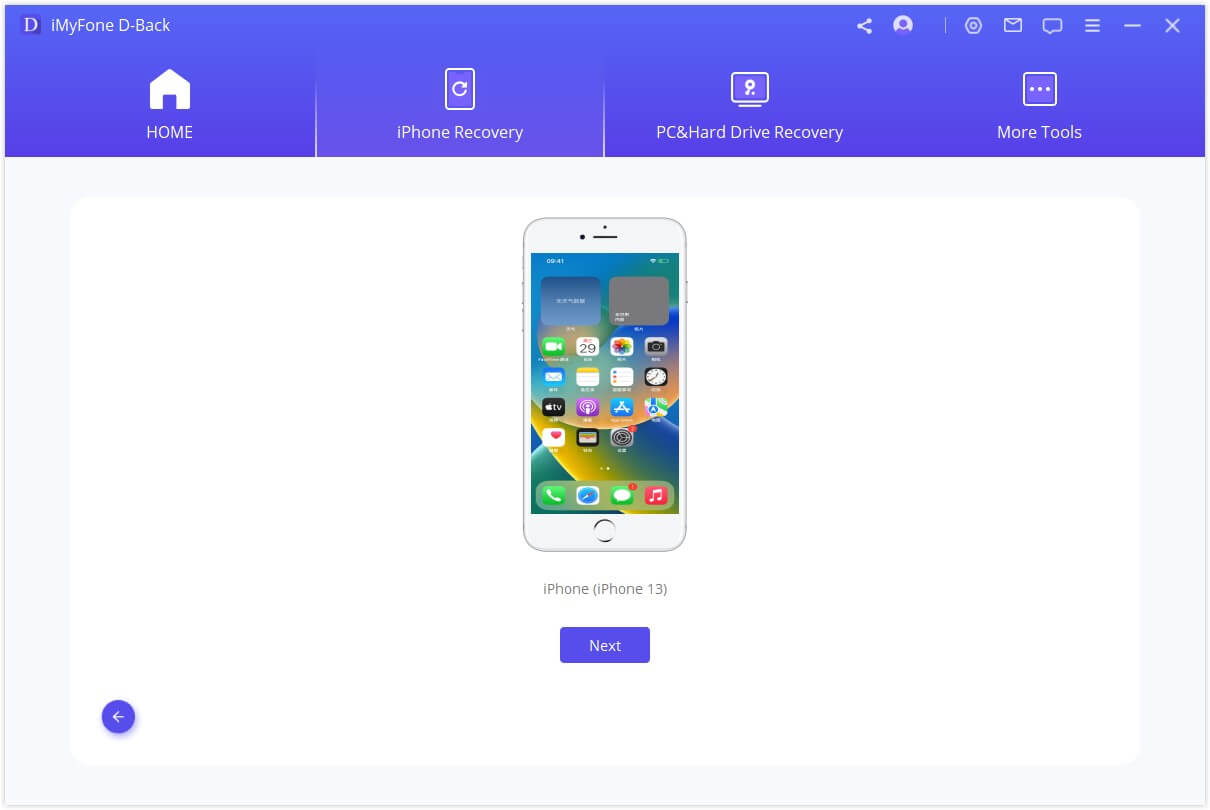 Step 2.Select 'Messages' as the type of data you want to read.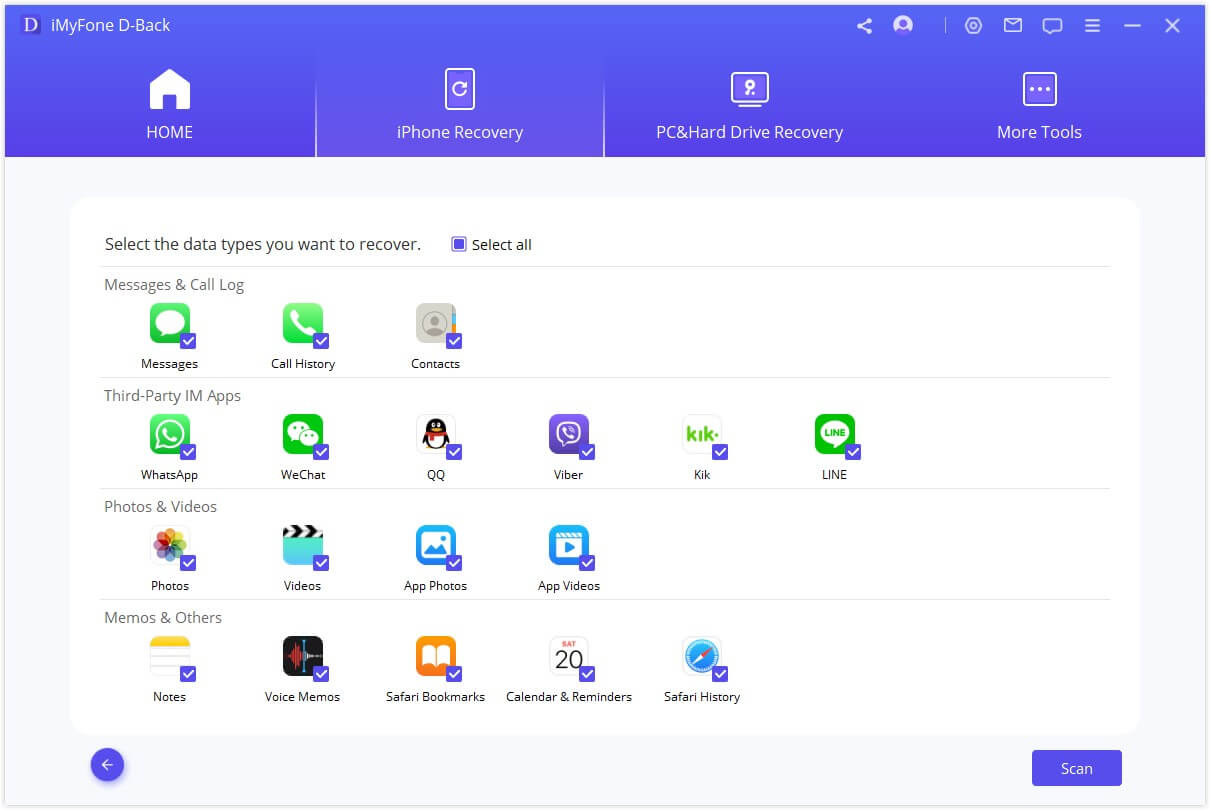 Step 3.Choose the iTunes backup you want to access and click 'Scan'. Wait for the process completes, and you will be shown the available text messages from your iTunes backup.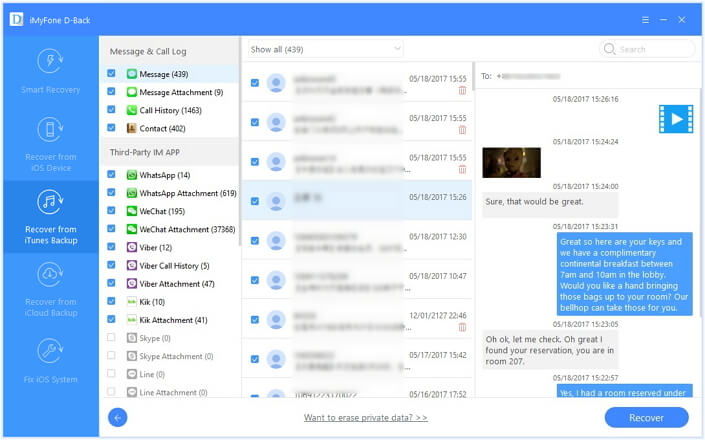 If you want to, you can also export the scanned text messages to computer for later review. This is how iMyFone-Back works to see someone's text messages. More than that, this app also allows you to check instant messages from WhatsApp, Line, Viber, Skype and more. As you can see from the steps, the whole process doesn't require the use of the target iPhone.
Option 2. See Someone Else's Text Messages Through iCloud Backup
If the text messages you want to track is stored in iCloud backup, don't worry, as iMyFone D-Back also supports extract data from iCloud. For this feature to efficiently work, you will need to have the same Apple ID and password, then follow the steps below.
Step 1.Launch iMyFone D-Back, select 'Recover from iCloud Backup' this time and click 'Start'.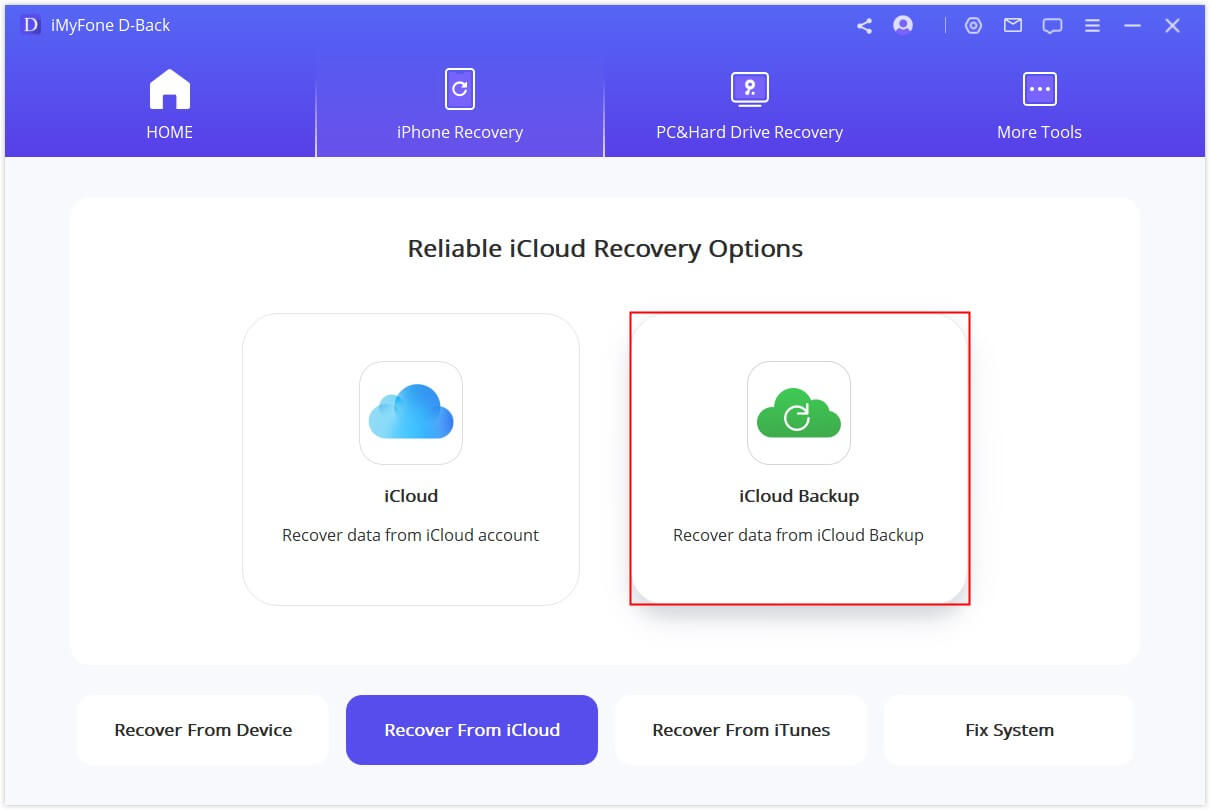 Step 2.Select the files you wish to read - 'Messages' and then sign in your iCloud account (iMyFone does not retail personal details such as this). The iCloud backup made for iOS 15 beta 4/3/2/1 is also supported.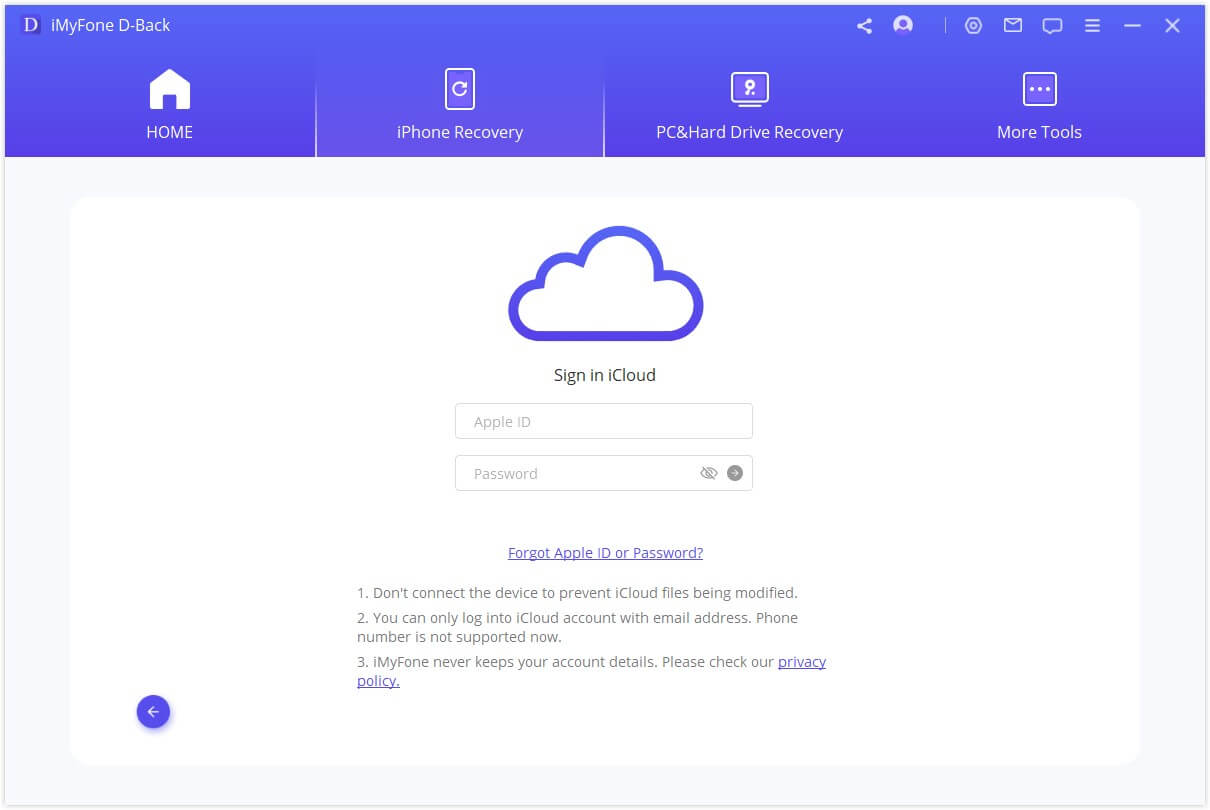 Step 3.You will be shown all your backup files and then, you can select which you will like to scan.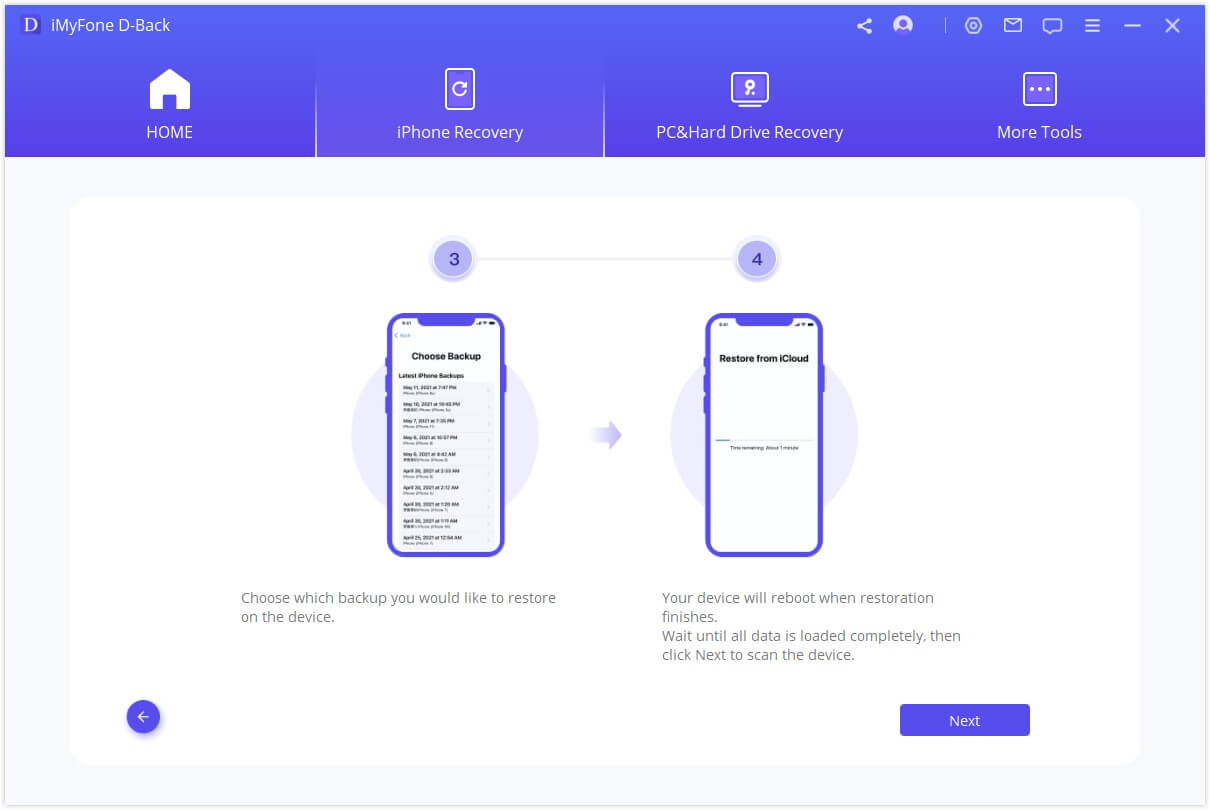 Step 4.Once the scanning is done, you can read all the messages from iCloud. If you want to save some of them, just select the files and click 'Recover'. Your files will be downloaded in a few minutes.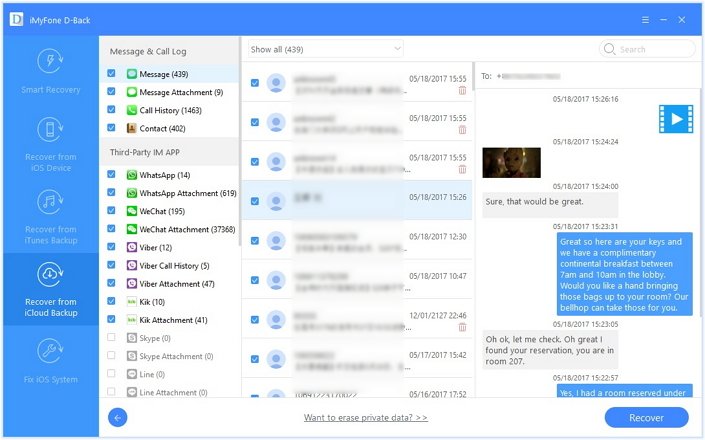 Tip
For iPhone users, there is a shortcut to read someone else's iMessages, by signing in the same Apple ID on your device. Apple's unique file sharing system will make it possible to receive text messages meant for others. However, this little trick only works for people who are very close to you because you have to know his/her account and password and gain access to the target device to set up text messages forwarding. If you want to read someone's text messages without having their phone, we still think the best way is using iMyFone D-Back. It can read someone's text messages without installing software on their phone or even having access to it. The steps are also very easy to follow.
iMyFone Fixppo
iMyFone Fixppo - One-stop solution to downgrade iOS 17
Limited Time 10% OFF Coupon Code for iMyFone Fixppo: YTR5E7
How to Read Someone's Text Messages Without Having Their Phone (Android & iPhone)
For Android users, it's not that easy to access someone's text messages, unless you are using an SMS tracker app. When you are looking for these apps online, there are too many options available, and it's hard to make a decision especially when most of these tracking apps require purchasing.
We have gathered up some user comments, and according to them, a good SMS viewer app should include the following: ease of use, quick installation, versatility, stealth mode and inexpensive price. After the careful comparison, we found FamiGuard Pro for Android is a satisfied result.
It also has an iOS-supported version called FamiGuard Pro for iOS.
Some important features of FamiGuard Pro are listed below:
Read all sent, received or even deleted text messages on someone's Android/iOS device.
See messages details like sender info, phone number, time stamps, etc.
Check direct messages from WhatsApp, Facebook, Instagram, Snapchat, Viber, Line, WeChat and other social media apps.
The app is hidden on the target device so you can look in someone's text messages without them knowing.
Remotely track SMS without having the target device.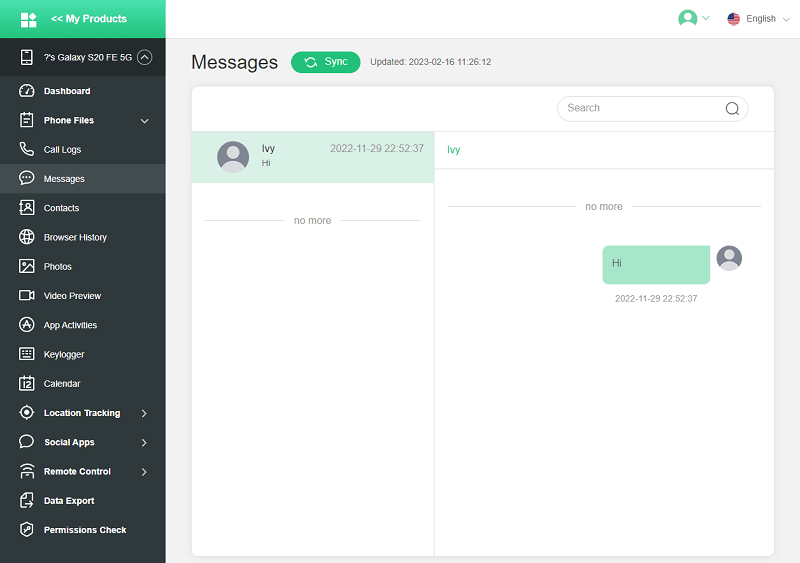 Tip
Click here if you want to try the live demo of FamiGuard Pro and know better about its messages tracking feature.
How to Use FamiGuard Pro to See Text Messages on Android Phone?
Step 1.First of all, create a FamiGuard Pro account from its website and get a premium plan.
Step 2.Go to an.famiguardapp.com on the target device you want to monitor. From there you can download FamiGuard Pro assistant app.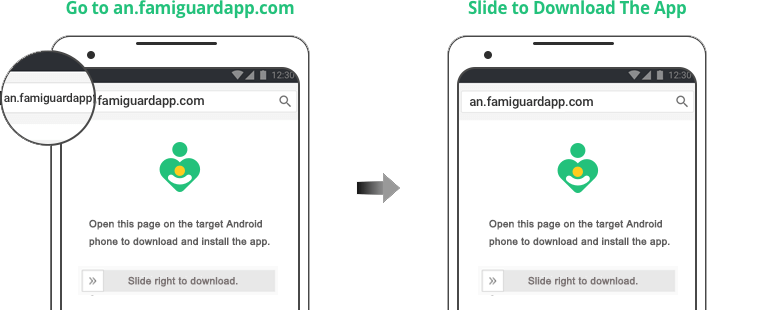 Step 3.Install this app and sign in with your account. Follow the on-screen prompts to complete configurations process. After you set it up, the app will start working. Kindly note the app icon will disappear from home screen to prevent the target device knowing it.

Step 4.Start reading texts of others from the web dashboard of FamiGuard Pro.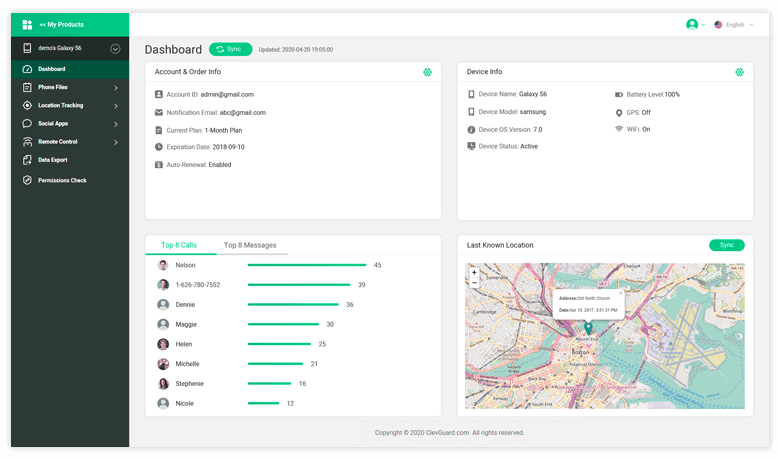 By reading this article, now you should have a clear idea about how to read someone's text messages on iPhone and Android. And the best thing is above methods don't require having their phone. If you have any problems related to text messages tracking, let us know in the comments.