Have you experienced such message to "Enter password to unlock your iPhone backup" in iTunes? This occurs because the backup has an encrypted backup. When you create this backup for your iPhone through iTunes, you need to generate an iTunes backup password to protect and encrypt your iPhone backup. This appears when you want to change the iPhone backup password, extract backup files or restore the backup with third-party software.

Also, you have to enter the password to unlock your iPhone backup files when you want to use your encrypted iPhone backup. Additionally, you will notice that it is not the iPhone password or iTunes store password, but the encrypted iTunes backup password.
What are iTunes Encrypted Backups
iTunes encrypted helps to backup's iPhone. You can make use of password encryption and protection. This prevents other users trying to use the backup files because it will require you to enter password to unlock your iPhone backup.
The iTunes encodes and locks your information using the encrypt backups feature. iTunes encrypted backups does not occur by default. If you want to encrypt a backup in iTunes, you have to switch on the password encrypted backup option. This allows iTunes to make encrypted backups meant for your device automatically. Don't forget, the password you have to input is different from your Apple ID password.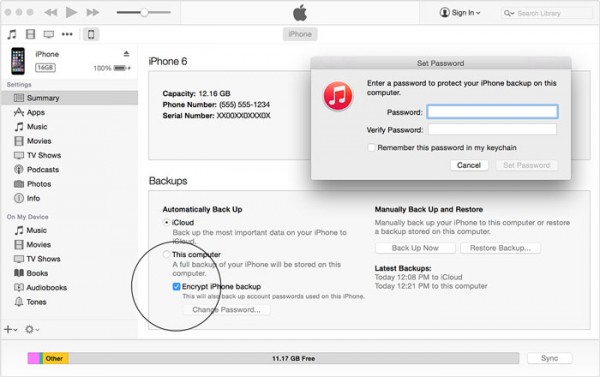 How to Fix "Enter password to unlock your iPhone backup" If You Forget the Password
Unfortunately, your device doesn't provide password retrieval option if you don't remember your password that entered to unlock your iPhone backup. Also, you may be lucky to get the correct password using any of the methods below:
1. Make use of iTunes Backup Password Tools
The first method to bypass "Enter password to unlock your iPhone backup" is to use the backup unlock tools. This offers you the best way to retrieve iPhone backup password.
Most of the iPhone backup password recovery tools provide different attacks types. For instance, quick attack tool help to try all possible password character, combination mask attack tool helps to recover part of the password and dictionary attack tool provide lists of a potential password in a dictionary. Besides, you don't need to be worried about the safety of these tools because most of them are risk-free and doesn't cause any damage to your backup data and device.
iMyFone KeyGenius is one of the iTunes backup unlocker, it focuses on recovering lost or forgotten iTunes backup password and helps to regain access to your iTunes backup.
Key Features:
It helps to remove your screen time passcode without erasing any data whenever you forget it.
With the 3 advanced attack modes, you can recover your forgotten iTunes backup password safely.
In just one click, it will remove the backup encryption settings by creating a new iTunes backup without a password.
Easy to use, only three stpes to unlock your encrypted backup and allow you to restore it as normal.
Steps to Fix "
Enter password to unlock your iPhone backup

" Issue

First, you need to download, install & open iMyFone KeyGenius on your computer.

Step 1. Select Unlock iTunes Backup function on the first interface, then choose the backup you want to unlock and click on Next button.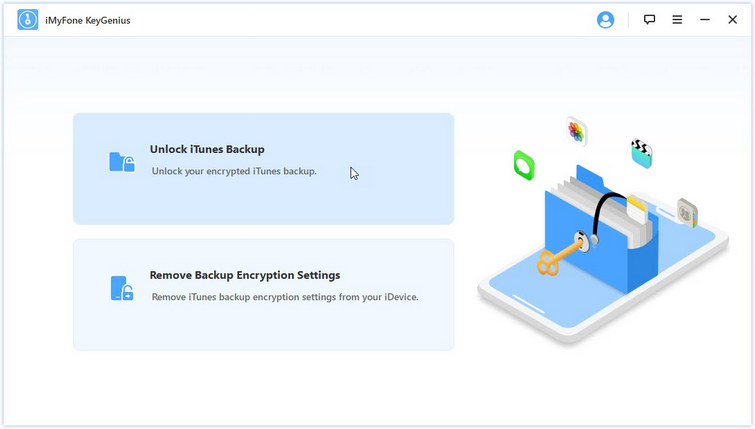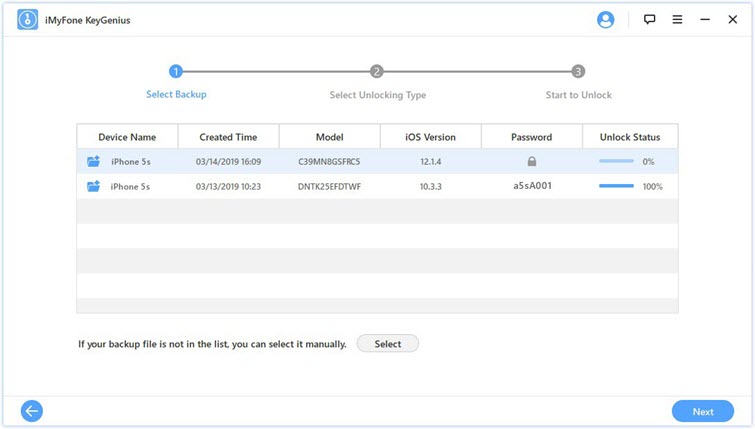 Step 2. Choose one of the unlock type on the next interface according to your situation, then click on Start to Unlock button.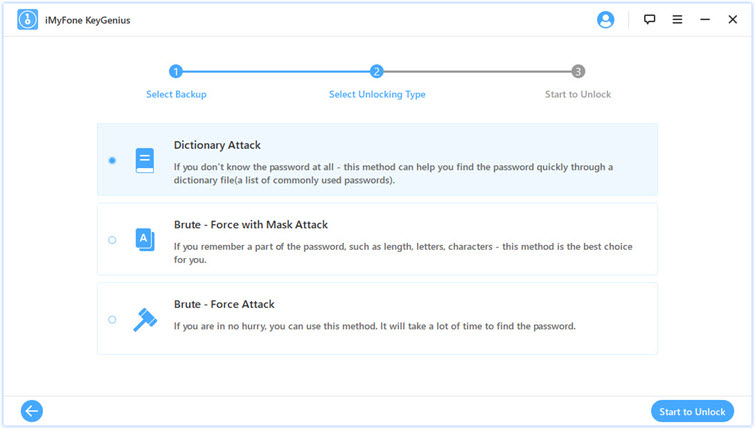 Step 3. Wait untill iMyFone KeyGenius find the password.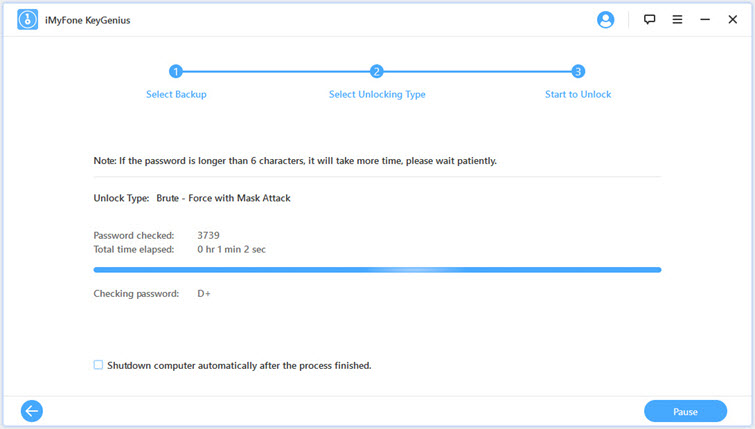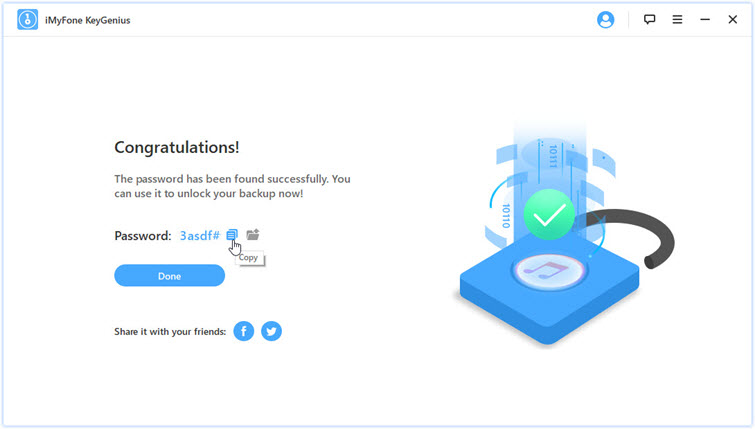 2. Try the Passwords You Can Remember
If you cannot remember the correct password the best way is to try all the passwords you can think of that moment. You can try some typical default passwords such as 1111, 123456 or 0000 etc. Also, you can try your iTunes password, or iPhone password to unlock your files.
3. Ask from Close Friends or Relatives
If you don't have any idea about the iTunes backup password, you can ask your friends and families maybe they can remember the password. This method can work out comfortably if your friends and relatives can help you out with the exact password.
4. Make Use of iCloud Backup
If you create an iCloud backup that has the necessary data you need, then you can use your iCloud backup without using your iTunes backup password.
How to Backup iPhone to PC without iTunes
iMyFone TunesMate is one of the best options to backup iPhone data to PC. It will not ask you to enter password to unlock your iPhone backup while using TunesMate to backup your iPhone data. The software will help sync your iPhone device and PC to backup data without any damage to the iTunes library. It receives lots of positive reviews from Getintopc, Geekreply etc.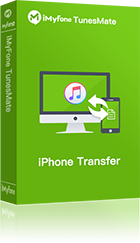 1,000,000+ Downloads
Key Features:
Avoid iTunes restrictions and unfamiliar iTunes errors.
Backup songs and other media from your iPhone device to your local music library.
It helps to add data directly without opening iTunes.
Share iTunes music easily with friends or relatives, even in different Apple IDs.
Restore and backup iTunes files to iPhone with the iTunes password.
Steps to transfer iPhone music to computer:
Step 1: Download iMyFone TunesMate and connect your iPhone to your computer
Step 2: Click the toolbar and select your music.
Step 3: Navigate to the music folder on your music file and click on "export to pc".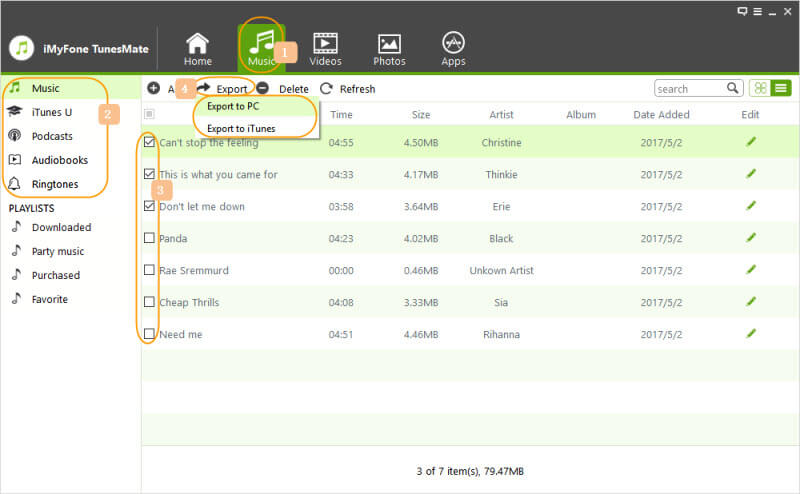 Step 4: When you choose to transfer music, your iPhone interface will be displayed on the computer.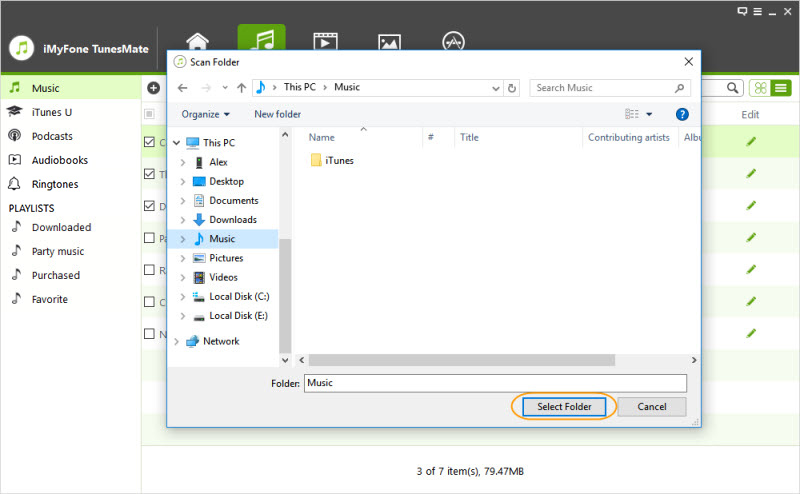 Step 5: Select the location you want to move your music to your computer.