While iTunes offers many features to manage your iPhone and sync files seamless and smooth, sometimes users may face errors or bugs for various reasons. Recently, many iPhone users said that they have met an iTunes error 9006 on Windows 10 when restoring their devices. Error 9006 on iTunes also occurs when you are trying to update your iDevice via iTunes. Not only the iPhone, but iPad users also have encountered such iTunes error. Here we are going to explore the reasons and tell the solutions for this issue.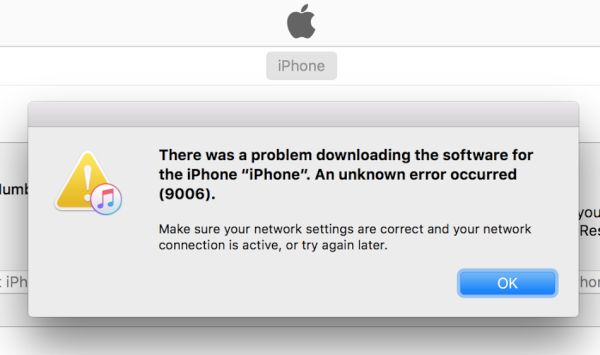 The Reasons Why iTunes Error 9006 Occurs
There could be a number of reasons why error 9006 occurs:
Usually this error occurs when the Apple server is busy or for some reasons iTunes cannot communicate to that server.
It may also be a problem with your network connection.
IPSW file is required in order to complete the software update process, if this file fails to download, then iTunes displays error code 9006.
Here is the check list for you to check some minor issues first:
Insure that you have an active network connection and are connected to the internet
Try to quit iTunes and open it to try again
Check and update iTunes to the latest version if necessary
Restart your computer and iOS devices.
Temporarily disable any and all software firewalls, including anti-virus (if applicable)
Check the USB connection
Manually Download the IPSW File to Fix iTunes Error 9006
If you still have the iTunes error 9006 error after trying the tips above, you can try to manually download the IPSW file to troubleshoot this issue.
As mentioned above, iTunes error 9006 can occur if iTunes is unable to download the IPSW file. So you can fix the issue by manually downloading that file and then using it to update/restore your iDevice.
Follow these instructions:
Step 1: First, download the IPSW file from https://ipsw.me, make sure to download the file which is compatible with your iDevice.
Step 2: After the file is downloaded, open iTunes and navigate to its Summary section.
Step 3: Once there, press and hold the Shift key and then click the Update or Restore option according to your choice.
Step 4: This will open file browser asking you to choose the IPSW file. Navigate to the folder where you have downloaded that file and then select it. Your iDevice will start updating or restoring without error 9006.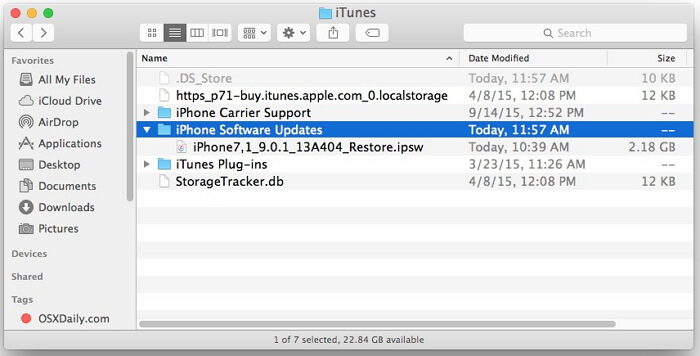 Never Miss the Tool to Fix 100+ iTunes Errors
Besides this kind of iTunes restores error, there are numerous iTunes backup/connect/restore errors caused by iTunes itself. Such as iTunes components missing or itl files corruption. Then the only solution is to repair your iTunes or uninstall & reinstall it. But we know that it's complex to realize it by ourselves. We should ask for the help of some professional third-party tools. One of such is iMyFone TunesFix, it is an iTunes repairing tool which has many powerful features that will help you solve various iTunes issues (including error 9006).
Key Features of iMyFone TunesFix
Fix 100+ iTunes-related issue, including backup & restore issue, installation problem, updating issue, and more.
Just one click then you can fix the troubling issues.
Boost iTunes performance by cleaning up junk iTunes files to get twice spped.
Over 95% users choosed TunesFix as their maintenance tool.
Steps to Fix iTunes Error 9006 Via TunesFix:
Step 1: Launch iMyFone TunesFix on your computer.
Step 2: Open iTunes. Once the iTunes is opened, TunesFix will automatically detect the problem and inform you about your iTunes' status.
Step 3: Once the problem is detected, click the Repair button to attempt the fix.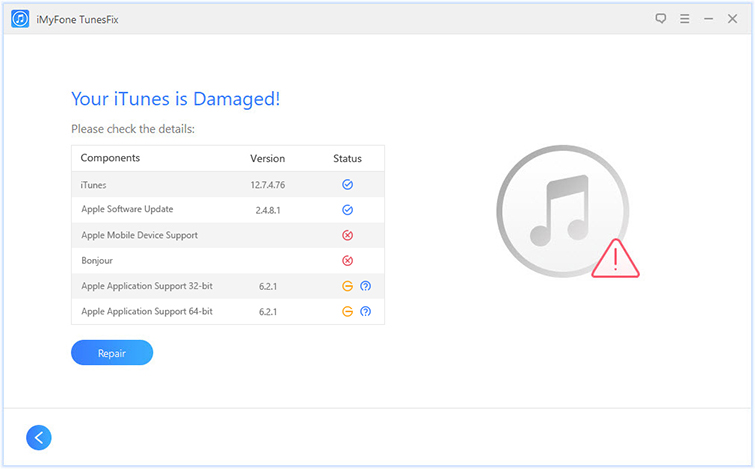 Step 4: Usually, the general 'Repair' method of TunesFix fixes most of the iTunes problems. However, if the problem is not solved via this method, then you can choose a specific fixing mode such as 'Fix Other iTunes Problems'.
Step 5: Try other fixing modes and use the 'Repair' button to start the process. Once the repairing process is finished, you will be able to use iTunes properly.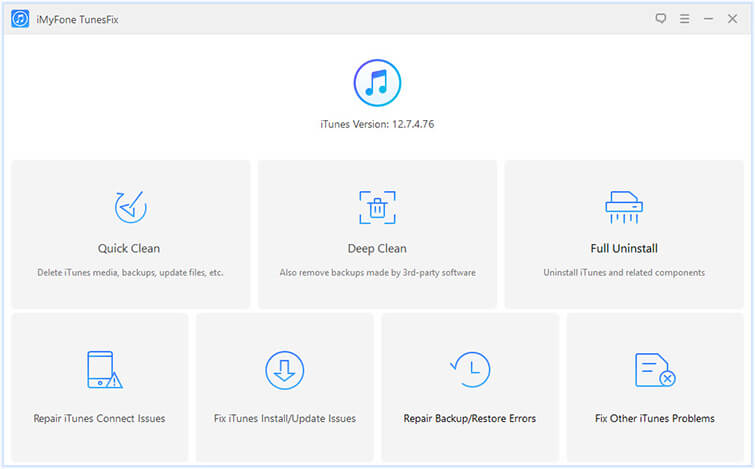 Conclusion
For the error 9006 occurs during iPad and iPhone restore, we have given some common tips and the possible solution for you to solve theis issue. And for the long term iTunes maintaining, we also introducced a powerful tool (iMyFone TunesFix) for you to fix 95% iTunes problems. Thus you can have a smoothy iTunes using experience.