You might not be aware that your computer actually storages a lot of old back-up caches, even can occupy 1/3 of your general storage. Here this article will tell you how to locate iOS backups stored on Mac or Windows PC, then offer 3 solutions to help you perfectly delete iTunes backups and release your computer's space.
Part 1: 1-Click Delete Old iTunes Backups
As a very useful tool has been recommended by thousands of iOS users, iMyFone TunesFix aims at tuning your iTunes up, not only to keep your iTunes run at optimum but also to fix any iTunes issues and errors. In this method, you can forget all the complex process and just need a slight tap.
Main Features about iMyFone TunesFix
Quickly auto-locate all the iOS backups, iTunes media files, used software updates.
Accurately distinguishing iTunes back-up files, no need for any sequence searching.
Even the third-party back-up files can be located!
1-click enable you to selectively remove all iTunes useless files such as caches, cookies, logs, and junk files to release huge space.
You don't need to learn how to locate iTunes back-up files, you just need to determine which to clean; everything will be done automatically.
Only 3 Steps to Delete Previous iOS Backups on iTunes Quickly
Launch iMyFone TunesFix and it will immediately examine your iTunes and its related components. If there is something wrong with your iTunes, it will allow you to fix the damage before proceeding.
Once you're in the home interface, click "Quick Clean" and the scanning process will commence.
Note: If you want to delete backups which were left by third-party program, correspondingly select "Deep Clean".

Once the scanning process is complete, TunesFix will display a window showing you all the iTunes files that are occupying your PC's hard disk. You can mark the ones you want to erase, and click "Clean" to start erasing them. It will show how much space you've reclaimed at the end of the cleaning process.
Part 2: How to Delete Old iTunes Backups on Mac?
If you want to delete backup on iTunes from your Mac, there are two ways for you to do so.
Way 1: Delete old iTunes backup file from the Backup Folder on Mac
You can delete those iTunes backup files from their direct location. Just go to this path on your Mac: ~/Library/ApplicationSupport/MobileSync/Backup. Then you can check out this folder and decide which ones to delete.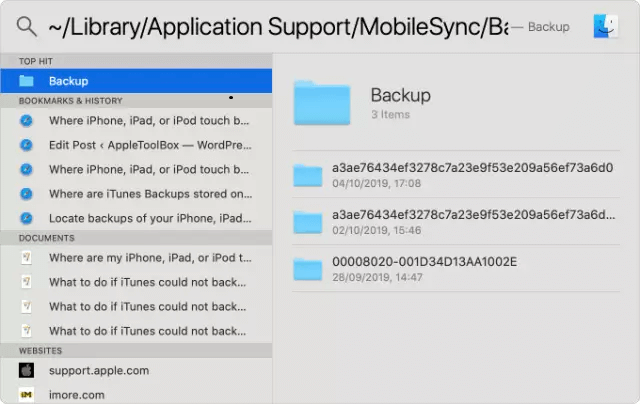 Way 2: Delete old iTunes backup file directly from iTunes on Mac
Go to iTunes > Preferences.
Click "Devices".
Choose the old iTunes backups you would like to delete. You can have the detail of the backups by hovering your cursor over it.
Click "Delete Backup", then confirm.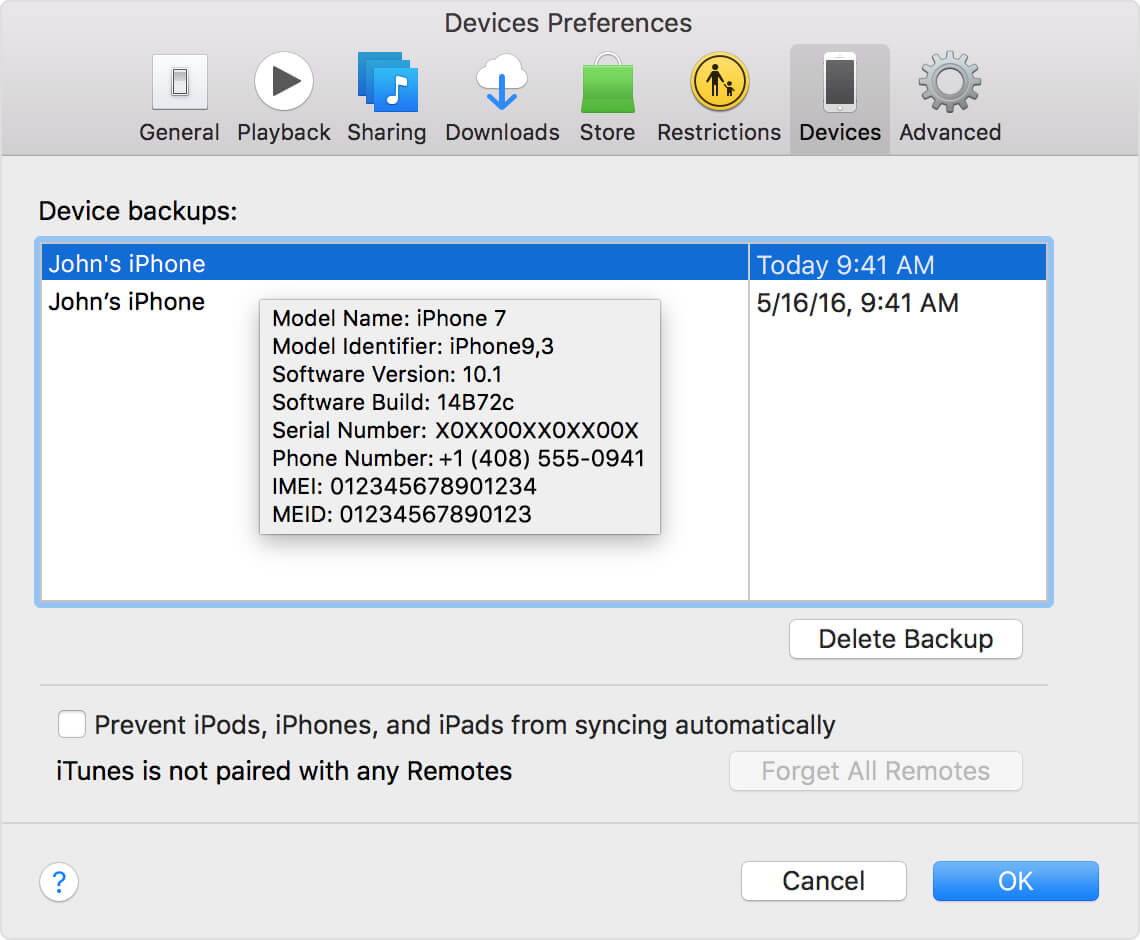 Part 3: How to Delete Old iTunes Backups on Windows PC?
If you are using Windows PC, there are also two ways to remove iTunes backups.
Way 1: Delete old iTunes backup file from the Backup Folder on Windows PC
You can directl go to this path: usersusernameAppDataRoamingApple ComputerMobileSyncBackup and locate the iTunes backup files stored on your PC. Then delete those unwanted iTunes backup files at ease.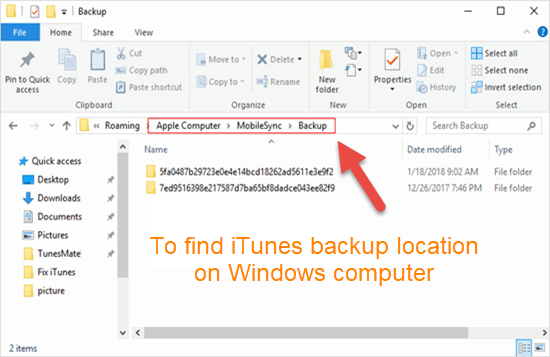 Way 2: Delete old iTunes backup file directly from iTunes on Windows PC
Go to iTunes > Edit > Preferences.
Open "Devices" option.
Select those backup files you want to delete.
Then click "Delete Backup" button and confirm.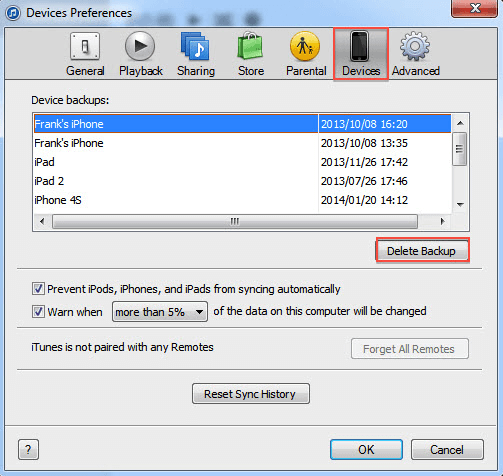 Part 4: Comparison of Three Methods - Which One is Better?
As you can see, we've introduced three methods above on how to delete iTunes backups. One is using automatic tool - iMyFone TunesFix, and two of them are manual ways. Below is the comparison of these methods, then you can find out which one works best for you.
| | iMyFone TunesFix | Two Manual Ways |
| --- | --- | --- |
| Possibility of releasing more space | High | Low |
| Auto-locate iTunes backup files | | |
| Delete iTunes backups thoroughly | | |
| Removal of third-party backup files | | |
| Easy to operate | | |
| Recommend level | | |
Now we strongly recommend you consider method 1 of using iMyFone TunesFix to delete backups from iTunes, you can not only wipe out the third-party backups cache but also very easy to operate without such a complex process. It can give you a one-stop option to clean all these kinds of data in one place, download now and immediately to release your computer!
Part 5: Frequently Asked Questions about iTunes Backups
We layout some FAQs you need to know about iTunes backups. Just stay tuned and learn more about iTunes backups.
1. How do I know if my iPhone is backed up to the iTunes app?
To confirm whether your iPhone is backed up to iTunes, you can check the date of your last iTunes backup.
2. Why are iTunes backups so big?
It is because every time your iOS device connects to your iTunes it creates a full back-up from scratch instead of adding new files to the existing back-up.
3. Does uninstalling iTunes delete backups?
The answer is No. Uninstalling iTunes app won't affect your iPhone backups. So it's no use uninstalling the iTunes app if you want to delete iTunes backups.
Other iTunes Related Tips
2. Fix iTunes Backup Corrupt