iTunes has always been a popular choice for Windows users looking to organize and listen to their music library. But, it also has numerous errors and some of which can be traced to the reason but some cannot. So, you may want to uninstall iTunes from Windows 10/8/7 completely. We should be noted that iTunes removal from Windows 10 cannot be an easy task if you haven't the help of some professional tools. Don't worry, this post is intended to tell you the information about iTunes uninstallation and the best tool you should have.
Part 1. Why It Is Hard to Uninstall iTunes from Windows 10
To uninstall iTunes on Windows 10 is not an easy task and there has much information we should pay attention to. Here we are going to introduce from the following 3 aspects, including the knowledge of iTunes' components and why it's hard to uninstall iTunes from Windows 10.
What are iTunes components?
Uninstalling the iTunes app will not delete all its components. These components are:
Apple Software Update
Apple Mobile Device Support
Bonjour
Apple Application Support 32-bit
Apple Application Support 64-bit
What happens if you don't completely uninstall iTunes and its related components?
If you uninstall iTunes but left some components in your Windows 10, then it may cause some unknown system errors. So, it's important to uninstall iTunes and its all components completely.
Note
Make sure uninstall iTunes and related software components in the right order: You should delete the iTunes app firstly, and then uninstall the components according to the order we given above.
In a word, it's pretty difficult for us to delete each component one by one, and we can cause some unknown system errors. Next, we will recommend you a tool to do the task in one click.
The Tool You Need - The Choice of More than 95% of Users
iMyFone TunesFix is specifically developed to handles your iTunes errors. It works as an iTunes uninstall tool, an iTunes repair expert, and also an iTunes cleaner. It handles everything you need with iTunes.
Why you should choose TunesFix:
Thoroughly uninstall iTunes and its related Apple software in the right order and only cost 2 minutes.
Uninstall is quite complete that no harmful traces left to influence your PC performance.
Uninstallation is done in one click instead of complicated steps.
Work on Windows 10/8/8.1/7/Vista/XP.
Appreciated by many popular medias.

Part 2. How to Completely Uninstall iTunes on Windows 10 with One Click
Just like we mentioned in part 1, it's very difficult and risky to manually uninstall iTunes on Windows 10. We have also listed out the features that why iMyFone TunesFix is the best iTunes removal tool Windows 10. Below given are some of the vital steps on how to completely delete iTunes from Windows 10 with the help of the iMyFone TunesFix:
Step 1: Run TunesFix on your Windows PC and wait for it to detect your iTunes.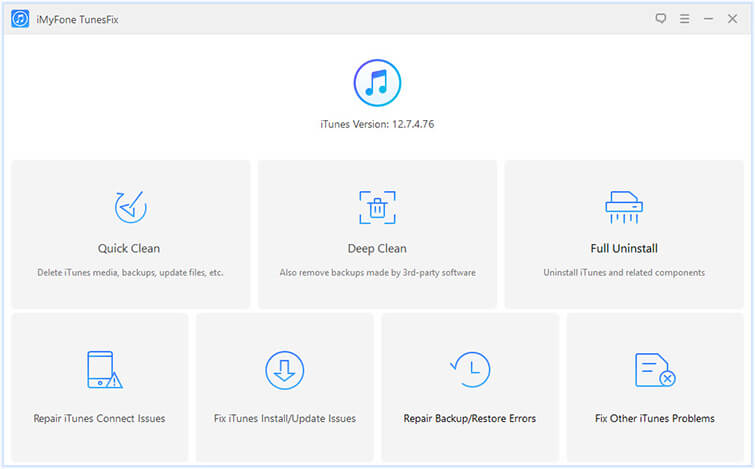 Step 2: Click on the "Full Uninstall" mode on the home screen. This will guide the users to the uninstallation page. Click on "Uninstall" here.
Note: You should note if you want to delete the user data in your iTunes then check "Also Delete User Data", under the "Uninstall Button" before clicking on the "Uninstall" mode. This will now delete the iOS backups, iTunes media, iTunes useless files, and iOS or iTunes updated files.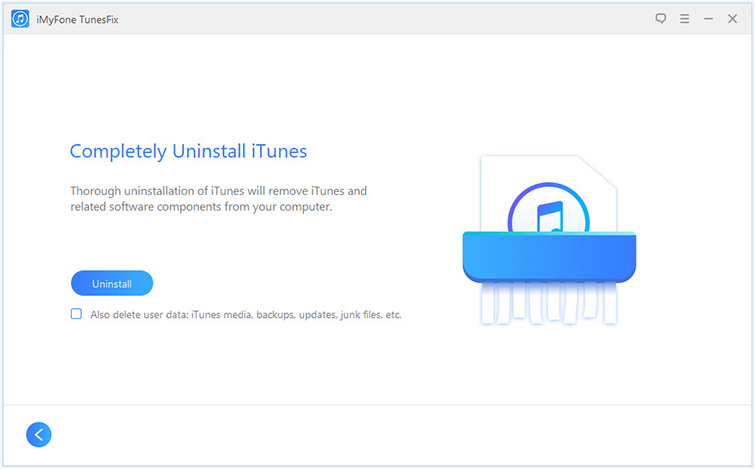 Other Significant Features of iMyFone TunesFix
Auto-detects the iTunes-related issues for free
Repairing iTunes without any kind of loss of the user's data
Fixing more than 100 iTunes-related errors while connecting, restoring, installing or taking backup
Clearing iTunes to free up space and boost the working of the computer
Carries out the Deep and Quick cleaning of all iTunes related data and even the hidden backups left by third-party software
Part 3. How to Manually Uninstall iTunes and Apple Related Software
Below are the manual steps to uninstall iTunes completely and other Apple software components:
Step 1: Go to "Control Panel > Programs and Features" on your Windows 10. All your PC programs will be shown there.
Step 2: Type "Apple" into the search bar and enter. This filters all the software related to Apple. You would see 6 or 5 programs there.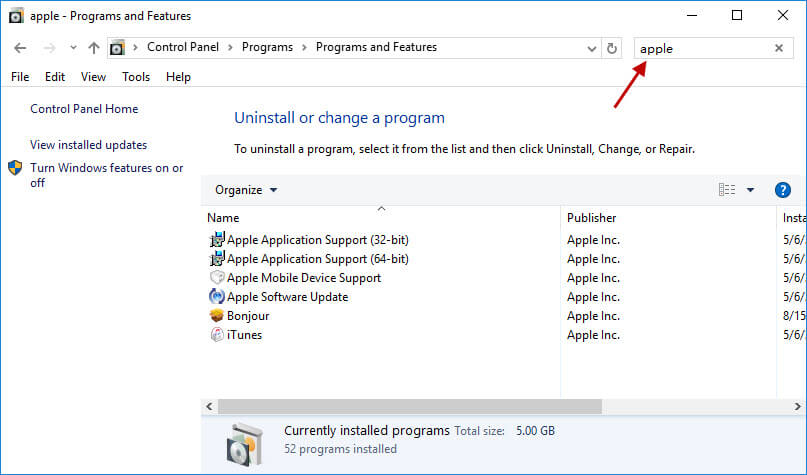 Step 3: Right click on each program and select Uninstall. You should do the uninstall following the order we mentioned in Part 1.
Note: If the user uninstalls these components in a different order or uninstalls only a few components, then it may have unplanned effects.
The users need not to worry about the songs they have purchased from iTunes store or imported from the CD. They will be saved in the "My Music Folder" even if you remove the iTunes completely. However, it is advisable to take the Backup of the iTunes library. The users can also do a backup of the iTunes by copying the library to external hard drive.
Moreover, the removal and reinstalling of the iTunes may take a large amount of time to complete the process, but it solely depends on the performance of your PC device.
How to Verify iTunes is Completely Uninstalled
Note:
If you use the
iMyFone TunesFix
iTunes uninstall tool, you don't need to do the extract verification. That's because its full uninstall feature also does the verification and completely delete left files during the uninstall process.
Mostly, the removal of iTunes and its related components from the Control Panel will remove all the supporting files. However, in few cases, some files may be left behind so the user needs to confirm the removal of all the folders through: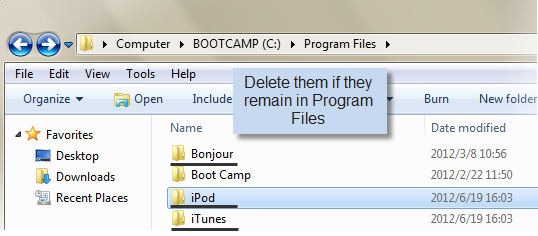 C:Program FilesBonjour
C:Program FilesCommon FilesApple (The user needs to restart the computer to remove this folder as the computer system may keep the user away from removing this folder)
C:Program FilesiTunes
C:Program FilesiPod
C:Program FilesQuickTime
C:WindowsSystem 32QuickTime
C:WindowsSystem 32QuickTimeVR
In case, the user has 64-bit version of the Windows then folders need to remove too:
C:Program Files (x86)Bonjour
C:Program Files (x86)Common FilesApple
C:Program Files (x86)iTunes
C:Program Files (x86)iPod
C:Program Files (x86)QuickTime
C:WindowsSysWOW64QuickTime
C:WindowsSysWOW64QuickTimeVR
Conclusion
At this point, you have already know the differences between iMyFone TunesFix solution and manual way. It's obivious that the way of using iMyFone TunesFix is guaranteed and super easy. Not only will it help you with your current problem of how to uninstall iTunes on Windows 10, it's also the best tool for maintaining iTunes and fixing all kinds of errors over the long term.