Using iTunes on a computer at night can cause eyestrains and insomnia especially if the screen brightness is high. We really need a way to manage our eyes when we work on iTunes in the late hours of the night. Nevertheless, the existing settings in iTunes let us darken the menu bar, but the macOS Mojave has extended this feature to the entire Mac and iTunes interface, and this new feature is called iTunes Dark Mode. iTunes dark mode on Windows 10 is also a popular feature. So, this post is aimed to introduce iTunes dark mode on Windows and Mac, and give the solution for iTunes's Windows dark mode cannot run well issue.
What is iTunes Dark Mode?
Does itunes have a dark mode? The answer is Yes! In macOS Mojave's Dark Mode, most of your operating system's bright features will go dark of gray. This includes features like the dock, trashcan, menu bar, and system panel. Some macOS Mojave apps will also share in this feature, and such apps include iTunes, Safari, App Store, News, etc.
Therefore, with iTunes Dark Mode, using iTunes at late hours of the night won't have much strain on the eyes. It will be very handy for those who play songs with iTunes for lengthy periods, and at late hours of the night.
How to Use iTunes Dark Mode on Mac
Apple Inc. has finally added Dark Mode to macOS Mojave. This feature will cut across all Mac features and software to dim many of the screen elements from their usual blinding white to soothing dark tone.
Here is how to set up iTunes dark mode on Mac:
Step 1. Click the Apple logo at the top left corner of your window.

Step 2. Select "System Preferences > General".
Step 3. Under Appearance menu, select the "Dark" option.

If your Mac is running the latest macOS Catalina, there is a third option in the Dark Mode settings - Auto. This option can automatically turn on the light mode during the day and the dark mode at night.
How to Use iTunes Dark Mode on Windows PC
macOS Mojave now has a dark mode, but Windows 10 users have been enjoying this feature for quite a time now. The iTunes dark mode for Windows turns windows black and changes the text and icon to light colors. There are a few steps on how to make itunes dark mode on windows 10, and we've outlined the steps in the following paragraphs.
Step 1. Search for "Settings" on the Windows 10 search bar and launch it.

Step 2. Click "Personalization" in the next window. This feature will display a paintbrush on the computer screen.

Step 3. Click "Colors > Choose your app mode > Dark".

Step 4. Pick an accent color at the top of the "Color" window.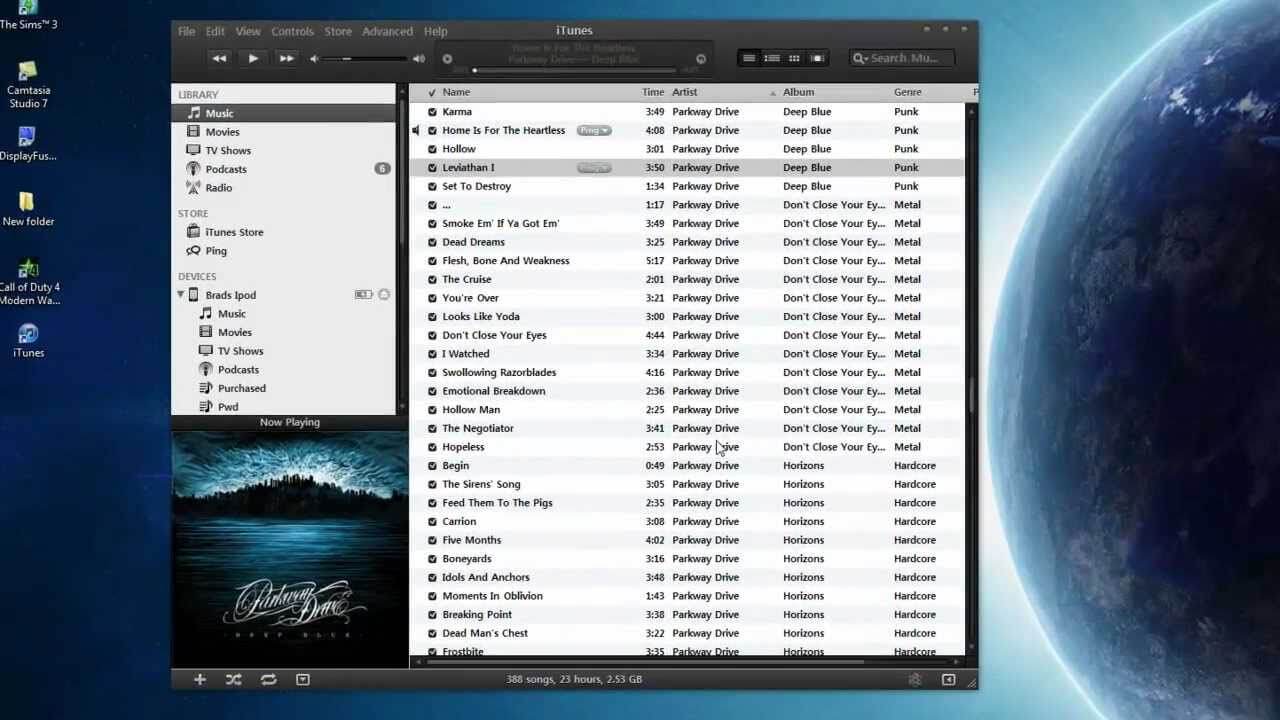 When next you open iTunes, you'll notice that this feature has been applied to iTunes.
iTunes Dark Mode Cannot Work? How to Fix?
There are situations when iTunes dark mode may not work normally or keep resetting to normal mode. Some users have reported such an iTunes issue and if you are one of them, then you need to fix iTunes using an iTunes repair software called iMyFone TunesFix. It would ensure that all iTunes problems and issues that may be causing iTunes dark mode keep resetting to normal mode be fixed permanently. More so, if iTunes stops working after you've activated dark mode, then use TunesFix to fix it.
Main Features about TunesFix
Repair iTunes dark mode not wroking issue perfectly.
All iTunes update/restore/install issues and other more than 100+ errors can be fixed in just one click.
All iTunes junk files, redundant files, and old backups can be also erased to keep iTunes at its top performance and recover PC storage space.
There is 0 risk of using iMyFone TunesFix.
TunesFix supports all versions of iTunes.
Steps to use TunesFix in repairing iTunes dark mode on Windows 10 issue:
Step 1. Download iMyFone TunesFix, then install it on your PC.
Step 2. Launch the software, it will automatically detect if there is issue with your iTunes.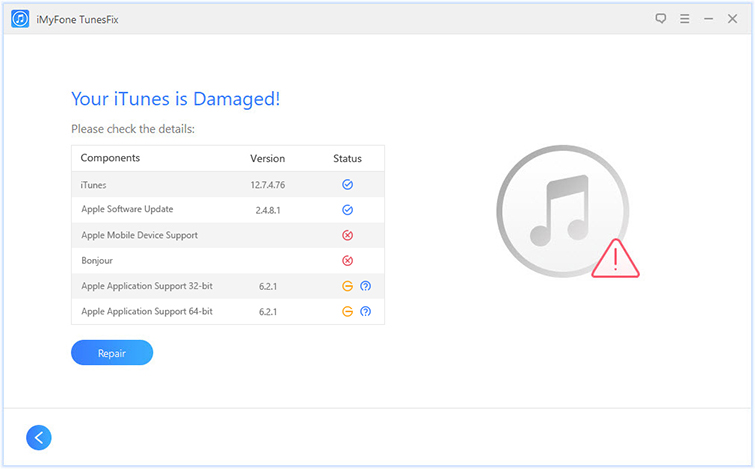 Step 3. Click "Repair" button to fix your iTunes dark mode issue. If you have any other iTunes problems, you can use this useful repair tool to fix it easily.
Conclusion
This post has introduced what's iTunes dark mode and how to enable dark mode on both Windows 10 and macOS. The iTunes Dark mode is really a nice feature for those who love dark colors. If any iTunes running issues exist, we implore you to download and install TunesFix now to ensure that iTunes runs optimally in dark mode. It can freely detect issues of your iTunes.