Would you like to unlock the great features of iMyFone TunesFix? If yes, then getting an iMyFone TunesFix registrations code won't be that obstacle because it's readily available on the official iMyFone website.
Nevertheless, it's touching how many iTunes users are getting duped or harmed by fraudsters/hackers in the course of obtaining a free iMyFone TunesFix Registration code. Hence, we would like to discuss with you the importance and benefits of using a genuine iMyFone TunesFix registration code, which is readily available on the official iMyFone website.
All You Want to Know iMyFone TunesFix Registration Code
1. Why You Need iMyFone TunesFix
iMyFone TunesFix is an all-in-one iTunes helper that works as iTunes repair tool, iTunes cleaner and also iTunes removal tool. It handles everything you need with iTunes. If you are in these scenarios, don't hesitate to try TunesFix:
iTunes is easily run into unknown errors when you use it. It's very annoyed because the errors are hard to get rid of even when you reinstall iTunes.
Sometimes, you may fail to install or update iTunes because of the Windows installer error.
After long-term usage, your iTunes may run slow, keep crashing, stop working, etc. even when you have already reinstall iTunes.
You will fail to uninstall iTunes from the previous installation if msi file is missing.
Want to completely uninstall iTunes and Apple related software but you are afraid that wrong uninstall order may cause unintended expects.
Above all these, we've given you a genuine program for keeping your iTunes running well at all times. TunesFix is an honest application for iTunes management iTunes' exigencies and keeping your Mac or PC working optimally at all times.
iMyFone TunesFix is the perfect iTunes repairer tool. It fixes iTunes unexpected errors and issues, cleans iTunes backups to free up PC hard drive, and works perfectly for every Windows and Mac PC and versions of iTunes.
TunesFix Features That You Want to Know:
Key Features:
Auto-detect iTunes and component issues, and fix iTunes correspondingly.
1-click fix all iTunes issues: iTunes connection, install, update, restore, backup, and other problems.
Deep clean of your iTunes to remove cache, cookies, corrupted files, temp downloads, iOS backups, media, etc. selectively in bulk or all at once.
Thoroughly uninstall iTunes and components in right order, leaving no harmful traces.
100% secure that non-selected files will be well-protected; Promise 30-days money back guarantee.
iMyFone TunesFix receives positive reviews from top tech media, including ioshacker.com, WindowsInstructed, etc.

Besides, lots of its real users also leave reviews to recommended iMyFone TunesFix. You can take it easy to give it a free trial.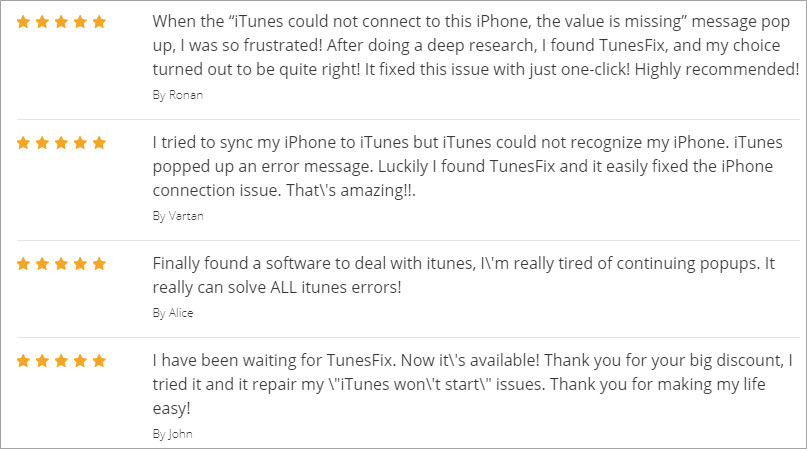 2. The Truth about iMyFone TunesFix Online Registration Code
How do I get a free or cracked iMyFone TunesFix registration code? The answer is simple "there is no free or crack registration code online because it applies real name authentication". It's hard to admit but the truth still remains that there is no free TunesFix registration code online. Any code you get by chance must have been used by another client and is invalid.
There are four types of official iMyFone TunesFix activation code, and they are listed as follows.
1-Year License: This package supports only one PC for the period of one year. It costs ONLY $14.95 to obtain.
Basic License: This package supports one PC, but gives you a lifetime license over TunesFix. It costs $19.95 to obtain.
Family License: This package is a lifetime license that supports 2-5 PCs. It costs $29.95 to obtain.
Business License: This package supports an unlimited number of PCs, and costs $159.95 to obtain.
3. Why You Need a Registration Code to Use iMyFone TunesFix
iMyFone TunesFix is a genuine and honest software for fixing iTunes issues and errors so as to give you better iTunes experience. It was designed to be activated with a registration code by an iMyFone team of software engineers so that only those who paid for this tool can use it. Hence, the functions and features it gives are meant for only those who paid for it.
Note
By purchasing the license code, you support the iMyFone team and allow them to provide you a better software experience via future updates, further improvements, and developments.
4. Why You Should Get Your Own iMyFone TunesFix Registration Code
The following are the benefits you will enjoy when you get official registration code:
Best Customer Services
iMyFone technical support/assistants will be at your disposal whenever you experience a hitch while using TunesFix. iMyFone offers 24/7/365 Customer Service. If you have any question or problem, you can always count on iMyFone customer support team to help you.
Free Updates for a Lifetime
With a genuine iMyFone license code, you're entitled to a lifetime update every time a new update comes out. The software continues improving its performance and adding useful features.
Highest Cost Efficiency
TunesFix is not just an advanced technology for keeping iTunes in optimal performance; it's an honest software that gives you the true value for money paid. Only with $14.95, you will get the official registration code.
30-Days Money Back Guarantee
Take it easy and give TunesFix a trial. If your expectation with TunesFix is not met, you're free to request for a refund within the period of 30 days.
Therefore, if you want to enjoy all these benefits, and the features of iMyFone TunesFix discussed above, purchase the registration key.
5. A Bonus for You - 30% OFF for TunesFix!
We are bent on making life easier for you even to the point of given you free coupons code with 30% discount value.
Your 30% Coupon Code: F9X-CCN-Y18
Here is a tip on how to use our coupon code in getting a 30% discount off TunesFix. You can get Official iMyFone TunesFix at ONLY $10.5.
Step 1. Copy your coupon code above.
Step 2. Click here to access iMyFone TunesFix purchase page.
Step 3. Choose one of the licenses you prefer, then use the "Add to cart" button to proceed. Doing this will take you to the shopping cart.

Step 4. On that page, find and check the box named "Check to enter coupon code".

Step 5. Now paste the coupon code and paste it in the textbox shown on the page. Click "Apply" to proceed.

Step 6. The price will be changed to the 30% Off price. Then enter your purchase info to finish the purchase.