Sometimes LINE chats can get deleted due to memory shortage or user error, which can be incredibly annoying for some users. If you're in this same situation, you might be worried that there is no way to restore the LINE chat. Fortunately, we're here to tell you that you can, and we're going to tell you exactly how below.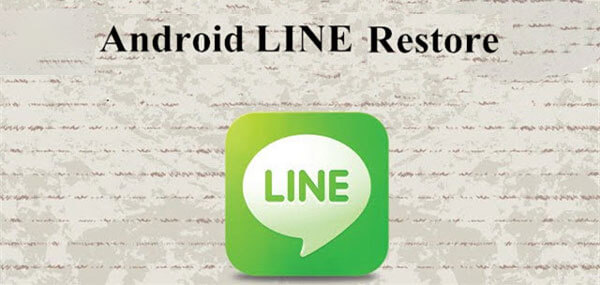 The Way to Share YouTube Video on WhatsApp [Hide]
Is it Possible to Restore Deleted LINE Chat History?
The answer is definitely yes! You can restore deleted LINE chat history. But to do this, you need to have backed up a previous LINE chat history. Even though there are multiple data recovery tools specifically for iOS and Android, it will still be difficult to recover deleted chat histories without backup. There are various ways to help, which we'll cover later in the article for you.
Note
If you don't have a backup of the LINE chat you want to restore, the whole process will get more difficult.
How to Restore LINE Chat History to iPhone Using iCloud
When using LINE on an iPhone, you can make a backup of your LINE chats on your iCloud account, and it must be linked. You can store your chats, contacts, and attachments all in one place.
Let's take a look at how to store LINE chat history via iCloud.
Step 1: Open the LINE App on your phone, navigate to Settings → Chats → Chat Backup History. Select the "Back Up Now" option.
Step 2: Make sure you have a steady internet connection, as this process will require a good connection to complete. Also, make sure your iCloud account is linked to LINE before you do this.
Step 3: Now, all you have to do is reinstall LINE. As it reinstalls, make sure the app is linked to your iCloud account by turning on the iCloud Drive feature. You can find this option by going to Settings → iCloud.
Step 4: When LINE launches, log in to your account to complete the transfer. Choose to restore the backup to your device when prompted.
How to Restore LINE Chat History to Android Using Google Drive
Similar to iPhone, we can backup LINE chats and other information using Google Drive as long as we have enough storage space for easy access.
To restore your LINE chat history when using an Android phone, complete the following steps.
Step 1: Launch the LINE App, Click Settings → Chats, then select the "Backup and Restore Chat History" option.
Step 2: Once here, select the option to backup your chat history on Google Drive. You should also check under the Google Account section to ensure your account is linked to the Drive.
Step 3: Allow the backup process to complete while maintaining a steady connection to the internet.
Step 4: After the backup has finished, reinstall LINE on your phone. Again, make sure your LINE account is linked to your Drive. Navigate to the Backup and Restore page in Settings and select the "Restore" option to restore your chat history.

Restore LINE Chat History via Backup

If you backup your LINE chat history, it is easy for you to restore it even you delete it on your device.

iMyFone iTransor for LINE

Transfer LINE data between Android and iPhone. Back up LINE on Android and iPhone to PC. Export LINE backup to HTML, PDF and CSV/XLS.

Let's see how to backup LINE chat history

Step 1: Install iTransor for LINE on your PC and connect your Android device via a USB cable.

Note

Don't forget to allow

"USB debugging"

on your device.

Step 2: Go "Setting">"Talk">"Back up and restore chat history" on your LINE app to back up your current data to Google Drive.

Step 3: A old version of LINE will install on your device, and you may need to restart to make it come to effect.

Step 4: Click on "Back up data" and the program will start to back up your LINE chat history.

Step 5: Wait for the process to complete and the time is up to the size of the chat history you want to back up.

Tips

Please connect your device to the computer until the process is completed.

FAQs

1

How do I get my line chat history back without backup?

If you're using LINE on an iPhone, you can try using the iOS Data Recovery tool by FoneDog. This data recovery tool has been designed to recover chat histories on various Chat apps, so it should work with LINE too. You can also try recovering data directly from your phone for both iPhone and Android.

---

2

Where is LINE backup stored?

Unless you backed up your LINE information on an SD card, it should be stored in the folder "LINE_backup" in your device's storage.

Conclusion

It can sometimes be tricky to restore deleted data on your phone, and it holds for restoring deleted LINE chat histories. However, with the handy tips and steps we've outlined above, you should be able to restore a lost LINE chat history successfully. The most easy way is to use the chat history backup on iTransor for LINE to restore. Don't wait to use it right now!