Do you get weary of watching your favorite movies or television shows on a small screen? Have you been wondering how to mirror your phone to your laptop? Install a mirroring tool and duplicate your display to get the most out of your TV and movie viewing experience.
There are multiple software and applications available online that provide you with the function of conveniently projecting your phone display onto your laptop.The mirroring function is not limited to TV. If you work in the corporate sector and want to conduct your meetings more proficiently, mirroring may help you achieve that.
Read this post further to learn how to mirror your phone to your laptop easily.
What Is Screen Mirroring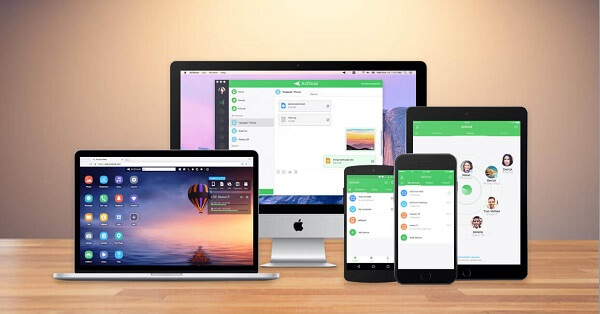 Screen mirroring, often known as screen sharing, is the process of reflecting the screen of a mobile device, laptop, iPad, or desktop onto a television.
In reality, whichever gadget you have, you may mirror its screen onto a larger one.
Mirroring requires the use of two primary devices/gadgets, the sender, which is usually the mobile phone, and the receiver, which is the destined site you want your screen to appear over.
Solid examples of the sending protocols are Apple AirPlay and Chromecast. In addition, third-party applications are available as well.
As previously stated, the receiver is the destination site where you want your display to be reflected. Similarly, it employs hardware tools such as Apple TV and Chromecast and third-party applications such as Reflector.
Mirroring Your Android Phone to Windows Laptop

As you know, mirroring can be done both wirelessly and through a wired connection. A solid tool to mirror your phone onto your laptop wirelessly is Miracast.
One key feature of Miracast is that it offers cross-platform services. Furthermore, you do not need to use a traditional wired method such as the use of HDMI cables anymore to achieve mirroring.
Miracast is supported by the vast majority of current-generation devices, including but not limited to tablets and smart TVs.
There are several ways to use this application: to conduct meetings, view images, display movies, and even presentations for educational purposes. All of it occurs in real-time with optimal audio synchronization.
Windows 7 or 8
Use the Intel WiDi software to connect to the projector and display images and sounds wireless.
 As needed, adjust the Screen Mirroring Settings on your projector.
To change the Screen Mirrorin g source, use the remote control's LAN button.
iMyFone MirrorTo (Win 10/8.1/8/7)
iMyFone MirrorTo provides an overview of the best and most effective screen mirroring platforms that can be used to mirror Android screen to laptop. This is a tool designed specifically for Android and Windows, basically supports all Android devices. And the interface is easy to use, you can use the tool very smoothly without delay.
Number 1st Mirror Android Phone to Windows Laptop
Freely control your phone with a large screen from a laptop.
Screenshot or record your activitity on your phone at any time.
You can live stream your phone screen and audio to YouTube, Zoom etc.
Supports most Android devices and iOS 7 and above, including iOS 15.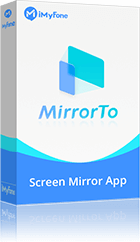 iMyFone MirrorTo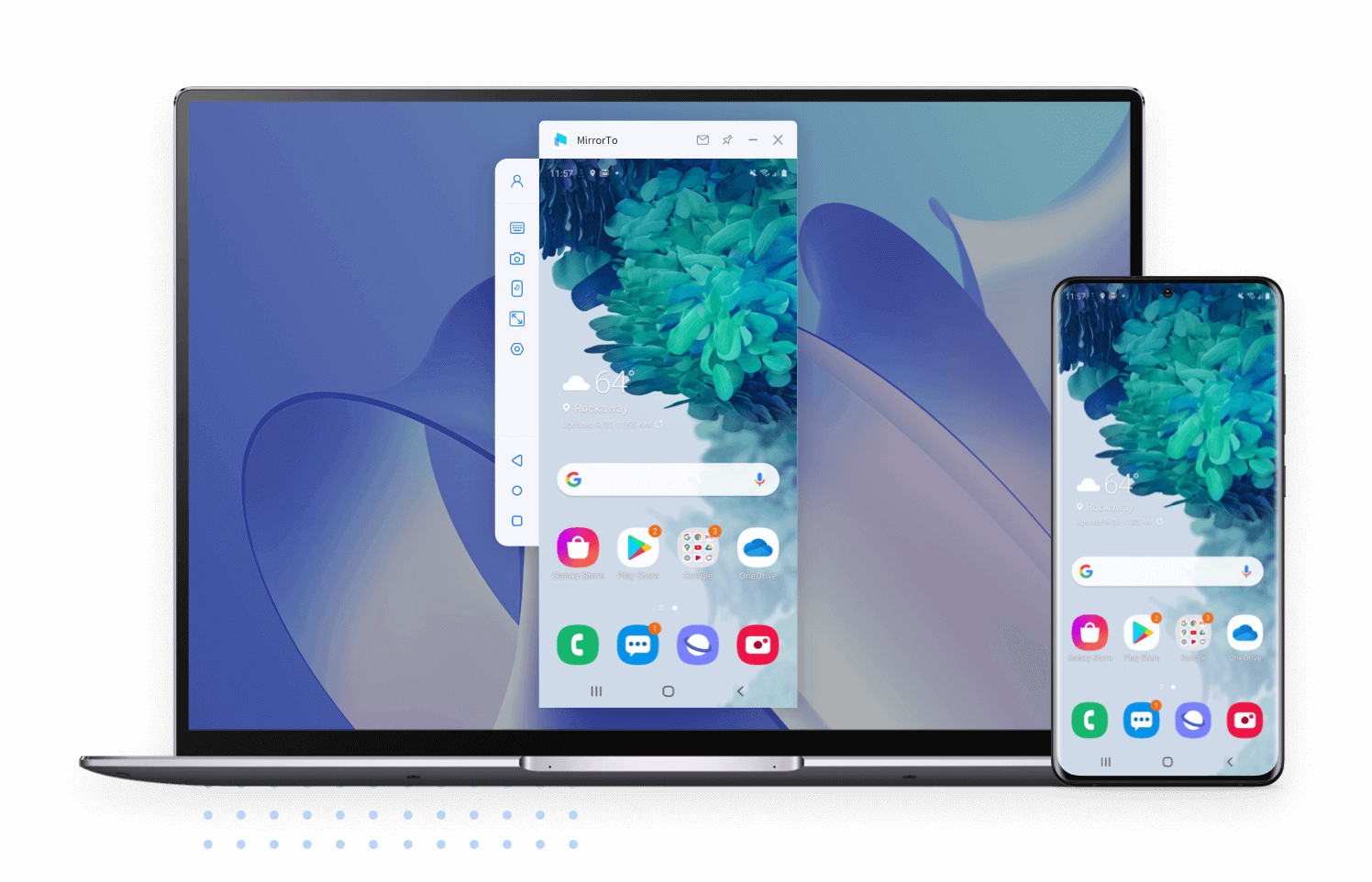 Step 1: Download & Install iMyFone MirrorTo on your computer and launch the program.
Step 2: Connect your Android phone to the PC with a USB cable and choose your devices. Then select "Transfer files" for a USB connection and continue.
Step 3: Move to Setting > About phone > Software information. Then go to Developer option by clicking Build number for 7 times. Enable the USB debugging on your Android devices when USB is connected.
Step 4: Give permission to MirrorTo and allow it to show things on top. Click "Turn on". iMyFone MirrorTo apk will be automatically downloaded in your Android phone.
Step 5: Now, your Android phone screen is successfully mirrored to the computer. And you can enjoy mobile games or reply messages on social platforms with a large screen by using keyboard and mouse.
ApowerMirror (Windows 7 or 8)
Install ApowerMirror on your Windows and Android devices.
In the developer settings, enable USB Debugging.
Connect the gadget to the PC using a USB cable ( Allow USB debugging prompt on your Android)
Open the app and, on the permission to capture screen, hit "START NOW" .
Miracast (Windows 10)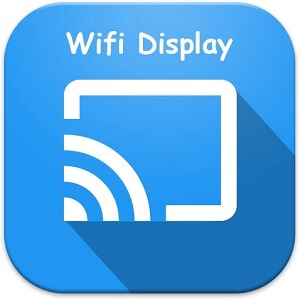 For Windows users, your laptop needs to be Windows 10 for a smooth outcome. Similarly, if you are an android user, your phone needs to be android 4.2 or above.
For Windows 10:
Step 1: Press the Windows key + K to push start wireless display.
Step 2: Choose your receiver.
Step 3: Optimize your audio settings.
Note
If you are a Windows 8 user, you need to press on the Windows key + C. (It won't be entirely seamless as windows 8 does not fully support Miracast.)
For Android:
Step 1: Go to settings and select the display option.
Step 2: Click on the wireless display option.
Step 3: Choose the Miracast dongle.
Step 4: Your screen will be mirrored.
You can use adapters if your smartphone does not directly support the Miracast application.
Pros:
Easy-to-setup.
Wireless, you do not need a Wi-Fi router for mirroring to take place.
The dongle is relatively easy to carry.
Cons:
It has stability problems.
It does not offer standardized latency.
Mirroring display only as compared to Airplay and Chromecast, which offer features to multitask.
Wired Connection: Type-C to HDMI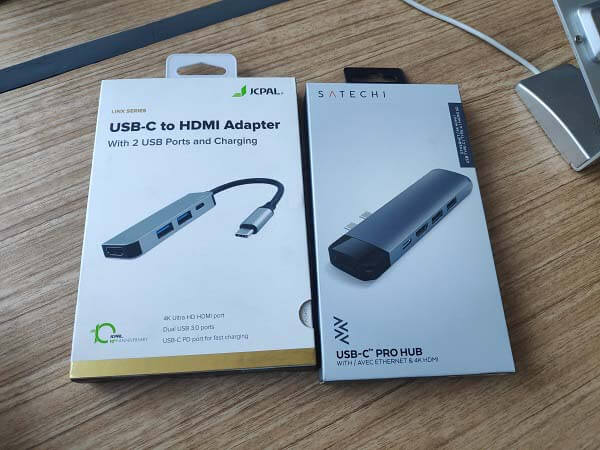 A USB-C to HDMI connection is required for complete screen mirroring. Attach a USB-C to HDMI converter to your TV to connect a Samsung Galaxy device with android 4.2 and later.
Connect the USB-C cable to your Samsung Galaxy device's USB-C charging port. Then connect the HDMI wire to your TV.
Pros:
Simple to use.
Synchronization is solid.
Display quality is exceptional.
Cons:
Wired connection.
Hassle to carry around.
AirDroid
A plethora of third-party applications are available to download to mirror your phone screen. The best examples is AirDroid.
AirDroid provides certain desktop features for your phone, making it much more commanding. It has both a free version and a premium version (which has additional features).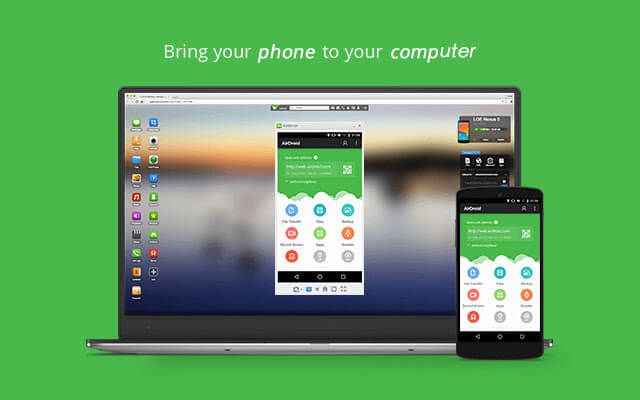 Furthermore, it offers a desktop application for both Mac and Windows users. Although, you do not necessarily need to download the application as your web browser will support it.
How To Use Airdroid:
Step 1: Download the app on your phone, provide the necessary details and accept permission requirements.
Step 2: Open your browser and enter web.airdroid.com on the search bar. A QR code will be displayed.
Step 3: Open AirDroid on your mobile and press the scan icon on top of the screen.
Step 4: Scan the code.
Step 5: Tap Sign In (does not require an account).
Step 6: The connection will be successful.
The only downside AirDroid has is that it does not support third-party applications such as Snapchat; hence they will not be displayed.
Otherwise, you can make phone calls, read and send SMS, access photos, music, and much more.
Mirroring Your iPhone to Windows Laptop
Apart from android phones, you can even mirror your iPhone onto your laptop. There are two ways to do it, through the internal software, i.e., AirPlay, and through third-party software like LetsView.
AirPlay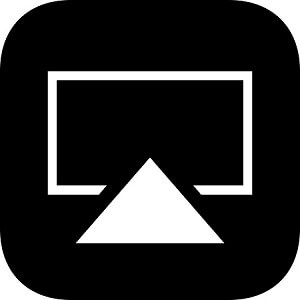 AirPlay is a built-in software offered to iPhone users; it is straightforward to use and conveniently mirrors your phone's display onto a television or laptop screen.
Step-By-Step Guide:
Step 1: Swipe up from the bottom of the device screen or down from the top right corner of the screen to access the Control Center (varies by device and iOS version).
Step 2: Select "Screen Mirroring" or "AirPlay" from the menu.
Step 3: Choose your computer.
Step 4: Your iOS screen will be shown on your PC.
Pros:
AirPlay provides the function of mirroring devices even at great distances.
Use of lossless compression.
Allows for direct connection between iOS devices and AirPlay devices, enabling enhanced audio synchronization and control.
Cons:
The devices need to be networked at all times for AirPlay to function seamlessly.
It is limited to Apple devices.
LetsView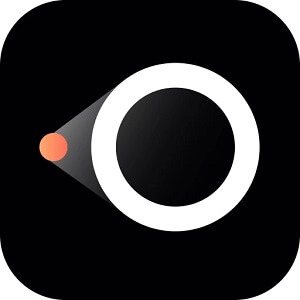 LetsView is an excellent third-party application that allows you to mirror your iPhone's screen onto a bigger one including Windows 10.
Step-By-Step Guide:
Step 1: Open LetsView on your phone after downloading it.
Step 2: Tap the name of your.
display from the list, and your phone screen will appear on the laptop.
Step 3: If you' re using an iPhone or iPad, go to the Control Center and select "Screen Mirroring" then "LetsView + your TV's name".
Step 4: Then your iOS display will be correctly replicated.
Pros:
Little to nil latency, resulting in a seamless and convenient user experience.
High video resolution allows you to stream videos in high quality and with a premium display.
Excellent for testing whiteboard and note-taking applications in the classroom.
Cons:
Some users have reported an audio time delay, leading to an un-synced replication.
It does not support previous IOS versions older than 14.0; therefore, you must have the most recent iPhone to use it.
When some users replicated their displays for gaming, they reported experiencing excessive latency/ping.
Mirroring Android Phone to Macbook
Vysor
To mirror phone to laptop (Android), you can use third-party apps like Vysor.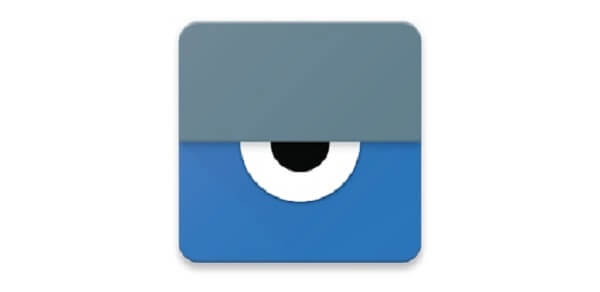 Vysor will function when USB debugging is enabled on your device.
How to use Vysor:
Step 1: Link your Android device to your Mac.
Step 2: Once you link it for the first time, the mobile operating system will prompt you for USB debugging authorization. Tap OK to accept it.
Step 3: To sync, Vysor will install an APK on your smartphone.
Step 4: After a few seconds, you should be able to view your mobile screen on your Mac via the Vysor window.
Step 5: Now when you join your smartphone, Vysor will recognize it and display a mirror screen.
Pros:
Easy installation.
Use of keyboard and mouse is allowed.
Automatic launch.
Option to connect wirelessly.
mainly of the free version.
Cons:
Loads of advertisements.
Low-quality image displaying.
No recording function.
Mirroring iPhone to Macbook
If you are wondering how to mirror your phone to your laptop (iPhone), read ahead. There are two apple byproducts: Quicktime and AirPlay, and several third-party apps, the most solid out of which is Reflector.
QuickTime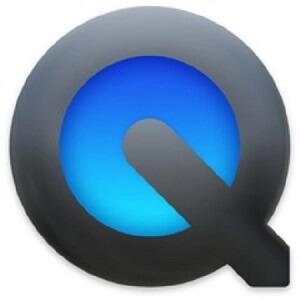 QuickTime is a multimedia framework extension that Apple made to enable multiple audio formats, images, and videos.
How to Use QuickTime to Mirror Your iPhone to a Mac
Step 1: Using the Lightning to USB cord, connect your iPhone to your Mac.
Step 2: On your Mac, launch QuickTime.
Step 3: In the start menu at the top of the display, select "File".
Step 4: Select "New Movie Recording" from the drop-down menu.
Step 5: Click the down arrow next to the red record button (lower middle).
Step 6: Your recording will be ready to use.
Pros:
It is free to download.
 It projects high-quality graphics.
Cons:
Large file size, which makes it difficult for you to download those files.
It has an extensive buffer period.
It does not support all video formats.
AirPlay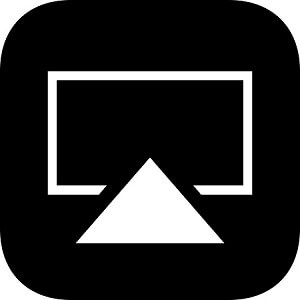 An inbuilt feature of Apple Products.
Step-By-Step Guide:
Step 1: Join the same Wi-Fi network as your Apple TV or AirPlay 2-compatible smart TV.
Step 2: Locate the video you wish to watch.
Step 3: Select AirPlay. In certain apps, you may need to tap a different icon initially. Tap Share in the Photos app, then AirPlay.
Step 4: Select your Apple TV or AirPlay-enabled smart TV.
Step 5: To pause streaming, hit AirPlay within the app you're using, then choose your iPhone or iPad from the listing.
Pros:
AirPlay provides the function of mirroring devices even at great distances.
Use of lossless compression.
Allows for direct connection between iOS devices and AirPlay devices, enabling enhanced audio synchronization and control.
Cons:
The devices need to be networked at all times for AirPlay to function seamlessly.
It is limited to Apple devices.
Reflector 4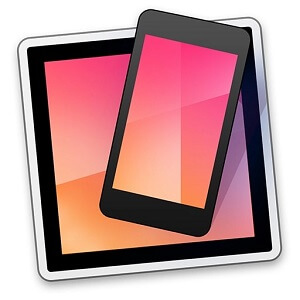 It is a third-party application used to mirror your phone to your Macbook. The latest version is Reflector 4.
How to Use Reflector 4:
Step 1: Launch Reflector 4 on your Mac, then activate screen Mirroring on your cellular device.
Step 2: For screen mirroring, your computer appears as a receiver.
Step 3: Wait for Reflector to display a 4-digit code on the computer screen after tapping the name.
Step 4: Then, on the mobile device, enter that code into a dialogue box.
Step 5: You will be able to mirror your display successfully.
Pros:
No dropped connections.
High latency.
Cross-platform connectivity.
Cons:
It is a paid application costing $17.99.
You may also like:
How to Use AirPlay on Windows 10 – Using AirPlay Explained
[Full Guide] How to Mirror iPhone to PC/Computer/Laptop in 2022
FAQs about Screen Mirror
1

Why can't the device be searched?
Don't be concerned if no device is identified when you attempt to project the phone screen to an external monitor. Here are some pointers to consider.
Determine whether or not the external monitor supports Miracast. It is suggested that you should use an HDMI converter to link your smartphone to the output device if it doesn't.
On the external display, enable the wireless projection option. If the function was previously allowed, disable and re-enable it.
2

Why is there no sound in the screen projection?
There is no sound as long as your Android phone's internet resources are mirrored on the laptop, which has nothing to do with the laptop or the phone, owing to the Android operating system.

The Android operating system muffles the sound. The phone, however, is making a noise. You may also utilize a Bluetooth speaker or an AWIND-enabled screen projector if you have the condition.

The above was stated by unified.
3

How do I change the screen size when I mirror my phone to my laptop?
For this, you need to play around with the aspect ratio and choose the one that best fits your needs and requirements.
Otherwise, on the connected device, usually the smartphone, always click on the full-screen icon to maximize display size.
4

Why can't I find Mac Screen Projection?
If your external display isn't working and you have an Apple adaptor, try the following: For a few seconds, unplug your adaptor.
If that doesn't work, please restart your Mac in safe mode and then restore the screen size to its factory settings. Another approach is to clear the NVRAM and SMC on the Mac.
5

Why can't l find screen projection on my phone?
The answer is the same for this question as it was for the first one.
Conclusion
The question, how to mirror your phone to your laptop has been covered in all aspects and details above.
Whether you have an android device or an Apple device as the sender and a windows laptop or Mac as the receiver, there are several ways in which you can mirror the phone screen to the laptop.
There are several in-built tools and third-party applications that you can make use of to mirror successfully.