Wireless tech allows you to duplicate your Android device screen onto a bigger screen like your TV so that you can watch HD movies, play music or even supersize some of your favorite apps.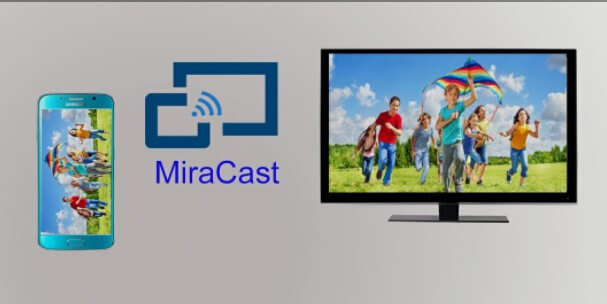 This wireless tech is known as Miracast – a feature poised to wipe out other video streaming standards, especially given that the market is very Android-fragmented. We will tell you all about it how you can miracast from Android.
Part 1: What is Miracast?
In simple terms, Miracast is a wireless display standard, which was announced in 2012 by the Wi-Fi Alliance in Las Vegas. It is used to mirror screens from devices, such as smartphones, laptops, or tablets, to display receivers such as projectors, TVs, or monitors.
Miracast is built on Wi-Fi Direct technology that allows users to create ad-hoc privacy networks for sharing files. This means that Miracast doesn't need a Wi-Fi signal to work, as it creates its network. In terms of compatibility, Miracast is applicable in modern Windows and Android devices, particularly those that come with Windows 10 and Android devices with version 4.2 or above.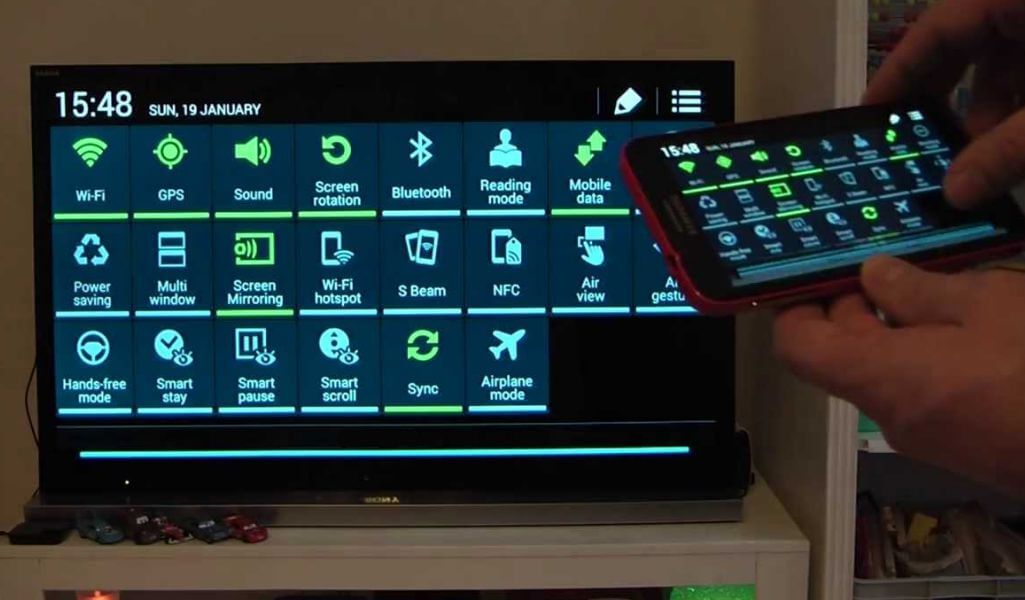 Other than screen mirroring for entertainment purposes, Miracast can be used for education purposes, where teachers can now use it to improve student engagement and comprehension. Moreover, business people can also use this technology in their day-to-day activities. This makes Miracast technology to be recognized universally, especially among Android users.
Part 2: How to use Miracast screen from Android?
As we already mentioned, Miracast is available on devices with Android 4.2 or above. Of course, the devices also need to have the appropriate hardware to support Miracast technology, which means that if your phone is an old device that was updated to the latest versions of Android, it might not support it, as the hardware is still old.
Now, having said that, here is how one can use Miracast screen from Android.
Step 1: open your device's settings screen - the "Settings" app on your phone. Under the "Device" section, tap "Display." Then, scroll down until you see "Cast Screen," which you will tap then.
Step 2: after that, you will need to tap the menu button at the top of your screen, where a pop-up will appear, and you will then select 'Enable Wireless Display.'
After that, your phone will scan any available Miracast devices nearby and display them in a list under the Cast Screen.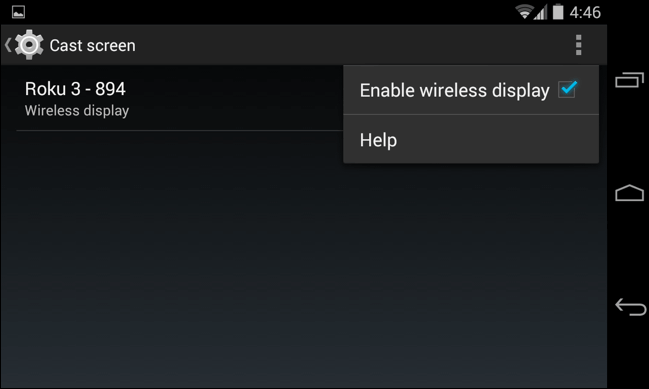 Step 3: now, once you see your preferred receiver has been found, just tap on it to begin casting your screen. You will receive a notification as an indication when you're mirroring your screen.
Step 4: If you want to stop casting your screen, just pull down the notification at the top of your screen and tap Disconnect.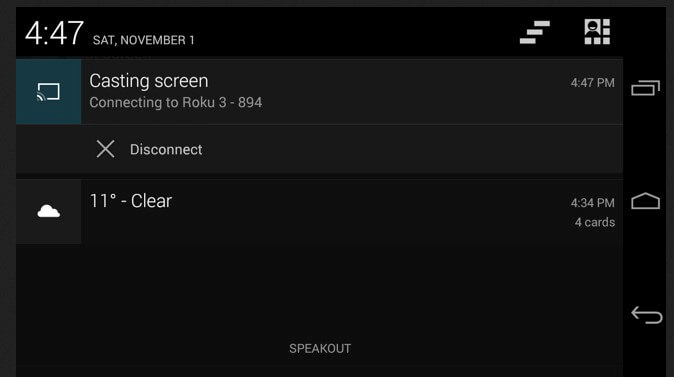 The entire process should be easy unless you start experiencing technological challenges that are common to screen mirroring. One way to ensure that you minimize the common connectivity issues, you need to ensure that your Miracast receiver officially and explicitly supports the Miracast Android PhoneM or any other devices that you are using to cast it. When connecting to your TV and you realize that it doesn't support Miracast Android App, you can use a dongle to connect.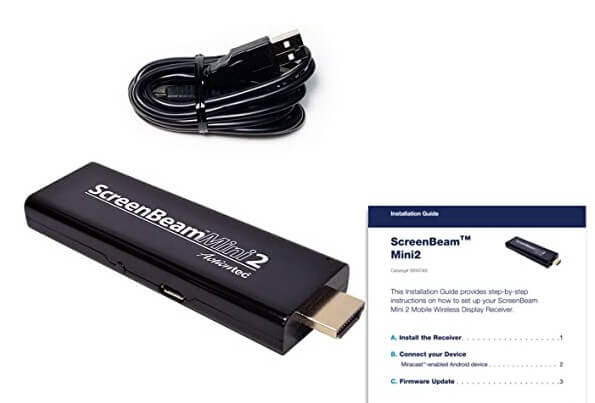 ScreenBeam Mini 2 will certainly come in handy in such a situation. It supports Android 4.2+ and Windows 8.1+/10 devices with Miracast. This dongle will allow you to wirelessly mirror any form of content from your Android device to your HD TV, without Apps or trying to upload the content to the cloud. You should enjoy watching your movies, share pictures, listen to music, or even play games without bogging your home network down.
Part 3: Top 3 Miracast App for Android
If your Android device does not support Miracast, don't worry. There is another solution to hep you deal with it. You can download Miracast apps instead,Below is our three favorite Miracast apps:
1. iMyFone MirrorTo
iMyFone MirrorTo is a Miracast app for Android. It has a simple interface designed for screen projection to PC, which is ideal for playing a variety of games.
It allows you to enjoy a better visual experience with no color difference or delay during screen projection.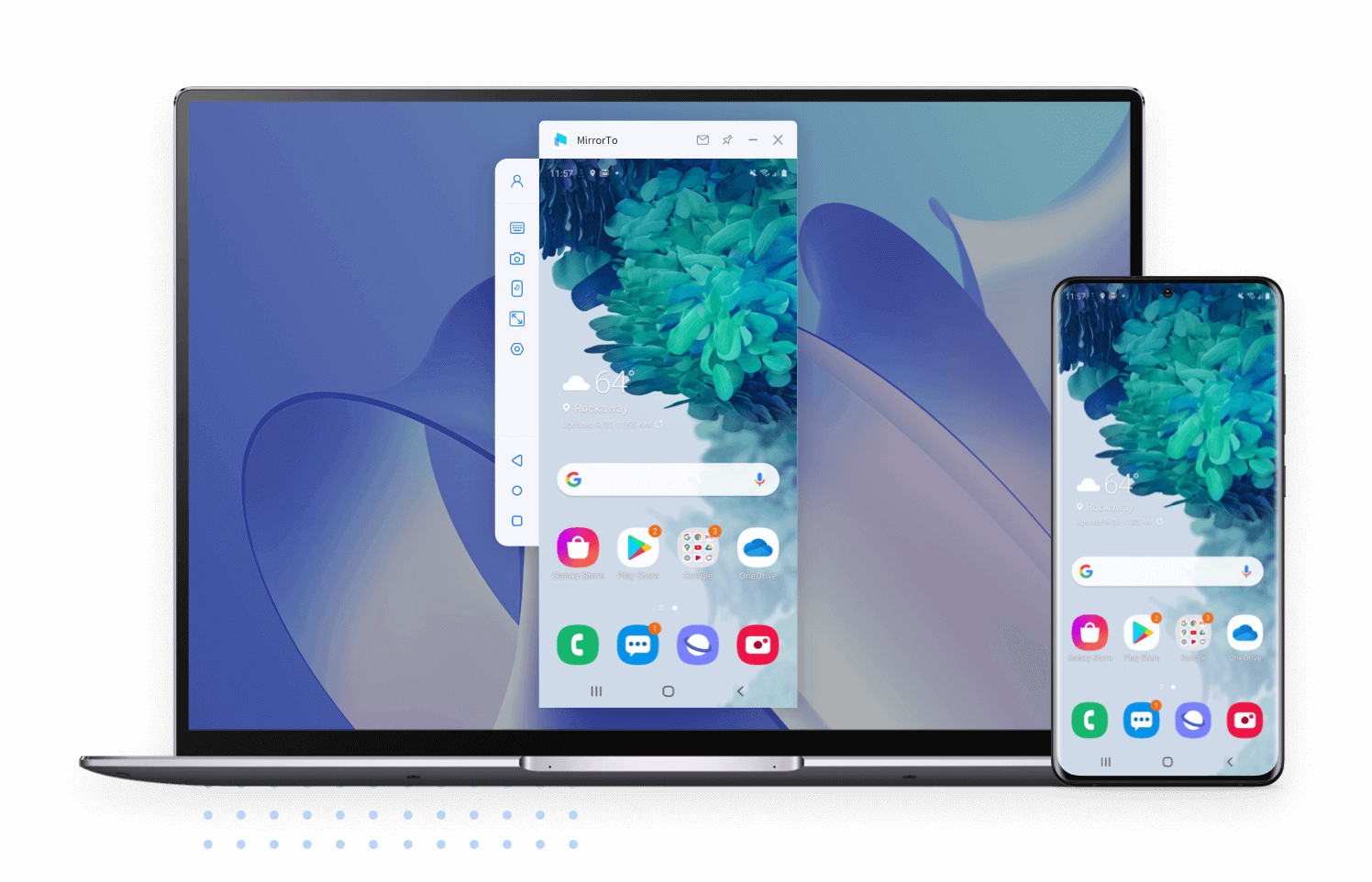 Key advantages of iMyFone MirrorTo:
With it, you can get a high definition of screen quality.
Excellent display when you mirroring your phone to PC.
You can easily use yoru keyboard to reply your social media such as Whatsapp, snapchat, facebook, etc
With MirrorTo, You can easily display your phone's interface on the big screen.
You can enjoy a stable connection when mirroring
2. LetsView
It is the best tool to connect your phone to your TV or PC, LetsView comes with features such as the ability to maximize the whiteboard of the app in case you need to annotate while mirroring your screen.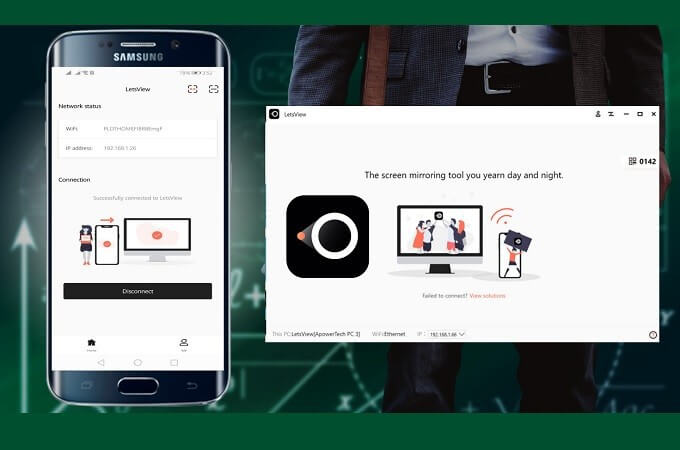 Pros
Wireless connection
Works perfectly on PCs and TVs
Works on both iPhone and Android devices
It can be connected in three main ways; auto-detect, QR code scanner, PIN
Cons
Doesn't support connection via USB
3. EZMira
EZMira tool makes your mirroring experience rather easy and fast. With just one click, it allows you to control your device to your receiving devices perfectly through QR code or Bluetooth.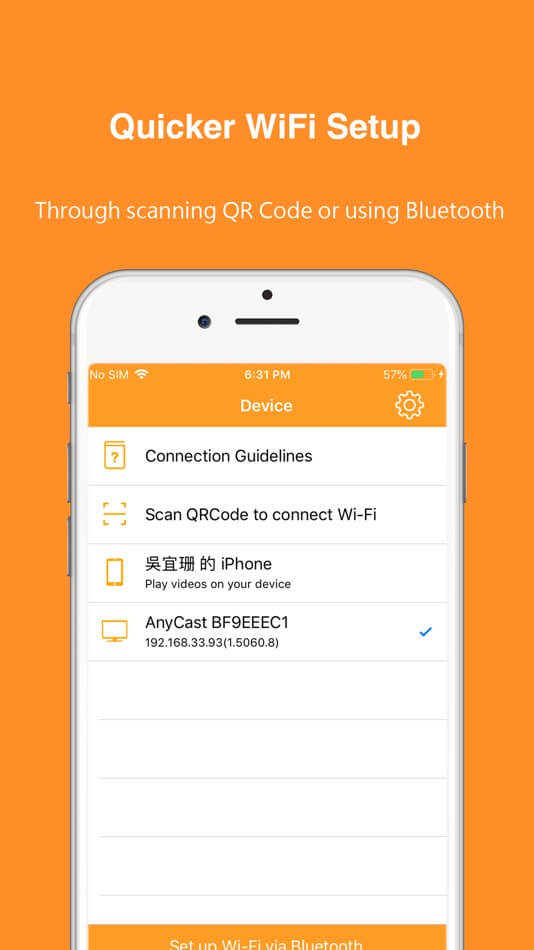 Pros
Can support mirroring to Netflix
Supports DNLA that provides clear video graphics
Mirrors devices to PC/TV perfectly
Cons
The tool crashes at times
You can't use it when your phone is in power-saving mode
4. EZCast
Not only can EZCast be connected to via Wi-Fi, but you will also have the ability to mirror on projectors. Also, the tool allows you to create a video playlist.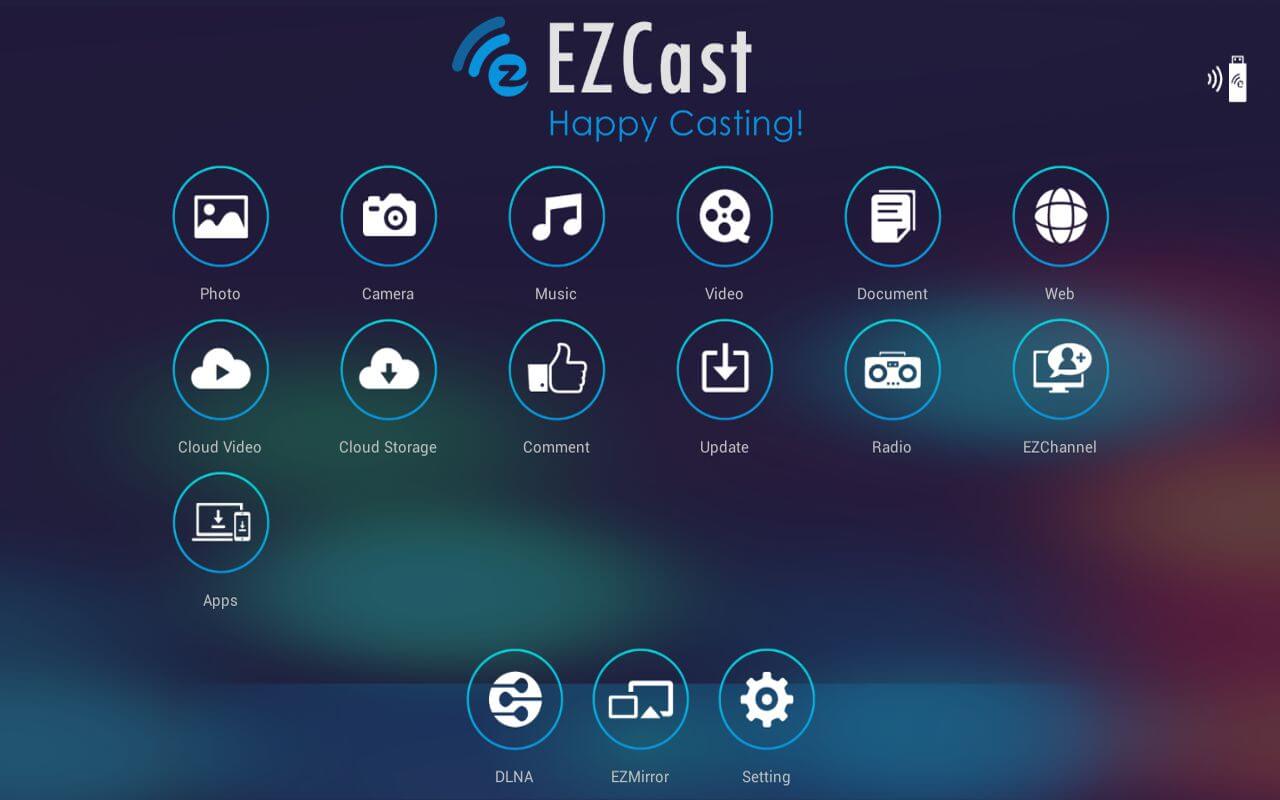 Pros
Supports Chromecast plus other wireless receivers
It can be used to mirror PPT presentations
Supports iPhone, Android, and TV mirroring
Cons
Complex connecting process
May sometimes fail to detect Wi-Fi
Mirroring can get easier than this! These apps are designed to help your mobile screen on a bigger screen for better experience. You can get the apps from Google Playstore, and once installed, using them is actually quite simple.
Part 4: FAQs you should know about Miracast Android
Q1. How do I use Miracast on my Samsung?
To enable the wireless display on your Samsung smartphone, you just need to swipe down the top of the screen and select the 'Samsung Connect' function. You will switch on Smart View - which is a Miracast Android app for Samsung - and that's how you will be able to connect the phone to your receivers.
---
Q2. How do I add Miracast support?
Step 1: turn on your TV (that's if it supports Miracast).
Step 2: on your Windows PC, go to Start, then Settings, then Devices, and to Connected Devices.
Step 3: click 'Add a Device' and then wait until it appears on the list
---
Q3. Why did Android remove Miracast?
Miracast was removed because its features were similar to those of Chromecast.
---
Q4. What to do if Miracast is not working?
You can check it by this ways:
Check whether your devices support Miracast
Check to see whether you have enabled Wi-Fi on both devices
Check whether the Wireless Mode Selection is set to auto
Check whether the Wireless Mode Selection is set to auto
Reinstall your Wireless Network Adapter driver, and lastly
Close any available third-party VPN solutions
---
Final Words
Now, as we have seen, Miracast empowers modern devices to easily connect wirelessly to displays or projectors. Not only has the wireless technology spared device users the hassle of looking everywhere for the proper connector, cable, or input by eliminating the need for cords and cables. This is certainly a game-changer.
Remember also that business managers, as well as, teachers are now able to create a highly collaborative environment, thanks to this technology. So, we can easily say that Miracast offers the best all-in-one solution to miracast from Android screen onto a bigger screen wirelessly, making it a worthy investment.