Minecraft is a successful game with a compelling theme for its fans. The game comes in two main modes: survival and creativity. The major reason for the game's popularity among its fans is its fun and creative build and survival block idea.
The game lets the players shape the infinite blocky word using digital hands. The player earns the reward by constructing a landscape that they wish. Since the game cannot be subjected to a specific category, it wouldn't be wrong to say that Minecraft has its own genre.
If you also want to play the game on your PC, continue reading to know the price tags, how to choose its editions, and more about Minecraft on PC.
Part 1: How to Download Minecraft on PC?
Before moving on to downloading Minecraft on PC, please note that Minecraft comes in two editions, and there are certain differences between the two.
Minecraft bedrock edition (for windows 10)
Minecraft Java edition
You can grab bedrock editions on consoles, mobile devices, and through the Microsoft store. It doesn't have an updated combat system, but it allows cross-play with Xbox One, mobile devices, and Windows 10. Along with that, it has some content that Java doesn't support. This edition does have add ons and features more paid content to add to the game.
The java edition is actually the original version and has gained popularity compared to windows 10 editions for its new combat systems and multiplayer servers. It is available for PC and allows you to play only with other Java players. It will enable you to install mods like texture packs for free. The servers let you play with other Java users and feature maps filled with minigames and activities.
1. How to download Minecraft Windows 10 and Java edition on PC
Follow the given steps to download Minecraft Bedrock or Java edition on your PC:
Open the browser on your PC and search Minecraft or directly go to this Minecraft website.
You can see a green rectangular box on the left side that says "Get Minecraft". Click on this green box.

Up lion clicking, you have to choose how you want to play. Since you are downloading for PC, click on the icon marked as a computer.

Now, choose PC as a preferred platform.
The next step is to make a choice which version do you want to download.

If you want to download Windows 10 edition, click on Windows 10 edition to transport you to the version-specific page.

If you want to download the Java edition, click on the Java edition to transport you to a version-specific page.

Click the green buy button to move you to the Microsoft store, where you have to register yourself with a new account. Add your email and password to register.
You will receive a four-letter code at your given email address. Open your email to check the four-letter code and enter the code in a box and click verify.
Enter your credit card details and hit the purchase button at the bottom of the page. A screen will appear that says Purchase Complete.
Now click on download and install the game.
After installation, log in with your email and password on a new page to play the game.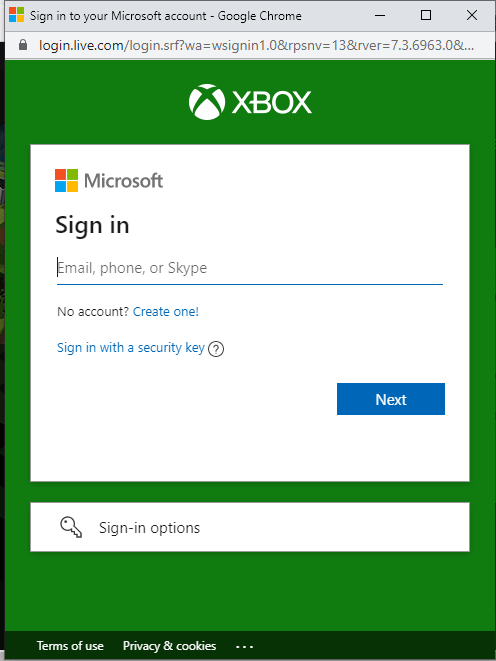 You are all done now.
2. Minecraft Cost and Purchase
Until December 2020, the java edition was freely available to play, but now players have to pay $26.95 to play this edition.
Minecraft windows 10(bedrock edition) has a free trial version for PC and laptop that consists of 90 minutes of gameplay. Then you can buy the starter collection that costs around $29.99 and the master collection that costs $49.99.
You can buy both editions from Minecraft.net.
Part 2: How to Play Minecraft on PC For Free?
Minecraft initially started as only available on PC, but it has expanded to console, mobile, VR, and even Fire TV. However, each version still costs some money to play.
Fortunately, a free version of the game is also available, playable directly through your browser. This free version is the original 2009 Minecraft creative mode that was made available as a part of the 10th-anniversary celebrations. Luckily, it's still fully playable.
To play the free version on your browser, follow the given steps:
Head to the classic minecraft.net link for the free version.
Add your user name.
You can copy the shareable link and send it to 9 friends to join the game with you.

Click the start button, and that's it.

You can now play it for free. Just left-click the mouse to place or mine the blocks, right-click to toggle between the two, and move using WASD.
Limitations to Free Version
As it is the original 2009 creative mode version, the game has all the limitations from that time. There are no mobs at all, and you have only 32 blocks(most of them being dyed wool) to build with.
Additionally, the version still has all the original bugs, and you cannot save your game. So, if you accidentally close the tab, you lose all your formations.
Part 3: How to Play Minecraft on PC with iMyFone MirrorTo?
This application iMyFone MirrorTo behaves professionally in cast phone screen to PC and allowing users to control Android from PC. It means you can take advantage of mouse and keyboard to play Android games like minecraft on PC. On some occasions, such as getting a high score, you may want to take a screenshot. It's feasible that users can make the screenshots or record phone screen during the period.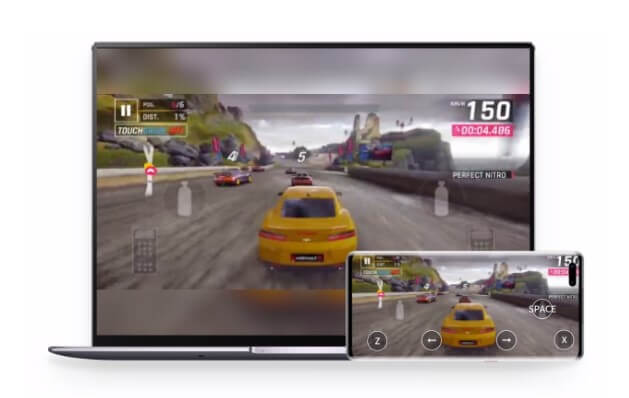 Step 1: Download & Install iMyFone MirrorTo on your computer and launch the program.
Step 2: Connect your Android phone to the PC with a USB cable. Then select "Transfer files" for a USB connection and continue.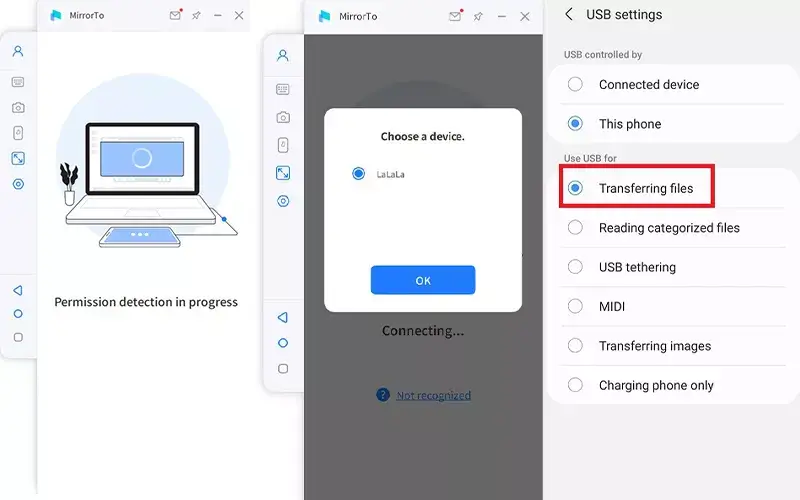 Step 3: Give permission to MirrorTo and allow it to show things on top.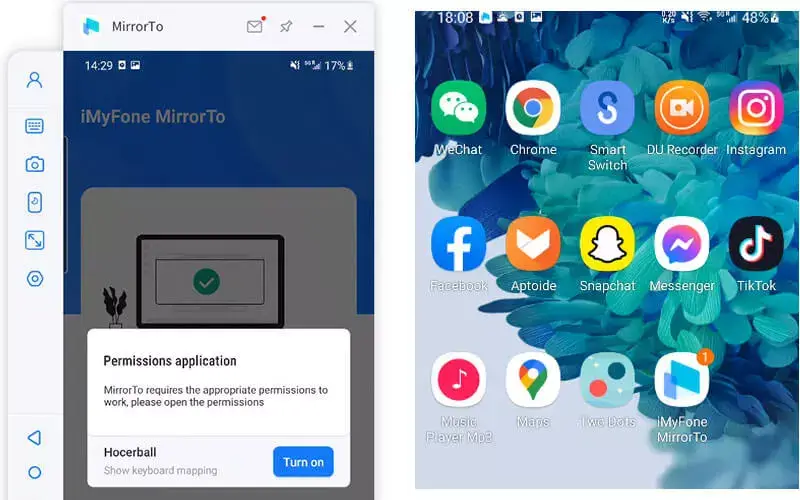 Step 4: Start to control your Android phone from your PC.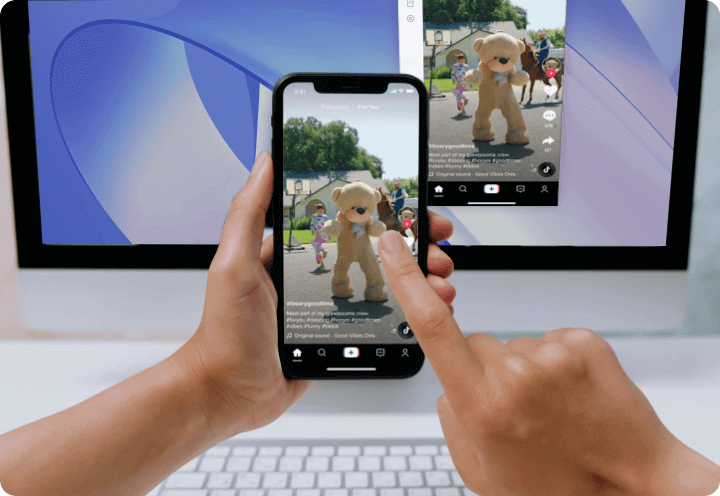 Part 4: How to Play Minecraft on PC with Bluestacks?
Minecraft pocket edition is simply the mobile version of the Minecraft game. However, this mobile version no longer has the same name in the mobile app stores.
Regarding features, it gives practically the same experience as on PC or console, but there are some noticeable differences too.

Pocket edition doesn't support unofficial mods, and you can purchase extra content through micro-transactions. It has the invite-only option and can be played with friends on Xbox and PC in multiplayer.

If you are interested in playing the pocket edition on your PC, you can do so with the help of an emulator like BlueStacks.

Step 1: Visit bluestacks.com on your PC, click on download BlueStacks, and wait until the download is completed.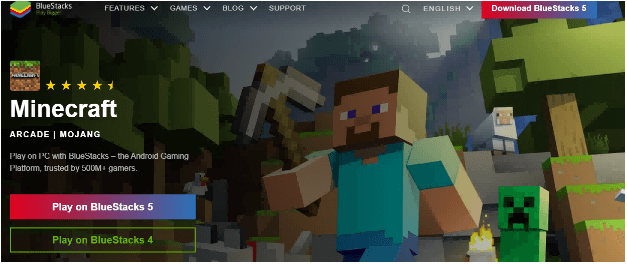 Step 2: Open the downloaded file and install the BlueStacks.
Step 3: Boot up the app and search the game by typing Minecraft in the top right search bar.
Step 4: Install the game by clicking install.
Step 5: Sign in to your Google play account.
Step 6: Download the game and start playing.
Part 5: You May Also Want to Know (HOT FAQs)
Q1. If you buy Minecraft on mobile, will it transfer to PC?
No, you cannot buy Minecraft on mobile and transfer it to a PC.
Since Minecraft is sold and licensed separately for each platform, transferring the license to another platform is not possible.
If you deleted the Minecraft application, it could be downloaded using the same store account and device type for which you purchased it.
---
Q2. How to play with friends on Minecraft PC?
Minecraft can be played with friends on PC using different ways. However, remember that while playing the Java edition, the player's game version must be the same as the server's version.
Choose one of the following options to play with friends.
LAN is an excellent option for playing Minecraft when friends are together and are using the same Wi-Fi.
You can also play Minecraft with your friends on a private Minecraft server.
Another way is Minecraft Realms which is a much safer experience.
---
Q3. If you have Minecraft on your phone, is it free on PC?
If you own the pocket edition on your phone, you cannot use it for free on your PC. Instead, you have to buy Minecraft for your PC separately. People who want the same game purchased on mobile to be played on PC have no other choice except to buy the game twice on both platforms.
---
Q4. Are there any pre-built PCs recommended?
A pre-built PC that can cover the entire gamut is HP OMEN 30L. Its baseline options can successfully run both versions of Minecraft.
You can also scale up the hardware by adding the 11th Gen Intel Core i9-11900K CPU, NVIDIA RTX 3070 GPU, and AMD Ryzen 9 5900X CPU.
Another PC that doesn't cost a lot but gets the job done perfectly is iBUYPOWER Trace MR. This PC has NVIDIA GTX 1650 GPU, 240GB SSD, 10th Gen Intel Core i5-10400F CPU, and 1TB HDD.
---
Conclusion
Minecraft is an interesting blocky world game that adds to the joyful experience when you and your friends play it together. The addictive gameplay satisfies your creativity cravings and gives you a platform to create your landscapes and appreciate yourself as a reward.
If you are particularly interested in playing minecraft on PC, you can do so with the help of our comprehensive guide. Just follow the guide and start playing now.