Getting your hands on a new smartphone can make you leap for joy, without a doubt. All these new features and the fantastic specs of the new device will definitely pamper your desire for something better, faster, and more tech-advanced.

But, what happens when you want to transfer data, such as your photos, between phones? Things are complicated a bit, especially when you want to migrate pictures between devices of different operating systems. This is where we step in and give you 6 handy ways to help you transfer photos from one phone to another, whether they are both Android phones or both iPhones or one Android and one iPhone.
Part 1. Transfer Photos from One Phone to Another via Google Photos [Universal]
Let's note that we are highlighting universal steps here. So, it is always recommended to refer to Google tools for data transfer on your device. No matter you are transferring your photos between iPhones, Android phones or across the two operating systems, Google Photos help you to simply get things done. All you need to do is just a few steps:
Go to Google Photos on your phone. (If it's not on your phone previously, get it from Google Play or App Store, install and launch it. )
Tap on the Menu button on the left top, then Settings, and then Back up & sync.
Enable the Back up & Sync option.
Do it the same on the other phone, and then you can see all your photos on the two devices. You can also download them to the local storage if you want.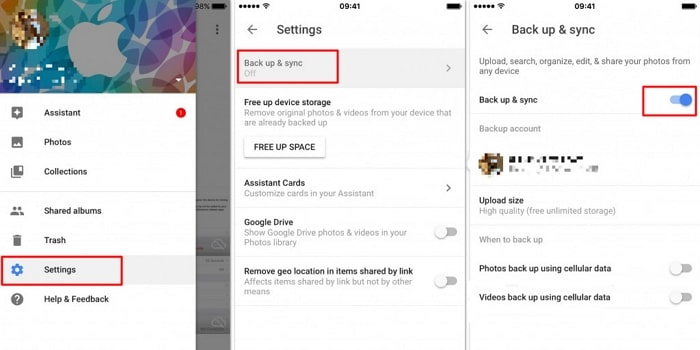 Go reading on and you can learn more methods to transfer photos from one phone to another based on your real situation.
Part 2. Transfer Photos from One Phone to Another in Different Scenarios
In this section, we give you specific solutions on how to transfer photos to a new phone, when (1) both phones are Android-powered, (2) both are iPhones, (3) one phone is Android and the other is iOS, and (4) one phone is iPhone and the other is Android.
2.1 Transfer Photos Between Android Phones via NFC
The overwhelming majority of Android devices have an NFC (Near Field Communication) chip inside them, which can send files between Android phones using Android Beam. It is super easy to transfer photos from one phone to another via NFC, provided that they both run on Android. All you need to do is have both devices side by side, choose the photos you want to move over and hit Okay or something similar to initiate the transfer.
First, you will need to enable the NFC function in your Settings on both of your phones. And then follow these steps:
Go to your photos and choose the one or ones you want to transfer.
Tap to Share them via NFC.
Put your devices close to each other and get the transfer done.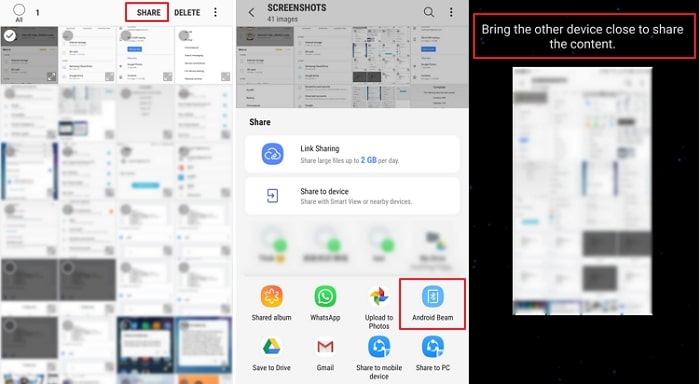 Tips
We've received so many questions about NFC that we pick two hottest to answer.  
Q: What Android versions support NFC?
A: All Android devices running Android 4.1 or later.
Q: Is it supported by iPhones, Windows Phone, and Blackberry?
A: No, iPhones don't have NFC hardware integrated. You could consider the AirDrop feature instead. Blackberry and Windows Phone have NFC hardware, but you can't send files with them via Android Beam.
2.2 Transfer Photos Between iPhones via iCloud
iCloud makes the migration process between iPhones a walk in the park, especially if you are upgrading to iOS 12 and up. Here is the drill involved:
Go to Settings > iCloud > Backup on your old phone to check that there is a recent iCloud backup there.
If you need to take a more recent backup tap Back Up Now.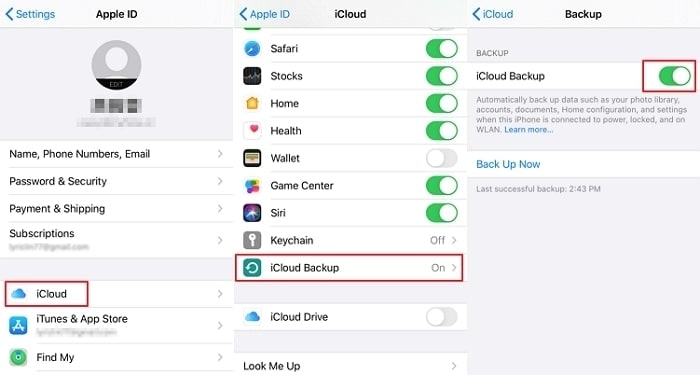 Enter your iCloud information on your new phone and choose to either set up the phone as new or restore from a backup.
Select Restore from Backup and tap on the latest backup you have taken on your old device.
2.3 Transfer Photos from Android to iPhone via Move to iOS
The latest iOS (9+) has introduced the Move to iOS application that allows Android users to migrate most of their data to an iPhone device. It even enables them to install iOS versions of Android applications. To get things started, do this:
Head to the Google Play Store and search for Move to iOS app.
Hit Download and then Install.  
The app will then transfer the data you wish, your photos included, to your new iPhone.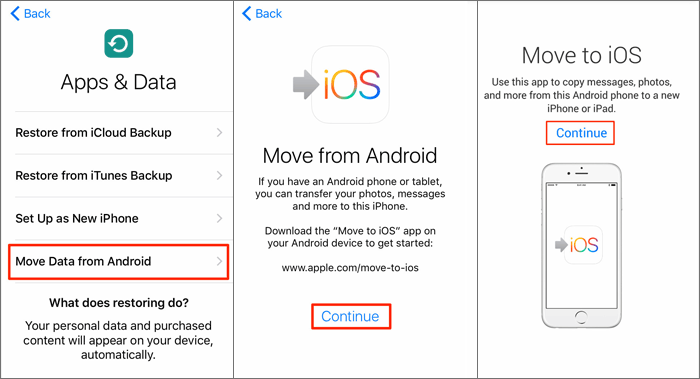 Another option is to use Google's iOS apps for Google Photos, and more. What the apps usually don't transfer from your android device are locally stored data or media, as well as text messages. To enable this, you need to install the app on both devices and then follow instructions. Note that if you also want to migrate videos between your devices, it will probably not be an option.
2.4 Transfer Photos from iPhone to Android via Dropbox
Using Dropbox is a convenient way to transfer photos from iPhone to Android. Here is what you need to do:
Step 1: Install the software and upload pictures
Install the app on both phones.
Open a Dropbox account on your iPhone.
Upload your photos from your iPhone to your Dropbox account.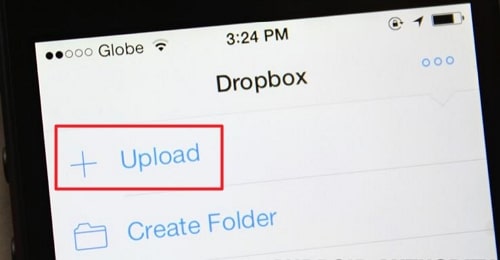 Step 2: Sync your photos
Tap the 3-dot button to access the Menu option.
Press Upload and choose the photos you want to transfer.
Long-press on the folder name and tap Share > Send a Link.
Step 3: Enable your Android device to access the files
Log in to the same Dropbox account you used on your iPhone.
Your pictures should now sit on your new Android phone.
Tip. Transfer More Data Including Photos from One Phone to Another
What all the solutions mentioned above have in common is that they are hugely complicated and require a whole lot of work on your end. Luckily, there is a much faster and significantly less challenging method that will enable you to transfer pictures from one phone to another in a few minutes. We are talking about iMyFone iTransor Pro, a data transfer software that:
Supports all iPhone, Samsung, and Huawei devices of iOS 9.3.5 to 14 and Android 4.4 to 10.
Has been downloaded 50+ million times so far.
Simplifies the process to just three steps and a few clicks.
Allows you to migrate photos and other types of data including even WhatsApp data from iPhone to Samsung or from Samsung/Huawei to iPhone.
Here is what you need to do to send all of your photos from one phone to another. This solution will require you to use your computer.
Step 1: Open the app on your computer
Use your computer to download and open the tool.
Step 2: Connect your phones
Connect both phones with the app.
Check that the software has labeled each device correctly. If the app has labeled your devices the other way around, click Switch to change that.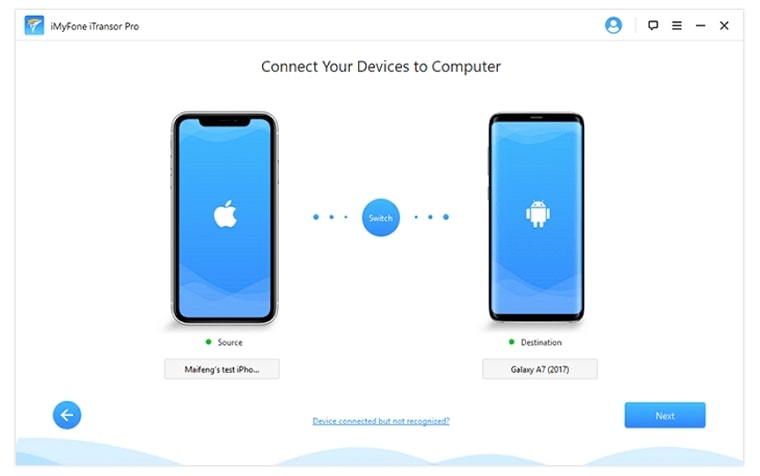 Step 3: Initiate the transfer
Choose the photos or more data types you want to transfer.
Hit Transfer and wait until the process is completed before you remove the phones.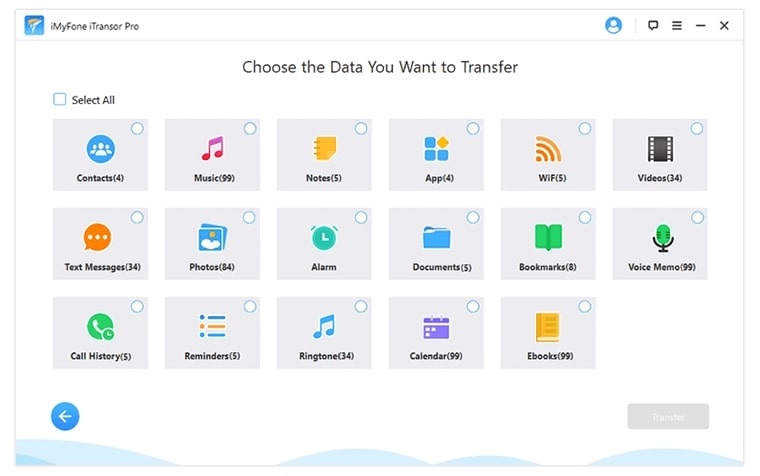 Your pictures should now be in the new device. Check that all of the selected files have been successfully migrated to the Samsung device and disconnect the phone.
Tip
You can choose to transfer WhatsApp across different platforms using iMyFone iTransor Pro. In this case, simply click this option on the main interface.