If you're looking for a way to branch out your ringtone library, you have a lot of options. You can purchase new ones, download free ones, and even share tones back and forth between friends. Let's take a look at the best ways to acquire new ringtones.
How to Buy and Download Ringtones on iPhone iOS 13
One way to get new ringtones is to buy them directly from the iTunes Store on your iPhone. It's a pretty easy process, but comes with a hefty downside: ringtones often cost just as much as a full song!
Launch the iTunes Store app on your iPhone.
At the bottom menu, select More.
Tap on the Tones option.
From here you can buy new ringtones just like making any other purchase on the iTunes Store, like showing in the screenshot below.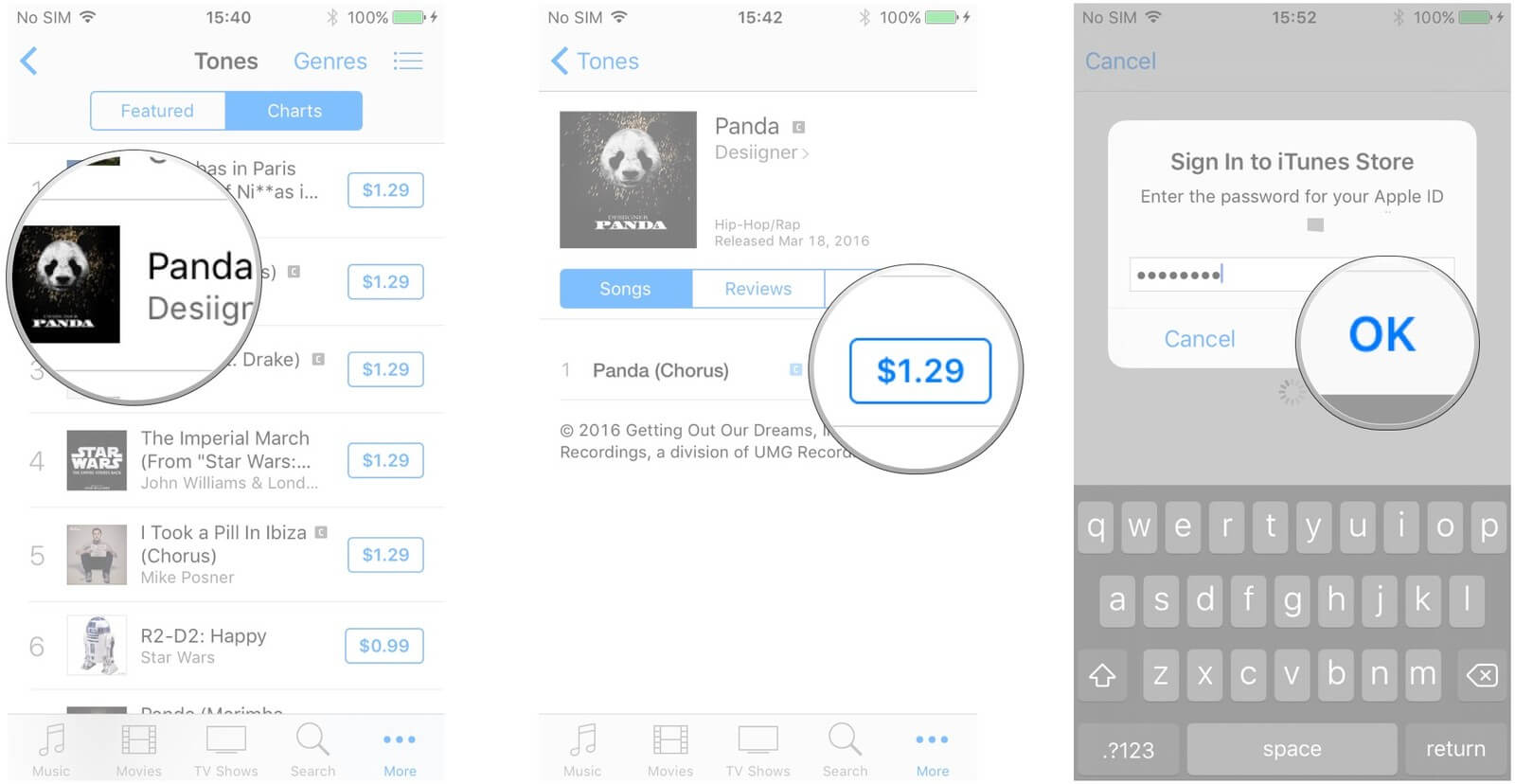 If you already have purchased ringtones on this Apple ID but they are on a different device, you can download them to your phone with these steps:
On your iPhone, open the Settings app.
Tap on the Sounds section.
Select Ringtone.
Tap Download All Purchased Ringtones.
How to Share Purchased Ringtones with Friends (iOS 13 Supported)
What good is amassing a collection of ringtones if you can't share the wealth? Although iTunes won't allow you to do this on your own, the good news is that you can transfer ringtones and more using a program called iMyFone TunesMate.
TunesMate allows you to transfer media back and forth between iTunes, your iPhone, and your computer—videos, playlists, photos, ringtones, and more! Finally you have a way to access ringtones beyond just your iTunes purchases. In fact, with iMyFone TunesMate, you can share ringtones without ever having to launch iTunes on your computer.
TunesMate's Features to Transfer:
Freely transfer purchased and non-purchased files between iPhone, iTunes and computers.
Sync iTunes library to iPhone won't cause any data loss.
Share iTunes/iPhone files (including ringtone) with unlimited friends, even in different Apple IDs.
Extract files from iPhone to iTunes, computer, external hard drive without iTunes.
Steps to Share Purchased Ringtones to Friends
Sharing your ringtones with friends is as simple as using TunesMate to transfer the tones from your iPhone to your PC, and then from your PC to your friend's iPhone(iOS 13 supported). Once you've downloaded TunesMate, follow these steps to share your ringtones:
Step 1. Plug the iPhone with the desired ringtones into your computer and launch TunesMate.
Step 2. Navigate to the Music tab at the top of the interface and click Ringtones on the left hand menu.
Step 3. Select all of the ringtones you would like to share and click Export > Export to PC and find the folder on your computer that you would like to save the ringtones to.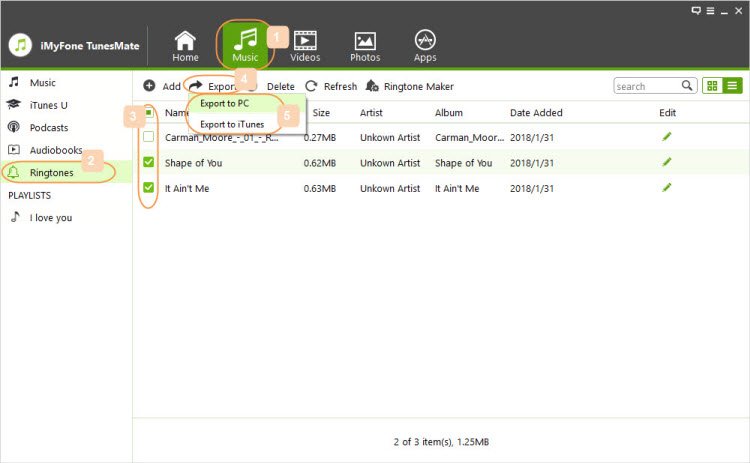 Step 4. When the download has completed, unplug the current iPhone and connect the new phone to the computer.
Step 5. Navigate back to Music > Ringtones.
Step 6. Choose Add > Add Files.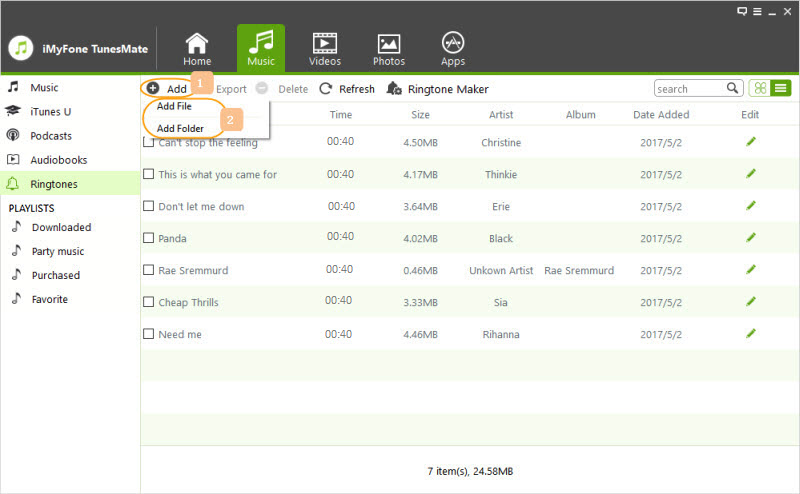 Step 7. Select the ringtones you extracted from the first iPhone and let it begin the transferring process.
Where to Get Free Ringtones for iPhone iOS 13
Paying for ringtones from the iTunes Store is one thing, but as we mentioned before it can get quite costly, especially if you are the sort of person who likes to change your tone once or twice a month. Two easy solutions are to download free ringtones and to create your own from music you already own.
1

Download Free Ringtones
There are several websites you can use to get free ringtones sent directly to your iPhone iOS 13. Let's take a look at a few of them.
Zedge.net allows you to browse ringtones by what's featured, popular, recently added, or by category. Users can even upload their own ringtones to help grow the Zedge collection. Perhaps most handy is the ability to limit searches by device so that you don't end up downloading tones that you can't actually use.
Cellbeat.com is similar to Zedge, but equipped with a more modern design. Cellbeat offers a useful guide to getting the music to your phone, which is a process that Zedge doesn't make quite as clear.
2

Make Your Own Ringtone from Any Song (iOS 13 Supported)
Like most people, though, you probably want to use the music you already have to represent your personality whenever your phone rings. Another useful feature of iMyFone TunesMate is its ability to create custom ringtones from any song on your computer or iPhone.
Key Features of TunesMate for Making Ringtones:
Customized Start and End. You get to choose what part of the song plays when your iPhone rings. Intro? Chorus? Bridge? The choice is yours.
Turn Any Music into a Ringtone. It doesn't matter if you purchased it, downloaded it, uploaded it from a CD, or otherwise. You can transform any song on your computer/iPhone into a ringtone.
Sync without Worries. You never need to worry that your music or ringtones will disappear during the syncing process as long as you use TunesMate.
Steps to Create Ringtones from Any Song
Get started making your own ringtones from your own music today. Just install TunesMate and follow these easy steps:
Step 1. Plug in your iPhone to the computer and launch TunesMate.
Step 2. Within the TunesMate dashboard, select the Music tab. On the left side menu, click on Ringtones and then choose Ringtone Maker.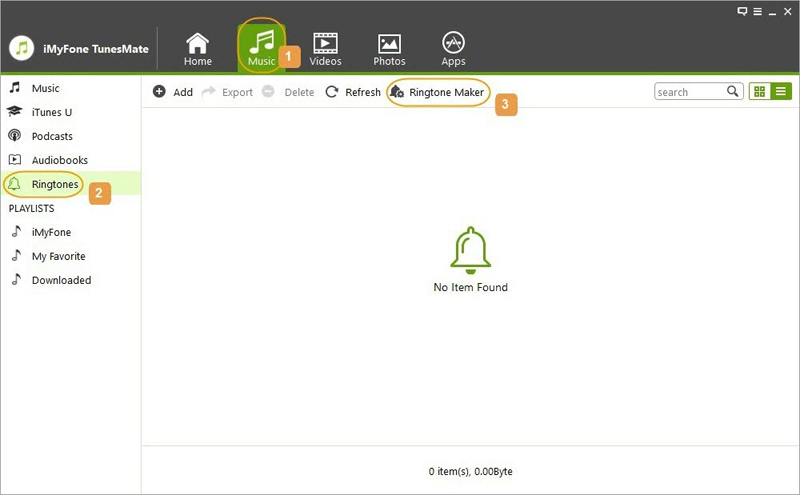 Step 3. Select either Local Music or Device Music to find the song that you want to use as a ringtone. Navigate to and select the desired song.
Step 4. As the song plays, use TunesMate's easy dashboard to choose where to start and end the ringtone.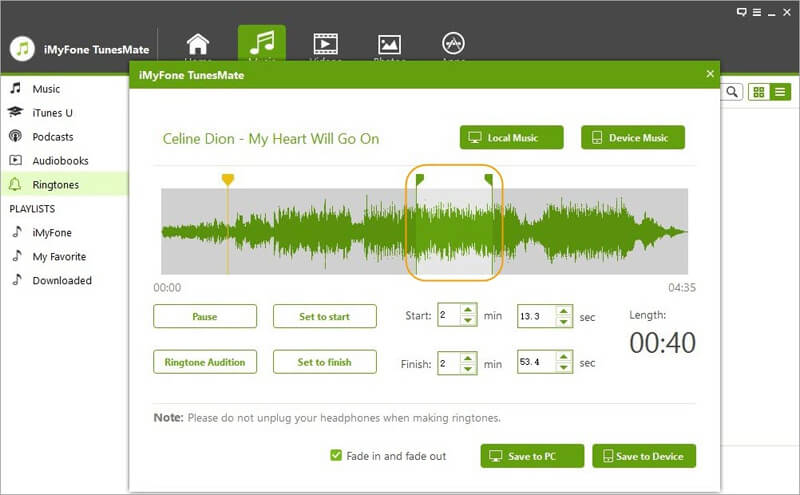 Step 5. Preview your ringtone before saving by clicking Ringtone Audition.
Step 6. To save the ringtone, choose Save to PC or Save to Device according to where you want the file to go.