In this article, we focus on LG users and tell you the solutions to be applied when you forgot PIN on LG phone.  In the following, you will learn 3 methods to remove PIN on LG device with steps easily. Now let's move on.
Method 1: Bypass LG Lock Screen by Hard Reset
One of the ways through which the problem can be solved is hard reset. This process can be done with a special set of key combinations. All you need is to know and carefully press those key combinations to reach the results. Let us know how this can be done when you forget PIN to unlock LG phone and don't know the next step.
Note: Before moving, you should be aware of the repercussions this method can bring. The process will result in wiping away the entire data from your LG device.
How to Unlock LG Phone by Hard Reset?
Step 1: Get your LG device whose PIN you aren't able to recall. Put it in recovery mode by switching it off in the first place.
Step 2: Hold down the Power and the Volume Down buttons simultaneously until the LG logo comes on the screen.
Step 3: Let go off the buttons for a seconds and then again press the same key combinations until you see the recovery mode menu.
Step 4: Take help of the Volume Up or Down keys to reach the "Wipe Data/Factory Reset" option. Use the Power key to select this option.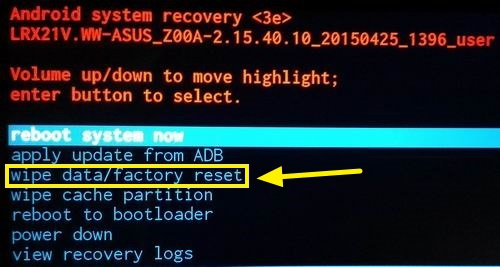 Step 5: Now, a pop-up may come to ask you for the data deletion. Confirm the action and the device will be reset.
Step 6: You can now relax until the device is reset. Once done, choose the "Reboot system now" option to restart the device and you can enjoy with no lock screen.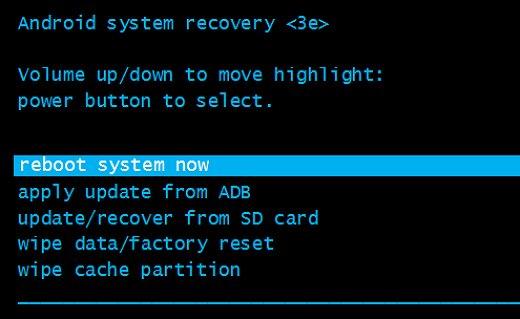 Method 2: Remove PIN on LG Phone with Third-party Tools [High Successful Rate]
The next way to make you assisted when LG phone PIN is forgotten is iMyFone LockWiper Android Lock Screen Removal. This is a tool that has made unlocking screen easier than ever. One can freely download this tool and get assured by the safety and positive results. It can work with ease and doesn't take any special technical knowledge when it comes to a beginner.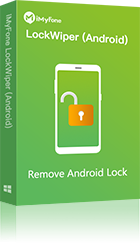 11,000,000 Downloads
Features of iMyFone LockWiper (Android)
Efficiently works with over 6000 Android devices.
Has the ability to remove the lock screens flexibly no matter it is PIN, password, pattern, fingerprint or face lock.
Can work in any scenario including second hand locked device, broken screen, forgotten password and more.
Easy to use with over 98% successful rate.
Instantly removes the screen with few easy steps.
How to Use iMyFone LockWiper(Android) When Forgot PIN on LG Phone?
To use this LG lock screen removal tool, click the Free Download button to download the LockWiper (Android) and install it on your computer. Then, follow the steps below to unlock your device:
Step 1. Install iMyFone LockWiper(Android) on your PC and launch. Now, from the main interface, select Remove Screen Lock. From the screen that now comes, choose again Remove Screen Lock followed by hitting on Start button.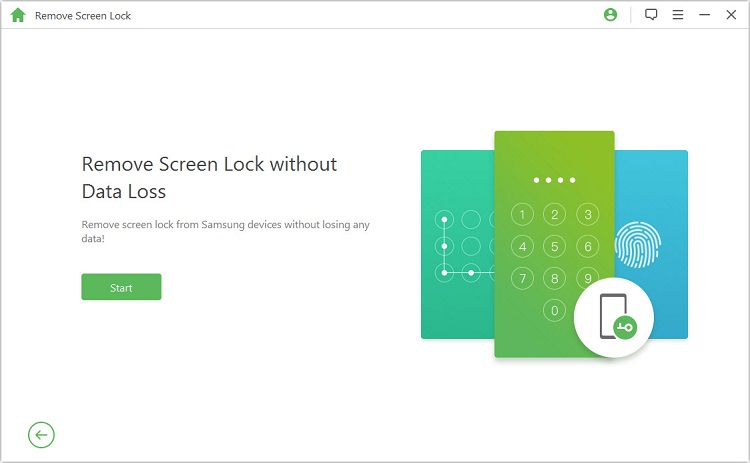 Step 2. Get your LG device connected to the computer and you will see the device's information loading up on the screen. You need to confirm the information you see on the screen and hit on Start to Unlock button flashing in green color.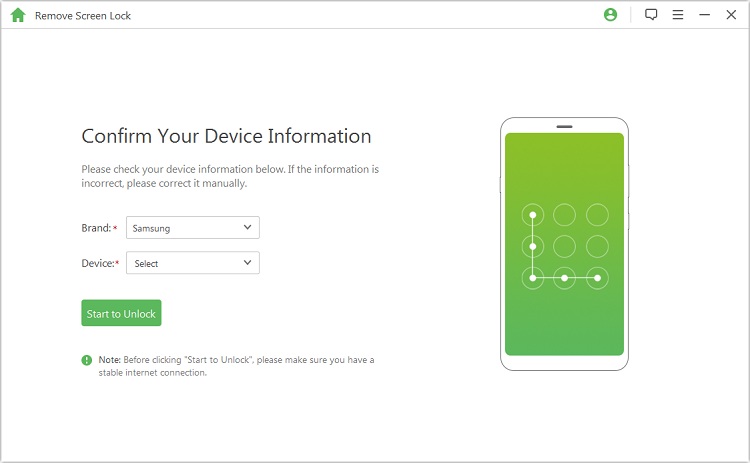 Step 3. The program will prepare the data package for your device. Once done, make sure the device is connected until it gets downloaded on your device.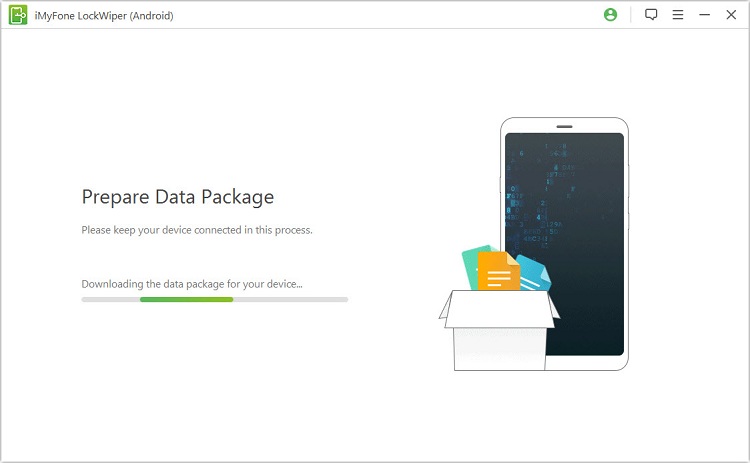 Step 4. You can now go with the prompts you get on the screen and reset your LG device. The removal of lock screen will begin and in a while, you will be notified about the successful removal of the lock.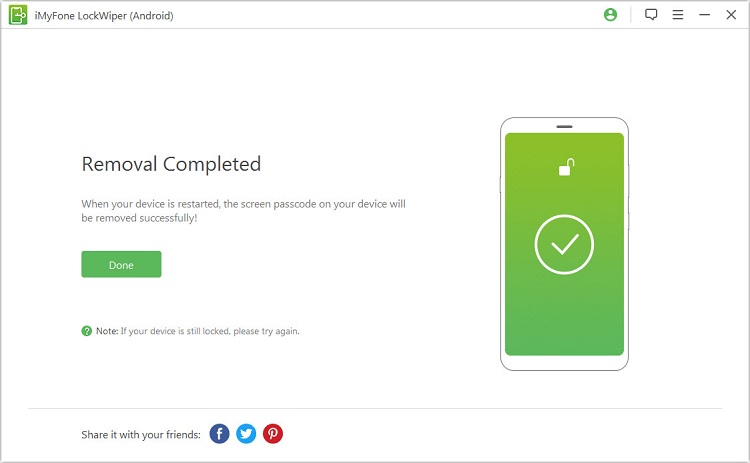 Method 3: Unlock LG Phone Using Google Account
The last method when you forget PIN on LG device, as the heading says, is using Google account. This can be the easiest way to unlock your device. Before we move further, we would like you to make familiar with a little downside of this method.
Please note that this method works only on the devices that run on Android 4.4 or the older Android versions. If your LG is running on the newest, then this method can give a hard time to you.
Also, you should know your Google ID and password to proceed.
If you qualify with the above points, here are the steps for you. Let's see!
[Guide] How to Unlock LG Phone Using Google Account?
Step 1: On your LG device, fake try entering the PIN or pattern for minimum 5 times. This is necessary because after the 5 failed attempts, you will get the option of "Forget pattern". Hence, do it and tap on the forget pattern option.
Step 2: Now, a screen will come where you need to key in your Google credentials which are linked with your device already. Enter the username or email followed by password and sign in. you are good to go now. Your device will be unlocked.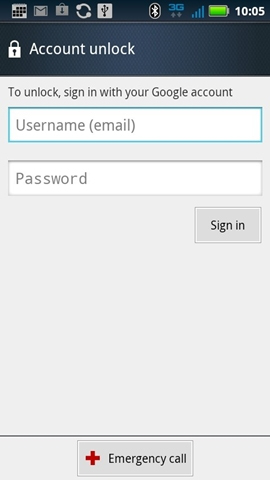 Conclusion
In this article, we have discussed about the solutions when you forget the PIN on your LG phone. We share 3 easy ways to remove PIN on LG devices for you. Forgetting passwords is a normal but annoying thing in life. Now with iMyFone LockWiper(Android) as your helper, all the problems will be solved easily. what are you waiting for? Download it now!