"My Google Account is locked how to unlock it? I accidentally factory reset my phone, now it's locked on Google account verification. I can't bypass it. What should I do?" – George, Quora.com
Did you happen to get your Google account locked and cannot access your Android device like George's situation? Maybe you forgot your Google account and the password, or you get your device from others and you don't know the account at all. Are you looking for methods for Google account lock removal? We will consider some of the best ways to unlock your mobile phone with Google account locked.
Google Account Locked - How to Unlock with LockWiper
How to unlock a locked Google account from Android phones? The first and best solution we are talking about is iMyFone LockWiper (Android). LockWiper(Android) FRP Removal Tool is an application designed to help people bypass, and instantly remove FRP Google lock and screen lock on their phones without a password. This application is ideal for situations where people forget their Gmail account, passwords, pins, patterns, fingerprint or face lock and get locked out of their phones.
This application is recommended because of the efficiency and less stress it offers the user. It comes with a really engaging and innovative user interface that makes it very easy to operate and requires no prior tech experience or expertise. Also, the process of using this application is fast and erases any possibilities of being traced with your old account.
LockWiper easily unlock Google account with notable features:
Unlock a locked Google account from Android without knowing the Google account and password.
Allow to create and use a new account after bypassing and unlocking the lock.
Grant an opportunity to regain full access to the device and continue to enjoy all features.
Completely remove your device from the previous account, making it impossible to be tracked remotely or blocked using that old account.
Unlock all Android screen locks, including password, PIN, pattern, fingerprint, etc.
Easy steps for using LockWiper to unlock Google account:
Step 1: Downloading and installing iMyFone LockWiper (Android) on your PC, then selecting Remove Google Lock (FRP) mode on the first screen.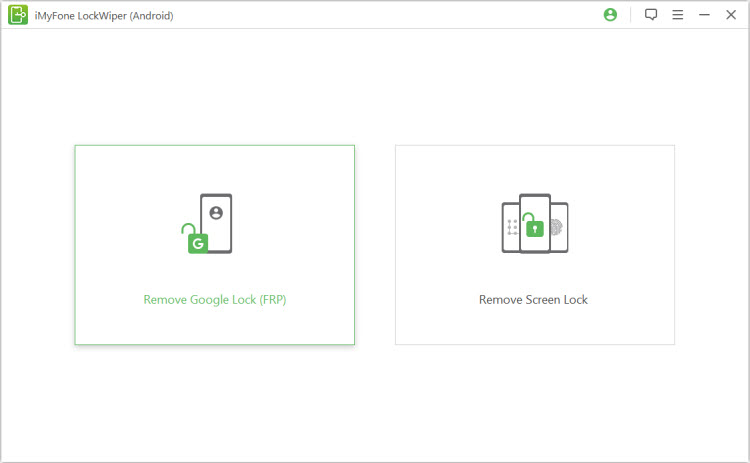 Step 2: Click Start and connect your device via USB cable.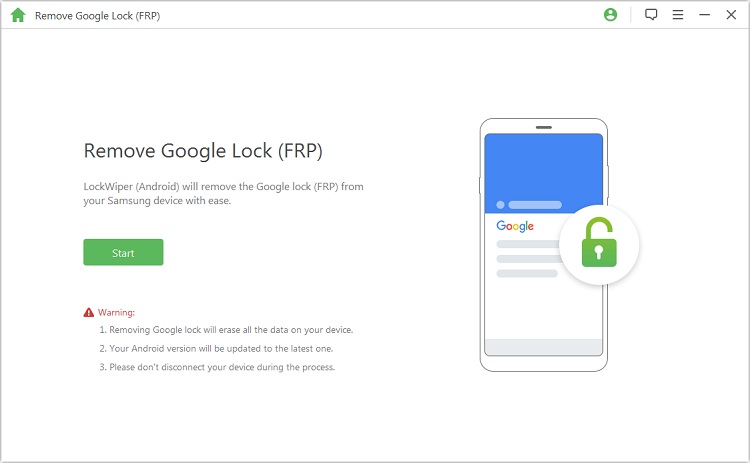 Step 3: Select your device PDA or input it manually and then select the right Country and Carrier. Click Download to continue.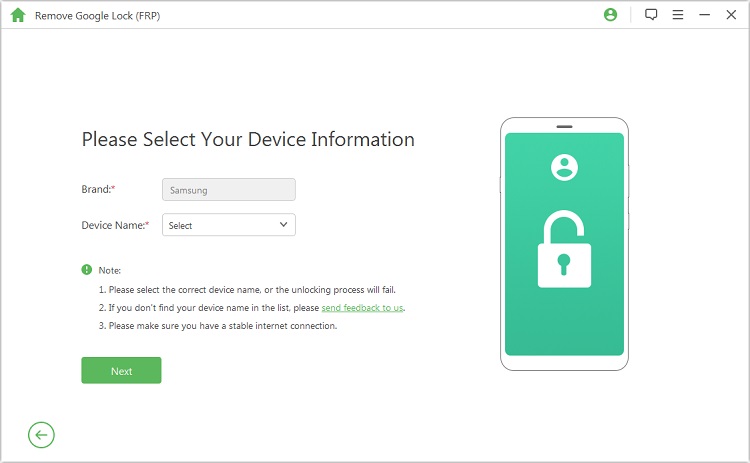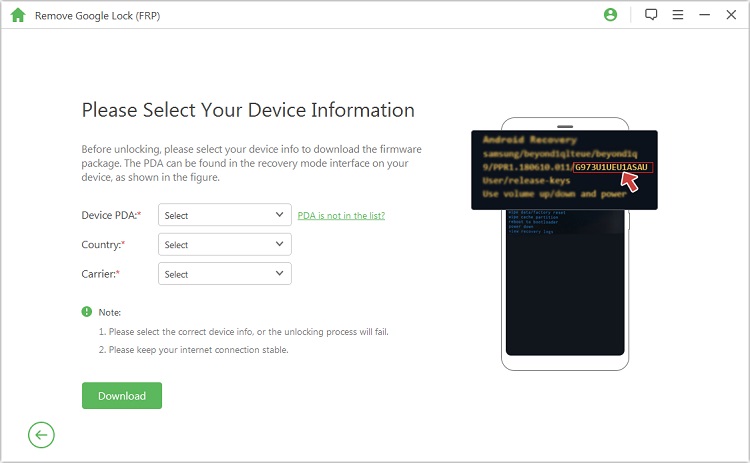 Step 4: Next, prepare and download the data and firmware package for your device.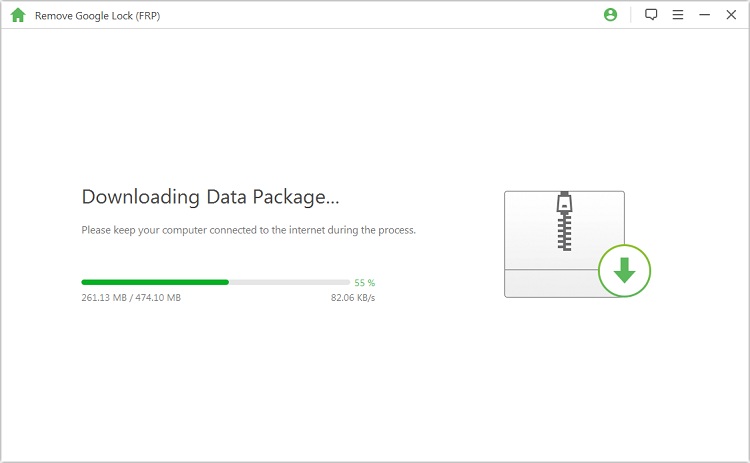 Step 5: Click Start to Unlock, it will unlock the Google account locked on your device.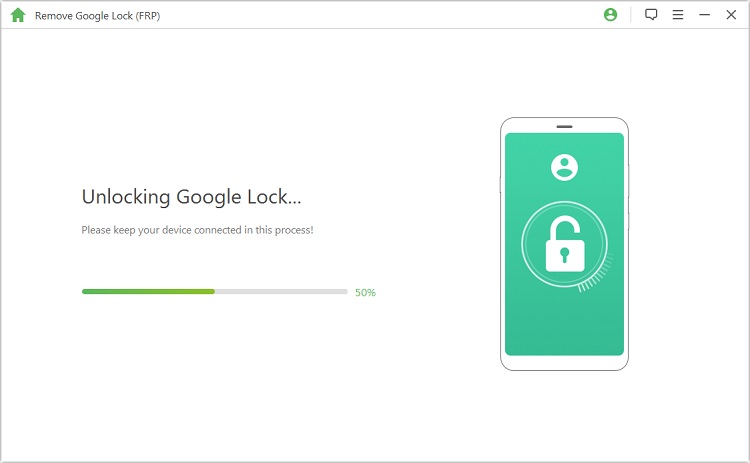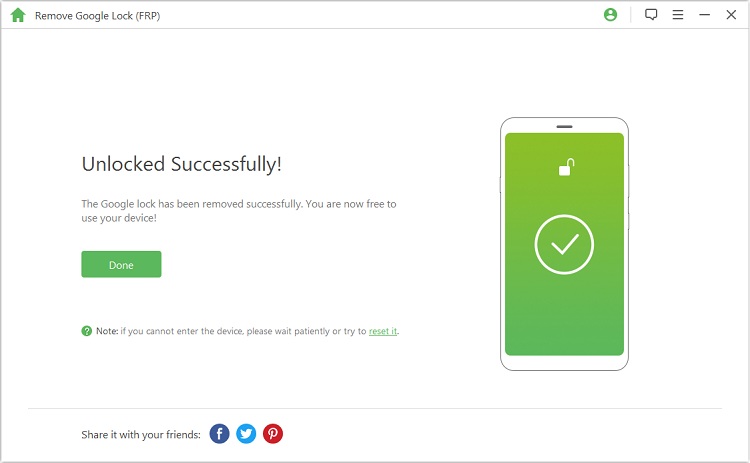 Google Account Locked How - to Unlock with OTG
Another way of unlocking your device is by using an OTG cable. This method is efficient for many android phones running on the Android version 5.1.1. and the process is pretty straightforward. Before commencing this process, it is important to note the following;
- It is safer to remove your SIM and Memory cards from the phone before commencing the bypass process,
- Ensure your battery is charged up to 80% or more before commencing the process. If the phone is not charged to this level, it is better to wait and have it charged before commencing the process.
- An OTG cable, a flash drive and PC should be prepared.
Steps to unlock Google account with OTG:
Download an APK file compatible with your device and save it to a flash drive.
Connect the flash drive to your OTG cable and connect the OTG to your device.
After connecting the OTG cable, the "File Manager" will appear on your home screen. On this screen, tap and select the APK to install it on the device.
When it's completed, run the app.
Go to Setting on your device.
Choose Factory reset and the Google account will be unlocked.
Cons of this method:
Many devices are not supported by this unlock process.
The process is too complicated and can often be stressful.
You need a flash drive, OTG cable, and a PC. Also, you also need to download specific software for your device.
---
Conclusion:
If your google account is locked, all you need to do is learn how to unlock it in the safest way possible for your device and android version and you can be on your merry way to enjoying your phone again. The LockWiper (Android) is one tested and trusted method of solving this problem and bypassing the google account login page. Try it for free and start to unlock your device!