From the latest global market share report in Q3 2018, LG is among the top 8 brands of mobile devices with the highest market share worldwide.Lock options in LG phone such as PIN, pattern, password, or face unlock feature are excellent in providing security and privacy. However, for any reason that you were locked out of your LG mobile device and you need access to your content, do you know how to bypass lock code on LG phone? The article provides you with 4 ways to solve this problem.
1. How to Bypass Lock Code on LG Phone with iMyFone LockWiper (Android)
iMyFone LockWiper (Android) Screen Lock Removal Tool is a desktop Android unlocker that enables you to remove all kinds of lock screen, including LG phones.
Whether you forget your LG PIN or you entered the wrong password too many times, the excellent phone unlocking software will help you bypass the lock screen and access your phone quickly. It also works for mobile devices with broken screen and non-functioning fingerprint button, perfect for emergency situations.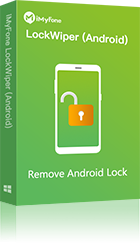 1,000,000 Downloads
Features of iMyFone LockWiper (Android)
Bypass various LG screen locks including PIN, password, pattern, and face ID.

Remove LG screen lock codes without passwords.

Support many brands and models of Android phones, such as Samsung, Huawei, Motorola, etc.

Remove the lock screen on Android device running on Android 2.3 to 11.0.

98% success rate and easy to use.
How to Bypass Lock Code on LG Phone in 5 Minutes
Step 1.Install and launch the iMyFone LockWiper (Android) software on your computer. Connect your LG phone to the software with a cable and the software will detect whether the connection is succcessful. Click "Unlock" to proceed the process once the connection is done.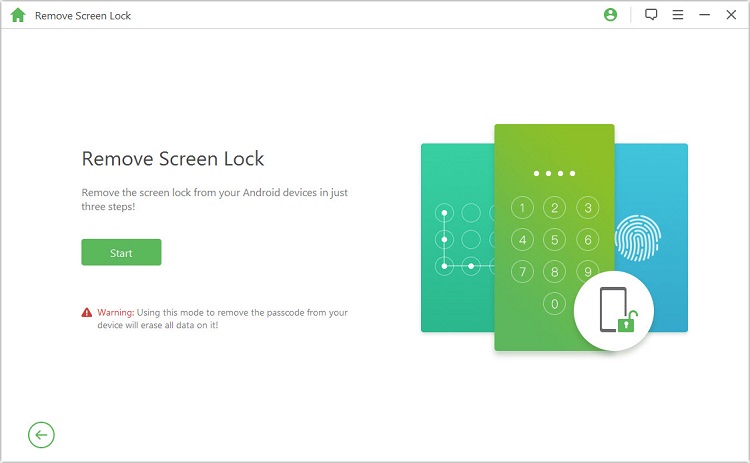 Step 2. Verify that the brand and model information of your device on the screen is correct, then click the "Start Unlock" button to continue. Otherwise, click the dropdown boxes to choose the correct device information.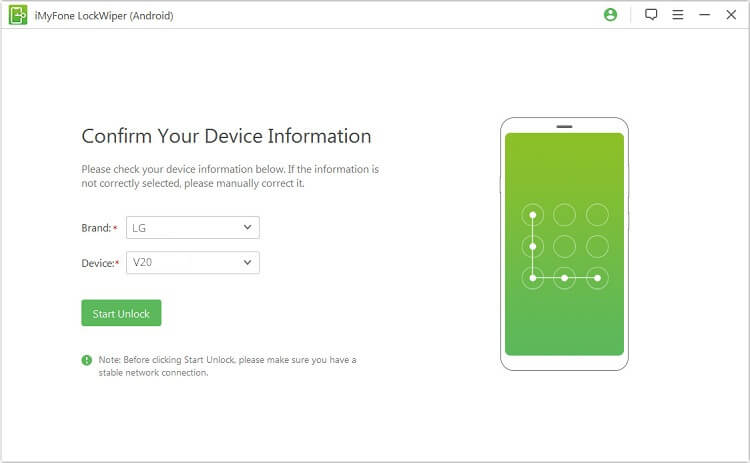 Step 3.  After the unlocking process starts, LockWiper (Android) will download an unlocking data package compatible to your LG phone.
Step 4.  Follow the instructions on your computer screen and wait for the software to remove screen lock on your LG phone.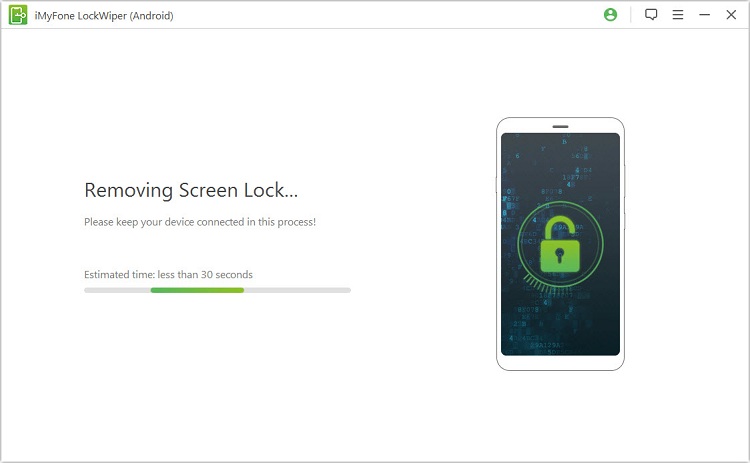 2. How to Remove Lock Code on LG Phone by Hard Reset
You can also turn to factory reset or hard reset in order to bypass the lock screen of your LG phone. To do this, follow the steps below:
Step 1. Turn off your LG phone. Press the Power button on the back of the phone and the Volume Down button at the same time.
Step 2. When you see the LG logo appears on the screen, release the Power key, then immediately press and hold the same button again.
Step 3. Once the the Factory hard reset screen shows up, release all keys.
Step 4. To continue, press the Power Key, and use the Volume Keys to navigate
Step 5. Confirm factory reset by press the Power key.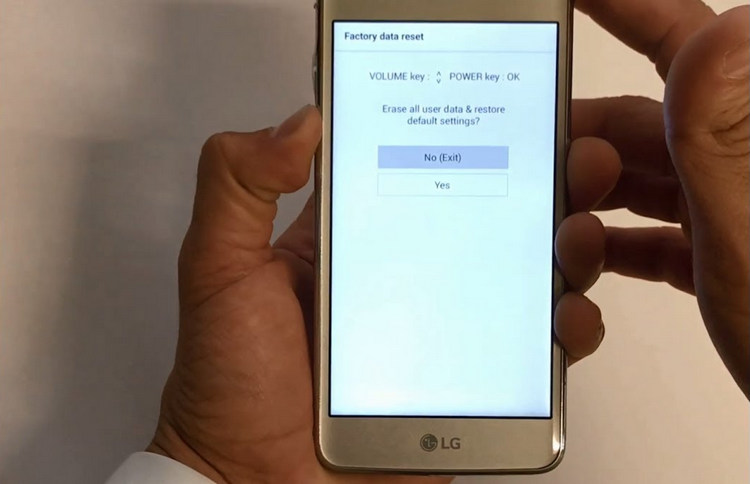 Note:Doing a factory reset to your LG phone will erase all data stored in your phone, including music, pictures, videos, and contacts. Be sure to back up your data before doing this.
3. How to Bypass Lock Code on LG Phone with Google Account
Step 1. On the lock screen, after five incorrect attempts, you'll be asked to wait for 30 seconds.
Step 2. Tap Forgot pattern or Forgot Knock Code.
Step 3. In the Account Unlock section, fill in your Google account details and tap Sign in.
Step 4. You'll be asked to set a new screen lock. Choose your desired screen lock option or tap None if you don't want a lock.
Step 5. Confirm the new password and then tap OK. After that, you can unlock your LG phone with the new password.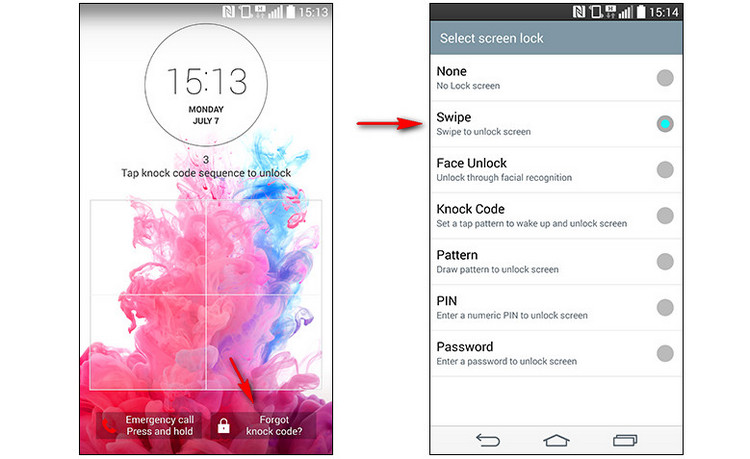 NOTE:You can only use this option if you have entered a backup PIN on your locked LG phone. Otherwise, you cannot unlock your mobile device with Google account.
4. How to Disable Screen Lock on LG Phone
For those who tend to forget the password frewuently or their children change the password to trick them. Disabling the screen lock can avoid the situation that you are locked out. If you are in the home screen of your LG mobile phone (i.e., you aren't locked out) and you wish to disable the screen lock, here are the following steps you need to take:
Step 1. Tap the Apps Key from the Home screen.
Step 2. Select Settings, then Lock Screen.
Step 3. Choose Select Screen Lock.
Step 4. If you have previously chosen a screen lock on your phone, confirm by keying in your unlock information.
Step 5. Choose None.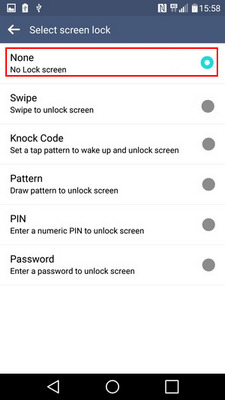 NOTE:This option can only be performed if you're in the Home screen.
5. How to Protect Your Privacy on LG phone?
To protect your privacy on your LG phone, use Guest Mode for other people borrowing or using your phone. This way, they can use your phone without accessing your data and content. To set up the Guest Mode feature of LG, follow the steps below:
Step 1. On your home screen, choose Apps key, select Settings, then Guest mode.
Step 2. Tap Set pattern, then create a pattern that is different from what you're using.
Step 3. Tap Set apps to select the applications that can be accessed in Guest mode. To change the Guest apps list, tap the Add icon.
Step 4. Check the apps that you allow to be accessed in Guest mode, and remove the check from the apps that you don't want to be accessed.
Step 5. Tap OK when done.
Step 6. Tap Allow Guest Mode.
Once set up is done, you can put your LG phone in Guest mode by drawing the guest pattern you created on the Lock screen.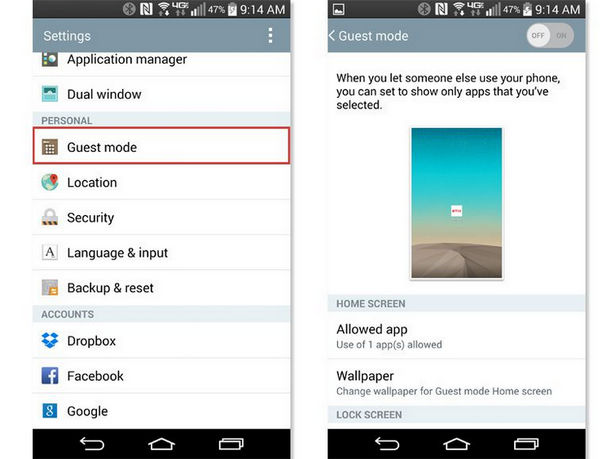 Conclusion
This article gives you a detailed guide on how to unlock LG code without passwors by disabling screen lock, by performing a hard reset, by resetting password through Google account and by using professional phone unlocking software - iMyFone LockWiper (Android).  If you don't want to test each method and take the risk of bricking your LG phone, LockWiper (Android) would be a nice try!