[Newest] How to Remove Google FRP Lock on Any Phones
Category: Unlock Android
3 mins read
Android devices now come with a built-in security feature that protects the device and information therein from anyone other than the rightful owner. This security feature is called Factory Reset Protection (FRP) and it's activated once a Google account is added to the device.
If you're stuck on the Google account verification screen while trying to use your Android device, then you may want to know how to remove Google FRP lock on any phones from your device. This article is specially researched and documented to help all those facing Google FRP lock issues unlock their devices in mere minutes and without stress. After reading this post, you will know the secret about how to remove Google FRP lock on any phones.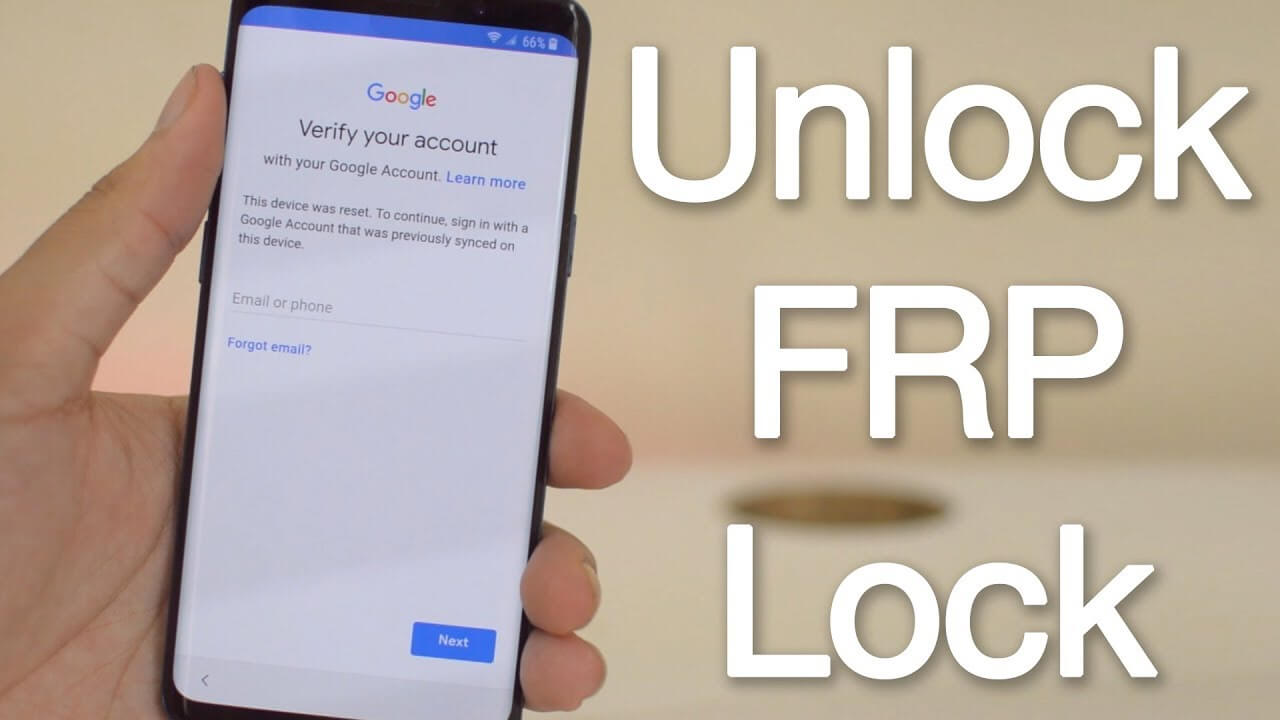 If you are encountering problems such as apps freezing or crashing, unable to receive/make calls, not syncing with other devices, etc. on your Samsung android phone, then it may be a good idea to back up your data and reset the device. Or if you forgot the password of your Samsung phone and try to factory reset it to gain access to it, there are several ways to factory reset Samsung phones. Read on to learn about them.
Free download iMyFone LockWiper (Android) to unlock screen locks and FRP lock/Google account without password.
Part 1. Things You Need to Know about FRP
Knowledge is power and the key that can open any door. This statement is also applicable in removing Google FRP locks from Android devices because if you know what FRP lock is and the way to unlock FRP, then you can enjoy the features of your locked device. Here, we'll throw light on a few things you need to know or understand how to remove Google FRP lock on any phones.
1

What is Factory Reset Protection (FRP)?

Factory Reset Protection (FRP) is an in-built security feature of Android 5.1 and later that prevents a data breach or loss on a stolen or lost Android device. This feature is enabled when a Google account is added to an Android device, and it works effectively when someone tries to factory reset an Android device.
2

How does FRP Work?

When the FRP security feature is enabled in your Android device, and someone other than yourself resets the device, the system will require the person to provide the username and password to the Google account associated to the device. If the person could not verify his identity by providing these requirements, then he/she won't be able to pass the Google account verification screen.
3

What Should You Do before Factory Reset Your Device?

You should know that after factory reset your device, it will require your Google account information if you have enabled it. Ensure you remove the Google account before you reset the device, or you have the Google account password before resetting the device.
Part 2. How to Remove Google FRP Lock on Any Android Phone
If you want to learn how to bypass Google account lock on Android, then the best techniques are outlined and discussed in best 3 google frp lock removal tools.
Solution 1

FRP Bypass Tool LockWiper(Android)- Simple and Effective

The iMyFone LockWiper (Android) is the best tool for Google account/FRP unlock on Android phones. It makes it possible for those who forgot their Google account password to get back into their devices again without any requirements. And LockWiper (Android) can remove FRP lock and give you full access over your Android device within 5 minutes.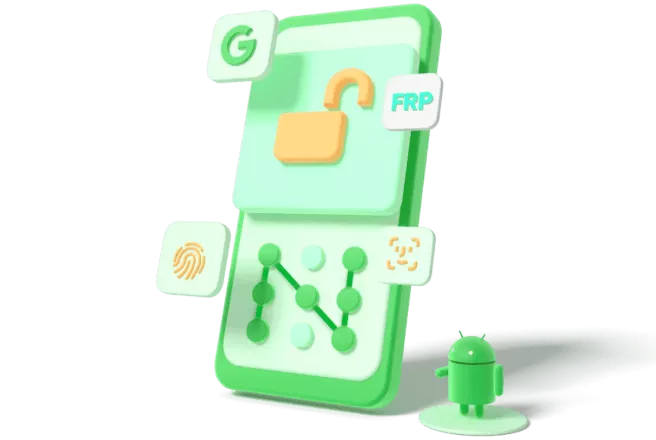 Features of iMyFone LockWiper (Android) to Remove FRP
Offers you full access to your Android phone and the freedom to enjoy all the formerly restricted features.
Freely adds any Google account to your Android phone after removing FRP lock.
Prevents your Android phone from being tracked by the previous owner of Google account.
Also helps you remove screen lock on most Samsung phones without any data loss, like pattern, PIN, fingerprint, etc.
There is a video tutorial about how to remove FRP lock from Android phones with LockWiper (Android).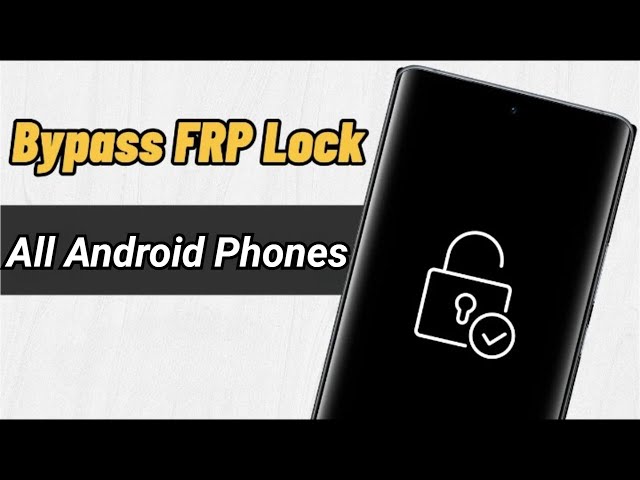 You can also learn the steps on how to remove FRP lock/Google account via LockWiper (Android).
Step 1: Install the iMyFone LockWiper (Android) on your computer. Select the mode "Remove Google Lock (FRP)". Click "Start" to begin the process.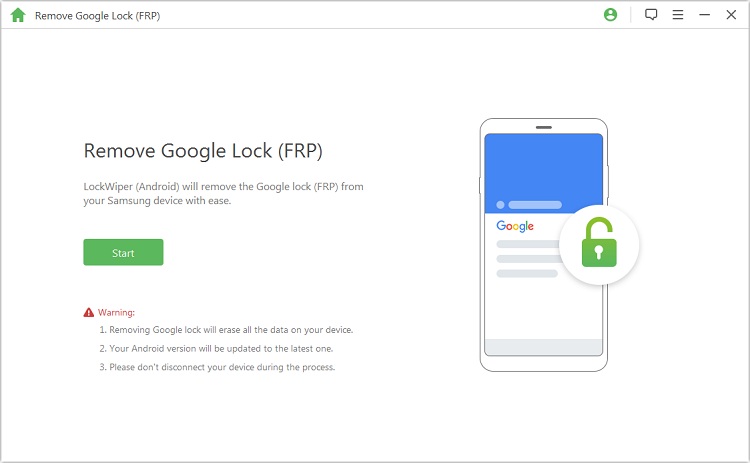 Step 2: Confirm your device information and connect your device if your Android version is 11 above. Click "Confirm" to connect.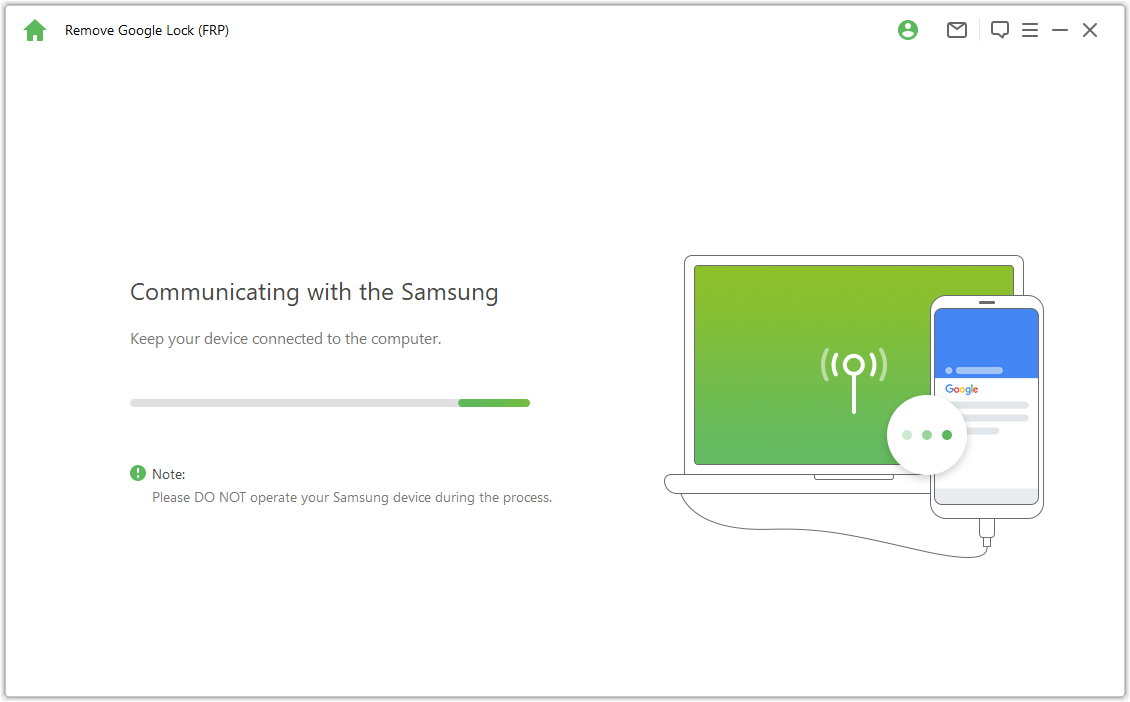 Step 3: Follow the instructions to turn on USB debugging on your Samsung devices.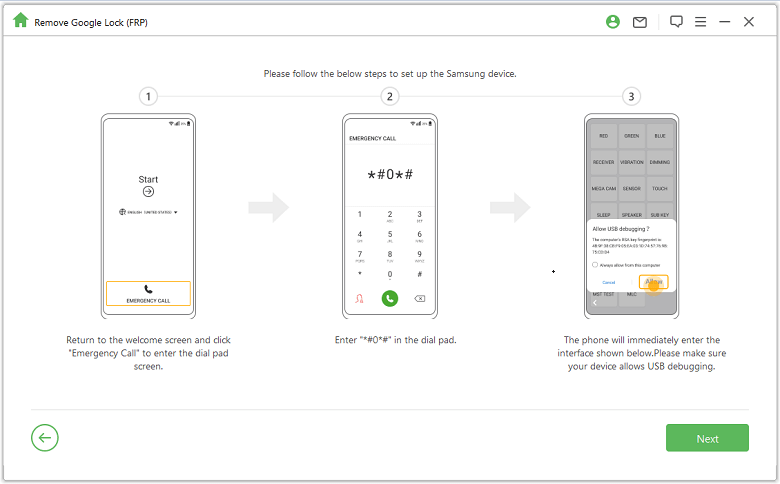 Step 4: LockWiper (Android) will start to remove Google FRP lock on your device. Wait a moment, the FRP lock on your Android phone will be instantly removed.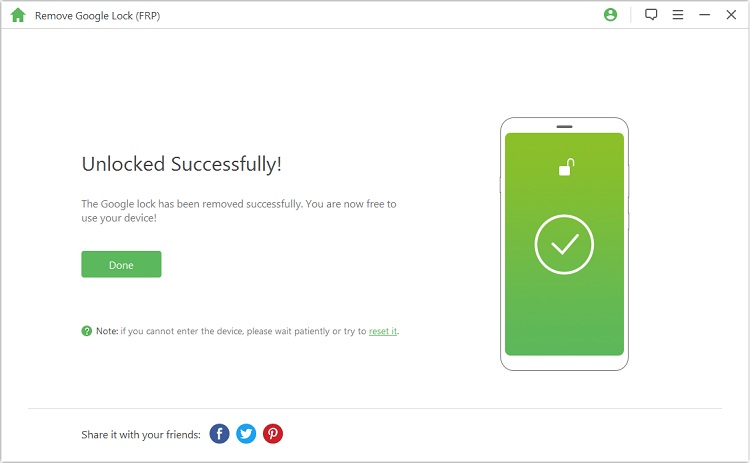 LockWiper (Android) supports to remove FRP lock on all Android versions. And most Samsung device models are supported to bypass the Google account. The most important thing is the the success rate is over 98%.
---
Solution 2

Use Google Credentials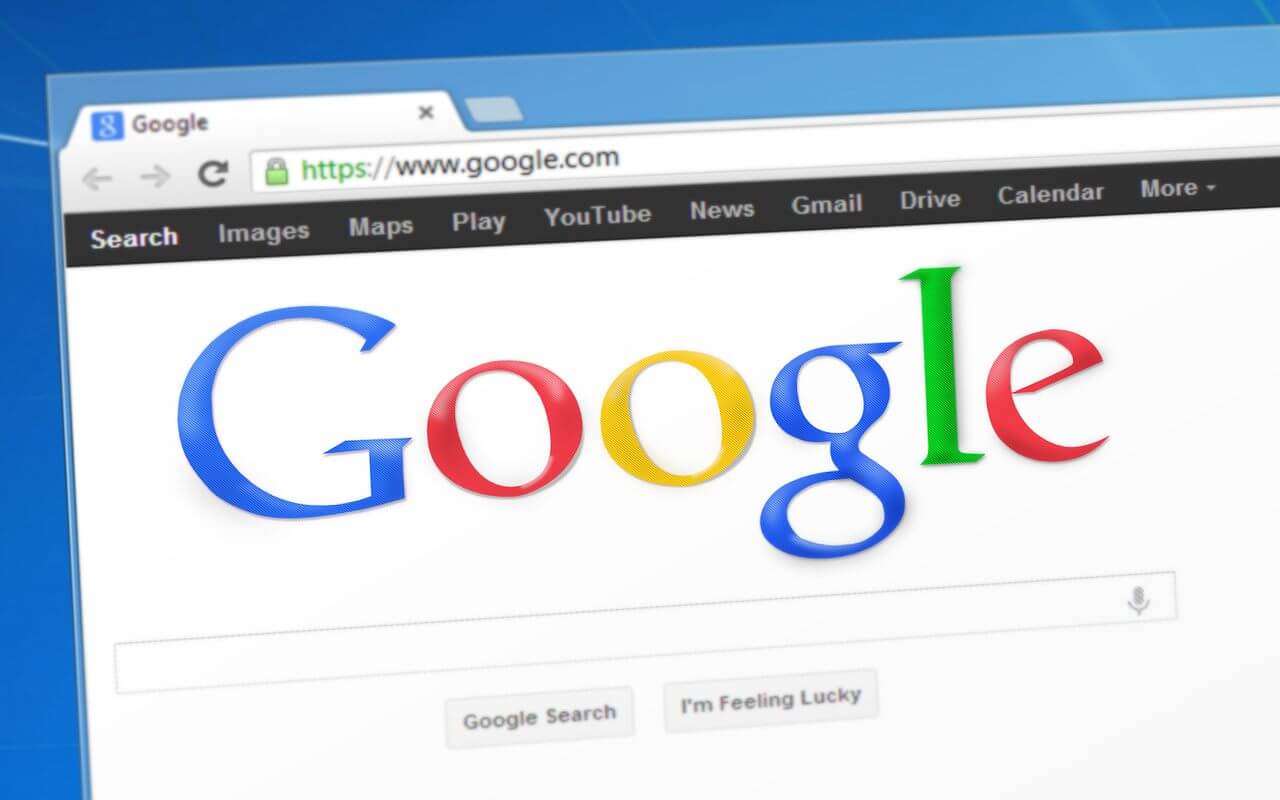 You won't be searching for how to remove Google FRP lock on any phone if you have the Google account credentials (username and password). If you already reset your Android phone but can't remember your Google username and password, you can do one of the following:
1. If you know your Google username, you can reset your password on the device or at the www.google.com. It may take up to 24 hours for a new password to sync. After 24 hours, you can using the new password to log in to your phone.
2. If you don't remember any of your Google account information, you can bring your device with proof of purchase to Samsung Service Center. They have special tools to reset the phone without bringing the protection back.
---
Solution 3

Get Help from the Phone Manufacturer

It's possible to get help on how to remove Google FRP lock on any phone from the phone manufacturer. Just walk into any of their service or shopping outlet and request for help. It would be much easier for you to get such help when you go to the store with your receipt and warranty card.
Do We Need FRP Lock on Android device after Removing Google Account?
After removing Google FRP lock, you may wondering that do we still need the FRP lock on device? The answer is a YES. It is a great security solution to protect your device. This is used to lock a user oft of your device if he or she does an unauthorized factory reset on the device. So no one can use your device after a factory reset.
Follow these steps to enable Google FRP lock on your device after bypassing the previous Google Account:
Step 1: Navigate to Settings app on your device.
Step 2: Tap on Add an account and hit "Google" first. Then input the username and password of your account to add the account.
Step 3: Once you add an account, the FRP lock will be enabled automatically.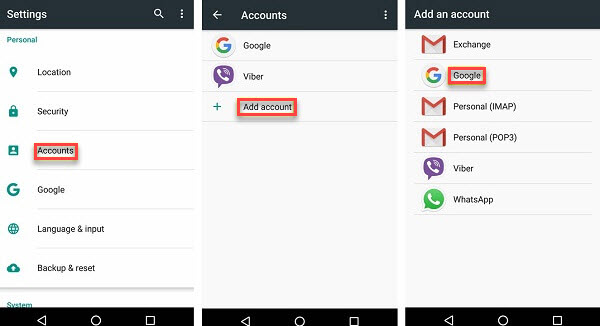 Conclusion
We've kept to our promise by discussing how to remove Google FRP lock on any Android phone and introduce some helpful FRP bypass tools. It's now left for you to choose one FRP bypass solution to bypass google vertification. LockWiper (Android) is a worthly trying tool to remove FRP lock without using Google credentials or provide purchasing proof to get help from support, we urge you to choose frp removal tool iMyFone LockWiper (Android).