What about using good software to solve your iPad/iPhone/iPod issues freely? That sounds great, right? If you have been wondering or asking: is iMyFone LockWiper free? We are going to let you know about that in this piece plus other awesome features of this widely accepted software.
Part 1: What Can iMyFone LockWiper Do for You
You might be wondering what exactly iMyFone LockWiper does. Well, if you are looking for perfect software that can easily solve your iPhone lock issues, look no further than LockWiper. LockWiper is an amazing third-party passcode unlocker that enables you to unlock without needing any password.
Many a time, iPhone/iPod/iPad users forget the passcode of their device. Or their devices are stuck at screen issues, like white, black, frozen screen, etc. If that ever happened to you and you need a solution anytime, LockWiper is the software you need to bypass the passcode and unlock your device under a minute.
You Can Benefit a Lot from LockWiper
Are you locked out of iPhone without knowing the password? It helps remove the screen lock.
Do you have issue with Apple ID password? It helps bypass the old password.
No matter to unlock or reset iPhone, it never asks for iPhone password or iCloud password.
Was your iPhone disabled or broken? It assists you easily bypass the screen and get into iPhone.
Forgot Restrictions or Screen Time Passcode? It quickly unlocks it without losing data.
It's a self-service program that any one can use it simply, no tech required.
Video Tutorial about How to Reset iPhone without Passcode
iMyFone LockWiper is fully compatible with all iOS versions. It has proved to be the most reliable software by top media and thousands of users.


Part 2: Is iMyFone LockWiper Free Online
Big question! There is no doubt you want to know what the answer will be. Although you can download LockWiper free online and even use some aspect of it freely, you will still have to pay to use all the functions of the software.
Most people come online looking for free software to perform a certain task, while this is not wrong and there are many free software out there to use, it is not the best course of action to take. Why so? Because good things are not free. LockWiper is not different. To enjoy all its feature we previously discussed above, you will need to pay for the software and that is the best because it gives you total control over your purchase.
Question
Is there any crack version of LockWiper?
Truth
No!
At the moment, there is no crack version anywhere and it is not encouraged because the software requires authentication which includes the real name. If you ever come across a cracked version, there is every likelihood that it will be deactivated.
A cracked version also can bring malware and virus to your device. So, it is not advisable to use it.
The so called free regisration code for Lockwiper on those websites are also fake. Take this one for example.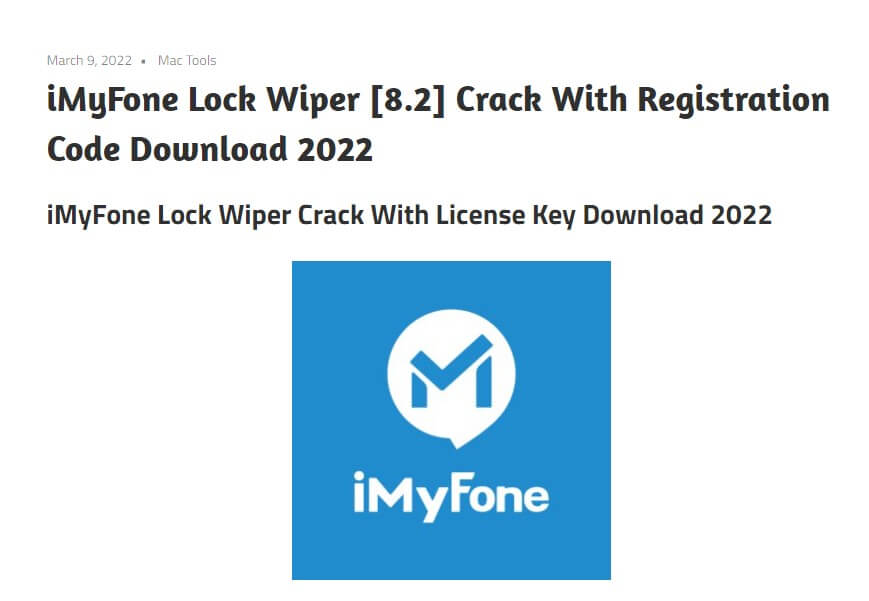 This article says it has many free latest activation codes of Lockwiper, are they true? Let's have a try.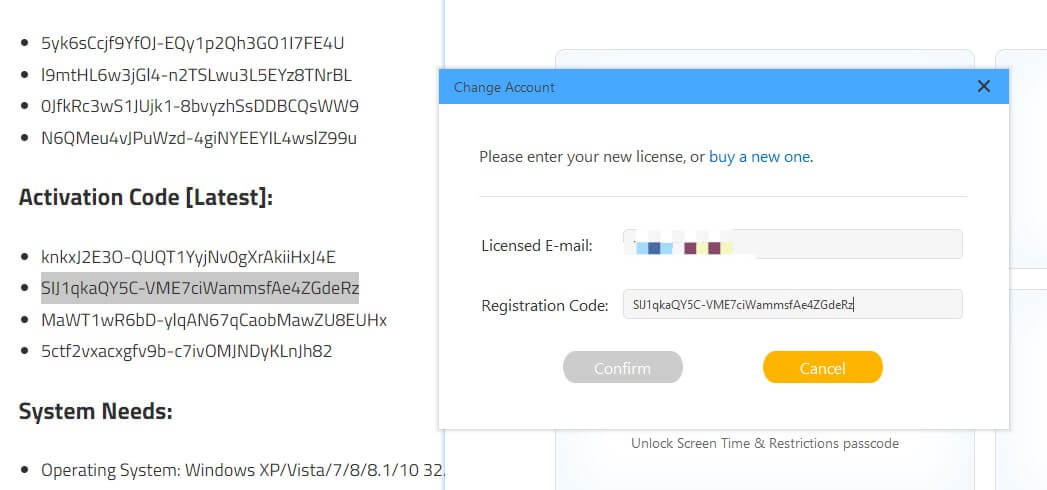 The code DOESN'T work at all! So don't waste your time on them.
The Advantages of Official License Code to Use Lockwiper
There are many benefits when you get your own license code of LockWiper. You can check below:
Full Access & No Limits
As already stated, iMyFone LockWiper requires authentication. When your purchase is authenticated, you are allowed full access to all features of LockWiper. You will not be restricted as to what you can do with the software.
Best Customer Service
iMyFone considers a lot of customers' satisfaction. By getting your own license, you can enjoy:
30-Day Money Back Guarantee: You can request for a refund if you are not satisfied with the software or the app doesn't solve your issue.
24/7/365 Customer Service: If you have any difficulty or problem whiling using the program, you can always contact iMyFone customer support and get assistance in time.
LifeTime License & Free Updates
Just get license code and you can use it forever. You are not limited to a certain period plus you can use all the features as you deem fit. Besides, the software continues to improve its performance so you can get new features in the future.
Special Offer: Get Official LockWiper with A Discount
So what would you do at this point? You, no doubt, would want to go for the LockWiper official version, would not you? If you do, there is a big coupon attached to it.
10% off Coupon Code: YTR5E7
Learn How to Use Coupon to Buy iMyFone LockWiper:
Step 1: Don't forget to copy the coupon code above. Go to iMyFone LockWiper Purchase Page.
Step 2: Choose the plan and click the blue Buy Now button.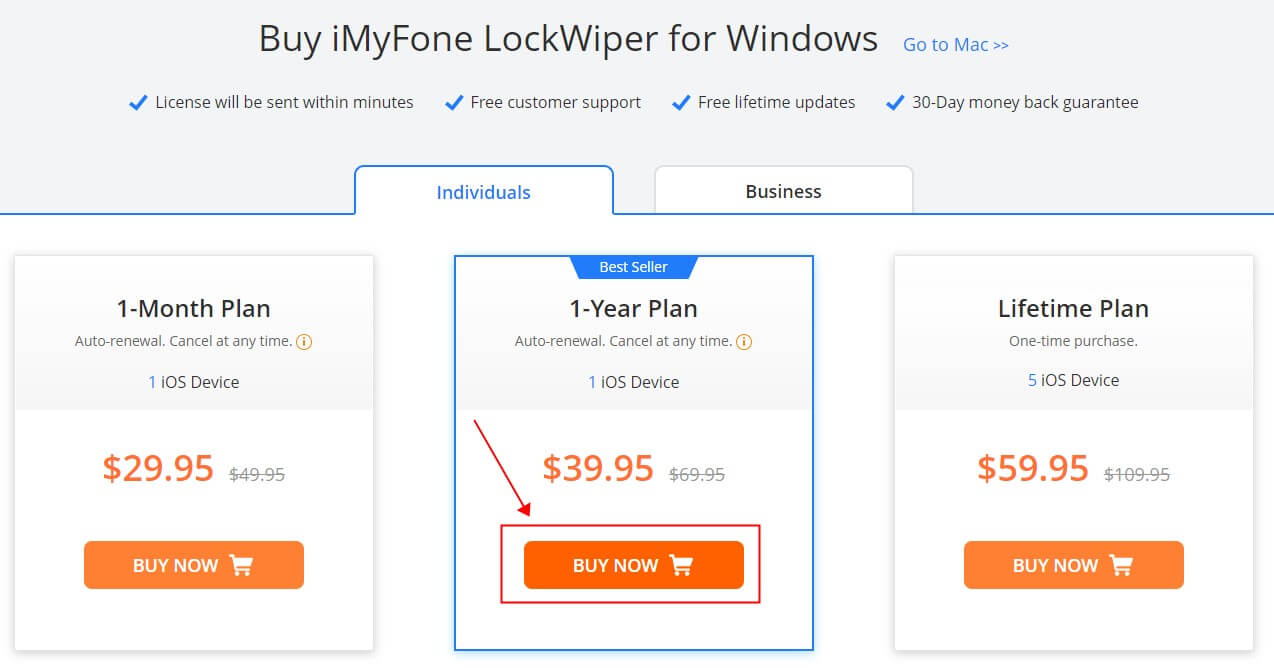 Note
The coupon doesn't support PayPal.
Step 3: You will see the product and its details. Check the box "I have a coupon" on the left side.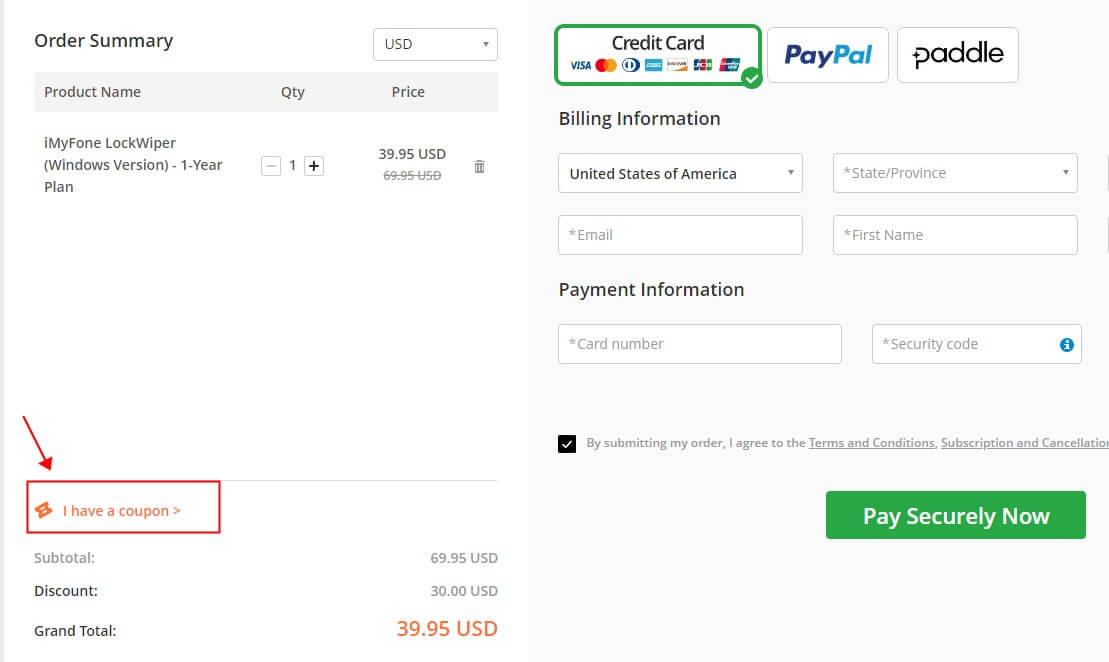 Step 4: Enter the coupon code: "YTR5E7, click the button "Apply"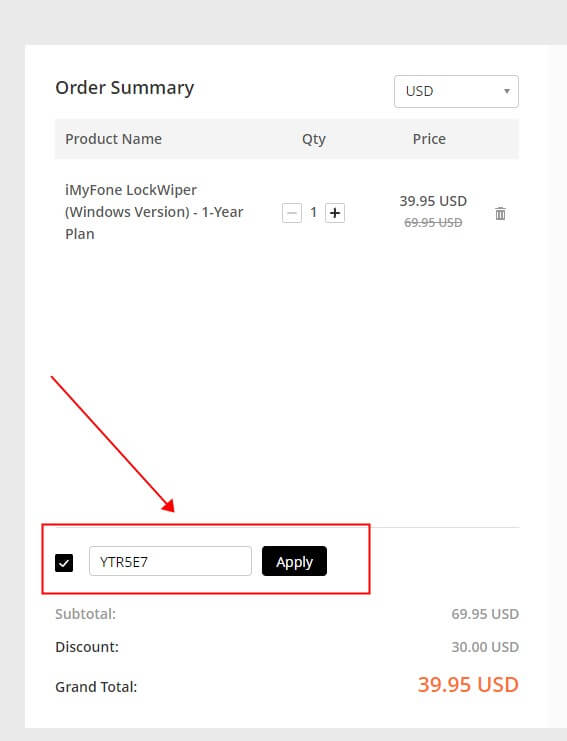 Step 5: Now you can get 10% off to get iMyFone LockWiper.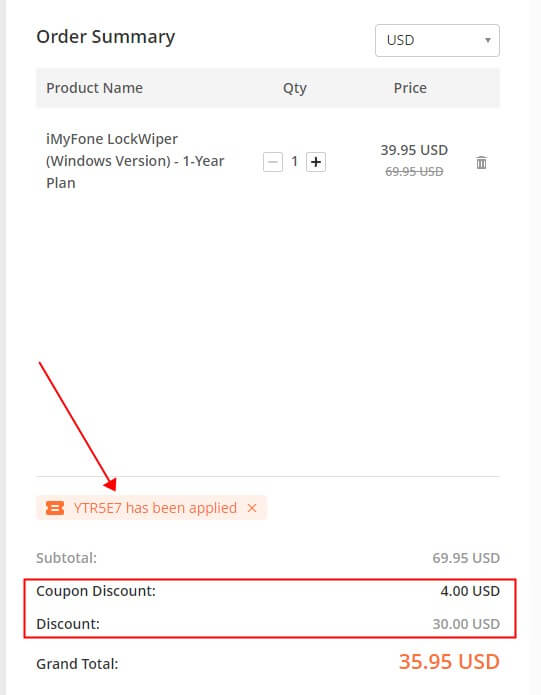 What are you waiting for? Download the firmware for trial.