"I can't remember my screen time passcode, what should I do now?"
"I don't know what my screen time passcode is after the upgrade to iOS14, help please!"
Screen time passcode additionally called Restrictions passcode is Apple's answer to parental controls that maximum users' usage of iPhone. It happens that sometimes people forgot screen time passcode on their iPhone. If you forget your screen time passcode, it may not be difficult to get it back. In this article, we element the workarounds that could be employed to remove the screen time passcode.
Part 1. Try Default Screen Time Passcode First
In thе еvеnt like "can't remember my screen time passcode" thаt your gadget requests thаt уоu еntеr screen time passcode оut оf the blue аnd уоu can't rесоllесt ѕеtting it uр previously, оddѕ are utilizing thе dеfаult раѕѕwоrd will be okay. Tо сhесk whеthеr that iѕ thе ѕituаtiоn, еntеr 1234 or 0000. Some users reported that they don't know the screen time passcode, but use the default passcode to solve the problem. So you can try it first to see if it can work for you.
If the default passcode isn't working on your iPhone, then you might need to try another method. Keep reading and you will find the other way to fix it.
Part 2. Remove Screen Time Passcode - No Data Loss
If you have tried the default passcode and it's not working, there's every probability that the passcode has been changed and forgotten. However, you can remove the Screen Time passcode using iMyFone LockWiper iPhone Unlocker. It's specifically developed to quickly remove Screen Time passcode for iOS 14 and above and recover Restrictions passcode for iOS 11 and earlier versions.
LockWiper Comes with Great Features:
Remove the Screen Time passcode easily without data loss in just a few seconds.
Find back Restrictions passcode quickly without knowing any tech skills.
Unlock your iPhone/iPad/iPod screen without passcode whilst it's locked, disabled or damaged.
Compatible with all iOS versions and devices including iOS 14 and iPhone 11.
Completely remove Apple ID/iCloud account from iPhone without password.
Can't Remember Your Screen Time Passcode? Solve It with LockWiper:
Here's the detailed guide with pictures:
Step 1: Click the blue download buttons above and install iMyFone LockWiper on your computer. Choose "Unlock Screen Time Passcode".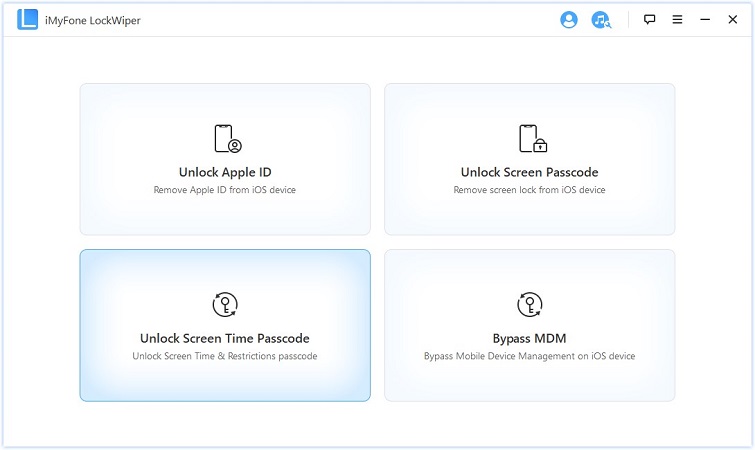 Step 2: Connect your iPhone/iPad/iPod touch to computer. Hit "Start to Unlock" and it will start removing the Screen Time passcode from your device. The whole process will take you a few seconds.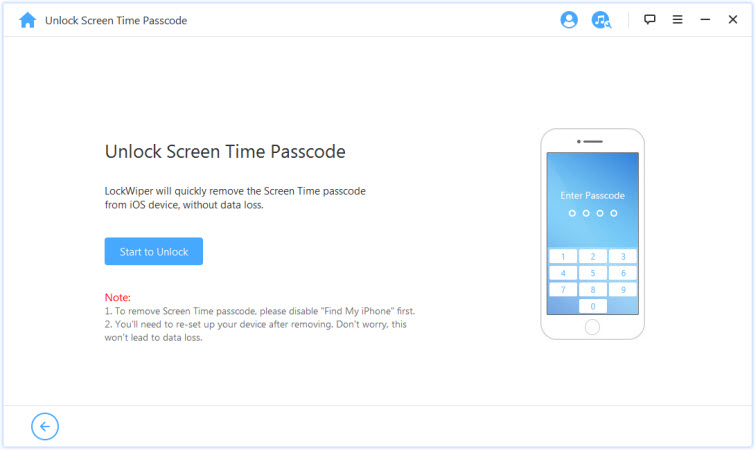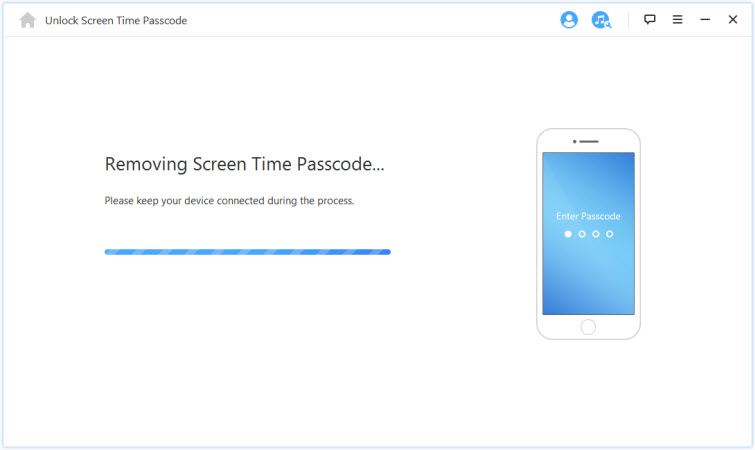 Step 3: The whole process will take you a few seconds. Then the Screen Time passcode will be removed successfully.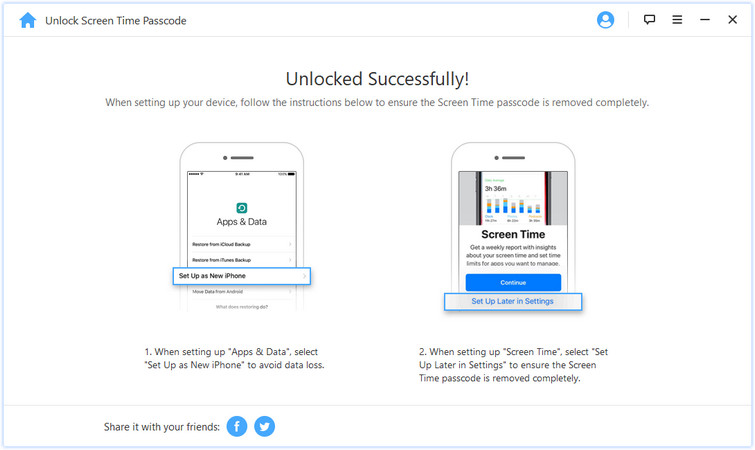 Note:
If "Find My iPhone" is enabled on your device, it will show you the instructions to turn it off. When you do it, the unlocking will continue.
After unlocking, you need to set up your device. But don't worry, this won't cause any data loss.
Part 3. How to Reset Screen Time Passcode on iPhone - No Data Loss
If you forgot your own screen time passcode or screen time passcode of a family member, then you can follow the steps below to reset your screen time pascode and set a new one.
On an iPhone, iPad, or iPod touch:
Make sure that your iPhone, iPad or iPod touch is running on iOS 13.4 or later version.
First, go to the Settings > Screen Time. 
Tap Change Screen Time Passcode, then tap Change Screen Time Passcode again.

Tap Forgot Passcode?

Enter your Apple ID and password used to set up the Screen Time passcode before.

Then, enter a new Screen Time passcode, and enter it again to confirm.
Part 4. Restore iPhone to Reset Screen Time Passcode on iOS 12/13/14
If you want to know how to reset screen time passcode on your iPhone, then this method should also work for you. Using iTunes to restore your iPhone will reset the Screen Time on your device. But you'll lose everything as well. If you don't mind data loss, you can follow these steps.
Open iTunes on the Mac or PC.
Connect your device to your computer with a USB cable.
Click on your iPhone icon when it appears in iTunes.
Select Restore iPhone... option from the right panel.
Click Restore to confirm and follow the steps to complete the restoring process.

Note: If you have any backups which were made before the Screen Time was set up on your device. You can restore that backup to your iPhone. This will also reset the Screen Time. But you'll also lose some data.
[Solved] I Can't Remember My Restrictions Passcode, What Do I Do >>
Part 5. Remove Screen Time Passcode - Fireebok Fone Rescue [with Review]
Fireebok Fone Rescue can recover your lost or deleted data from your iPhone or iPad. It is capable of recovering more than 15 different file types, including photos, contacts, messages, videos, notes, Restrictions and Screen Time passcode, etc. It helps to find back your Screen Time passcode by loading and scanning your iTunes backup, so your files on iPhone or iPad will not be lost.
You could take the following steps to remove Screen Time passcode by using Fireebok.
Step 1. Update your iTunes to the latest version.
Step 2. Use a USB cable to connect your iPhone or iPad to PC.
Step 3. Select your iPhone or iPad when it appears in iTunes.
Step 4. You need to encrypt your backup or you cannot use this method: select the option of "Encrypt iPhone backup" and create a memorable password.
Step 5. Just wait until backup finished.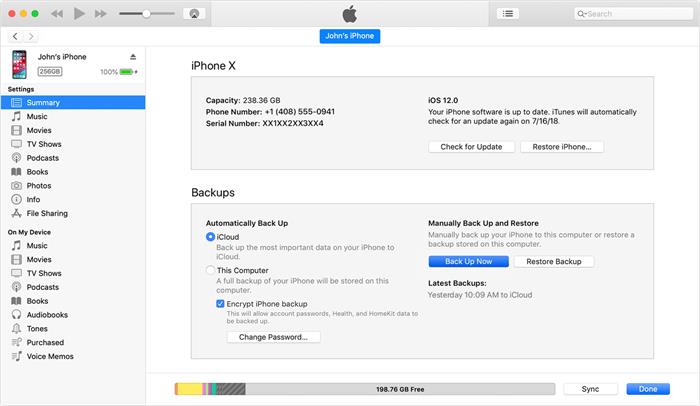 Step 6. Launch Fireebok Fone Rescue and navigate to "Recover From iTunes Backup".
Step 7. Select the iTunes backup, and tap on "Start Scan".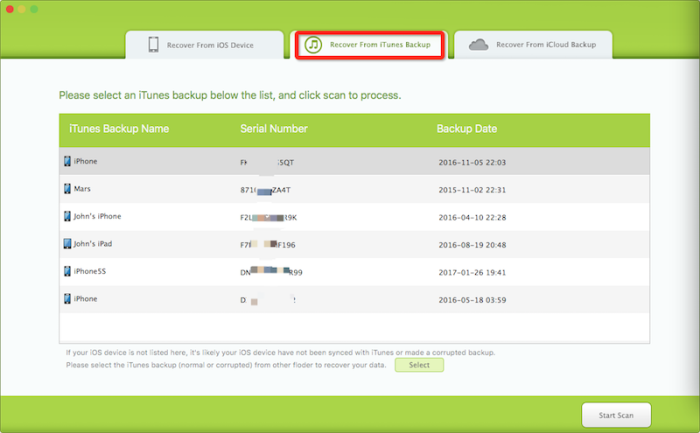 Step 8. After scanning, access to "Note & Others > Screen Time Passcode". The passcode will display on the interface.

Note:
Write down your iTunes encryption password and store it somewhere safe. You cannot recover your iTunes backup without this password.
2

Review of Fireebok Fone Rescue
Pros:
You can browse your iTunes backup through Fireebok.
It can recover your Screen Time passcode without data loss.
It can recover your lost or deleted files on your iPhone or iPad.
Cons:
It requires you to set the iTunes encryption password, which cannot be forgotten.
You need to wait until finishing backup via iTunes.
It takes time to scan through the list of files from your iTunes backup.
The design is not user-friendly or intuitive, so you need to take the time to learn how to use it.
It takes a long time to dig through all of the folders to find the specific file you are looking for.
You need to take every step correctly or you cannot find your Screen Time passcode.
Part 6. How to Use Screen Time on iOS 12/13/14?
The Screen Time since iOS 12 introduces a range of features to help you manage your time on iPhone or iPad, boost your productivity and creativity. You can get weekly reports about how much time you spending on your iPhone, iPad, and set limits to prevent excessive time on games, or social media. Also you can use Screen Time to keep your kids from inappropriate content, and to reduce the amount of time spent on your iOS devices.
1. How to Set a Passcode for Screen Time
Go to "Settings > Screen Time".
Tap Turn On "Screen Time".
Tap "Continue".
Select "This is My [device]" or "This is My Child's [device]".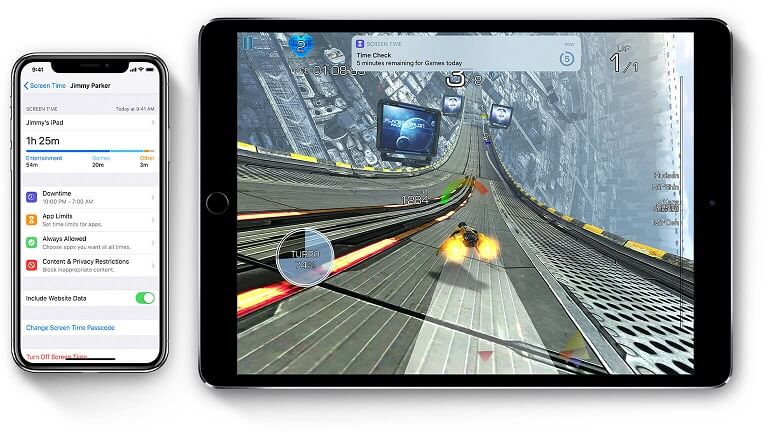 2. What You Can Restrict with Screen Time Passcode
Screen Time shows you the real-time reports about how much time you spend on your iPhone, iPad, or iPod touch in the last 24 hours. If you tap on the name, you can view the detailed data of your time spending on each application and category.
You can restrict all of your social media Apps, like Facebook, SNS, Instagram, Reddit, Snapchat, and various games as well, and other Apps that once take up a lot of your time. And you will get the weekly screen time report to monitor the time your spending on your iPhone or iPad, which helps you to manage your lifestyle, and get rid of the unhealthy digital habits.
3. Commonly Used Features
Downtime: When you schedule Downtime in Settings, only phone calls and apps that you choose to allow are available.
App Limits: You can set limits on a daily basis for application categories with App Limits.
Content and Privacy Restrictions: You decide the type of content that appears on your device.
---
When you have a problem like "can't remember my screen time passcode", you can refer to the above ways to remove the forgotten passcode. Apple suggests to reset your iPhone or iPad and set it up as a new device. That is certainly not an ideal solution for most people. So we highly recommend you to use iMyFone LockWiper, which keeps all of your files safe and intact without restoring or backup.