It can become necessary and fun to utilize stickers, GIFs, and emoticons (Emojis) to communicate your emotions and feelings. Because of their adaptability, stickers are becoming increasingly popular among smartphone users.
If you enjoy using stickers, you've probably used up all of the accessible messaging applications, such as Telegram and WhatsApp. You may, however, now design your own unique stickers to share online using sticker maker applications. It is time to show your feelings exactly how they are. Continue reading to find out how to make stickers by yourself on your smartphone. Here is a list of the top 6 WhatsApp sticker maker applications for your smartphone.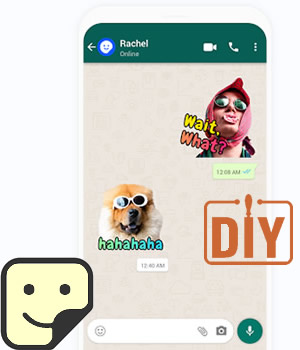 Top 6 WhatsApp Sticker Makers to Help You Out
Now, let's go into details and see how you can create your own WhatsApp sticker using any or all of these apps.
1. Sticker Maker
This app is simple to use and allows you to create exciting stickers right from the comfort of your phone with easy steps. The steps are straightforward:
Step 1: Download Sticker Maker to your phone, launch it and add an image first.
Step 2: Then crop it to your taste. Add phrases and emojis that you like.
Step 3: You may use an image from your gallery or the app's extensive assortment of text stickers.
Step 4: The text-shadow and alignment tools can be used to change the color of the font and text.
Step 5: To add your finished stickers to WhatsApp, simply export them.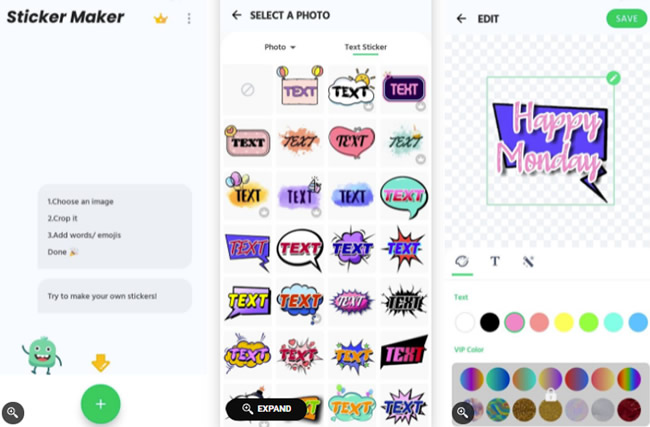 Tips: With the premium version, you may use the app without advertisements, access the whole collection of available stickers, and even apply unique draw effects.
2. Sticker Maker by Viko & Co
This application resembles WhatsApp, so you'll feel right at home using it to create hilarious stickers. Here are the steps below:
Step 1: Download Sticker Maker by Viko & Co on your smartphone and launch it.
Step 2: After tagging your file, you may begin working on your masterpiece.
Step 2: Choose an image from your gallery or the app's library, or add simple text.
Step 2: Before you do any more editing, use the freehand tool to crop off only the section of the image you wish to use as a sticker. You can as well use the rectangular or circular crop tool.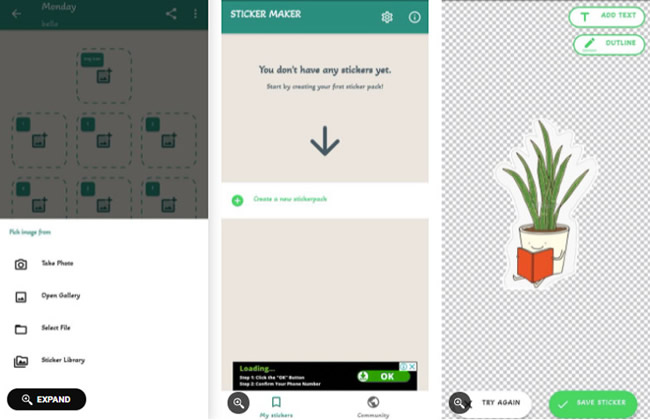 Tips: This app's community might also provide you with ideas for your next project. By purchasing the premium version of Sticker Maker, you will be able to remove the annoying advertisements and have early access to future features.
3. Wemoji
Just like Sticker Maker and Sticker Maker by Viko & Co, Wemoji also offers an easy-to-use interface that allows you to create a variety of stickers. Here are the steps below:
Step 1: Download Wemoji to your phone; launch it once it has finished installing.
Step 2: After you've added your image, you may choose to square-crop, circle-crop, or utilize the freehand crop function. Zoom in to ensure that you crop the sticker with as much information as possible.
Step 3: You may make whatever sticker you want to share with your contacts on WhatsApp and other social networking platforms by using the option to add emojis from your keyboard.
Step 4: The magnifying glass may be used to get a closer look at the picture you're cropping. If you don't want it to display during cropping, you may disable it in the options.
Step 5: The best part of Wemoji is that it is totally free.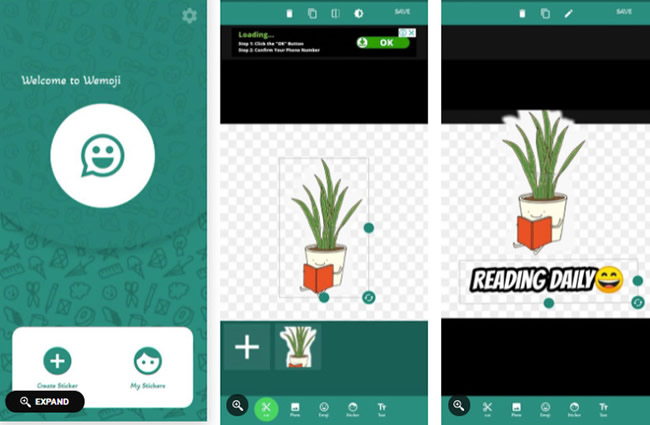 4. Sticker Create
Sticker Create lets you design your own stickers and share them on WhatsApp. You may do a lot to make your own unique designs. You may add the blur effect to a picture or entirely erase the backdrop, and there are also color-adding capabilities such as effects and filters.
This app is simple to use and provides quick access to features such as border opacity and modification. You can also use Sticker Create to add graphics and emojis to your stickers. When you're finished, you may share your work as an image in other applications, such as some of the finest free messaging apps, including WhatsApp itself.
The steps in using this sticker maker are pretty much the same as the rest above. You can download Sticker Create to start creating your beautiful stickers right away. (in-app purchases applied.)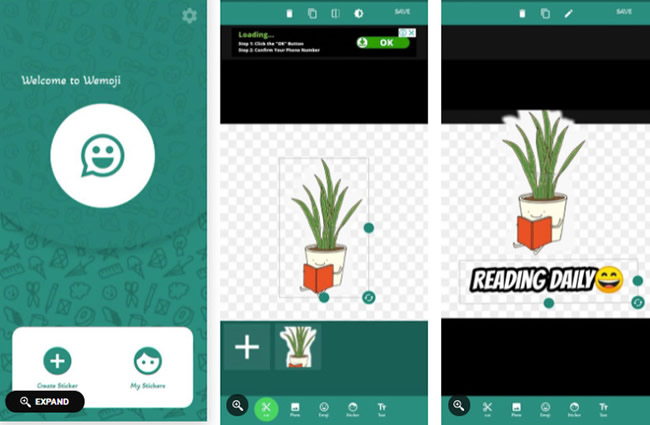 5. Sticker Maker by Mega Sticker Maker
This application, also known as Sticker Maker, is a bright addition to the list. Because of its clear and easy design, novices may easily use and produce stickers.
Sticker Maker by Mega Sticker Maker categorizes the stickers as picture, personal, or online search. On this app, you may choose pictures from your phone's gallery or through a simple web search.
To make your sticker stand out, you may add graphics and text. You can see a preview of how your image will appear on WhatsApp, and it works on other WhatsApp applications as well. The steps are the same as the ones described above.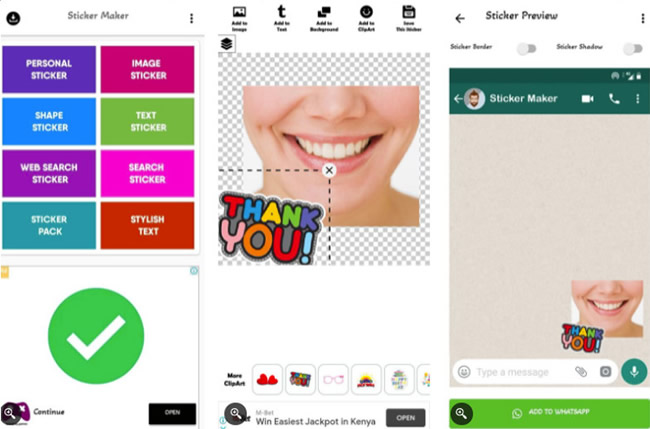 6. Sticker Studio
Sticker Studio provides a few possibilities for personalizing your stickers, such as freehand cropping and text addition. This program allows you to build an endless number of sticker packs for WhatsApp and resize them to the ideal size.
You may take images using the camera or select an existing image from your collection. Sticker Studio makes it quick and simple to create stickers from videos and GIFs, and it connects to Google Drive for backups.
The app's Pro edition unlocks more typefaces, frame colors and disables advertisements. If you've decided to abandon WhatsApp, you may still enjoy these stickers on Telegram.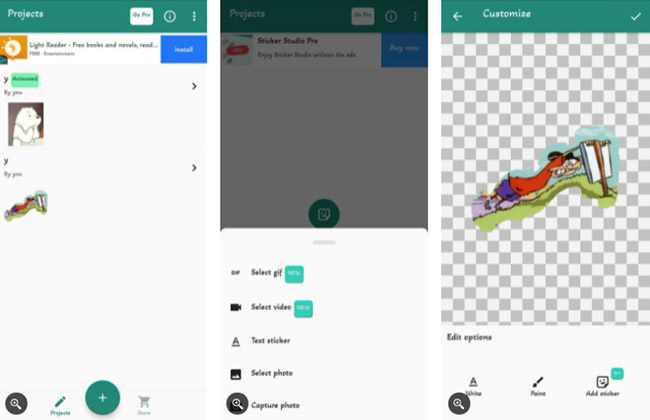 Bonus Tips: Backup and Restore WhatsApp Sticker at Any Time
No one would love to go through the stress and hassle of creating beautiful stickers only to lose them later in life. This is why you need a backup solution. iTransor for WhatsApp is the best solution to such a problem. With iTransor for WhatsApp, you can easily backup and restore your stickers, images, videos, and messages without stress.
iMyFone iTransor for WhatsApp
Transfer WhatsApp Data between Android and iPhone.
Backup and Restore WhatsApp data between device and pc.
Export WhatsApp Stickers, Messages, Videos, Photos and more.
Export WhatsApp backup to HTML, PDF and CSV/XLS.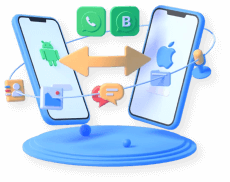 Back Up WhatsApp Sticker, Messages and More
Step 1.Download and launch iTransor for WhatsApp, choose "Back Up WhatsApp on Devices" module. Connect your Android device or iPhone to a compute and click "Backup" to start.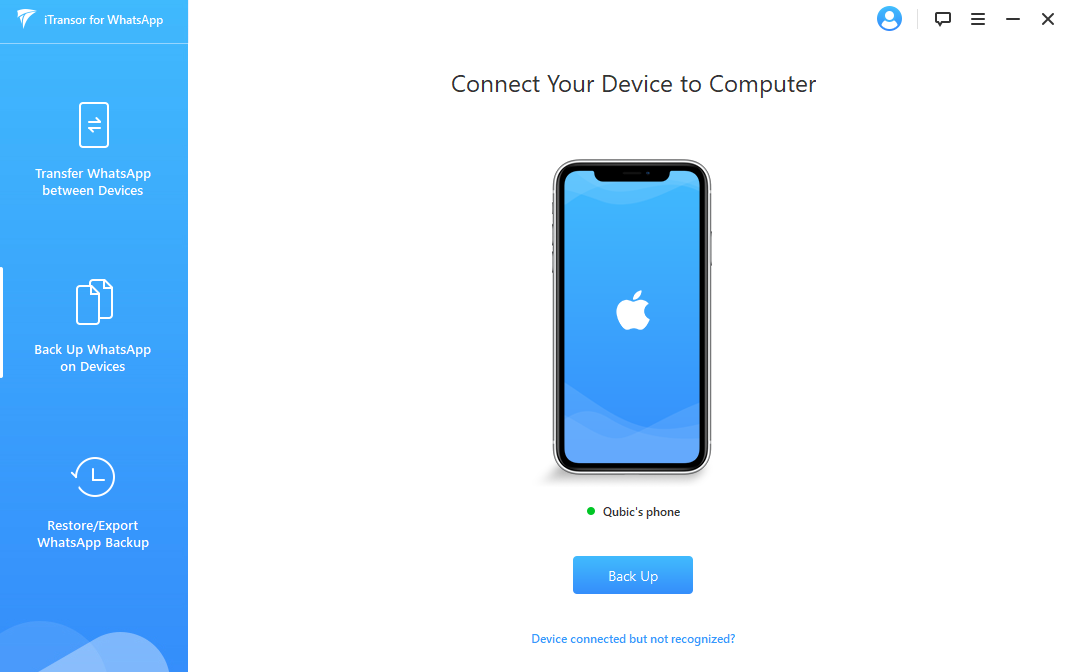 Step 2.Back up WhatsApp following the on-screen commands and instructions. Finish WhatsApp back up.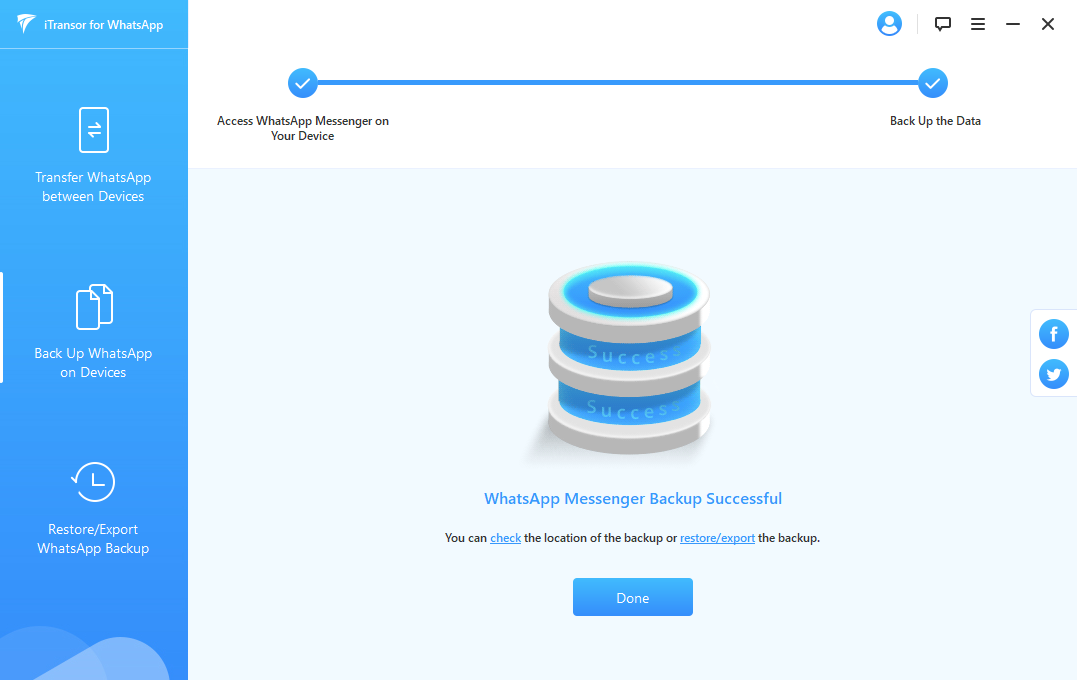 You can also use iTransor for WhatsApp to retrieve backed up WhatsApp stickers, messages, media and more to iOS and Android device.
FAQs: More Tips About WhatsApp Read Receipts and Messages
1

How do I put stickers on my WhatsApp status?
Open WhatsApp normally and go to the "Status" section;
Now, tap the icon to create a new post and capture, or you can just pick a picture from the gallery.
Touch the symbol represented by an "emoji" at the top of the screen and pick the "Stickers" tab.
Select the relevant package or category, as well as the sticker to be used, and tap it to be placed on the image.
You can resize it and can add as many stickers as you want.
2

Does WhatsApp backup stickers?
Yes. If you back up your WhatsApp using Google Drive or iTransor for WhatsApp, your stickers will be safely backed up along with the media backup.
Conclusion
These basic applications make it simple to create stickers that can be shared on social media. They also offer a lot of features, so you can really let your imagination go wild.
It's also simple to make stickers from GIFs and videos. You can design stickers for your family members and friends; so, this is a great opportunity to express your creativity while also having fun helping other people feel better online!