WhatsApp is one of the most used social apps. We know how important WhatsApp data is to the users; this is why we will discuss backing up WhatsApp data and how we can view this backup on the computer. There are different ways in which we can read exported WhatsApp chat with WhatsApp chat viewer. We will discuss how to read WhatsApp chats after exporting them on Windows, Android, and iOS devices.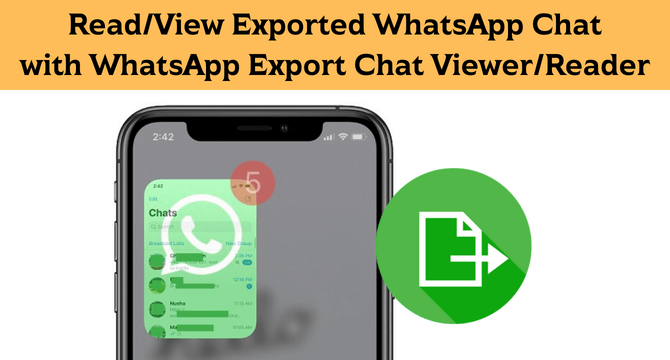 Method 1. Read/View/Restore Exported WhatsApp Chat with iMyFone iMyTrans
iMyFone iMyFone iMyTrans (new version of iTransor for WhatsApp) is a tool that allows the users to create WhatsApp backup, transfer WhatsApp data, restore WhatsApp data, and export WhatsApp data all in one place. It works on a PC, but users can connect their smartphones (Android & iOS) to transfer and export the data to the computer.
Some of the interesting features of iMyFone iMyTrans are:
Transfer WhatsApp data from iPhone to iPhone, iPhone to Android, Android to iPhone, and Android to Android.
Allow the user to preview the WhatsApp backup after downloading and select the important data only.
Export WhatsApp data and restore WhatsApp data from Google Drive easily.
Backs up all the attachments.
Secure a 100% success rate as a user-friendly and easy-to-operate tool.
Back Up WhatsApp
First, let us see how we can backup WhatsApp using iMyFone iMyTrans. It involves very easy steps.
Step 1. After installing iMyFone iMyTrans on your computer, open it. Connect your device to the computer (iOS or Android).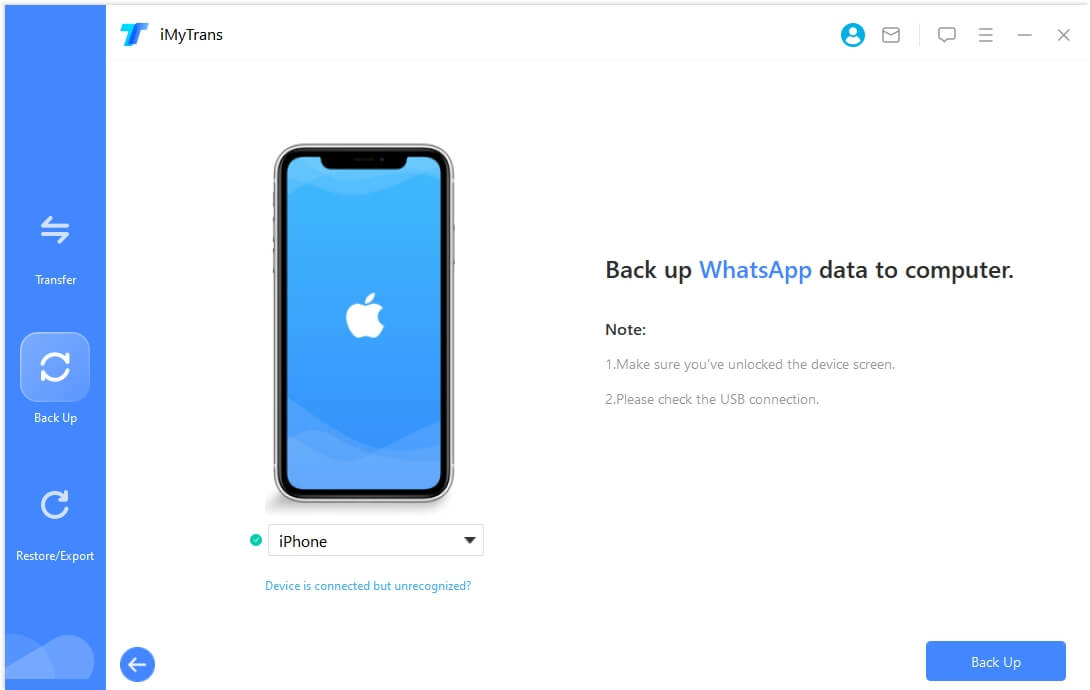 Step 2. If you have an iPhone, then iMyFone iMyTrans will do all the work for you. But if you have an Android device, then you will need to install a custom WhatsApp app that will help in accessing the backup. iMyFone iMyTrans will guide the user so the user can follow it on the Android device.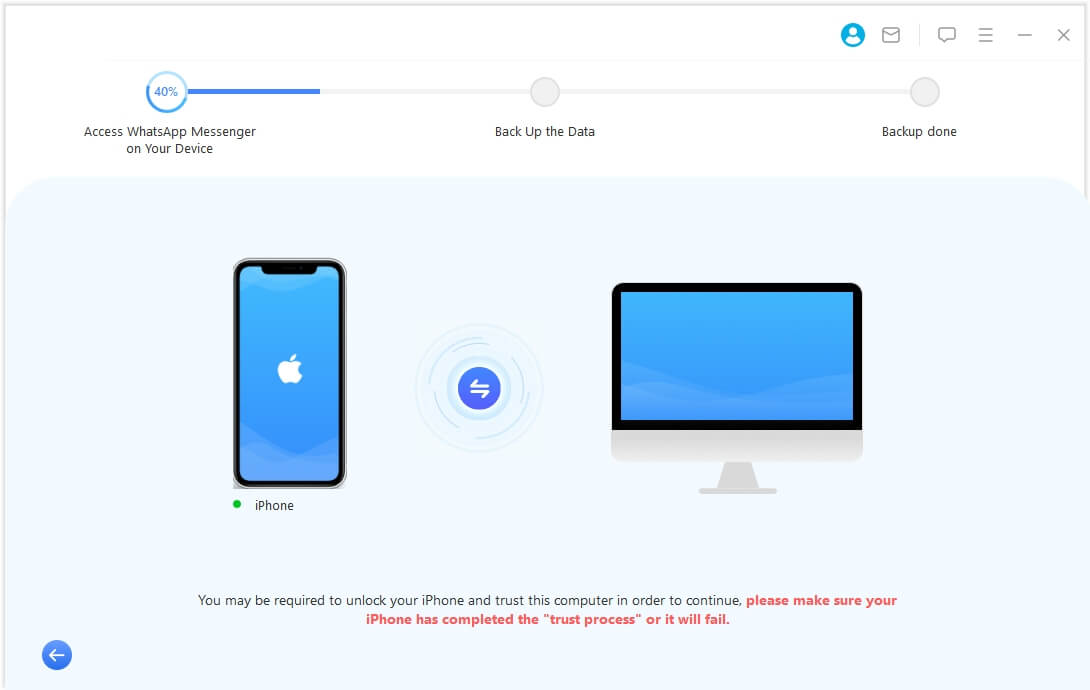 Step 3. The backup process will start and notify you when it's done. The backup process time depends on the size of WhatsApp data.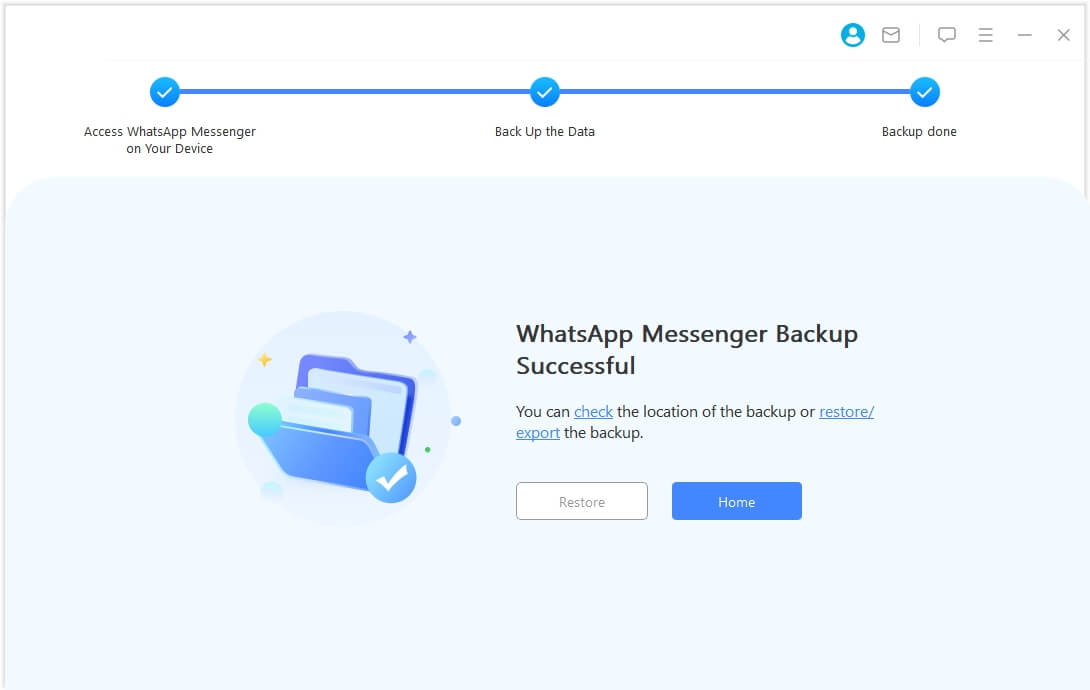 View the Backup
Backing up WhatsApp data is easy, but when it comes to viewing the backup, it raises a lot of questions. People often ask how to view exported WhatsApp chat. In the following steps, we will show you how you can view your backup on Android and iOS devices.
Step 1. When you create a backup, iMyFone iMyTrans saves it. To view the backup, choose the backup that you want to export and click on Export to Computer.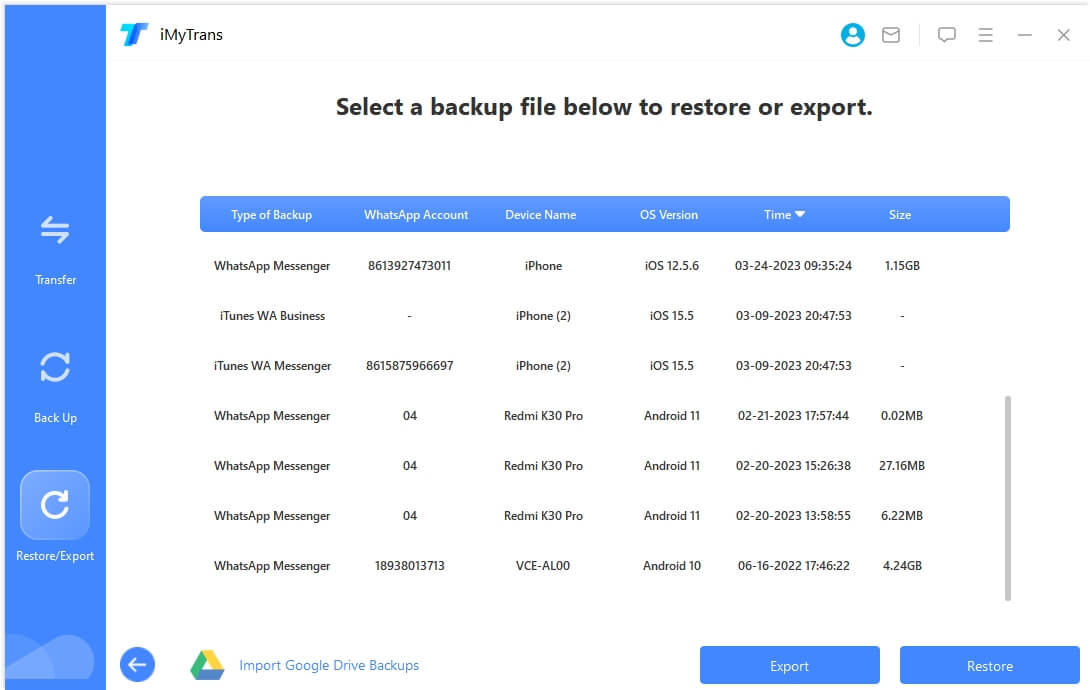 Step 2.The computer will scan the backup and give the user a preview of the backup. The user can even select a chat and attachments that he wants to export. You can export files in different formats because iMyFone iMyTrans offers this to all users. Export your backup as CSV/XLS file so that your chat is saved as a log file.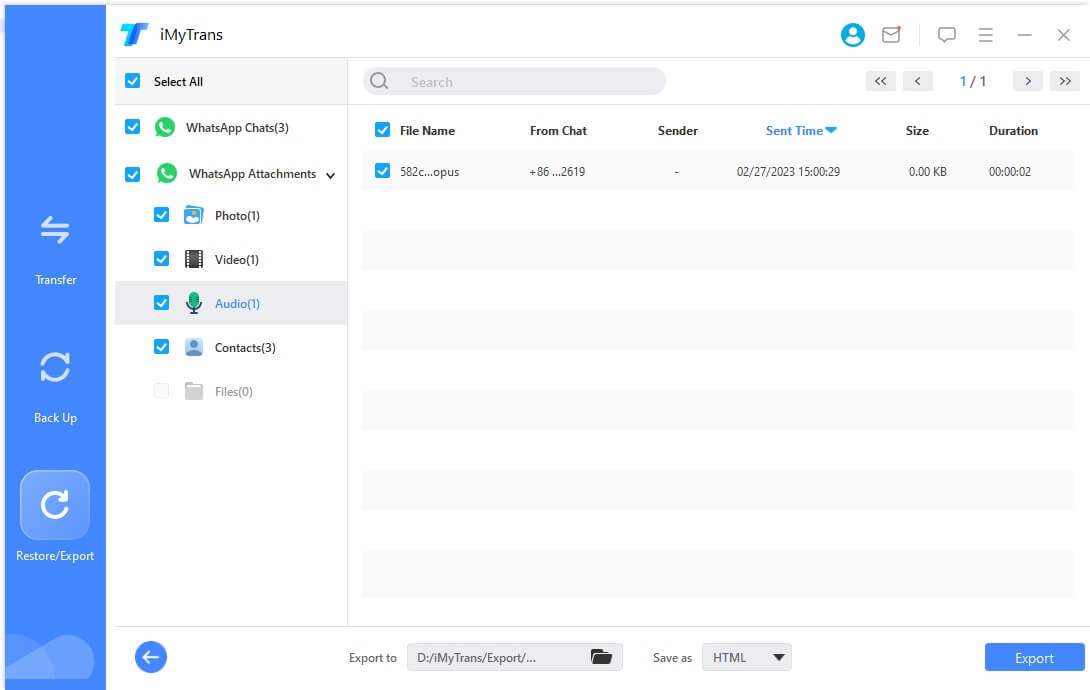 Step 3.After selecting the chat that you want to export and view, click on 'Export'. After downloading, the exported data will open automatically.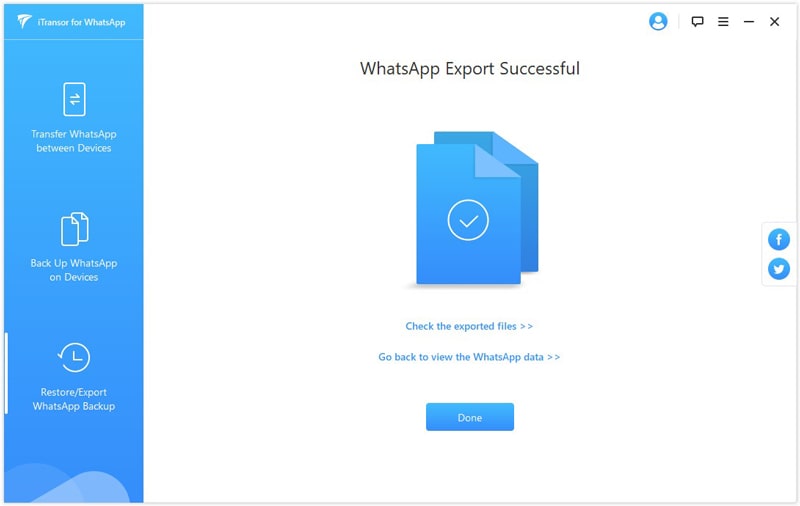 Method 2. Read Chats Exported from WhatsApp via Chat Viewer for WhatsApp
If you don't want to get into the problem of using a PC for viewing WhatsApp chats, then you can use an app for Android. It is Chat Viewer for WhatsApp. It is available on Google Store for free. Follow the steps below to read chats exported from WhatsApp using this app.
Step 1: Open WhatsApp on your Android device and choose the chat that you want to export. When you export the data, it is saved as chat logs (.txt file). It is difficult for the user to read files in this format. Download and install Chat Viewer for WhatsApp.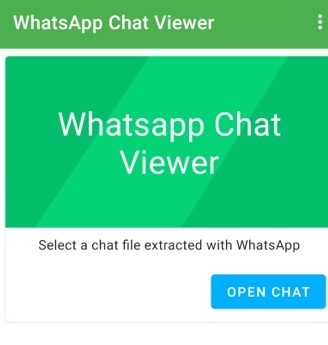 Step 2: This app is not only able to read plain text format, but it has a GUI similar to WhatsApp. So, when you open chat logs using this tool, it will display your chats as if you are viewing them on WhatsApp.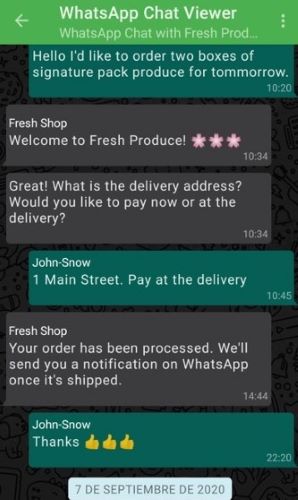 Method 3. Export and View WhatsApp Chats in WA Message Backup & Viewer
If you have an iOS device and you want to export and view WhatsApp chats, then there is an application which is WA Message Backup & Viewer. It is pretty much like Chat Viewer for WhatsApp, but it works for iOS and also creates a backup which Chat Viewer for WhatsApp does not.
Let us see how we can use this application to export and view WhatsApp chats.
Step 1: Firstly, install WA Message Backup & Viewer on your iOS device. Then open WhatsApp and choose the chat that you want to export and view. Click on 'more' and then click on 'export'. You will see the logo of WA Message Backup & Viewer; tap on it. The chat will be exported to WA Message Backup & Viewer.
Step 2: Now, open WA Message Backup & Viewer. It has a similar GUI to WhatsApp, and you will see the chat just like in WhatsApp. Click on the chat to read and view it.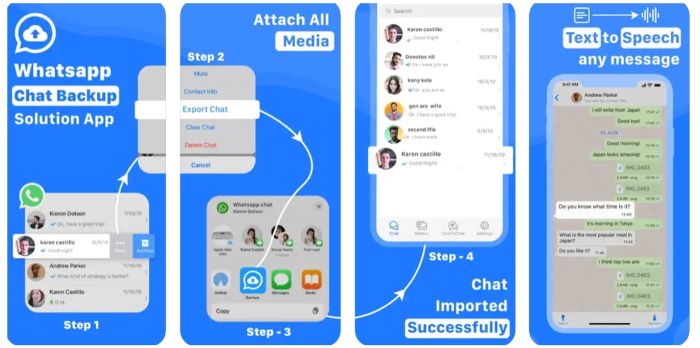 FAQs: More About Reading/Viewing/Exporting WhatsApp Chats
1. Why can't I export WhatsApp chat, and what should I do?
If you are unable to export WhatsApp chat, then you can simply install iMyFone iMyTrans. It is a great tool that is specific to WhatsApp. It can perform any tasks that are related to WhatsApp. Just download and install the tool and follow the steps shown above to export your WhatsApp chat to your computer.
You can export WhatsApp chat, but the chat is encrypted or in plain text format. By default, no application on your computer or phone can read this exported file. You can either download Chat Viewer for WhatsApp for Android devices or WA Message Backup & Viewer for iOS devices to read WhatsApp chats as the original.
Conclusion
Here, the discussion of the WhatsApp chat export viewer comes to an end. We saw different methods for exporting WhatsApp chat for PC, Android, and iOS devices. The best and one for all solution is iMyFone iMyTrans. It is a tool that works for all types of devices and allows the user to preview the data before export. Moreover, it gives users an option to export the data in different formats. Go to the iMyFone website and download the trial version of iMyFone iMyTrans to check out the tool.