To many smartphone users, Samsung is the best phone. Samsung can also be considered an Android device because its OS is Google's Android mobile OS. The resemblances in Samsung' s OS with many other Android devices make some of its functions similar to theirs. This can be seen across its Galaxy series. But they share a lot of app functions with other Android devices and other mobile devices. This article uses WhatsApp as an example, and it explores how to restore deleted WhatsApp messages on new Samsung phone without backup.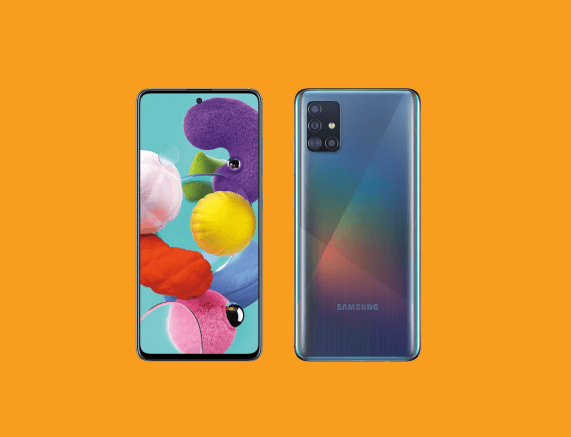 Recover Deleted WhatsApp Messages on new Samsung Phone without Backup
There are times you want to recover deleted WhatsApp messages on your new Samsung phone, but you realize that you did not back it up. This realization may feel devastating, however, all hope is not lost. You can use our iMyFone ChatsBack as a WhatsApp media recovery tool for your Samsung phone. It is a secure recovery tool for all deleted WhatsApp messages and attachments.
You can choose from one of the three recovery modes provided in the software to ensure a successful recovery. Our users are guaranteed the highest success retrieving rate of their data. They can preview the WhatsApp conversations you want to retrieve before performing the final recovery. By using the tool, users get the support to export and restore their WhatsApp conversations to their Samsung phone and computer.
Step.1 Run the program on your computer. Select the Device Storage mode and connect your device to the computer with your USB cable.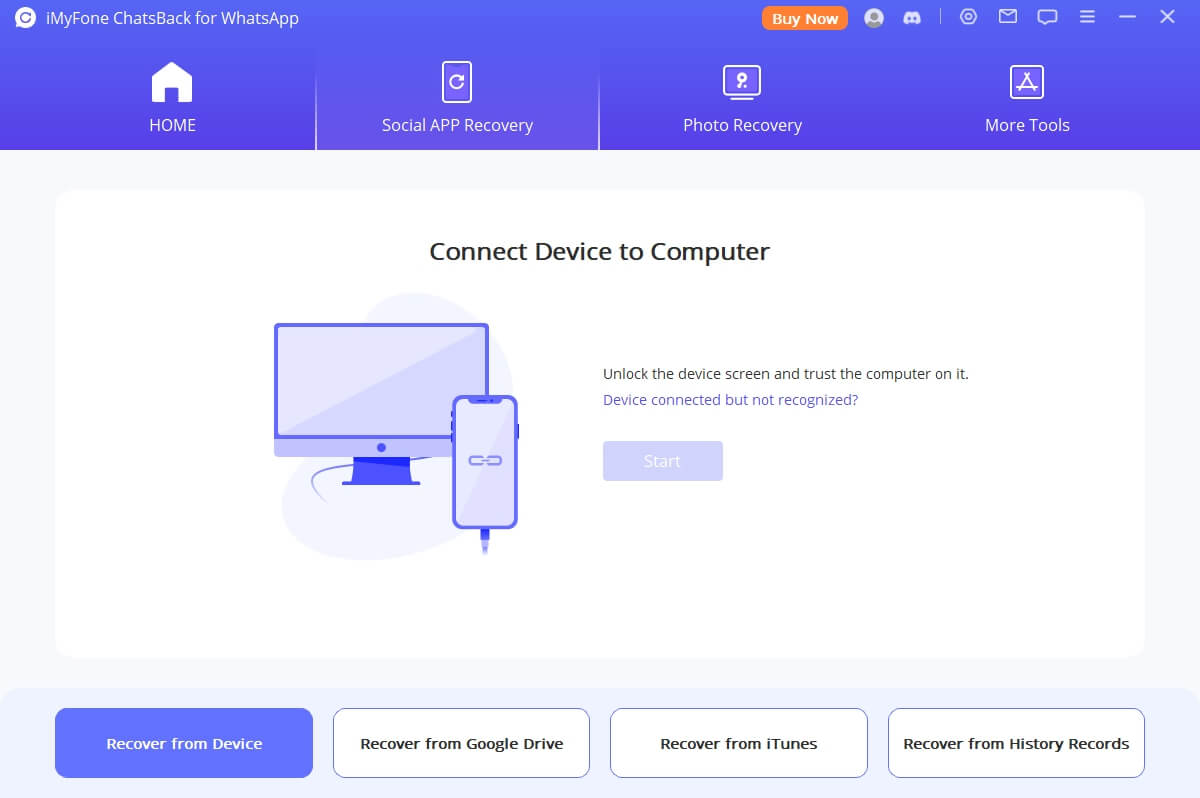 Step.2 Click Start to scan your device. After scanning, enter your phone number, the software will send an SMS to you to verify your phone number.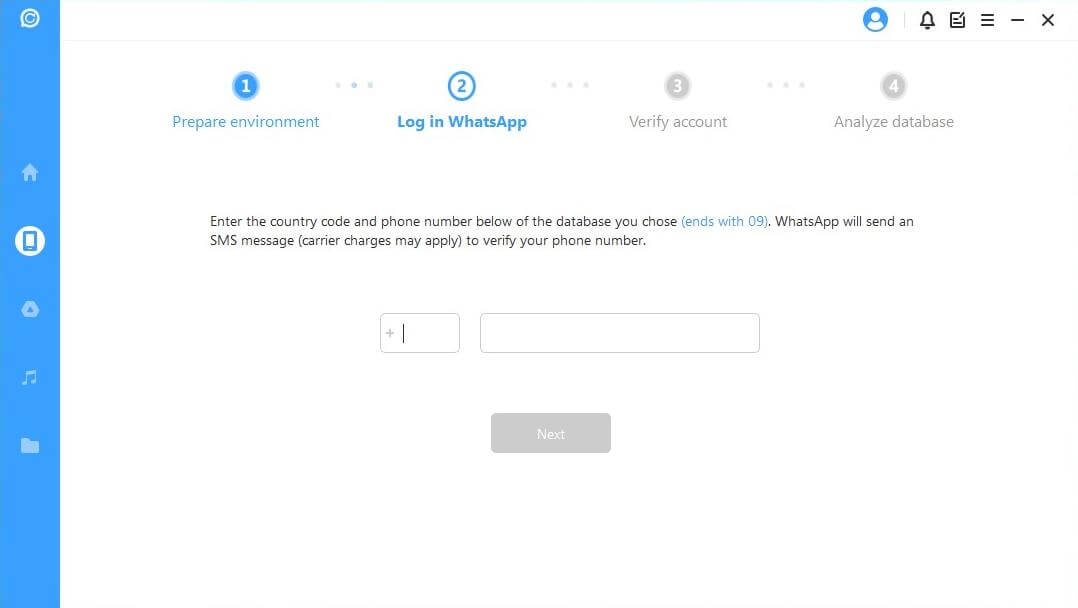 Step.3 Now the program will access the database, and you can preview deleted WhatsApp Messages that you wish to recover after scanning. Finally, click Recover to Device or Recover to PC. The whole process would be done.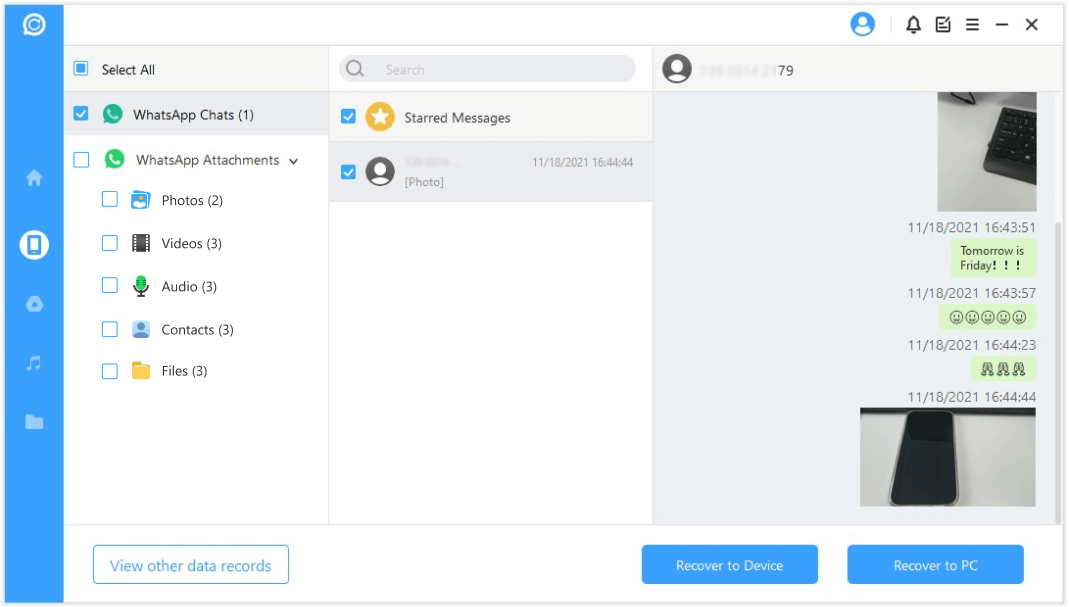 Retrieve Deleted WhatsApp Messages on Samsung with Local Backup
WhatsApp stores a local backup on your Samsung phone. You may have noticed an interruption by 2:00AM when using your device, WhatsApp storing your files. To access this backup, you can check where WhatsApp saved the file on your Samsung phone storage, it could be the root of SD Card storage. Before using this method, you can remove the backup copy on your Google Drive.
Open the File Manager app on your Samsung Phone and go to your device's backup file.

Root storage
: Root Storage → WhatsApp → Databases

SD Card
: SD Card → WhatsApp → Databases

Uninstall your Samsung phone WhatsApp application. Then reinstall the application.
Fill in your details and verify your contact and account details.
Finally, select Restore to get back the chats and media.

Restore Deleted WhatsApp Messages on New Samsung Phone with Google Drive Backup

Apart from local storage, another means by which WhatsApp stores backups on your Samsung is through your Google Drive or other cloud storage like Samsung Cloud and Samsung Kies. If you are using Google Drive, the process to restore your WhatsApp messages is highlighted below.

Ensure that the Google account of your Google Drive where the backup is stored is connected with your Samsung phone.
Uninstall and install WhatsApp on your Samsung application, input your account details to verify your number.
Select Restore to retrieve the media of your account from Google Drive.

After the chat restoration process is complete, click Next. Then all your chats will be displayed after your account initialization.

When the app begins to run, all the other media files will be retrieved in the background.

Bonus Tip: Backup WhatsApp Data on Samsung to Samsung Cloud/Samsung Kies

You have two types of backups you can implement on your Samsung device. You can either backup your account manually or automatically. Similarly, the Samsung Kies can both backup and help you to restore backed-up files.

Manual Samsung WhatsApp Backup

Not everyone wants to back up all WhatsApp messages. In this situation, you can choose the manual backup.

Open the Settings application. Select your name and pick backup data.
Pick either No backups or Back up data if you are backing up your data for the first time or more than once, respectively.
Choose the data you want to be backed up, then select Back up. After the data synchronization process, select Done.

Automatic Samsung WhatsApp Backup

If you find the manual backup is too cumbersome, automatic backup may be a better option for you.
Open the Settings application. Select your name and pick Backup data.
Click the hamburger icon at the top corner of your screen. Tap on Sync and Auto-backup settings.
Then choose Auto-backup. After that, you can customize your media backup options.
How to Operate Samsung Kies
Samsung Kies is a backup software for Samsung device. If you want to back up your messages on computer, please try following phases.
Run Your Samsung Kies application. And connect your Samsung device, e.g. the Samsung Galaxy S series of Galaxy S6/S7/S8/S9//S10/S20/S21, to your computer with a USB cable.
Click on Backup/Restore on the menu bar. Choose the items you want to backup by ticking the boxes next to them.
After making your choices, select Backup at the bottom of the screen. When the backup is done, then click Complete.
Conclusion
While Samsung may not be largely different from other Android phones, their quality-controlled features distinguish them. And if you have lost any message or photos on your Samsung phone like the note series that includes Galaxy Note 5/Note 8/Note 9/Note 10/Note 20/Note 21, the three methods shown above will come in handy to recover them.
For easy recovery, it is important to backup your messages and video. And that is another idea shared in this post. However, you can recover your WhatsApp messages from new samsung phone through an application even when those chats are not backed up.