WhatsApp has become a popular messaging software in our daily lives. It stores many important discussions history with our families, friends, and coworkers. Because our cellphone has so many important WhatsApp messages, images, videos, etc, retrieving WhatsApp data should be the top priority.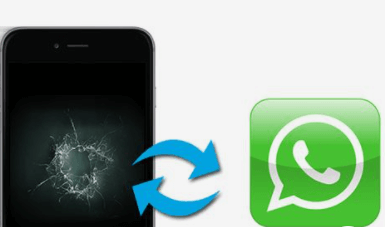 It is vital to ensure that WhatsApp data is retrievable, mainly because it holds much essential information. Therefore, in this post, we will show you several ways to access or retrieve WhatsApp messages from broken phone.
How to Access WhatsApp Messages on Broken Phone
Okay, no one wants their phone to be smashed or damaged at any time. But what if you accidentally dropped the phone and it was damaged? How will you react to this situation? What will happen to the chats you've had on WhatsApp? Is it true that they're going nowhere now? What should you do to get your phone's crucial messages back?
It is difficult to retrieve WhatsApp from a broken phone. You may, however, restore the data from the phone using a USB cord.
Carefully connect your Android Smartphone to your PC using the USB data cord that came with it.
Wait for your PC to install the required drivers and recognize your smartphone as a new driver.
Navigate to My Computer and look for the name of your smartphone. Double-click on the name of your smartphone to access all multimedia files and documents stored in your internal and external memory.
Select and copy all of the objects you want to restore. Now, navigate to your computer's driver and copy the file to the correct spot.
3 Ways to Recover WhatsApp Messages from Broken Android Phone
The best way to recover WhatsApp Messages is to use another phone to retrieve these messages from damaged phone either by
Restore WhatsApp Messages from Google Drive
If you saved up your WhatsApp chat history to Google Drive before your device was broken, you could recover your WhatsApp messages by restoring from the Google Drive Backup.
Step 1: Download and install WhatsApp on a new phone, then verify your number. 
Step 2: Tap Continue to grant WhatsApp access to your Google Drive Backup. Tap Permit to allow WhatsApp to search Google Drive for a backup.
Step 3: Tap the backup account, choose "RESTORE" to retrieve your WhatsApp messages and attachments.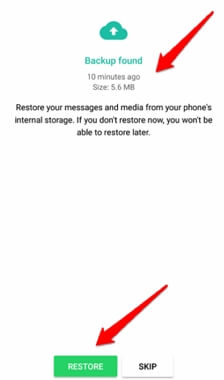 Retrieve WhatsApp Messages from Local Backup
Normally, every day at 2:00 a.m., WhatsApp will automatically backup the messages. The messages will be saved on your Android device's local storage for seven days. As a result, you can restore your WhatsApp messages from a backup in the following steps.
Step 1: Get a File manager Program. Navigate to SD card/WhatsApp/Databases in the File Management App.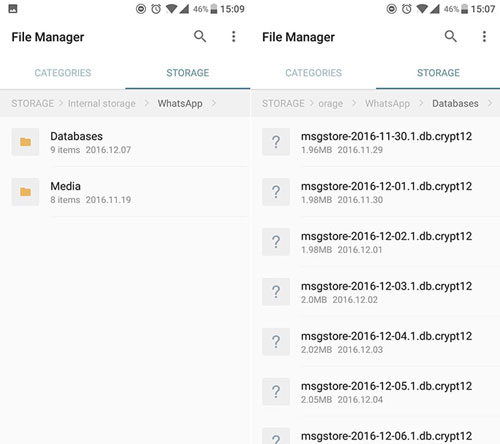 Step 2: Change the backup file's name from msgstore-YYYY-MM-DD.1.db.crypt12 to msgstore.DB.crypt12. Change the cipher extension number at your own risk.
Step 3: Remove and reinstall WhatsApp. To recover your WhatsApp messages, click the Restore button.
Recover WhatsApp Messages from Dead Phone with Professional Tools
iMyFone ChatsBack is the best WhatsApp data recovery solution for any situation. Furthermore, iMyFone ChatsBack will recover all lost or deleted WhatsApp messages, images, videos, music, contacts, and files!
Even if you don't have a backup of your WhatsApp data, ChatsBack allows you to make WhatsApp recovery directly from the device's internal storage. It is compatible with a variety of iOS/Android phone models.
Features of the iMyFone ChatsBack Tool
Retrieve deleted WhatsApp data to your computer from broken phone with high successful rate.
100% security and privacy are assured.
Before conducting the final recovery, a preview of recoverable WhatsApp data is available.
Data from WhatsApp can be recovered and saved to a computer as HTML/PDF/Excel/CSV files.
Launch ChatsBack on your PC to get started. On the primary interface, there are four modes. Choose a method based on your situation. The instructions below will show you how to recover WhatsApp data.
Step 1: Download and install the utility from the official website. Launch it now and select Device Storage from the home screen.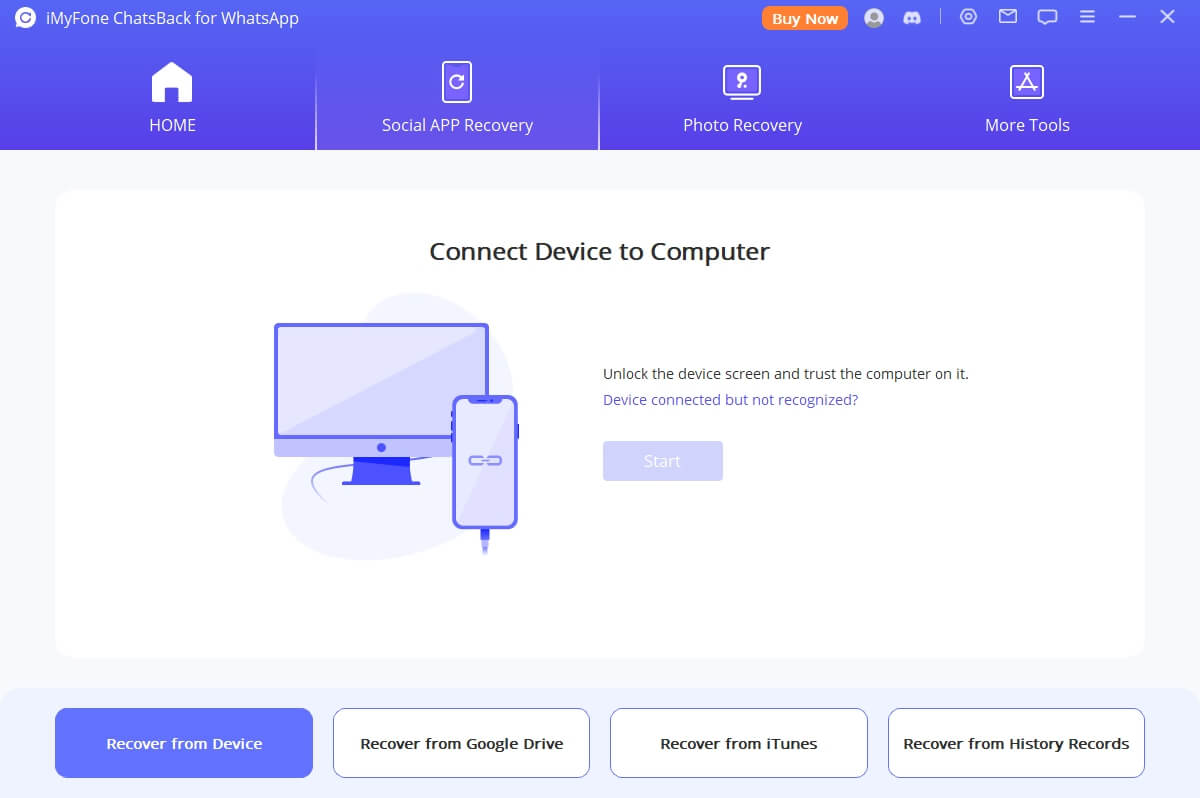 Step 2: Now, follow the on-screen instructions to connect your iPhone to the PC. Use an Apple USB cable to connect your gadget to your PC. After selecting WhatsApp Messager / WhatsApp Business, click "Start".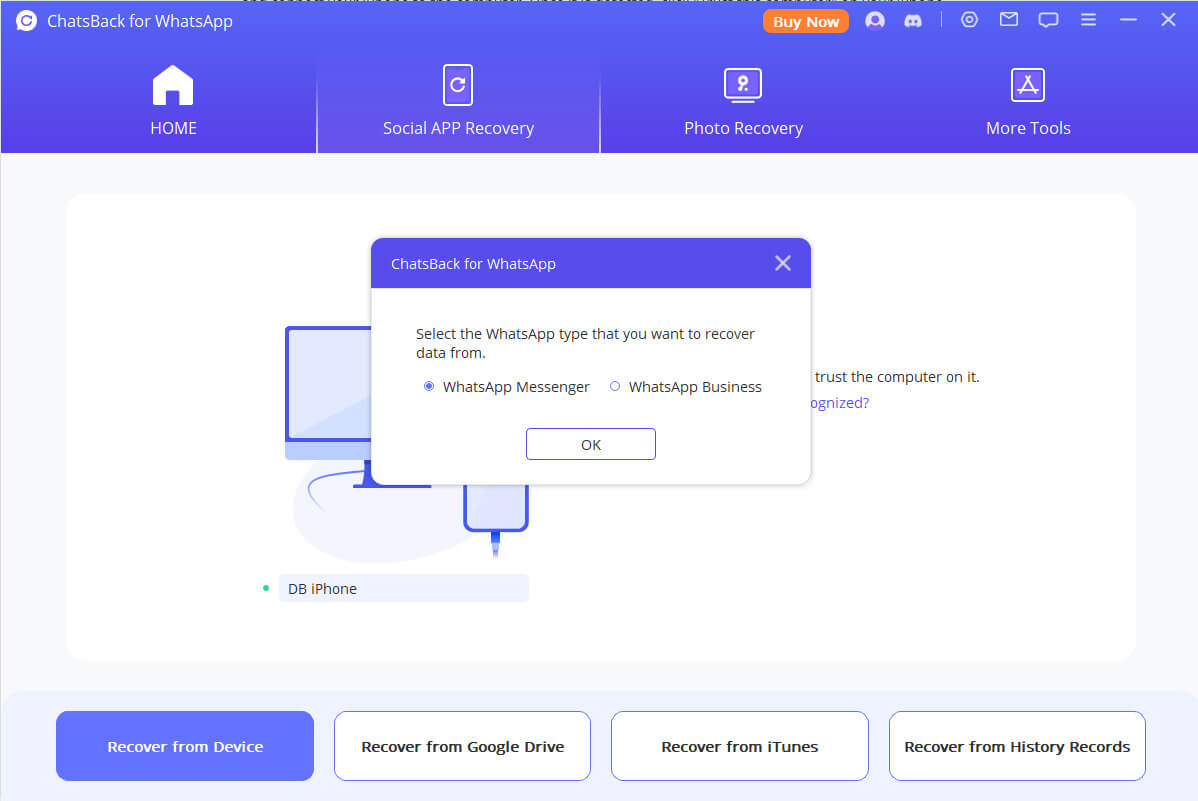 Step 3: After messages have been scanned, you will be able to preview them on your computer screen before retrieving them. Examine your chats and select the ones that are required. Finally, click the Recover to PC option.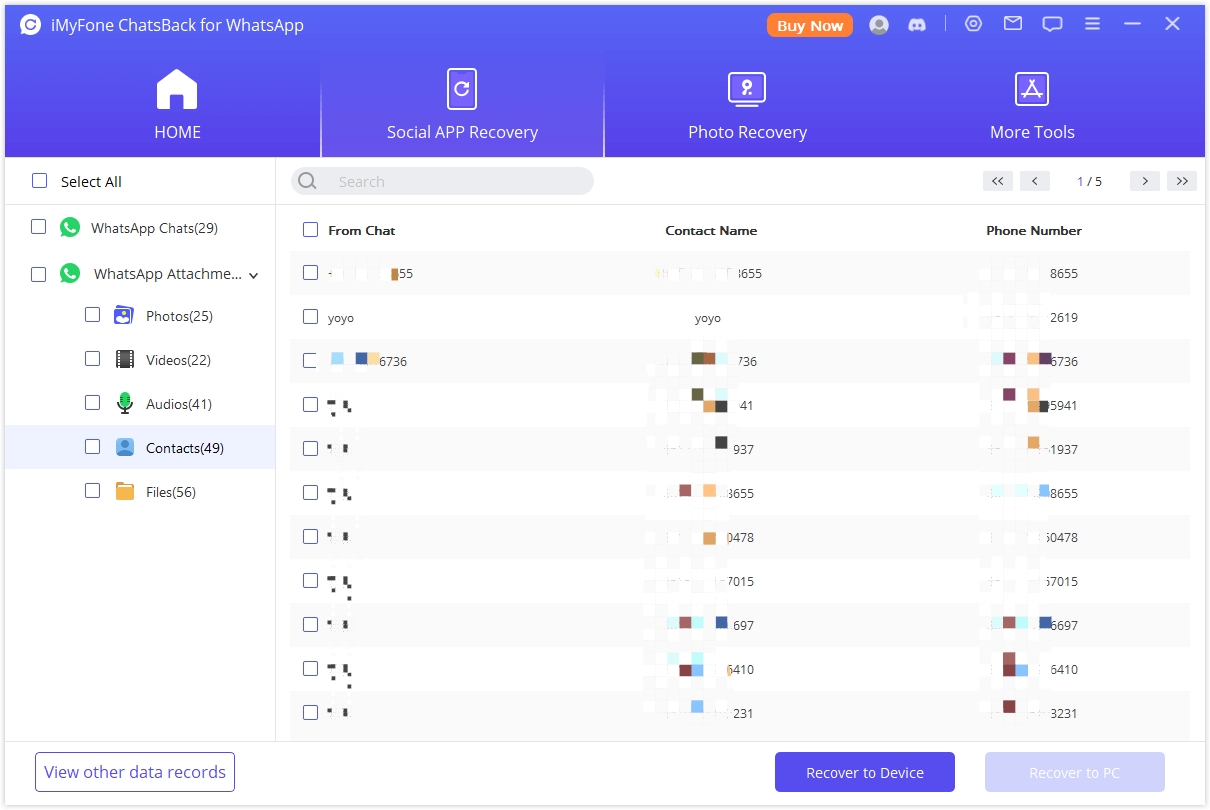 3 Ways to Retrieve WhatsApp Messages from Dead iPhone
If you always back up iTunes or iCloud  before your iPhone dies, you can restore  dead iPhone WhatsApp messages from  previous iTunes or iCloud backups. However, you need to prepare a new iOS device.
 Recover WhatsApp Messages from the iTunes Backup of Dead iPhone
It is simplest that use iTunes backup to recover WhatsApp Messages. Following are steps:
Open iTunes on the computer where you backed up your iPhone before it died. Then connect the new iOS device to the computer.
Select your iPhone when it appears in the window. Then choose Restore Backup.

After this process, deleted messages of dead iPhone would be retrieved in the new iOS device.
Get back WhatsApp Messages from the iCloud Backup of Dead iPhone
Before starting the process, you have to make sure that all contents and settings have been erased on your new iPhone. If not, you can begin at these phases.
Open Settings, select Erase all Contents and Settings. Tap on Erase and enter your password to confirm.
Then Go to set up your device, tap Restore from iCloud Backup, sign in to iCloud.
Select the backup file that contains the deleted WhatsApp messages you want to restore.
Get WhatsApp Messages from Dead iPhone with Advanced Tools
If you lost WhatsApp Messages when your iPhone got stuck on iOS issues accidentally such as stuck on Apple Logo/white/black screen and not turning on before you back up the WhatsApp data. Don't worry, a powerful recover tool will help you. iMyFone D-Back is a professional tool to fix iOS problems and recover data without backup.
Following that, you must select the reason for D-Back. Among the options are:
It can recover deleted messages from dead iPhone with high rate.
It will not overwrite current data on your iPhone.
Get back your WhatsApp messages with simple clicks.
Step 1. Lunch the software, on your computer screen, select Fix iOS System>Standard Mode. After that, connect your device and click "Next"button.
Step 2. Now, you need to download the new firmware ,then click "Start to Fix" to verify the firmware and the program will start to fix your iPhone.
Step 3. After the fixing process is finished, your device will start and your lost messages will recover.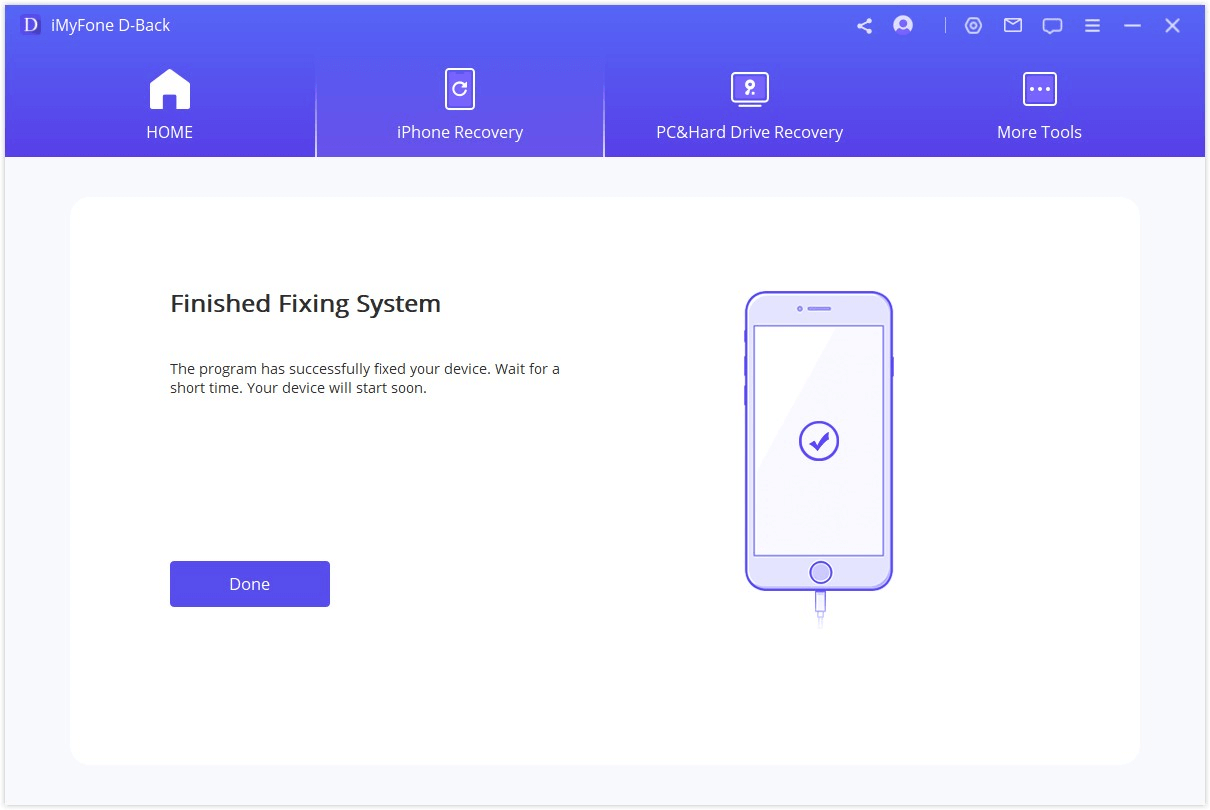 You' ve successfully retrieved your data by completing the final step for each solution, and you can finally exhale a sigh of relief!
Bonus Tip: How to Back up WhatsApp Messages on Android/iPhone
Here are bonus tip for Android/iPhone users out there, if you want to uninstall WhatsApp from your phone without losing your messages, make a backup of your chats first.
Open WhatsApp on your Android device, then tap the three dots in the screen's upper-right corner.
Select Settings > Chats.
Tap "Chat backup", then click the green "Back up" button on the next screen.
Launch WhatsApp and select Settings > Chat > Chat backup >Back Up Now.
You can also enable automatic updates by pressing "Auto Backup" connecting to your iCloud account and selecting the frequency of your backups.
Conclusion
Regardless of the method you use, iMyFone D-Back and iMyFone Chats Back make iPhone and Android data recovery simple. Using it is a simple, intuitive process whether you are completely new to computing or an expert. Simply sit back, relax, and let the app do its thing. We hope these means will be helpful.