Transferring your WhatsApp chats and data from one device to another can be difficult. Sometimes you get built-in features for WhatsApp transfer. However, in some cases, all of your data does not transfer from one device to the other one. To solve that problem, Syncios WhatsApp's full version is an amazing tool. In this Syncios WhatsApp Transfer review, we will cover everything about it bringing value for you. For a better Syncios WhatsApp data transfer alternative, our editor recommends iTransor for WhatsApp, it has more higher data transfer success rate, Download iTransor for WhatsApp free now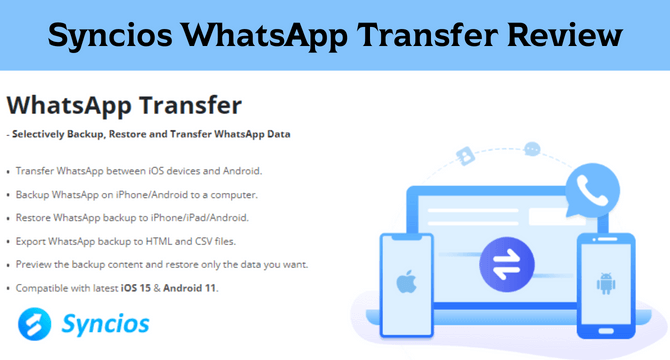 Part 1. Syncios WhatsApp Transfer Review
Here is all you need to know about Syncios features, processes, and prices.
1.1 What Can Syncios WhatsApp Transfer Do?
Syncios is your WhatsApp transfer tool that brings a lot of features, some of which include:
Selective backup feature
Backup/Restore WhatsApp data
Data transfer between iOS and Android
Export WhatsApp chat history in document format
Compatible with the latest Android and iOS versions
In this way, whenever you have to transfer your WhatsApp data from one device to another, you will never lose anything. Whether chat, document, picture, video, or voice note, Syncios ensures that everything goes from one device to another.
1.2 How to Use Syncios WhatsApp Mobile Data Transfer Between Android and iPhone
Transferring your WhatsApp from one device to another with Syncios is pretty simple. Here are the steps that you will need to follow for how to Use Syncios WhatsApp Mobile Data Transfer:
Step 1. Start Syncios on your computer and select WhatsApp transfer. Now the tool starts WhatsApp transfer installation. After completing the installation, you can select WhatsApp transfer to start the process.
Step 2. Now you will have different options. You will need to select the option Transfer WhatsApp between two devices.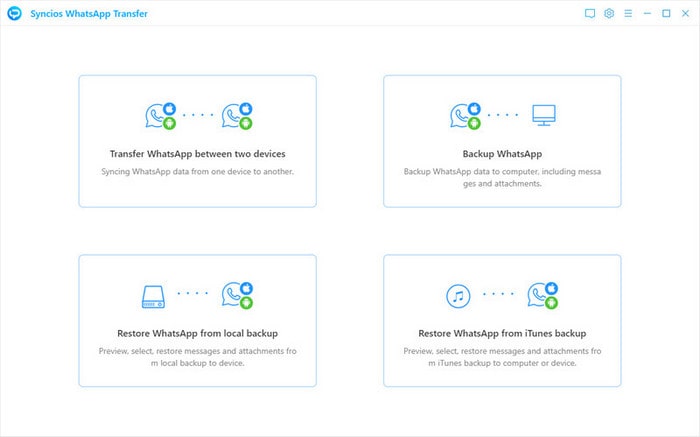 Step 3. Take USB data cables and connect your devices to your computer. Wait for the tool to read both devices, and you can move to the next step.
Step 4. Press the Transfer button present at the bottom right corner. Now, wait for a few minutes for the process to complete.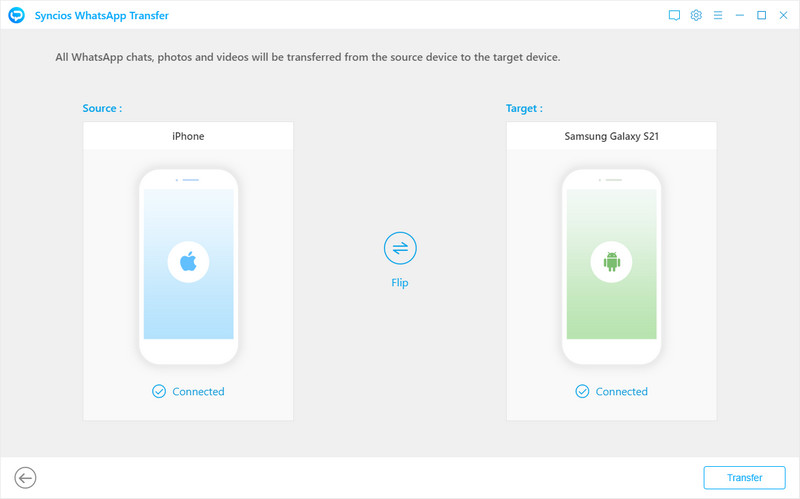 With this simple 4-step process, you will complete the transfer process without any issues. Make sure to let the tool finish the process in the last step before disconnecting any of your mobiles from the PC.
1.3 Is Syncios WhatsApp Transfer Free? [Free Version vs. Full Version]
No, it is not free, and there are trial versions available. However, you can download the tool setup for free. There are different prices for Mac and Windows users, which are as follows:
1-year subscription for up to 5 devices and 1PC (Mac and Windows) for $29.95
Lifetime subscription for up to 5 devices and 1PC (Mac and Windows) for $39.95
Windows Business license for 1 year, unlimited devices, and 1 PC for $219
Mac Business license for 1 year, unlimited devices, and 1 PC for $394
Part 2: Alternative Tool to Syncios WhatsApp Data Transfer
If you think that Syncios lacks any features that you may need, then iTransor for WhatsApp is an alternative that you can choose. Here you get everything you will need regarding WhatsApp transfer and restoring backup from Google Drive, which is impossible with many other tools.
2.1 Main Features of iTransor for WhatsAppp
iTransor for WhatsApp has all the features you will need when transferring from one device to another. Below are the details about all of those features.
WhatsApp Transfer: The first one is basic WhatsApp transfer from one device to another. It supports Bi-directional WhatsApp transfer supporting thousands of Android devices and several iPhone models.
Back Up: Creating data backup is very simple, so you can store the history of your chats and restore them on other devices.
Restore: The program supports restoring backups to both Android and iOS devices.
Exporting: It allows you to export your data from WhatsApp in different file formats like HTML and CSV.
Direct Restore Backup from Google Drive: One of the best features of iTransor for WhatsApp is that you can backup and restore directly from Google Drive on your Android and iPhone.

2.2 Directly Restore WhatsApp Backup from Google Drive [Steps Guide]
Unlike many other tools, iTransor allows you to restore a backup from Google Drive directly. It does not matter whether you need to restore it to an iPhone or an Android device. Below is the simple 3 step process for it to work.
Step 1. Launch iTransor for WhatsApp on computer. Choose Restore/Export WhatsApp Backup function and then click the icon at the bottom-left Import Google Drive Backups.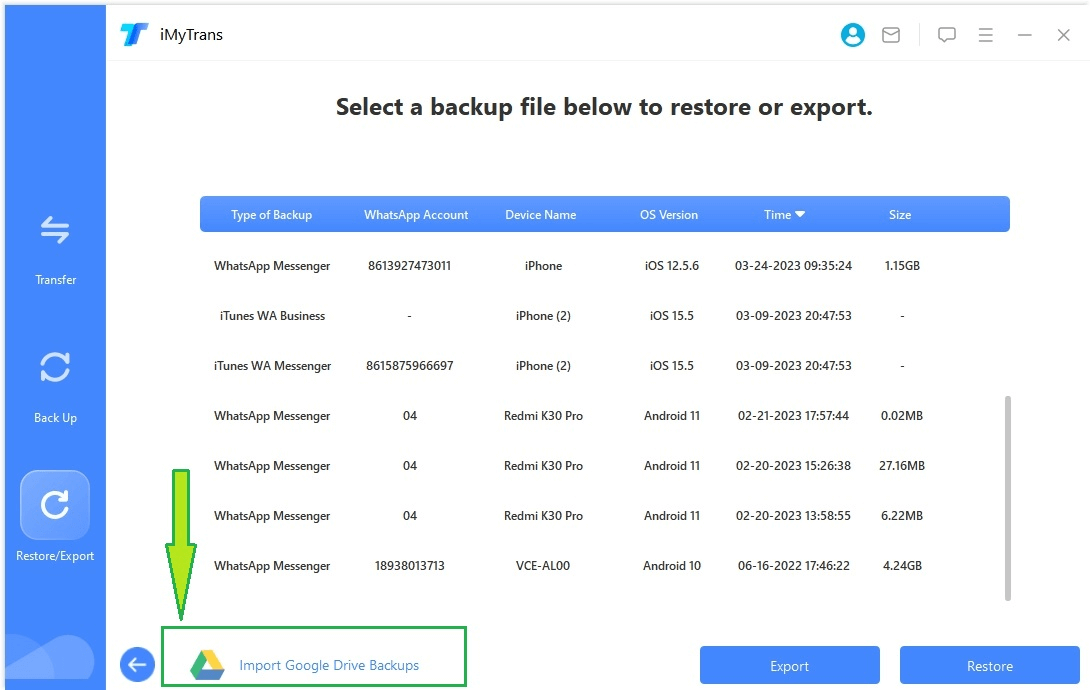 Step 2. Log into your Google account. Then you can check the WhatsApp backups list you've made. Choose the latest one or any one you need, then tap on the download icon.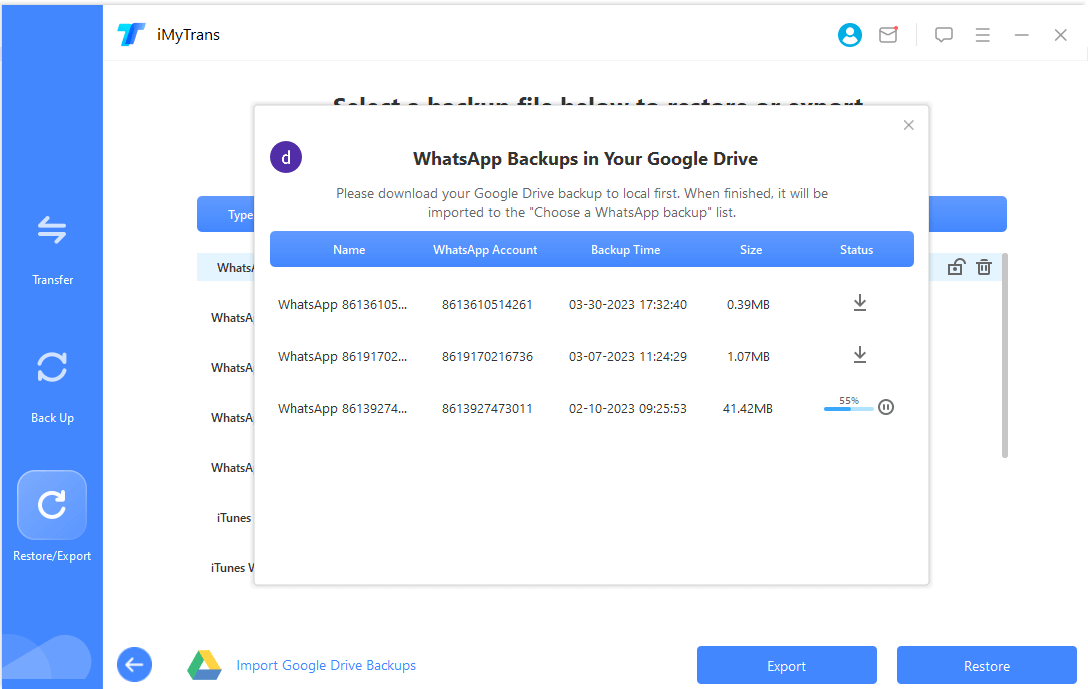 Step 3. Enter your phone number used for Google account and the verification code you received.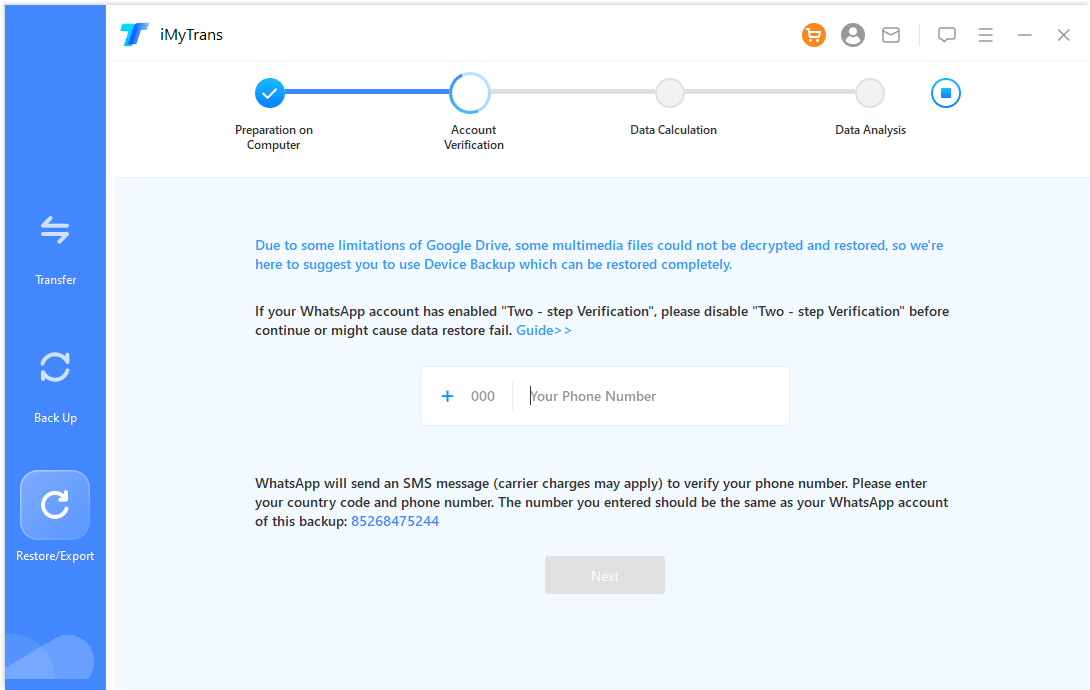 Step 4. Now you can easily restore the backup to the required device without any issues. And you can also selectively preview them before and choose data to export or restore if you're using full version.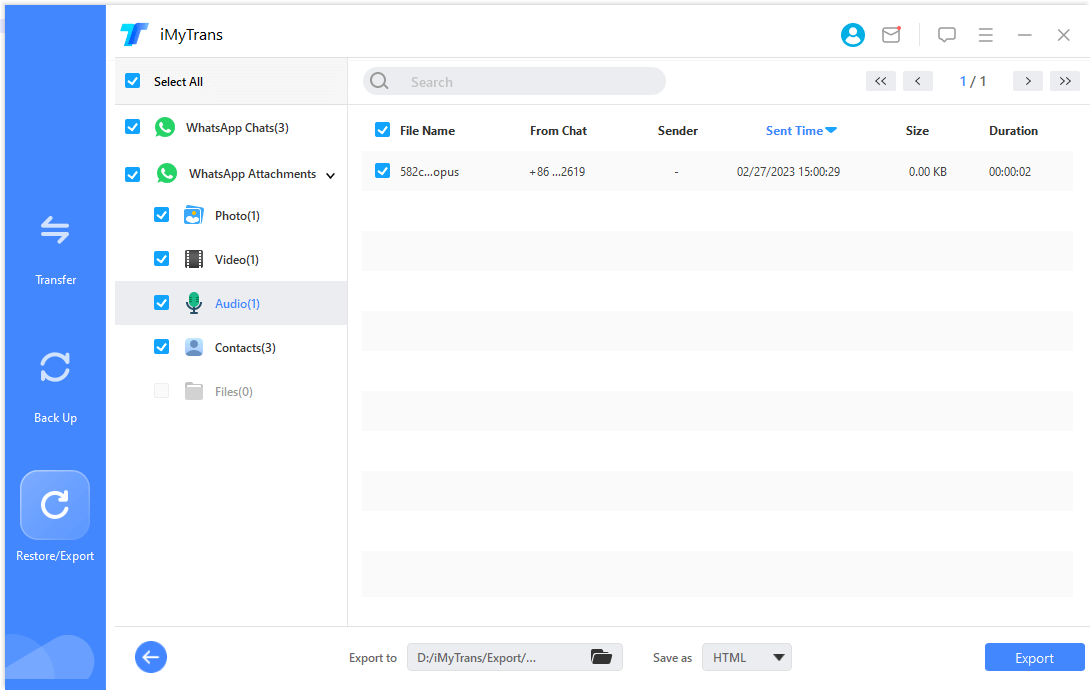 2.3 Prices and Purchase Plan
iTransor for WhatsApp comes with a free trial as well as paid services. These paid services are also set reasonably so that anyone can afford them. Like many other tools available on the market, it also provides services for 1 PC and up to 5 devices simultaneously. The following are individual plan prices that you must know:
1-month subscription for $29.95
1-year subscription for $39.95
Lifetime subscription for $45.99
FAQs: More About Syncios WhatsApp Data Transfer
1. Is Syncios WhatsApp Data Transfer safe?
Yes, it is a safe tool with few privacy or safety issues. It is also a good choice because it is user-friendly and smart software. So, you will not lose any data whenever you transfer your WhatsApp from one device to another.
2. How can I get the Syncios WhatsApp Transfer registration code?
Getting the Syncios registration code is not a tricky process at all. When you purchase its subscription, you produce an email and register your account on it. As your registration is complete, you will get the code on that email.
Final Words
Transferring WhatsApp from one device to another can be critical, especially when you have to transfer WhatsApp among different device operating systems like iOS and Android. However, we hope that now you know how Syncios transfer WhatsApp chats between Android and iPhone tool works. Even if it is not the best choice, you can go for alternatives like iTransor for WhatsApp.