The Android smartphones have become extremely popular in the past few years because they are easy to use and beginner-friendly. Similarly, text messages have become advanced and preferred by users to communicate with others. However, if you are someone who tends to lose their phone a lot and have important information in the text messages, it's essential to keep a backup. So, with this article, we are sharing what is Android advanced messaging and how you can create a backup!
Part 1. What is Android Advanced Messaging?
The advanced messaging is formulated on conventional text messaging and MMS by adding futuristic features. For instance, advanced messaging allows users to send text messages of over 8000 characters. The file transfers support long videos, high-resolution pictures, and other files, such as ZIP and PDF.
If you are still wondering what is Android advanced messaging, it's a next-generation messaging feature that allows users to send media files of over 100MB in one go. Users can create group chats of over one hundred members.
Part 2. How to Backup Android Advanced Messaging
Backing up the advanced messages is more important than ever as users have documents and media files saved in them. However, many people don't understand how to create Android advanced messaging backup, but we are here with iMyFone D-Back for Android. This is one of the most popular choices when it comes down to message recovery and has the following features;
It helps recover data from Android smartphones without rooting.
Supports more than 6000 smartphone models, irrespective of the Android OS version.
Allows the users to download and view the backed-up files.
Restores the messages, be it WhatsApp messages or text messages.
Selective preview of the recoverable files.
Top-notch encryption protocols.
While we have added information about the features, you must follow the correct steps to back up the advanced messages. With this method, you can download the messages on the computer and keep them safe. So, follow the following steps;
Step 1: To begin with, you must open iMyFone D-Back for Android on your computer, and select the recovery method.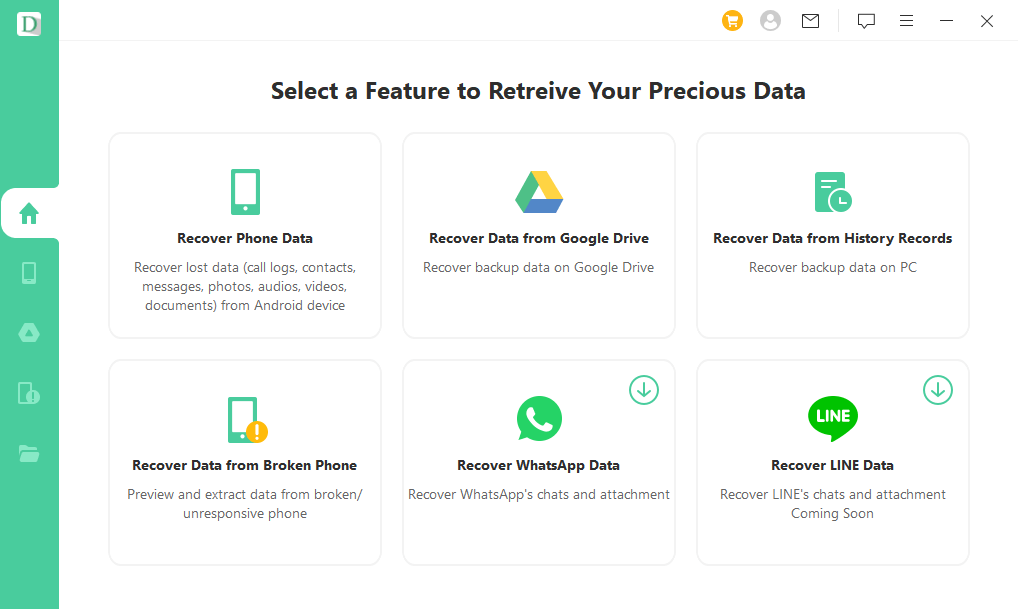 Step 2: Don't forget to plug your Android smartphone into the computer (you can use a USB cable). If you've selected the option to recover from phone data, you'll also have to provide the details to complete the verification process.
When the smartphone is connected, the software will start the scanning process and list all the files on the screen, including text messages.
Step 3: When the files are listed, select the ones you want to back up and hit the recover button on the screen. As you select the recover button, the text messages will be saved on the computer, so you can keep them safe.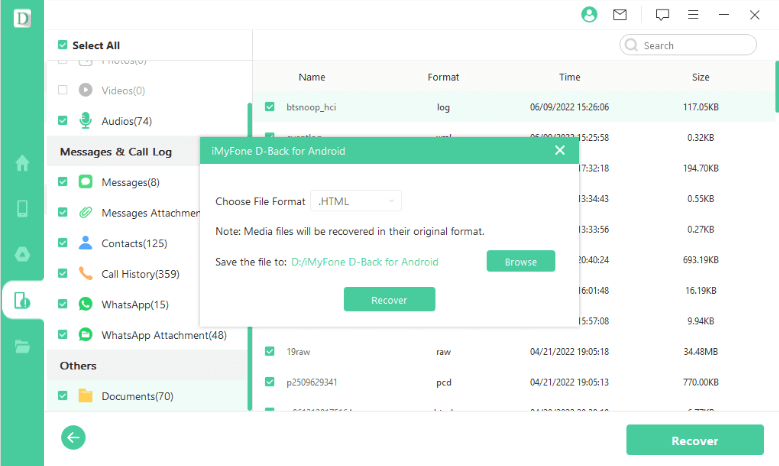 Bonus Tip: Why Android Advanced Messaging Doesn't Work
There are no specific reasons why advanced messaging would stop working, but in most cases, it's because of weak signals or incorrect settings and configuration errors. For this reason, if you have Android advanced messaging not working issue, you can try the following solutions to resume the advanced messaging;
Turn on airplane mode on your Android smartphone for two minutes, then turn it off. When the signal bar is full, try advanced messaging.
Make sure you select the smartphone's advanced messaging app as the default messaging app. For this purpose, tap on the advanced messaging app, press the advanced option and choose it as the default.
Reboot the smartphone or change your location to improve the signal reception
Part 4. FAQs
01

How to Use Advanced Messaging on Android?
If you want to know how to use advanced messaging on android, then it's recommended that you open the phone settings, scroll down to messaging, and turn on advanced messaging.
02

How to Get Advanced Messaging on Android?
Here is the answer if you're searching for how to get advanced messaging on Android. To get advanced messaging on Android, you must turn it on from the settings to get advanced messaging on Android. However, remember that the SIM card provider offers advanced messages. If you have issues using the messaging feature, you should reach out to their customer support team.
03

How to Turn on/off Advanced Messaging on Android?
To turn on or off the advanced messaging, open the messaging app in the smartphone's settings and enable or disable advanced messaging, whatever you want. This is the simple answer on how to turn off advanced messaging on android.
Conclusion
Advanced messaging has become a good choice for people who like to send media files and documents through the messaging app rather than WhatsApp. However, if you want to create a backup, you can use iMyFone D-Back for Android, as it's one of the most reliable recovery software solutions. It's available for free as well!