An Android phone keeps the call logs up to 500 records, these call logs play a significant role in maintaining important tasks of daily routine. There's a chance that these call logs will be deleted by accident, or just disappear for any other reason. What's the worst is, you need the phone number of an important person who called you but you did not save his/her contact number.
No worries, there are ways to solve this issue. Below are the four tips that you can easily follow to best back up and restore call logs apps on Android to transfer or backup Android call logs to PC. These tips will help you in disgusting situations.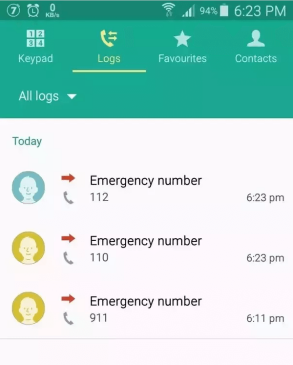 Tip 1. Backup and Restore Android Call Logs with Syncios App
One of these 4 tips is to use Syncios Data Transfer to retrieve your call logs. It will restore all of your call logs on your computer in no time.
You're able to back up your call logs to the computer in 1 click with Syncios. The whole process is quite simple. The program offers 3 modes: Transfer, Restore, and Backup, you can freely choose the file type you want to back up, and restore them to your Android device later.
Note
It's worth mentioning you can only restore the call logs you have backed up Syncios, and it only supports limited file types, so if you want to retrieve more data types,
tip 4
is recommended.
Tip 2. Backup and Restore Call Logs via Call Log Backup & Restore App
Call Logs Backup & Restore is designed to ease your backup and restore trouble. It is a simple and free app that assists you in installing custom ROMs and dealing with reset. This app stores backup either in the SD card or Backup Restore folder. It helps you maintain your call logs backup and restore it simply. Below is a guideline to access and use it.
1. How to backup call logs on Android with it:
Step 1: Download Call Logs Backup & Restore app from the Android play store.
Step 2: Install it and tap the icon to launch it on your phone.
Step 3: Tap on the "Backup" button and enter a name for the backup files, then click the "OK" button. Now you've successfully backed up your call logs. It allows you to check the backed-up call logs by ticking the "View" button.
2. How to restore call logs on Android with it:
Step 1: Go to the main menu and press on the "Restore" option.
Step 2: Select the desired call logs you've backed up, click the "OK" button.

It is effective to help you back up call logs in an easy way. But it has certain limitations that are given below: Chances of data loss during the process, because it can lead data to be overwritten. And it requires a previous backup file to restore the call history.
Tip 3. Call Logs Backup and Restore with Super Backup & Restore App
Super Backup & Restore is a tool designed for quick data backup and content restore on Android phones easily. It is used to back up call logs, messages, bookmarks, applications, contact lists, and so on. It's also pretty easy to back up and restore call logs, just following the on-screen instruction.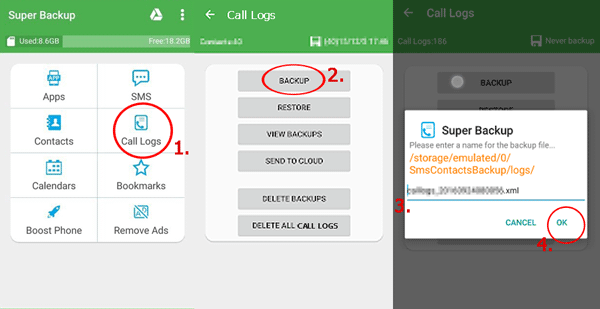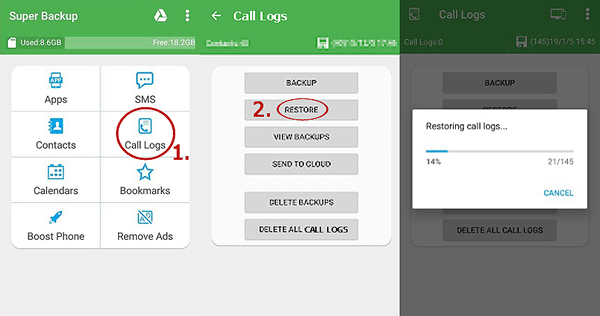 Cons
Make sure to copy the entire backup folder to the external SD card before you do a factory reset on your Android phone, or you'll fail to restore your call logs or any other data.
You are not able to restore the specific call logs selectively.
Directly restore call logs to your phone can overwrite the current data on your device.

Tip 4. Best Call Log Backup and Restore App to Backup Android Call Log to PC
Except for the above 3 tips, there's also another effective and reliable way to backup and restore your call logs on Android. D-Back Android has distinctive and remarkable features that Syncios call logs, free call log backup and restore Android app, and Super Backup & Restore lack. It paves an easy, fast, and secure way for Android call logs backup to PC and restores from Android phones and tablets.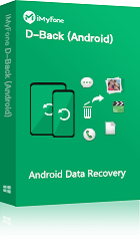 1,000,000 Downloads
Features of D-Back Android
Offers 3 modes: Android Data Recovery Broken Android Data Extraction, and Recover Data from Google Backup, enables you to freely choose any one of them to backup and restore call logs on Android devices.

Almost all kinds of data are supported to recover, including call history, messages, audios, videos, WhatsApp data (pictures, attachments, calls, and messages), documents list, and contact list, etc.

You can choose a specific file type to scan for with D-Back, and you're able to restore call logs selectively.

It backs up Android call logs to PC without affecting the current data on your Android device.

It allows you to view the recoverable call logs before the recovery with the free preview function.
The steps are given below for backup Android call logs to PC using D-Back Android:
Step 1. Download and install D-Backup Android on your computer. Select Android Data Recovery mode.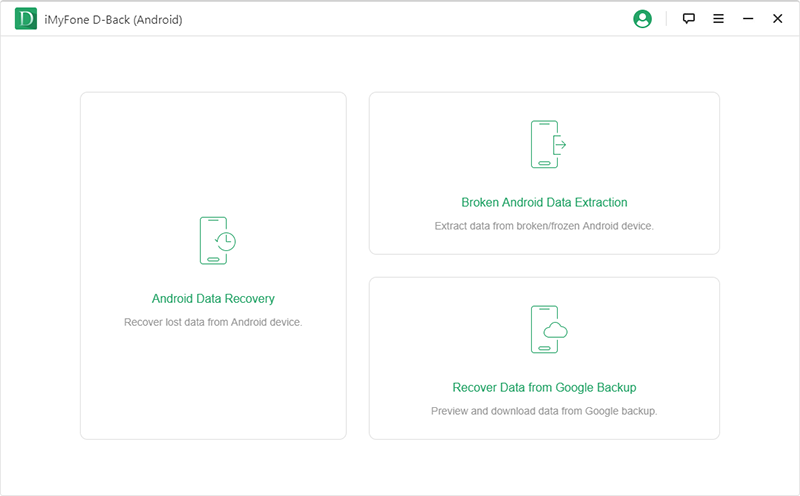 Step 2. Give your device info to the system (it will also download the data package automatically).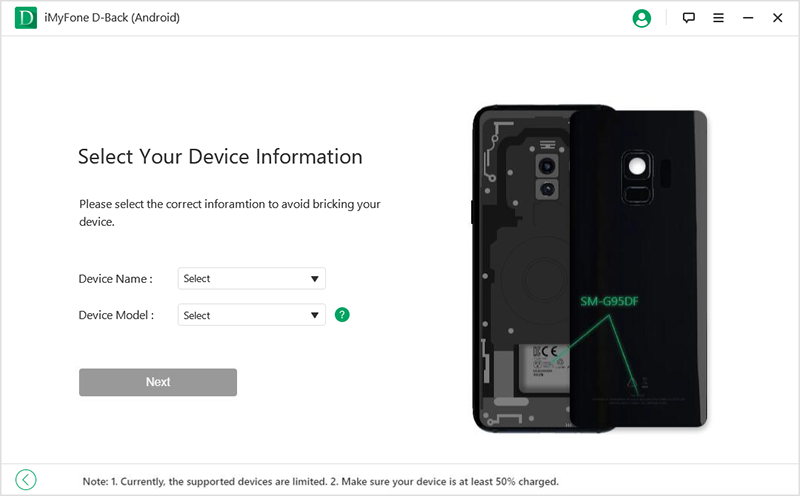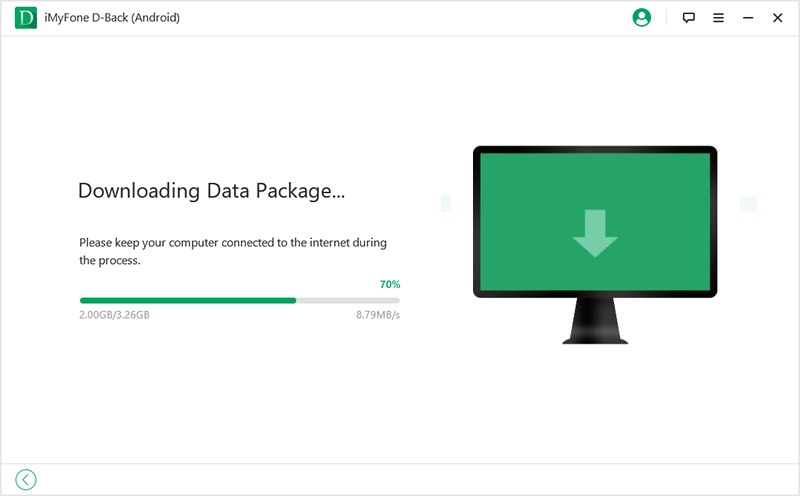 Step 3. Use a USB cable to connect your Android with your computer. Here you need to enter your Android into downloading mode via three simple steps and assure the internet access while doing this step.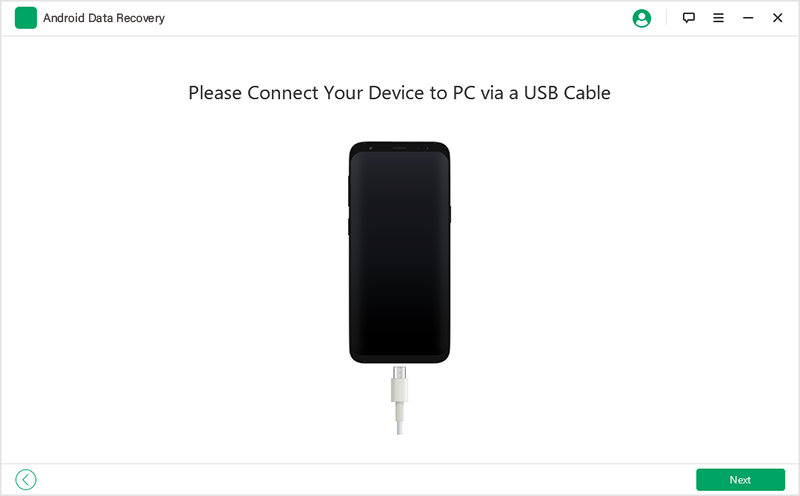 Step 4. Select "Call History" from the files list and press "Next" to start the scan process.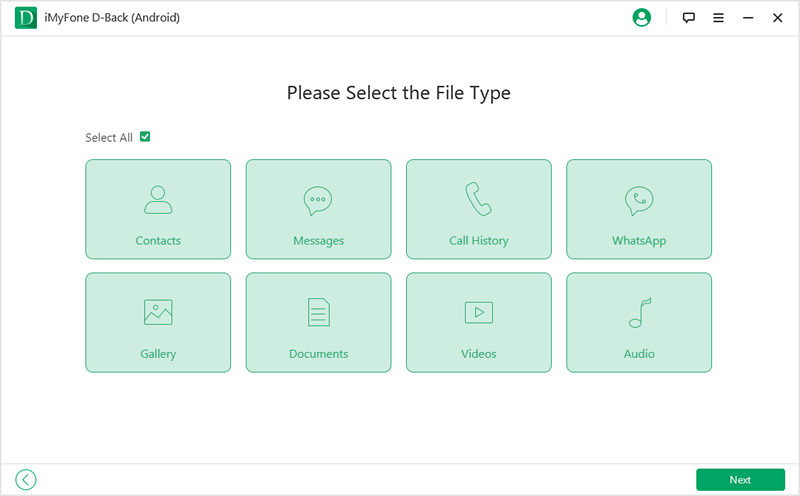 Step 5. It will display all the recoverable call logs on the screen. Simply press "Recover" and you can restore them on your computer memory from which you can easily access.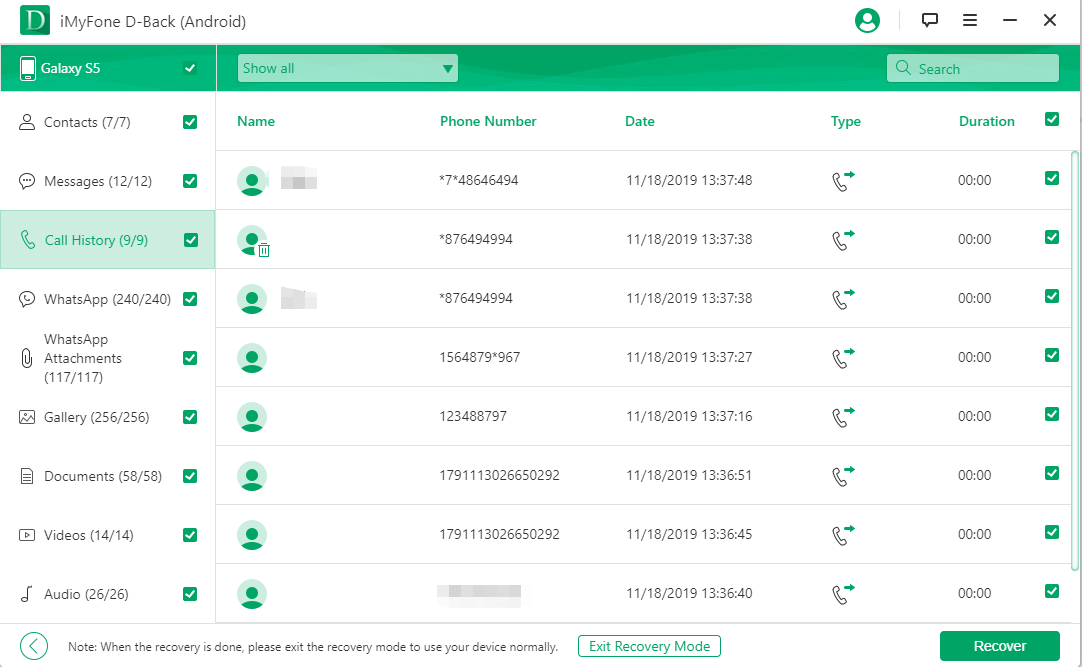 Conclusion
So, above are the easy tips that will help you to back up and restore your call logs on Android. These all have details about the process and the important features. You can select any one that is comfortable for you. While all the former 3 tips fail or not applicable to your situation, try D-Back for Android, it's the most trustworthy and efficient recovery tool for call log backup and restores on Android.