Nothing can be more painful than losing a music collection for a music lover. If you have also lost your music list and do not know how to get it back, then don't worry; this article will help you a lot. With new technology, it is possible to recover lost and deleted data. Please read this article carefully; it will show you the proper method to recover deleted songs on Android without a computer and with the computer.
Part 1.How to Recover Deleted Songs on Android
This portion will be about music recovery without and with the computer. You will learn how to recover music files on Android without using a computer. We will show the best software for recovering your deleted music files most safely and efficiently.
1.1 How to Recover Deleted Songs on Android without Computer
We have seen the best music recovery method using the best software with computers. Now, let's look at how to recover deleted songs on Android without a computer because sometimes, connecting mobile and computer becomes irritating and time-consuming.
1

Recover Deleted Songs on Android without Computer via Google Play Music
You can follow this straightforward method to recover deleted music from Google Play within a few seconds. Google Play also has the feature to recover deleted mp3 files without effort.
Here are the simple steps you can follow to get your music recovery task done without being irritated.
Steps to use:
Step 1. Go to the Google Play Music web player, or you can also download its application from the Google Play Store.
Step 2. After logging into your account, please tap on the Menu>Trash>Tab Menu.
Step 3. Here, you will see an option of Undelete. Tap on this option; your deleted music file will be restored to your Google Play Music account.
1.2 Quick to Recover Deleted Songs on Android without backup using D-Back for Android
D-Back for Android is excellent software for recovering deleted data from Android devices without any root. This software is highly designed with advanced features to support almost 6000+ android devices for recovering all types of lost data. It can help you recover videos, audio, photos, contacts, documents, WhatsApp, calendars, and a lot more.
Download it free of cost and get started recovering your music files with its free/trial version. It can save your recovered files on your computer with complete safety so that you can get them whenever you want.
Steps to Use:
Step 1. Download and install iMyFone D-Back for Android. On the first screen, you will see four different options. You can select the recovery mode according to your situation. In our situation, click on the Recover Phone Data.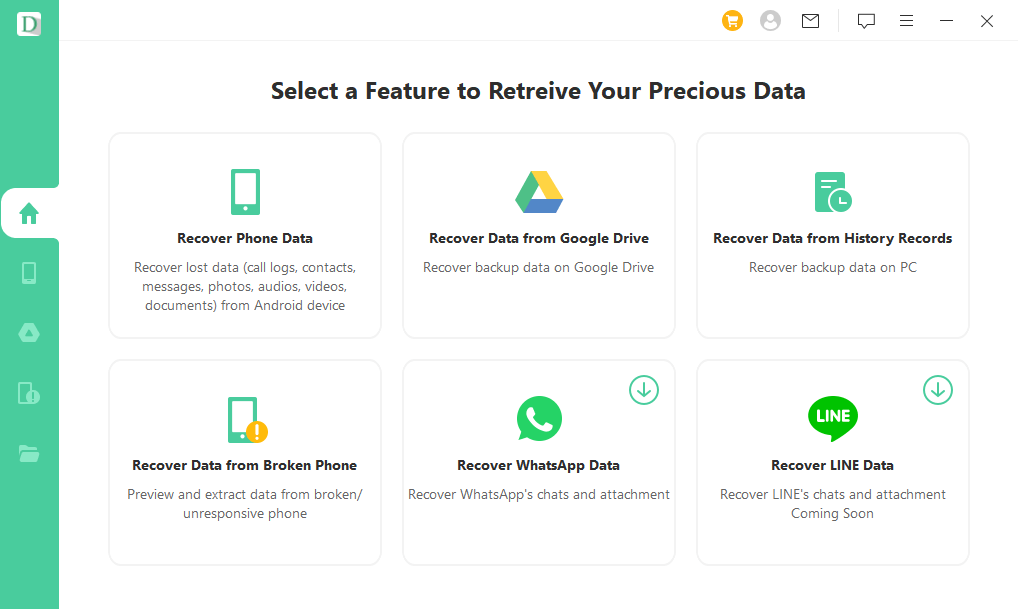 Step 2. The software will ask you to provide information about your Android device. Fill in all the required information correctly and click on Next. The software will find and download a suitable package for your Android automatically.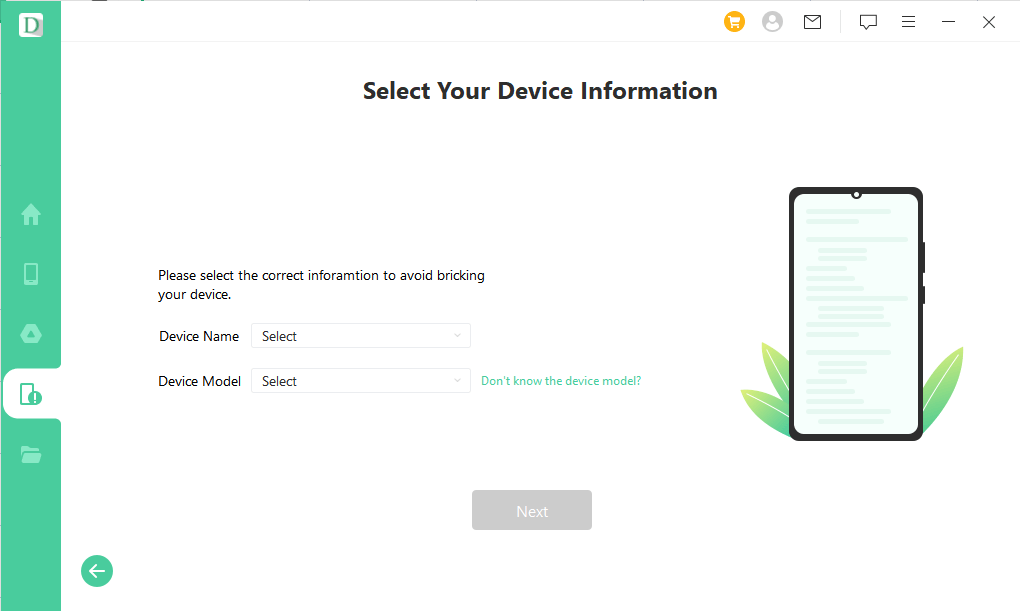 Step 3. After downloading the package, you must attach your Android to your computer and click the Next button. The software will scan and show all the deleted files on the screen. Select the one which you want to recover. Select the audio or video options for our case and click the Recover button.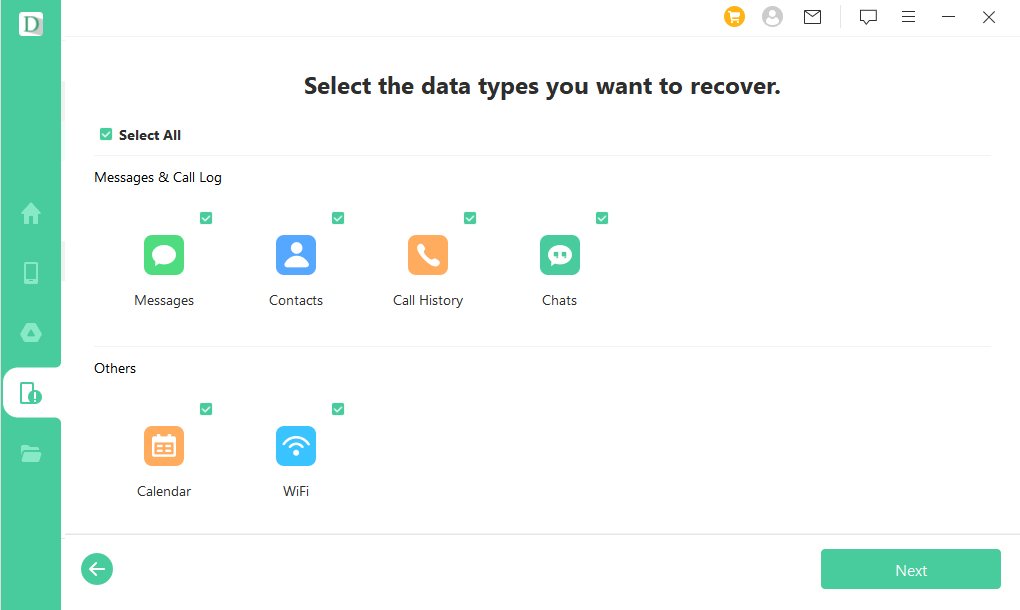 Step 4. You can set the location where you want to restore the data on your computer.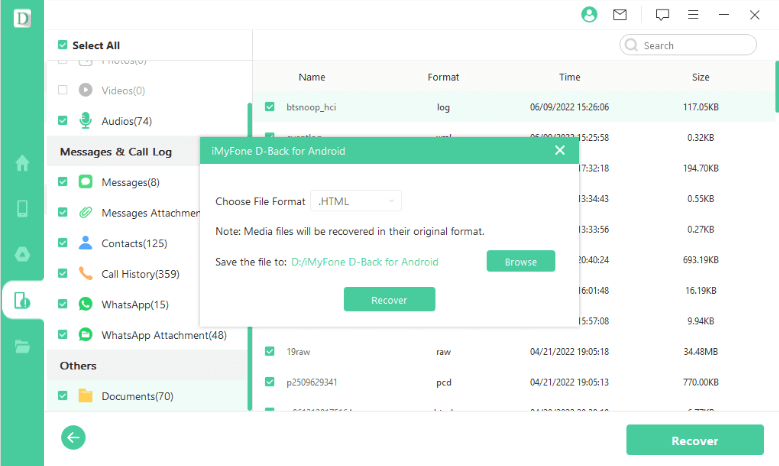 Part 2. FAQs about Music recovery on Android
2.1. How Do I Get My Music Back on My Phone?
Getting deleted music back on your Android is not difficult these days. You can restore your deleted music files by using many methods. Some of them are:
Through mobile recycle bin recovery
Through any recovery tool
Though recovery software
Through Google Drive backup
Through Google Play Music
2.2: Where did My Music Go on Android
Android devices save the deleted file in the storage for a fixed time. The internal storage contains the entire deleted and lost file. Anyone can quickly regain it through various methods, some of which are described in the above sections. You can use iMyFone D-Back for Android to get your data back with 100% security and safety.
Conclusion
Nowadays, there are a lot of simple and easy methods by which we can have our deleted data back on our devices. Any lost music file can also be saved on your Android in several ways. Some methods need a computer attachment with a mobile, while some do not need any computer attachment for this purpose. Data after deletion goes into the mobile's internal storage and can be restored through the above procedures. We have mentioned both methods of recovering deleted songs on Android without a computer and with the computer.