The Apple TV is a digital media player and micro-console developed and sold by Apple, first shipped in 2007. Users can watch TV series in high-definition online thanks to its Wi-Fi capabilities or they can use the feature called Airplay to transfer photos, videos or music from other Apple devices.
But there is one problem that surely brings terror to any user of the Apple TV: when it is not connecting to Wi-Fi.
Luckily, there are several ways through which you can fix this and which you can try before running to the nearest repair shop.
Part 1. 3 Simple Checks before Fixing Apple TV Won't Connect to Wi-Fi
Generally speaking, most users hope they can use simple checks to solve this kind of issue. So in the first part, we will list 3 ways for you to check something before truly repairing this problem.
1: Make sure your Apple TV is in the range of the router
The first thing you should check is to make sure that everything is on, connected and that your device is in the range of your router.
Make sure that your router is turned on and that your modem is connected to it.
Check if your Apple TV is in the range of the router, as it will not get a signal if it is too far (simply move the router closer to the TV).
However, do not place the router directly on or directly near your device, because this can cause signal issues.
2: Check whether Wi-Fi is workable
Depending on the generation of your Apple TV, this can be done either from Settings -> General -> Network (for 2nd and 3rd generation TVs) or from Settings -> Network (for the 4th generation). Choose the Wi-Fi network that you want to connect to and if asked, enter your password.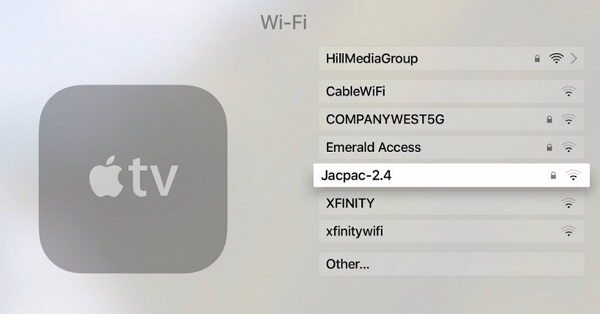 Another thing that you should also check on (maybe even before attempting to do anything else) is whether your Wi-Fi networking is working or not.
If you own an iPhone or any other type of smartphone/tablet/laptop, then check if you are able to connect to the network. If you run into any trouble connecting to the Wi-Fi from other devices as well, then the problem lies with the router (restarting it might fix it).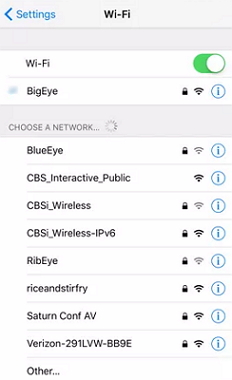 3: Check the router's security settings
Check the security settings on your router to make sure nothing is interfering with the connection.
Step 1: Make sure you enter your password correctly when connecting to the router.
Step 2: Make sure that the router is using MAC Address Filtering. If this is enabled then go to Setting -> General -> About and get your Apple TV's MAC address, which you will add to your router's list.
Step 3: Check if your router is set to WEP, you might want to try changing the wireless security to WPA or WPA2.
Part 2. Top 6 Methods to Solve Apple TV Won't Connect to Wi-Fi
Of course, the simple checks above cannot always solve the issue for you. Then you'd better choose some other ways to help you. Here are the best 6 methods you can have a try.
Method 1: Restart Apple TV and the router
A simple way to try and fix the problem of the connection between the TV and the router is to restart both of them.
To restart 2nd and 3rd generation TVs you need to go to Setting -> General -> Restart.
For 4th generation TVs you must go to Setting -> System and select Restart.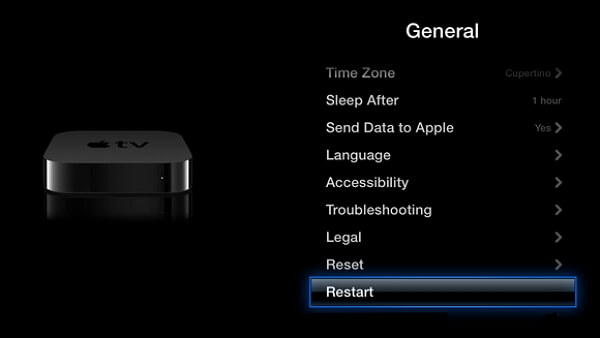 The way to restart your router is even simpler: unplug it, wait around 15 to 20 seconds and then plug it back in.
Method 2: Fix Apple TV won't connect to Wi-Fi without data loss
But what if you want to make sure that no data loss will incur while trying to fix your Apple TV's connection issues to Wi-Fi? Well, you might give a try to an app that specializes in doing such an operation to solve software issues on your Apple TV itself.
One such app is iMyFone Fixppo, a wonderful app that can fix your problem in a jiffy. It is also trusted by many professional websites.

How do you use it? Well, it's quite easy:
Step 1. The software allows you to choose between two modes: Standard and Advanced Modes. The standard mode will take care of the problem in most scenarios and no data loss will be caused. So it's the most preferred option.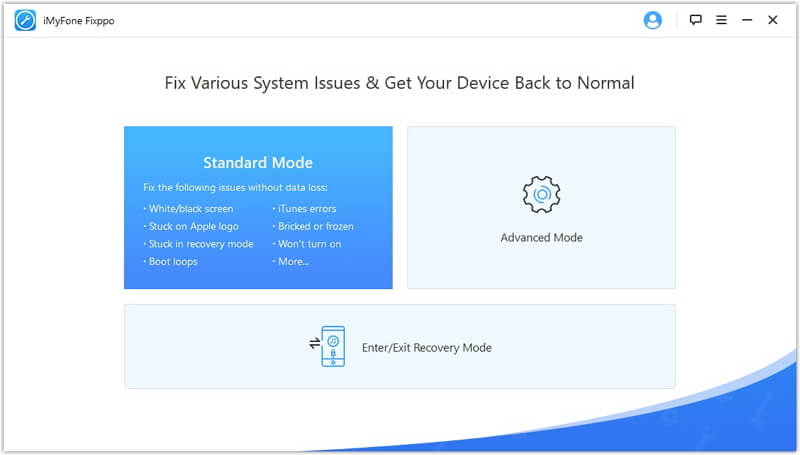 Step 2.Then follow the on-screen instruction to download the firmware for your specific Apple TV.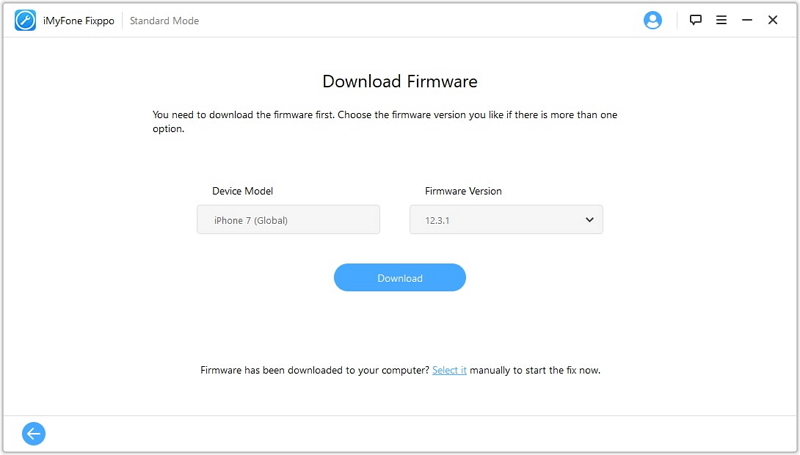 Step 3.After downloading, just start to fix. The issue will disappear after the whole process.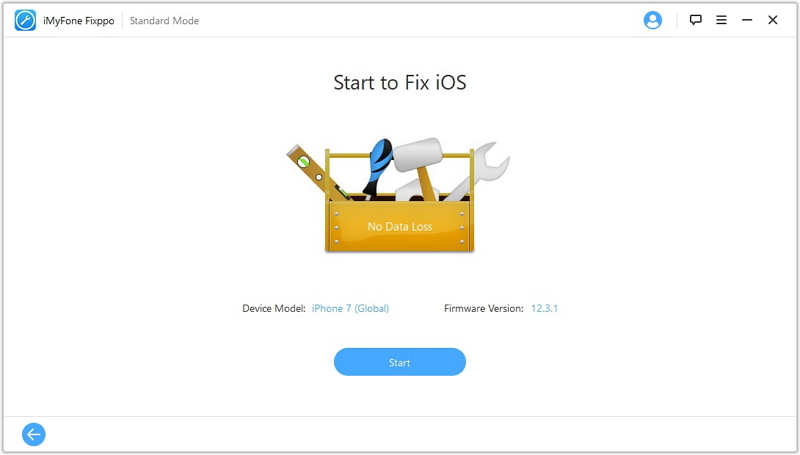 Method 3: Update the router's firmware
The reason why the router manufactures put out firmware updates is that they are constantly trying to fix a vulnerability that was detected or a problem that was reported to them.
So the problem that you face with your Apple TV not connecting to the Internet might be fixed by updating this firmware.
Step 1: Login to router's administrator console (do this by opening a browser window and typing in the IP address of your router).
Step 2: Find the upgrade firmware section in the administrator console.
Step 3: Download and install the firmware (download only from a trusted source).

Method 4: Update your Apple TV
Now that you have updated your router's firmware, you should also update your Apple TV's software. You do this by simply turning the device on, going to Settings and selecting Update Software.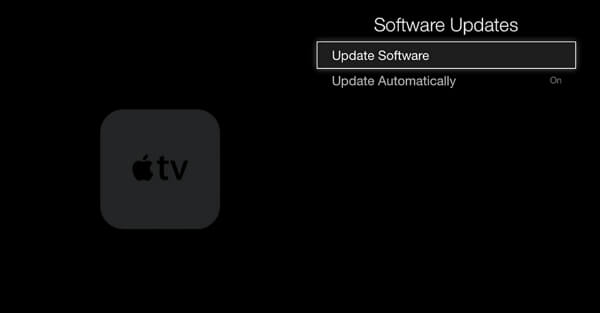 Method 5: Use an ethernet cable
If all other methods fail, there is always the option to plug in an Ethernet cable for connectivity. In case you cannot by any means fix your Wi-Fi, try this method which should fix the issue of not being connected to the Internet. Make sure you plug the cable in the right ports.
Method 6: Contact Apple Support with a damaged remote
In case none of the fixes listed here are of any kind of help, you should go ahead and contact Apple Support and ask for their assistance.
Contacting them online, through the phone or by going to one of their certified repair-shops is your choice. Make sure you have your Apple ID and password, as well as your product's serial number, at the ready.
Conclusion
There are a lot of fixes listed above, which will fix any problem that you have with your Apple TV when it won't connect to Wi-Fi. Choosing one(s) to put into practice falls upon your shoulders, but you should pick the one you feel is the most trustworthy. Feel free to leave comments below and tell us whether you have found this catalog helpful or not.