Without any doubt, data on your phone is extremely important to you, since you have never cleared them during past months or even years. However, they become so easily to be damaged and lost.
Frequently, you end up losing data stored in your phone and cannot retrieve them whatsoever. In such a case, you may need a software to lay your head on, any time of the day or month, or year. This article lays out relevant information about iTransor and why you may be needing this application. Please read the article until the end to get your head around it.

Why Choose iMyFone iTransor?
Having delved into the basics, you may muse over the reasons why one must go for this over other software. Here are the reasons:
Easy to operate: Talk about something as easy as falling off a log. It does not take any tech-centered person to go about the application.
Easily manageable: Next up, the application nestles your information together without worrying about losing your data and privacy to distrustful people.
Supported on iOS 16: We have already delved into the point. This application has the backing of iPhone 14 and iOS 16 users, so they don't need to worry.
What Are the Key Features of iMyFone iTransor?
The eye-catching features of the application are outlined in the pointers summarized hereunder:
Back up only Contacts, SMS, WhatsApp, or WeChat - You can choose to backup data on specific App which is personally crucial, therefore you can backup Contact or SMS only if you do not need other data. Also you can choose to backup WhatsApp or Wechat to your computer only.
Directly download backup from iCloud - You can easily access and download your iCloud backup to the program and then export or restore the backup.
Export 18+ types of data from iTunes/iCloud backup or iOS device fully or partially - Including Messages & Cal Log, Third-Party IM APP, Photo & Video, Memo and other up to 18+ types of data on your device can be exported at the same time.
Preview before restoring and exporting - It is an essential design to avoid misoperation, and you can access the data just as on your phone even if you do not need to export.
What Are the Best Parts of iTransor?
The primary objective for data backup is to ensure that essential files are not lost in switching devices, even if there are locked or diabled phones. Using iTransor is the perfect solution because you don't have to worry about losing your contacts, which people don't focus on when backing up their data.
One of the best aspects of iTransor is that you quickly acquire a full or partial important data backup on iPhone/iTunes/iCloud. You may have come across that iCloud backup is not showing up even if you have made one before. Also it can be challenging to get a reliable backup that works with iOS without requiring that you jailbreak your iPhone. iTransor is not malicious software, and it does not require that you jailbreak your devices, meaning you can use it on all your ios devices and Android devices. You can directly export and restore 18+ data from iCloud/iTunes/iOS to your device.
iTransor also allows you to preview before restoring and exporting all your data to ensure that you get the data you want. You do not have to worry about the format of your data changing. Your conversations, such as those sent through messaging applications such as WhatsApp and other social media apps, will be kept in their original format. All your social media apps will be stored in their original CSV, XLS, or HTML format.
What Could iTransor Be Used for?
Selectively or fully back up important data on iOS device: You may be wondering why you would need to backup iOS devices when they already have iCloud? We have all seen celebrities' pictures that leaked from the Cloud, and many people have security concerns about keeping their information on the Cloud. iTransor is a secure backup that will not get hacked, and your information will always be safe.
Get backup from iCloud/iTunes: It means that you can access your backup from iCloud or iTunes without any decryption operation, which you cannot achieve on iCloud App.
Read backup as it appears on phone: iTransor offers you the privilege to read backup as it appears on the phone, which means you are aware of what you are transferring as you move the data. Also, if you just want to check the data and do not mean to do further operation, this could be good for you.
Restore and Export crucial data to PC: When you want to restore and export crucial data such as Contacts, Messages that are usually ignored when transferring data, try iTransor.
How Does iTransor Perform?
You do not have to be tech-savvy to use iTransor. The interface is simple to use, and the server rarely breaks down. You can get a free trial to experience the platform and see if it works for you. With iTransor, you get safety and privacy and reliable customer service.

How to Use iMyFone iTransor?
Firstly, install and run iMyFone iTransor on your computer. Navigate to the part you need.
Function 1: Acquire Backup from Device or iCloud
1.1 From device
Step 1.Choose Acquire Backup from Device & iCloud from the left panel, then click Back Up Device.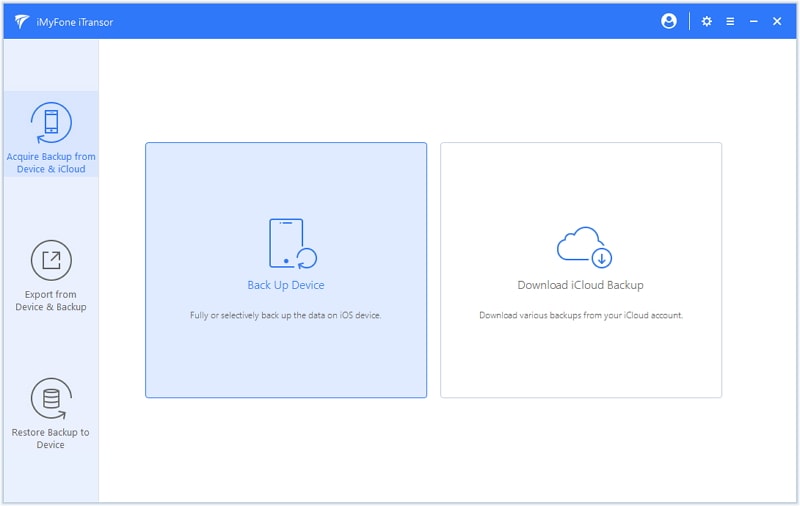 Step 2.Connect your iOS device to computer to proceed. You may need to trust this computer on your phone. Do not disconnect when processing.
Step 3.On the right column there are two options for you to choose - Make a Full Backup or Select One or More Data Type(s). Select one according to your needs. You're also able to choose the path of your backup files if you wish. Finally click on Back Up.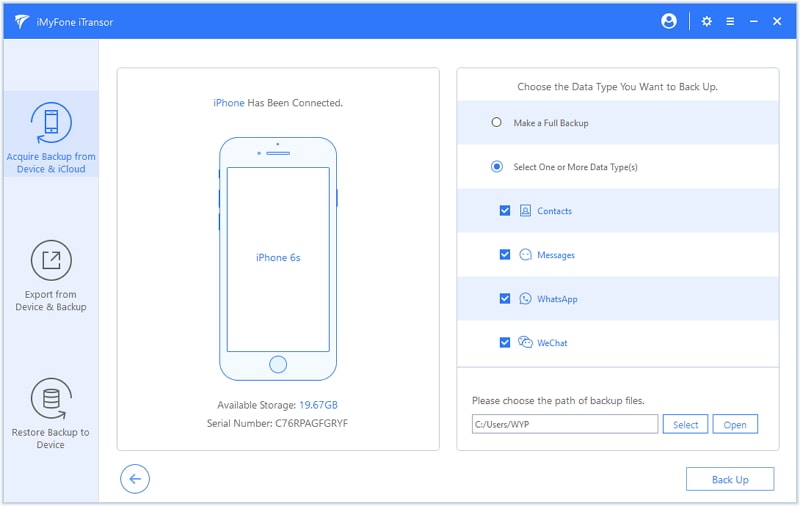 1.2 From iCloud
Step 1.Choose Acquire Backup from Device & iCloud from the left panel, then click Download iCloud Backup.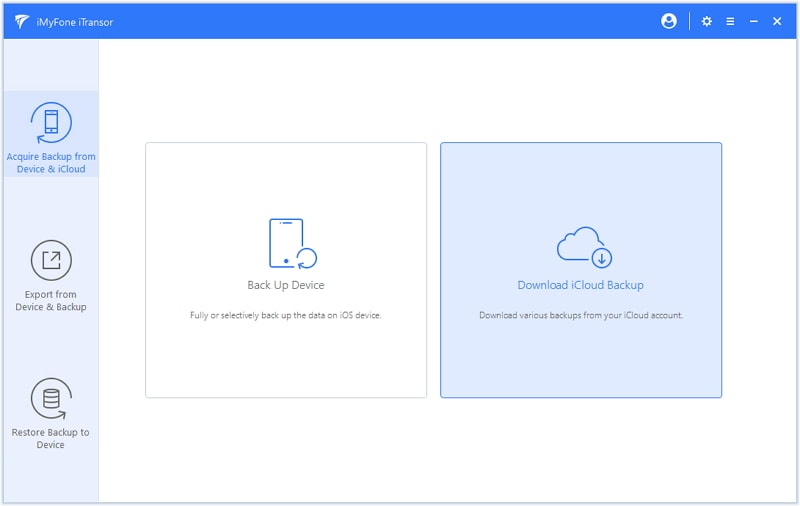 Step 2.Now log into your iCloud account. Then you will see a list of backup in your iCloud account. Choose the one that contains the data you need and then click Next to download the iCloud backup file.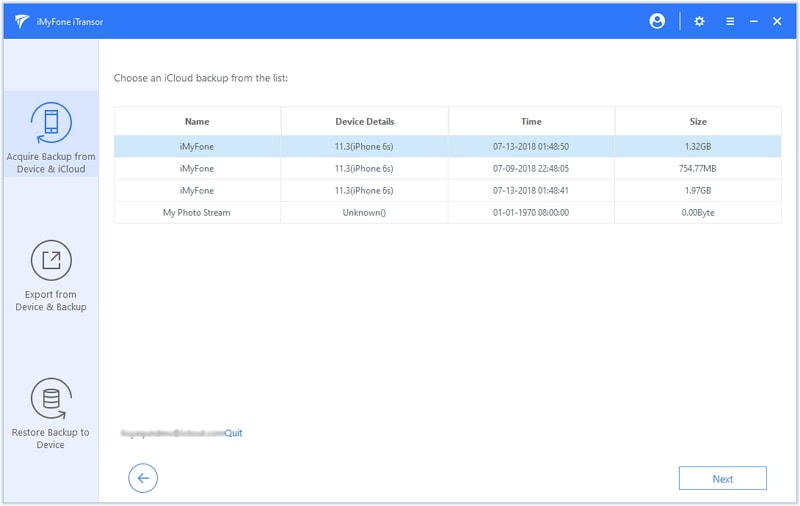 Function 2: Export 18+ Data from Device or iCloud to PC
2.1 From device
Step 1.Choose Export from Device & Backup from the left panel, then click Export from Device.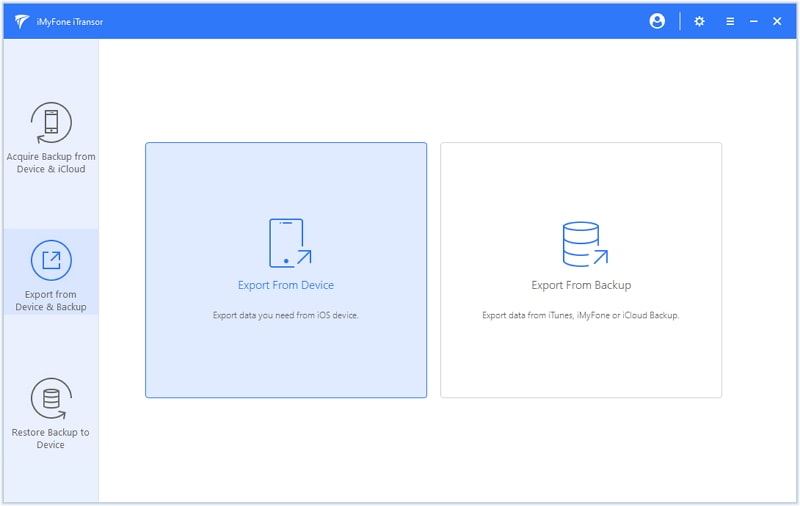 Step 2.Tick the data types that you would like to export, then click Scan.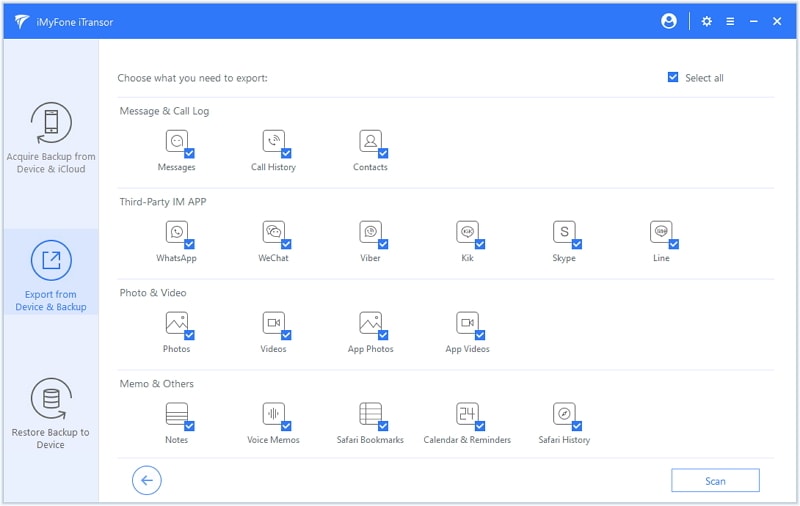 Step 3.Once the scanning finishes, you can preview the data in detail and select only what you need. Then tap Export and choose a format and a location for the data you want to export.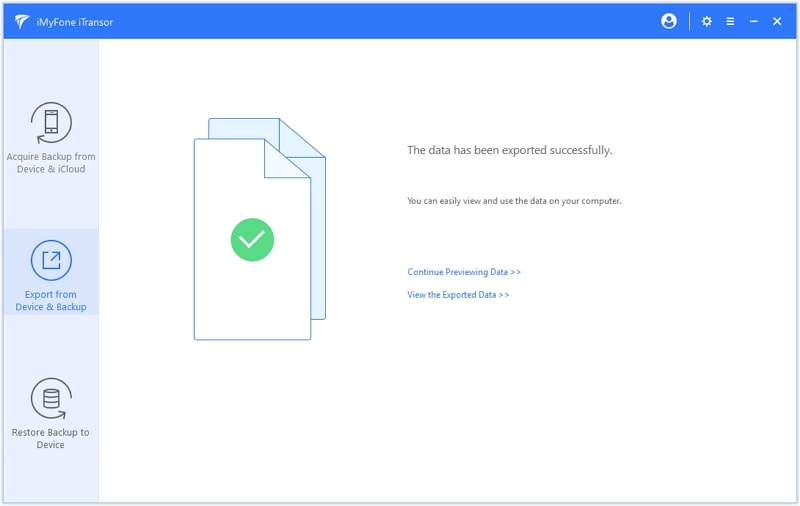 2.2 From iCloud
Step 1.Select Export from Device & Backup on the left tab and click Export from Backup.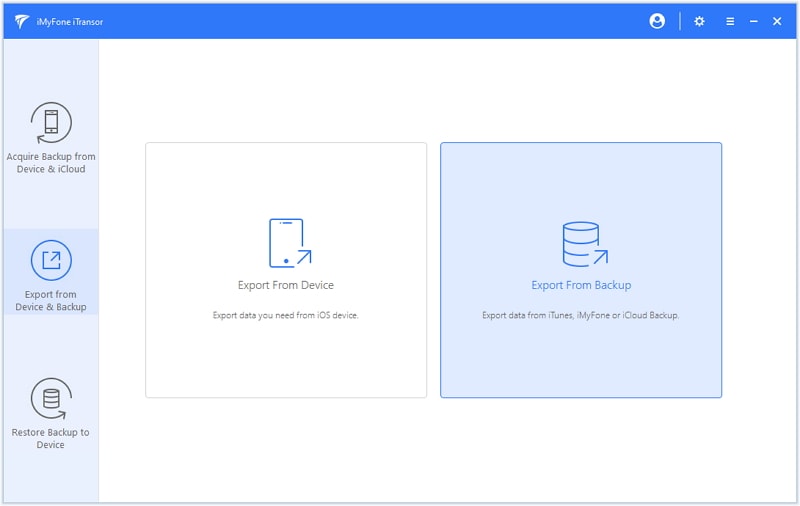 Step 2.You will see all the backup files listed on the next screen including Messages, Contacts, WhatsApp and WeChat backups and full backups made by iMyFone iTransor, as well as iTunes and iCloud backups. Select one of the backup files and then click Next.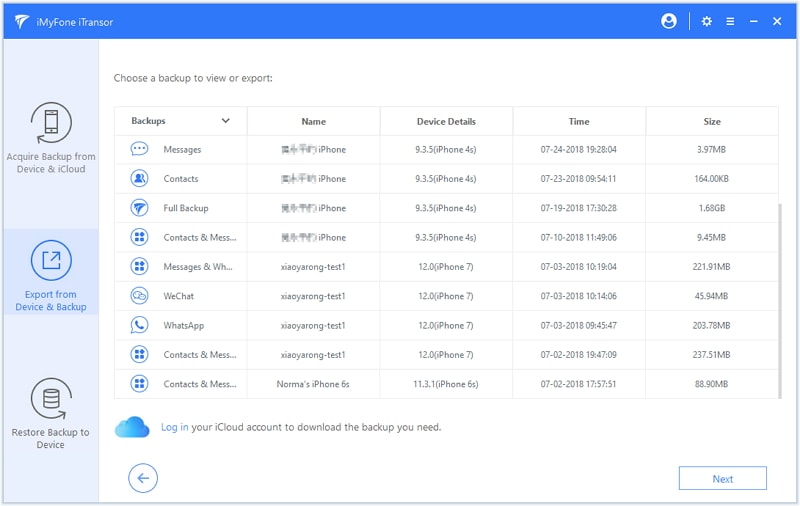 Step 3.Then choose the types of data that you want to export from the backup. Then click Scan to proceed.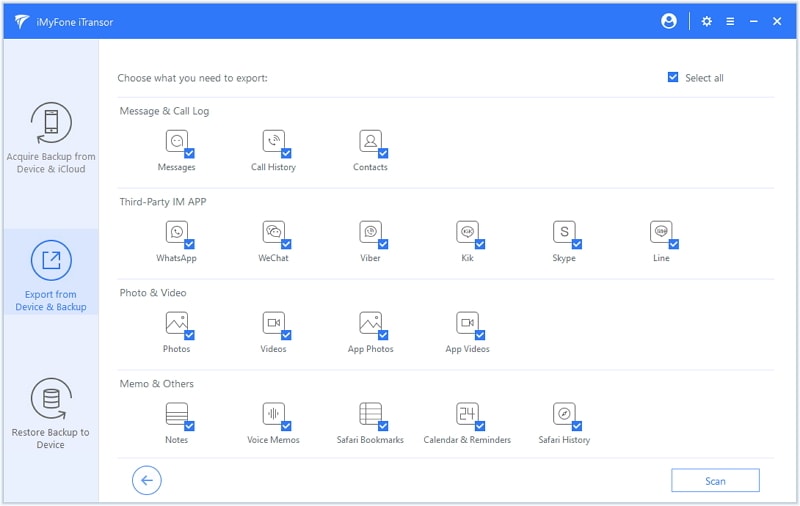 Step 4.After scanning, you can preview and choose specific data to Export.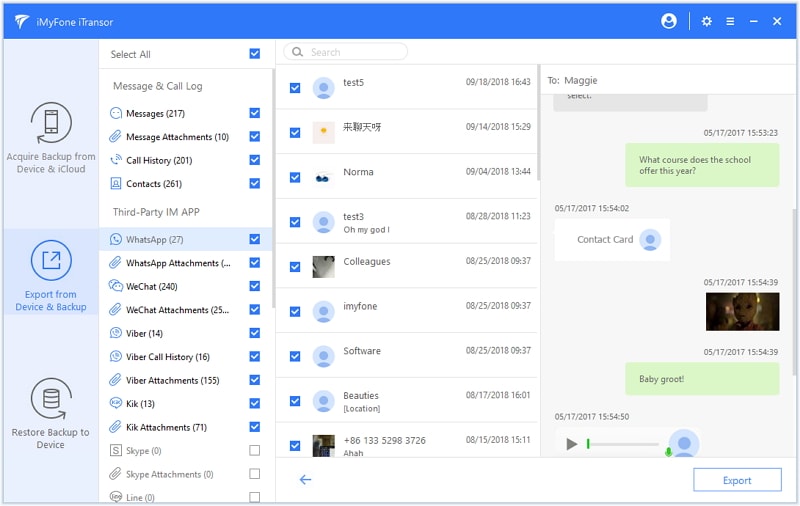 Function 3: Restore backup from the program or iCloud to Device
Step 1.Navigate to Restore Backup to Device. There you can either choose one iTunes backup or Full Backup made by iTransor from the list, or you can also choose to log into your iCloud account from the bottom-left iCloud icon.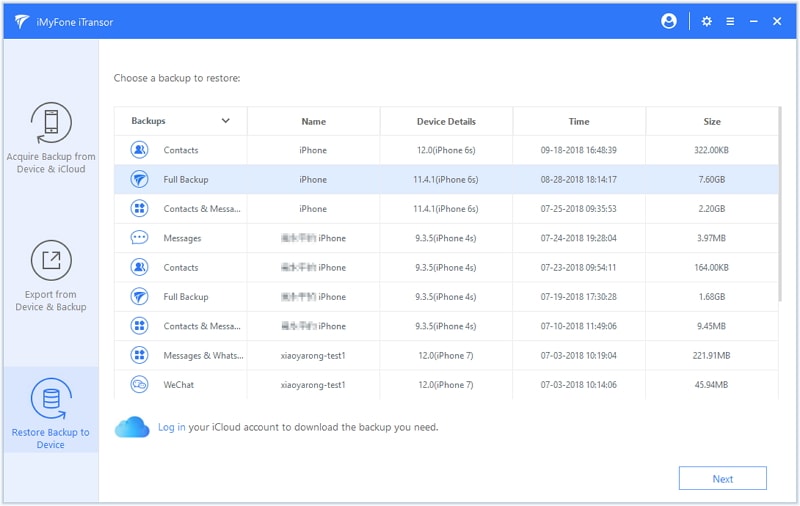 Step 2.Click Next to proceed. Now there will be two options for you - Restore Full Backup and Restore Partial Backup. Choose one best for you.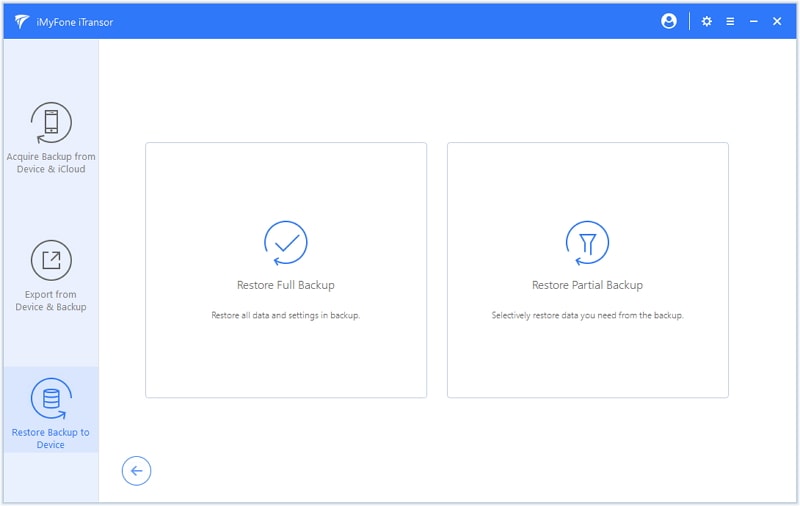 Step 3.After connecting your device to computer and trusting this connection, you can choose Preview & Restore or Directly Restore to proceed.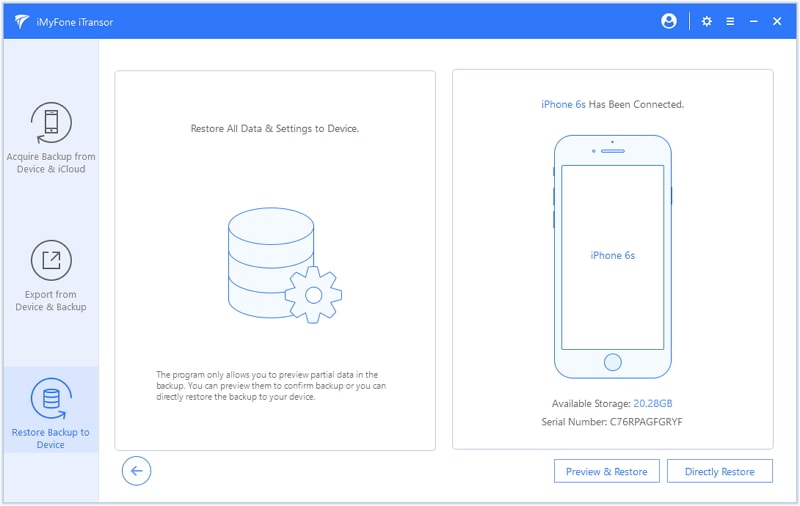 Step 4.When it comes to a pop-up window reminding you "Would you like to merge or replace the corresponding data on your device?", make a decision. Merge option will combine the chosen data with the data on your device. Replace means the corresponding data on your device will be replaced.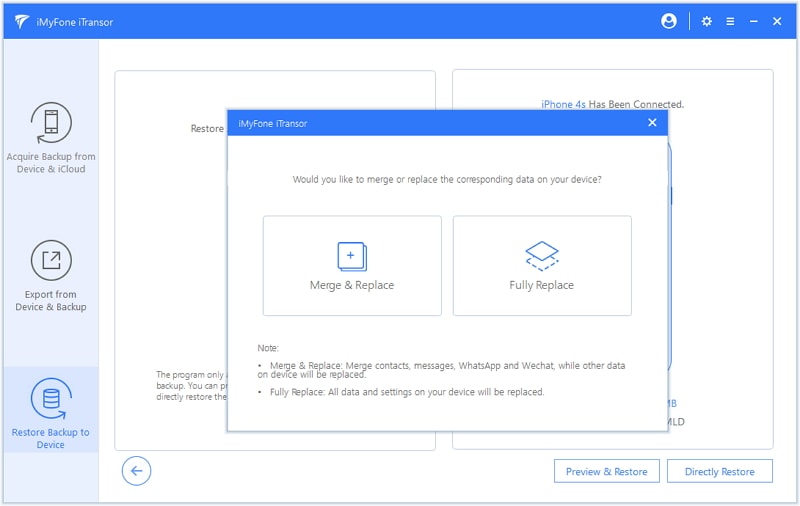 Hot FAQs About iMyFone iTransor
1. What can I do with the free trial version of iTransor?
With the free trial version, you're always allowed to fully or selectively back up your device to computer and download backups from your iCloud account. As for other functions, the trial version only supports to scan and preview; while the registered one can complete the whole process of exporting or restoring.
2. Can I download iTransor on my iOS device?
No, you can't download iTransor on your iOS device, because iTransor is a desktop-based software tool.
3. What is the difference between the backup and export functions within iTransor?
The backup function can selectively or fully back up your data and the backup files can be used for export and restoration.
The export function can export 18+ data types from devices and backups to computer for viewing, editing, printing and more. But the exported data can't be restored to device.