[2023] The Best 5 Methods: How to Get Tinder Gold for Free
Category: Change Location
5 mins read
Tinder Gold subscription plan has become the choice of many people, here will tell you how to use Tinder Gold for free? To let you know who is interested in you?
What is the first thing that comes to mind when you hear "swipe left, swipe right"? Many people may immediately think of Tinder, the most popular dating software.
Every day, millions of people use Tinder to find a date. However, how to be more efficient and have a better user experience?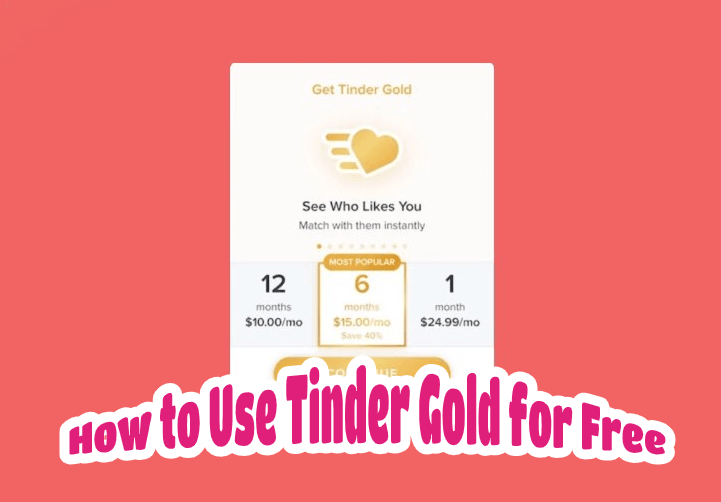 If you want to meet different people from all over the world without regional restrictions, greet them or become friends, you can directly check the tips provided in the last part of this article, so that you can have the opportunity to swipe to your favorite friends without actually moving.
Part 1: What is the Tinder Gold Subscription Plan?
Generally, after downloading the Tinder App, the free version is used. Tinder Gold is an upgraded version.
Through the Tinder Gold subscription plan, you can use exclusive functions other than the basic functions, such as unlimited likes, 5 Super Likes, and hidden ads, etc., about a month Need to pay from 1,000 yuan, there are 1 month, 6 months and 12 months to choose from.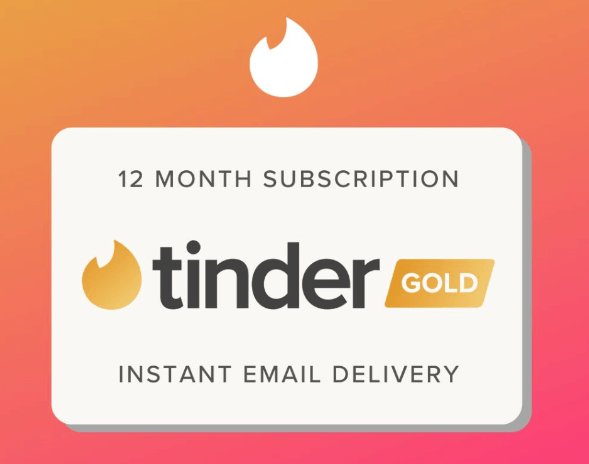 After subscribing to Tinder Gold, browse all the admirers who have liked you, use the "Like You" section to automatically match, skip uninterested objects, and directly click on the other person's personal information, saving you valuable Time, there are new "best picks" every day for you to match you and your admirers.
In addition to matching and other related functions, zero advertisements allow you to improve your experience, and you will no longer be disturbed by advertisements when matching.
Part 2: How to Get Tinder Gold for Free?
Here is for you who don't want to pay Tinder subscription fees, use the following tricks to get Tinder Gold for free, hack Tinder to let you upgrade your account, and enjoy more useful functions.
1

Free Trial for New Users

Don't forget that you have the right to try Tinder Gold for free before you use the following special skills. Every new user has a three-day trial period, so that you can fully experience the functions of Tinder Gold for free.

This is for those who are not sure whether to use Tinder Gold people are very beneficial, just open your Tinder account and click upgrade to Tinder Gold to start your trial, don't forget to unsubscribe before the time is up so you don't pay anything.
2

Inspect Browser Web Elements for Free Viewing

If you are a web designer or engineer, congratulations, the following steps will be easy for you. Don't be afraid if you are inexperienced, as long as you follow the steps carefully, you can also complete the function of getting free Tinder Gold.

Use the HTML elements of the web page, modify the relevant tag instructions, and you can view the best selections of Tinder Gold.

Generally, it is a blurred photo without paying, but Tinder only blurs the photo on the app side, not the server side, so behind the blurred photo, there is a complete photo that can be seen.
The specific operation steps are as follows:
Step 1: Log in to the web version of the Tinder account, open the developer console, right-click and select "Inspect".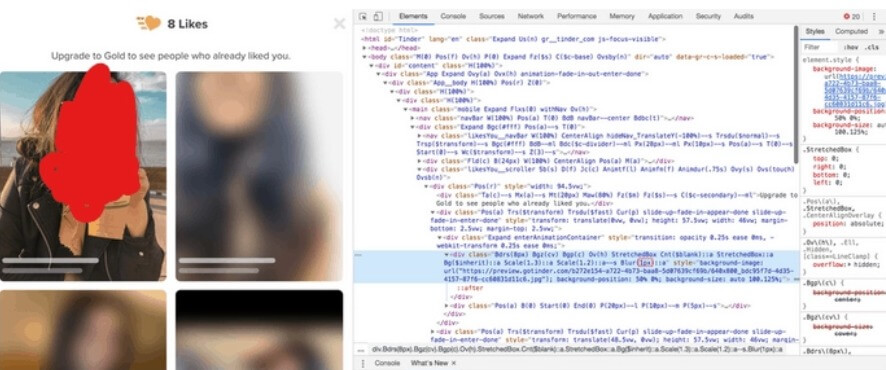 Step 2: Refresh the page and search for the header.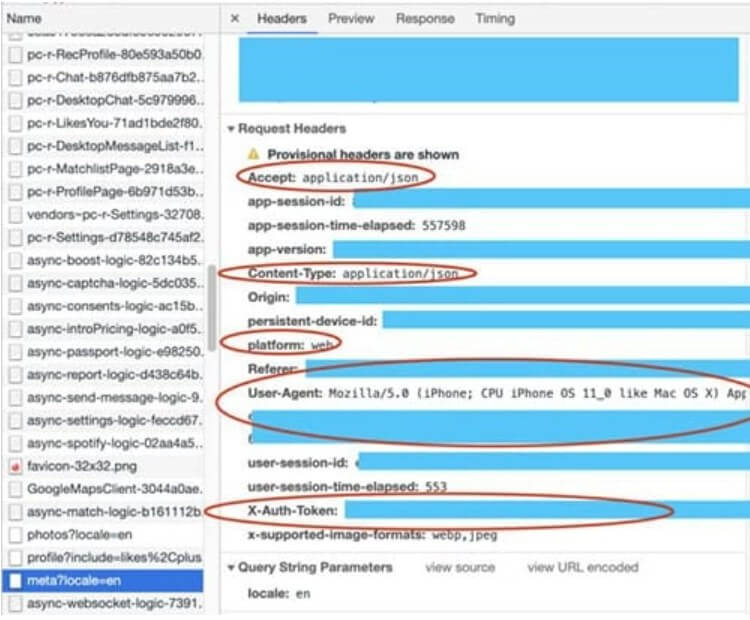 Step 3: Make a request using the Postman service endpoint, visit the GetPostman website, and create an account.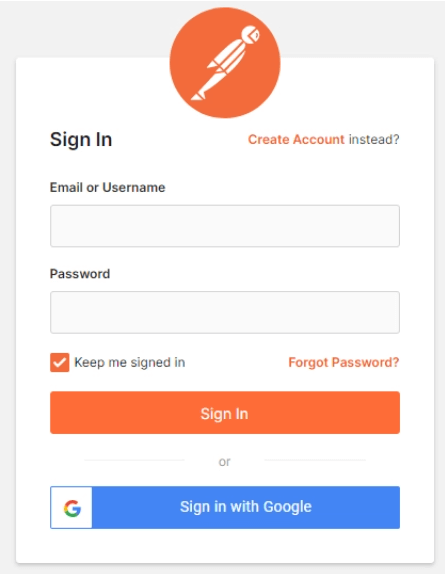 Step 4: After logging in, after making an endpoint request, you will find the unblurred photo in it, and when you see him later, you can know that he has liked you, saving time.
3

Install Tinder Mod APK

If you are an Andorid user, installing Tinder Mod APK will be the permanent solution to get a free Tinder Gold account!

Tinder Mod APK is basically a cracked version of Tinder, you can use all Tinder Gold features in this app without paying.
Follow the steps below to install Tinder Mod APK.
Step 1: Download Tinder Mod APK from: Google.
Step 2: Open and select "Install from unknown sources" to continue the installation.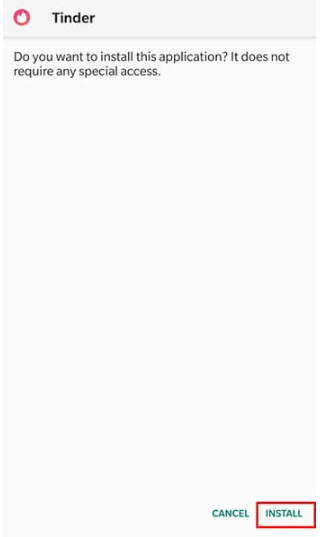 Step 3: Log in with your Facebook account and enter your details.
Step 4: Hack Tinder when you're done and use Tinder Gold for free.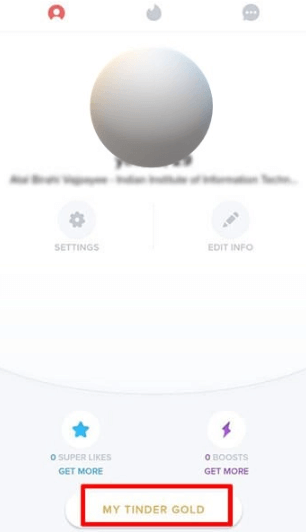 4

Using the Subscription ID Generator

There is no guarantee of 100% success using a subscription ID generator, but it is still worth trying, and there are currently several online platforms that can automatically generate a subscription ID for your account.

But in return, you have to perform certain tasks, such as completing surveys or downloading a few apps on your device.

iget4free is one of the Tinder subscription ID generators that you can use to get a free subscription ID for Tinder Gold.
Follow the steps below to generate a subscription ID using iget4free:
Step 1: Open your browser and go to the iget4free website.
Step 2: Enter the email id with the Tinder account and select Tinder Gold from the options.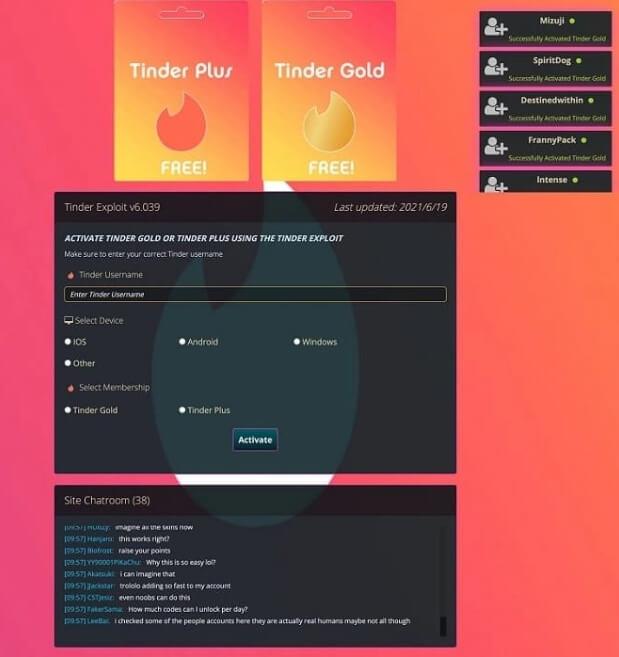 Step 3: After completing the assigned tasks, your Tinder account will be automatically upgraded to Tinder Gold.
It's worth noting that ID generators are a gamble, and most of them don't always work.
5

Find Tinder Gold Promo Codes

There are many discount codes for different apps circulating on the Internet. You can find the discount codes used in Tinder through searching, allowing you to use Tinder Gold for free.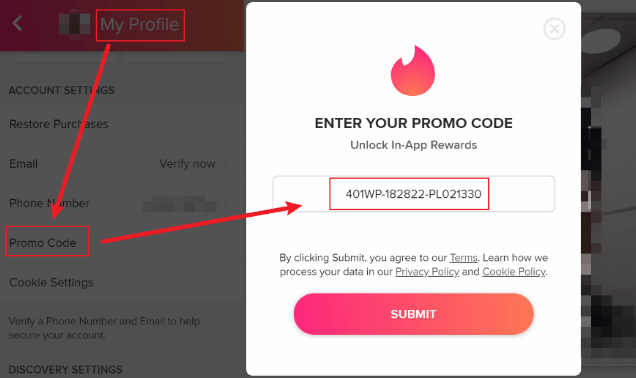 Here's how to use a valid Tinder Gold promo code:
Step 1: Search and get the promo code, open the Tinder app.
Step 2: Click on "Profile" and select a promo code.
Step 3: Paste the promo code here and hit the submit button.
Step 4: Get instant access to Tinder Gold for free with a valid promo code.
Promo codes may not be permanently free, subscriptions will still be required after expiration.
[Bonus Tips] How to Make More Friends on Tinder?
Tinder uses geolocation to search for nearby users, and if you happen to be in a less densely populated place, or travel frequently, it will be less likely to match you.
If you happen to not subscribe to Tinder Gold and cannot use a multinational passport, or It is a slow reaction time for multinational passports. It is recommended that you can use the application to modify the location to change location on Tinder so as to make friends in different regions.
Here is a positioning simulation tool iMyFone AnyTo recommended by most people. It is extremely stable and has a 100% success rate. It is suitable for virtual positioning of iOS or Android phones.
Step 1: Connect iPhone to the PC/Mac
Launch iMyFone AnyTo on your Windows PC/Mac (you can click the Try It Free button above to download it free). Click the Get Start button.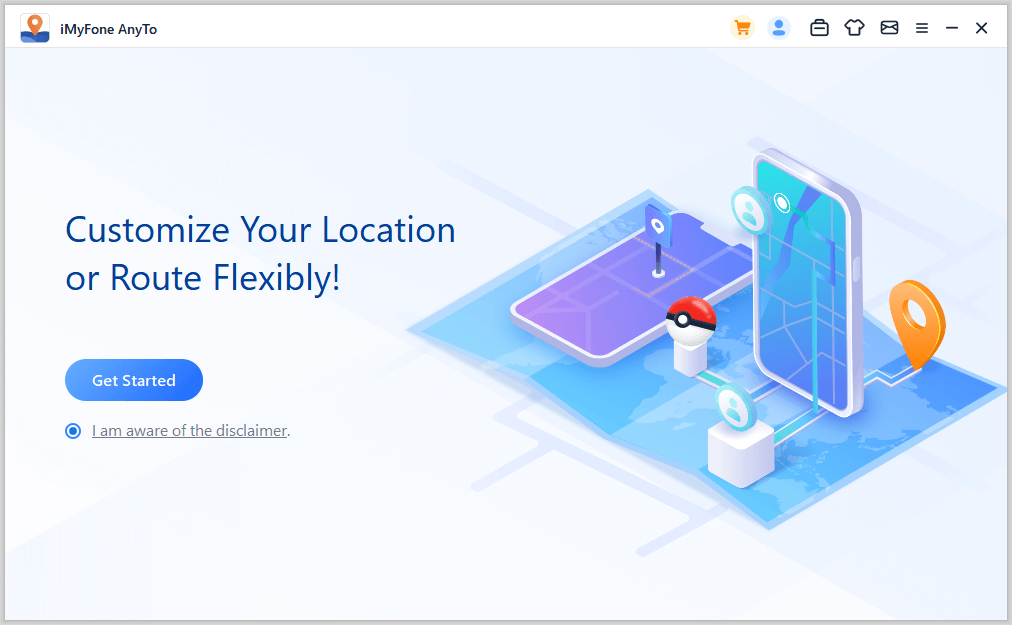 Step 2: Select Teleport Mode
Choose the third icon on the upper-right corner - Teleport Mode. Then you can input an address or zoom and drag the map to choose a fake location.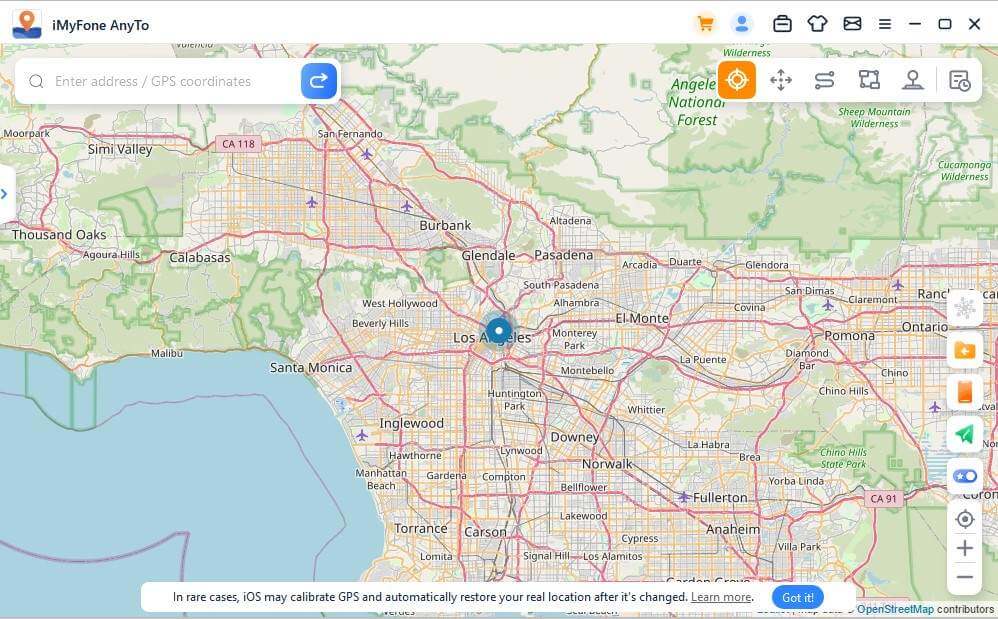 Step 3: Location Changed on Map
Now just click the Move button to change your location on the map to this new location!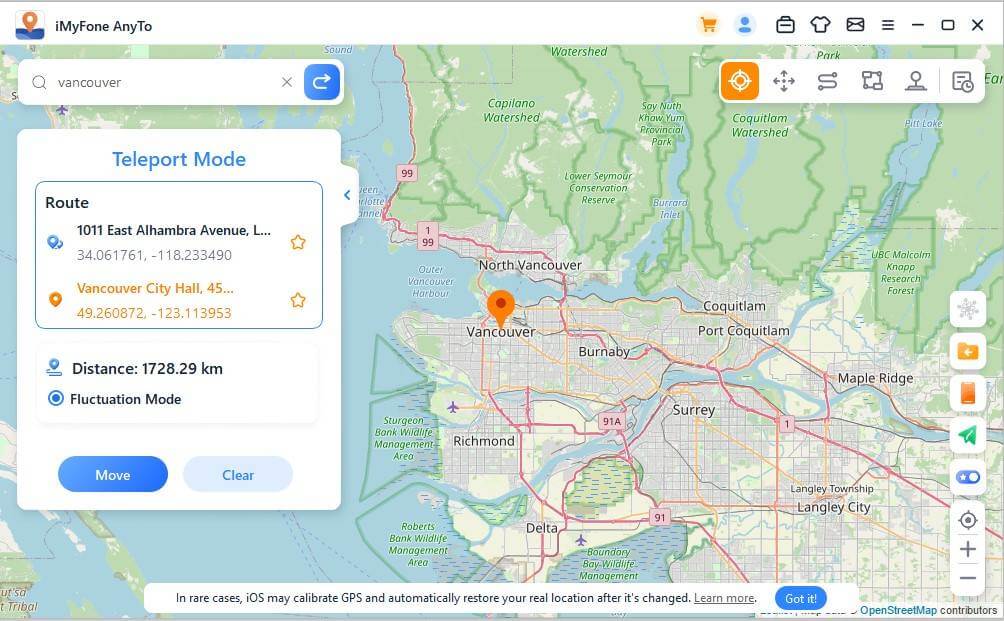 You may also like:
Final Words
Tinder Gold is a very useful feature for anyone who regularly uses Tinder to find a date, and the above guide will help you use Tinder Gold for free and give you access to the upgraded premium features without spending money.
Of course, you can also change your Tinder location by using location changing software (such as iMyFone AnyTo) to meet friends in different regions and expand your circle of friends!
Change GPS Location on iOS/Android
168,282 people have downloaded it.
Fake iOS/Android GPS location to anywhere in the world instantly.
100% Work with location-based apps such as AR games, social platforms, etc.
Joystick to simulate GPS movement freely when playing games.
Import / Export GPX file to save your favorite routes.
Compatible with All iOS & Android versions.