WeChat is one of the world's most popular messaging and social media apps. Developed by Tencent, this app now has over one billion active users. People love WeChat for its simple interface, elegant payment solution, and the fact that it truly is a "super app" with many functions. There are times, though, when you want to give WeChat a fake location. That is, you want WeChat to think you're somewhere else in the world.
While many people may think that changing their location within an app is impossible, as we'll see, it's not only entirely possible, but it's quite straightforward!
Why Do So Many Users Like Faking Location on WeChat 2020?
Given WeChat's premise of social media, payments, and interacting with friends, it might initially seem strange that people would want to fake their GPS in WeChat.
After all, intuitively, it seems like many of those benefits work best if the app can learn your correct location. Desiring to change GPS locations within the app is remarkably common, however, as there are quite a few reasons why someone wants to have a WeChat fake location.
Reason 1

Privacy

Consider the following scenario. Let's say you take a trip with your family abroad and contact people using WeChat. If you share your real location, you're going to reveal that you can afford the journey. Even if you refrain from posting all those pictures of New York or Los Angeles to your social media accounts, your location will let people know where you are.
Reason 2

Purpose of Surprise

Let's say you're buying your significant other a birthday present. If they see your position as being at the store, it will ruin the surprise! Or, maybe you don't want to talk to a group of people you know will also be at the mall, so you set your location somewhere else, so they don't try and contact you.
Reason 3

Trick Your Family or Friends

Think about this. You are in Los Angeles , but suddenly you are showing your location in California in WeChat app. Your friends will think that you are now in California for vocation. But actually you are not. It's interesting that many people may do that.

Of course, every person has a different reason for having a fake GPS position in WeChat. No matter what your particular purpose is, you should know that it is easy to do!
Why Doesn't Faking Location Services for WeChat Work?
Near the end of 2019, China Daily reported on a trend of WeChat users purchasing services online - often for as little as a couple of yuan - that would result in a WeChat fake location. Although these services initially worked, they had quite a few problems with them.
For starters, the way they worked caused inherent security problems. To fake the location, these sellers had to log in remotely to install a plugin. The problem is that once the seller gains access, they can do all kinds of bad things to the device, including introducing trojans, viruses, and other malware.
Once WeChat discovered the use of these plugins, they started banning accounts. To date, the developers banned over one million accounts for using these services. WeChat is still on the lookout for people who try and have a WeChat fake location using these plugins.
How to Fake WeChat Location on Your Smartphone
Now that the plugin method that people were using in WeChat to spoof their location is no longer working, what's the alternative? There are 3 possible ways to fake your position without the dangers and risks of buying plugins for a couple of yuan online!
1

Use iMyFone AnyTo for iOS Devices
The first method and, by far, the easiest for iOS devices is iMyFone AnyTo. If you have an iOS device like an iPhone or an iPad, iMyFone AnyTo can fool WeChat into thinking that you are anywhere in the world. You can pretend to be back in China or seeing the sights of London - the choice is up to you!
Developed for both Windows and Mac OS X, iMyFone AnyTo is the fastest and most intuitive way to alter your iPhone or iPad's GPS location. It has 5 main features that make it the leading location changing tool.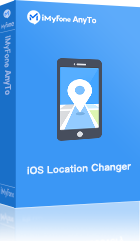 1,000,000+ Downloads
Use AnyTo to Fake WeChat Location
Fake location on WeChat and other location-based apps with 1 click.
Without requiring jailbreaking, WeChat location can be easily faked.
There's no remote control and no security risk using this software for spoofing WeChat location.
Support almost all iOS devices and versions, from iOS 7-14.
Change your location with multiple methods. Teleport somewhere else on the planet or simulate movement in a car, walking, or biking.
How easy is it to use this software? Very. Here's how to get a WeChat fake location in just a few steps!
Step 1.Download, install, and run iMyFone AnyTo. Click "Get Started".
Step 2.Connect your iPhone or iPad to your computer. AnyTo will recognize the device and load the map automatically.
Step 3.To teleport somewhere else in the world, look for the icon bar on the screen's top-right. Click on the icon of "Teleport Mode" that is second from the right (it seems like crosshairs).
Step 4.Enter your desired destination in the textbox on the left. Or zoom in/out the map to select your desired place. Next click "Move".
You should be able to open Apple Maps or WeChat and verify that your location has changed! If it has, you can use WeChat as if you were genuinely in that part of the world.

See! It's so simple. Start to change your WeChat location to any place in the world by downloading it free. To use your virtual location, you just have to restart your iPhone.

2

Use Spoofing App for Android Devices
Faking your location on Android devices is, unfortunately, a little bit tricker than on iOS ones. With iOS, there's iMyFone AnyTo, which makes it trivial to have a WeChat fake location. However, Android has no such utility.
Instead, with Android, you need to download a GPS spoofing app. There are two types of these apps - ones that require root and ones that don't. The methods that require root access are undetectable. Conversely, apps can figure out that you are artificially tampering with the location for the ways that don't require root.
If you would like to try giving a fake GPS to WeChat without root, here are the steps to do so.
Step 1. Download a Fake GPS app like Fake GPS Location from the Google Play Store.
Step 2. Enable developer option on your Android phone. You can enable by Settings > About Phone, and click Build Number for 7 times. There is a confirmation message when Build Number is enabled.
Step 4. Go to Settings > Developer Options and find the option of Select mock location app.
Step 5. Click Start in the Fake GPS Location. Then you can check whether the Wechat Location has been updated.
Step 6. Launch Fake GPS Location,click Set Location, and type in the place (Latitude and Longitude ) where you want to go.
Step 7. Launch Settings >Permit drawing over other apps. Now, you're all set! WeChat and other applications will think you are in the location you typed.
3

Use the Inbuilt Feature (Temporarily Works)
WeChat offers the ability to change your location temporarily within the app itself. This solution is nowhere near as good as the other ones - especially considering how useful and robust iMyFone AnyTo is - but in a pinch, it works.
To change your location using the feature directly on WeChat, do the following:
Step 1. Launch the application and go to the Me tab. This tab will take you to your profile page.
Step 2. Then select > besides the WeChat ID. Tap More in your profile.
Step 3. If you scroll down, you'll see a button called Region. Tap that.
Step 4. You'll see a list of regions. Select the country in which you want to be.
While this method may be the "easiest" in the sense that it requires no third-party tooling, it's not hard to see that there are quite a few limitations to using it. In particular, please consider the following flaws.
WeChat will know you changed your location. Unlike some of the other methods, WeChat knows that you have manually changed your country. If you're looking to fool the WeChat app itself, this is not the method for you!
This can't change your location completely. For example, whenever you post a movement, your virtual location will appear if you show your location.
The only granularity you have is at the country level. If you're looking to avoid your significant other discovering that you're buying a present, setting your location to the United States when you're in China won't fool them. The fact that you can't adjust your position to be at the street or city level makes this method problematic for many use cases.
All in all, while this method is an option, it's usually not the best one!
How Does WeChat Geolocation Work?
WeChat's geolocation abilities are different than many other applications. While nobody knows the exact details of how WeChat gets their location data, we see that they use a software package called "BaiduLocationSDK". Rumor has it that this SDK enables WeChat to directly talk to the device's GPS rather than query the OS APIs.
Since this is a complex topic, its best to explain with an example, so let's say you have an Android device, and you're writing an app. Typically, if you wanted to get the user's location, you'd figure out what methods Google provided.
For example, there might be a function called "GetUserLocation". That function might return the GPS coordinates. The technique that Google provides abstracts away the internal workings of each device's GPS. Instead, you call this method. Android then takes that request, queries the GPS, and returns the data.
Instead, what the "BaiduLocationSDK" seems to do is query the GPS directly, bypassing those Google methods altogether. This technique makes it much harder to spoof your location.
If you find that your location spoofing isn't working for WeChat, please try these 3 solutions.
1. Restart your device. Sometimes your device can cache your location in some way. By restarting, you can ensure that you start with a clean boot of the operating system and set the place correctly.
2. Upgrade WeChat. This tip is for Android devices. If the current version of WeChat is detecting your location accurately, try getting your hands on an older or newer version of the APK. Perhaps the older version will not be as intelligent!
3. Use a different or more reliable location spoofer. To reliably get a WeChat fake location on the iPhone, use iMyFone AnyTo. For Android, you'll have to find the app that works best for your device and app version.
Conclusion
It is possible to have a WeChat fake location! While the developers might be talented, there are ways to bypass their advanced detection mechanisms. If you want to fake your position on any iOS devices, iMyFone AnyTo is the best solution as it's fast, easy, and inexpensive. Please give it a try today!