How to Compress Video for WhatsApp? [Windows/Online/Phone]
Category: Compress Video
5 mins read
With 2.24 billion active users, WhatsApp is one of the largest communication apps in this digital world. Known for sharing video, audio, and text messages, WhatsApp still has limitations that might seem irritating. For instance, the biggest challenge is that you cannot send videos larger than 16 MB. In other words, 3 minutes can easily take up space of 16 MB.
If you want to send larger videos on WhatsApp, you need to compress video for WhatsApp. This article is going to explain some legit video compressor tools for you and how to compress videos for WhatsApp.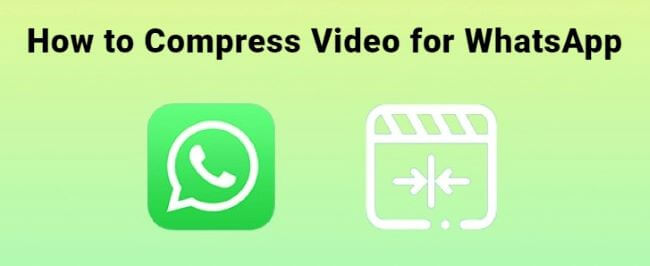 No hesitate to compress videos for WhatsApp by clicking the corresponding part.
Part 1: WhatsApp Video Size Limit
As mentioned earlier, WhatsApp allows you to send videos up to 16 MB in size. However, this size limit can be quite restrictive when it comes to sharing longer videos, especially those shot in high definition. To give you an idea of how much time you can capture in a 16 MB video, here are some approximate guidelines:
R1 minute of video at 720p resolution (1280x720)
30 seconds of video at 1080p resolution (1920x1080)
10-15 seconds of video at 4K resolution (3840x2160)
Part 2: How to Compress Video for WhatsApp on Windows?
If you're using a Windows PC or laptop, there are several video compression tools you can use to reduce the size of your video files. Here are some popular options:
1

iMyFone AnySmall

How to compress videos for WhatsApp without having zero compressing knowledge while successfully break through the video size limit? Well, this very tool is the answer to all of your MP4 video compression needs. with powerful compression features and many other unique options, you can compress video size for WhatsApp in 1 click.

With the pre-added feature, you can choose the WhatsApp platform directly from the interface of the software to compress videos for it, and it can satisfy you more by allowing you to enter your desired megabyte to reduce even more video size.
Get 10% OFF Coupon Code to Compress Videos for WhatsApp: AS10OFF
How to use it?
Step 1: Click to download and install iMyFone AnySmall, launch it then click the box to add video files.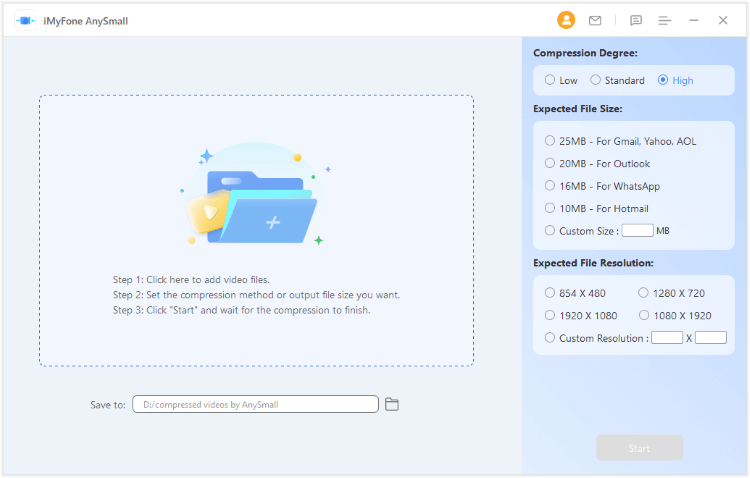 Step 2: All videos will show the estimated reduced size. You can click the For WhatsApp directly from the panel to compress your videos. Or you can choose to customize the video size you like, simply put in the megabyte you want for the video. After choosing, click on the Start button.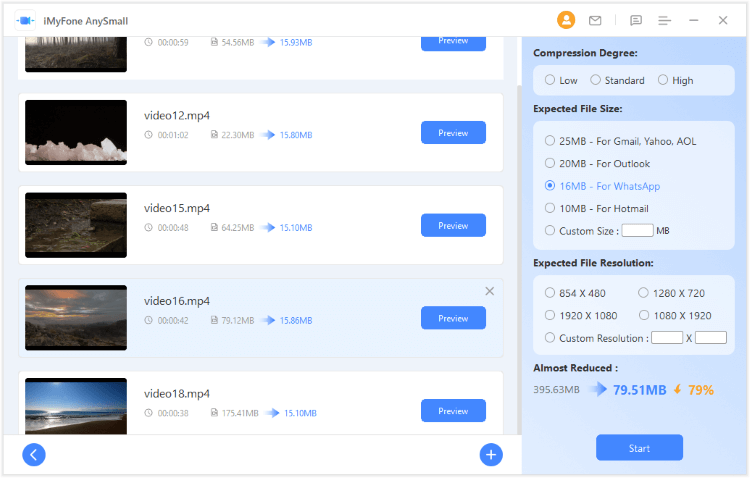 Step 3: Now, the program is compressing videos for WhatsApp, it only takes you a few seconds.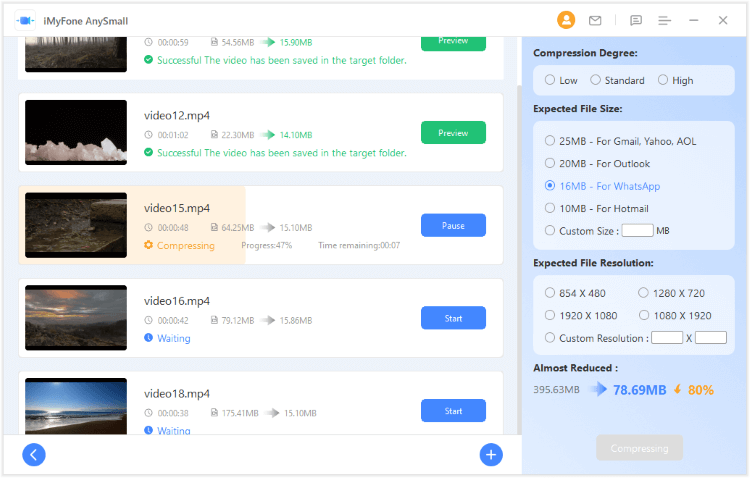 Step 4: When the process is complete, the compressed videos will be saved automatically on your PC, then you can go and share them on the social media platform or click to compress even more.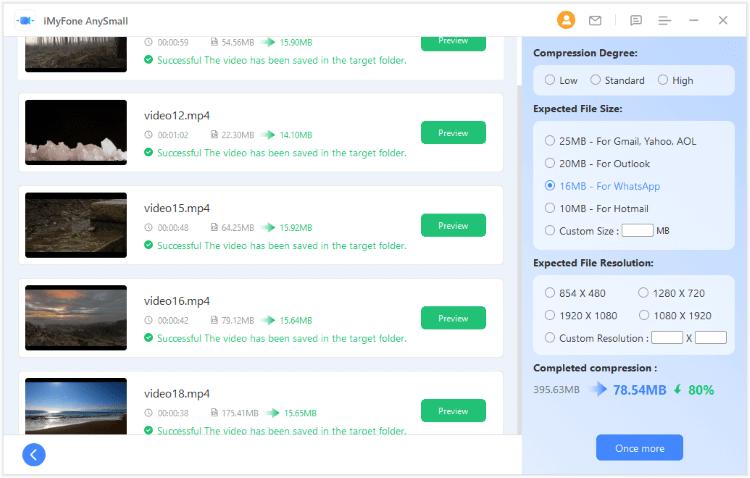 I know you need to compress video for WhatsApp, click to download AnySmall and have a try!
2

MiniTool MovieMaker

MiniTool MovieMaker is a legit and easy-to-use video editing software that allows you to create and edit videos for various purposes. Since its main task it to guide you to edit your videos, its compression skill can be relatively weak, but it's still worth noticing.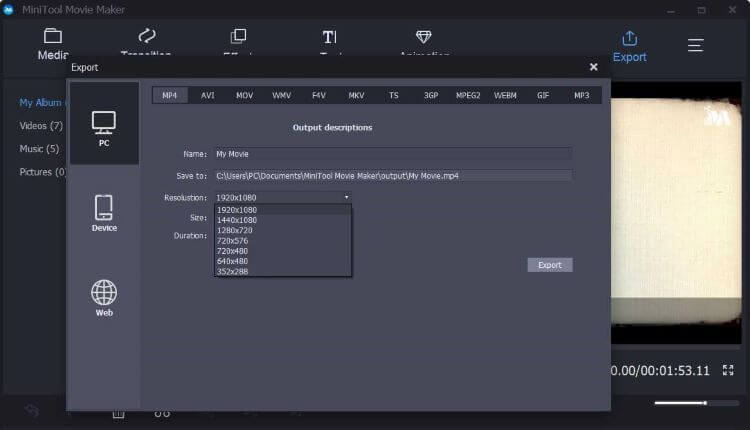 Offers a wide range of editing tools, including trim, split, merge, crop, and more.
Provides a vast library of effects, transitions, and music tracks to enhance your videos.
Enables you to export your videos in different formats and resolutions.
How to use it?
Step 1: Download and install MiniTool MovieMaker on your computer.

Step 2: Import the video files you want to edit by clicking on the Import Media Files button.

Drag and drop the video files to the timeline at the bottom of the interface.

Step 3: Choose to edit or change the format or resolution of the video.

Step 4: Click on the Export button.
Part 3: How to Compress Video Online for WhatsApp?
If you don't want to download any software, there are several options that you can use to compress video online free for WhatsApp.
1

FlexClip

It offers a simple and intuitive user interface with a fast speed in compressing a video, making it easy for anyone to reduce video size in just a few clicks. If you want to compress video online for WhatsApp, it can be suitable tool for you and you can edit more after saving your compressed video.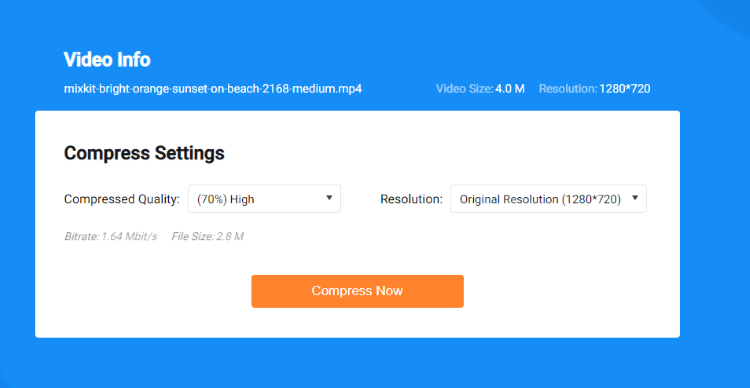 Allow to change the resolution and quality of the video before compressing.
It makes it easy to compress your video for different platforms.
Clear and intuitive interface.
How to use it?
Step 1: Go to the website and upload 1 video.
Step 2: Click to change the quality or resolution of your uploaded video.
Step 3: Click the Compress button for it to finish then export the finished project.
2

Clideo

Clideo is another famous online video compressing tool that allows you to one-click compress then download the video. Though it only allows you to compress up to 1 video for one time, for those who have only one-time need, that's enough. And you can easily compress video online free for WhatsApp or any other site with this tool.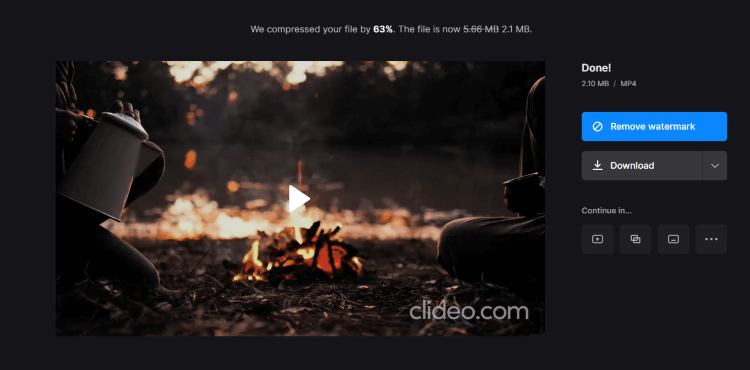 Offers a simple and user-friendly interface that's easy to navigate.
Allows you to save your edited videos to your computer, Dropbox, or Google Drive.
Watermark is added naturally after compressing the video.
How to use it?
Step 1: Upload your desired video to the site.
Step 2: Click to download the compressed video or edit further.
Step 3: Choose the next step to remove the watermark on the compressed video.
Part 4: How to Compress a Video for WhatsApp on a Phone?
If you're using a smartphone, there are several apps you can use to compress your videos for WhatsApp and you can easily learn how to compress a video for WhatsApp by using these tools.
1

Panda Video Compressor

Panda Video Compressor is a popular app for compressing videos on both your Android and iPhone. Whether you want to compress your videos to be easier to share or just compress, it can meet your need with its direct options shown on the interface.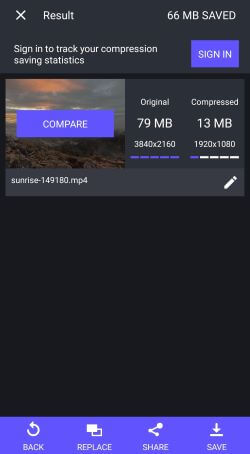 Reduces video file size without losing too much quality.
Allows you to preview the compressed video before saving it.
Ads can be seen frequently during compressing.
How to use it?
Step 1: Open the app and select the video you want to compress.
Step 2: Choose the compression settings you need.
Step 3: Save the compressed video to your smartphone or click to preview the comparison.
2

ShrinkVid Compressor

If you find the first one rather complicated, ShrinkVid here may be more suitable for you. When entering its interface, you can see only two modes which are to adjust video size and preview the result ahead. And these two modes can be the core features needed for a basic video compressing tool. To compress a video for WhatsApp, get rid of low storage space on your device this tool deserves your noticing.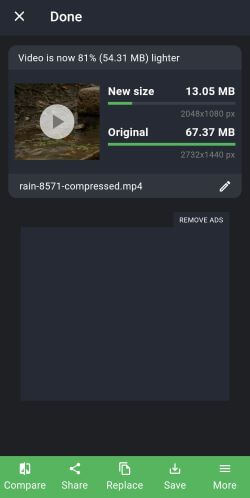 Compresses videos quickly and efficiently.
Enables you to drag the bar to adjust the video size.
Previewing the result is allowed.
How to use it?
Step 1: Open the ShrinkVid app and select the video that you want to compress.
Step 2: Enter the number or drag to select size.
Step 3: After that preview the video to see if you're satisfied with the lossy compression.
Step 4: Finally, save the compressed video onto your smartphone to share it on WhatsApp.
Conclusion
Do you know how to compress video for WhatsApp now? To relieve yourself and easily compress videos based on the no quality loss requirement, you should try iMyFone AnySmall, which allows you to enjoy the flexibility of video compression in clicks while making your video way smaller than 16MB and keeping the high definition and quality!