[6 Ways] How to Shrink MP4 File Size without Losing Quality?
Category: Compress Video
5 mins read
It's often the case when we encounter a problem related to video sizes. This happens when we need to upload videos via email, share them on social media platforms, etc. For occasion like this, a workable tool to shrink MP4 is needed.
Hence, in this article, we'll introduce 6 MP4 shrinkers for you to use on desktop or online directly. Keep reading to find out the one you want for video compression.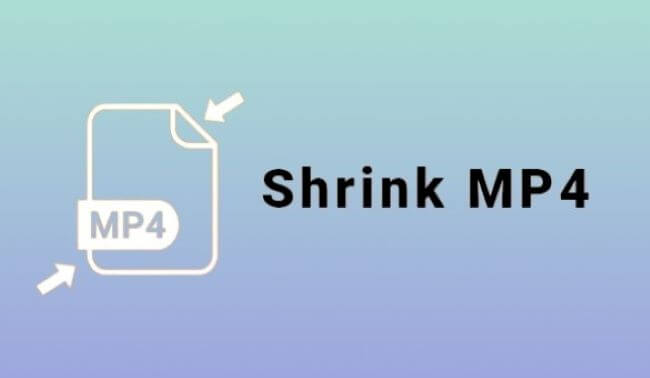 Part 1: Advantages to Shrink MP4
Before heading to see which tools would be introduced, you can check what benefits to compress MP4.
You can free up space for you devices by shrinking the video files first.
Shrink MP4 file size can bypass the limitation set by certain video platforms.
Small-sized videos are required before sending through email.
Allows you to upload or share them at a faster spped.
Part 2: The Best Way to Shrink MP4 File Size
When it comes to shrink MP4, iMyFone AnySmall stands our to be the most professional one available in the market. Within clicks, you can shrink MP4 file without making any compromises over the quality.
The good news is that this MP4 shrinker supports to compress your multiple videos to any size as per your demand quickly and safely. In this way, you can easily free up a lot of space for your devices and share them directly on many popular platforms.
How to Use iMyFone AnySmall?
Step 1: Download and install iMyFone AnySmall, launch it to add video files directly.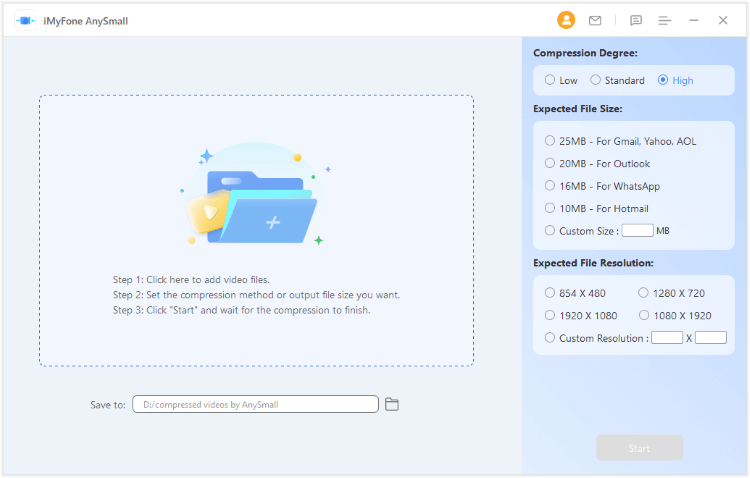 Step 2: The estimated reduced size will be counted. If you need it to be smaller, choose to customize by entering the megabyte or select the compression degree you prefer. After that, start the compression process.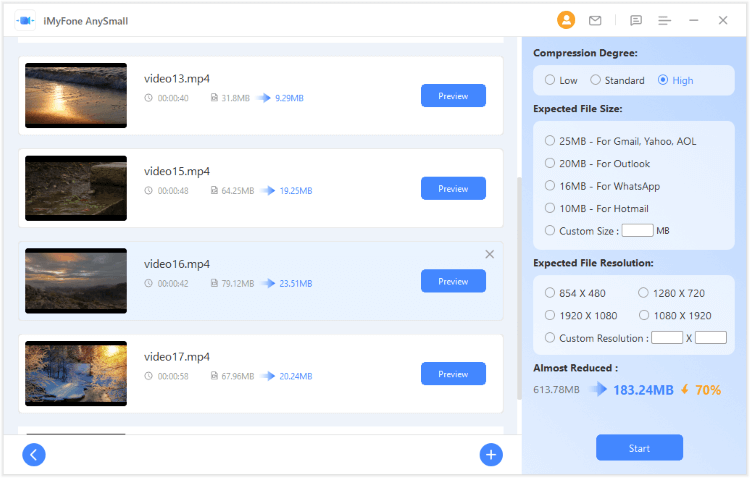 Step 3: The program will shrink MP4 file size for you right away in seconds, you can wait to collect your compressed videos.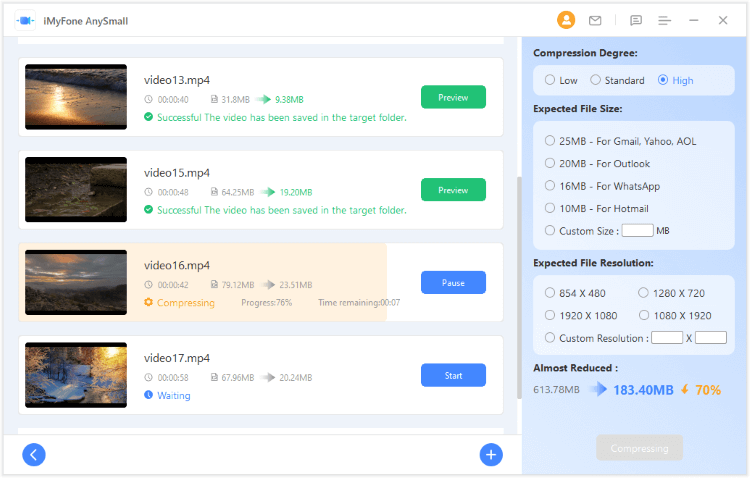 Step 4: When it's done, you can find your compressed MP4 videos saved automatically on the computer. Click to preview or compress once again.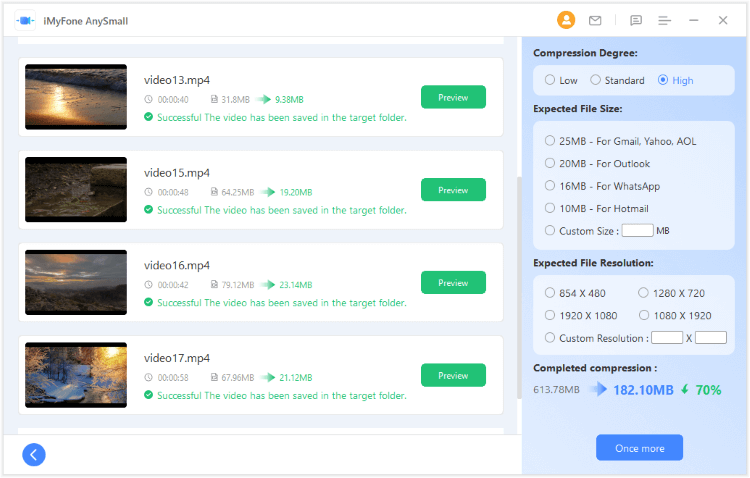 Don't feel hesitate to use iMyFone AnySmall to shrink MP4 videos for you now!
Part 3: 5 Online Tools to Shrink MP4 File Size
If you want to know more about how to shrink MP4 file size, just scroll down to find some online tools.
01

Clideo

Clideo is an online tool which you can use to shrink MP4 file size and then upload them anywhere. Since it's an online product, the best part of it should be free you from downloading a software to the computer. To process a little videos, it's a great choice. And if you need to compress many videos at a time, it may not support that.
Shrink video to a smaller size.
Can use online without paying.
Offer to edit video further after compression.
The compressed video comes with a watermark.
02

MP4Compress

MP4Compress is another online MP4 shrinker which you can easily use by visiting the website. You can safely upload your videos here and get them compressed in a little time. Since the service is free, you can share the compressed video with your friends after that easily. For you to shrink MP4 file size, it's also a choice on the list.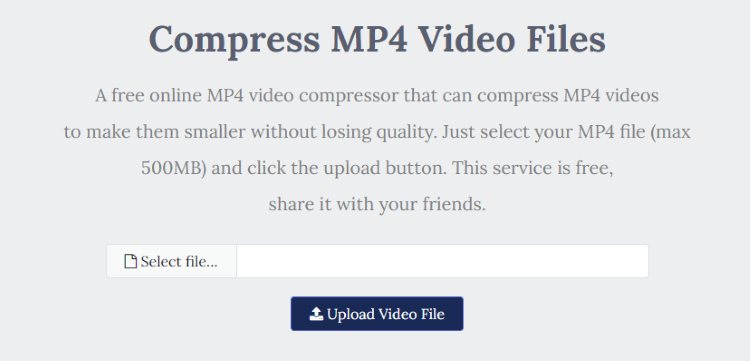 Easily shrink MP4 in one click.
Simple to use without redundant steps.
No feature to enter the MBs on your own.
Offer no way to preview the result.
03

Online Converter

In case you should need more than shrink MP4, Online Converter here can help. Being a free online tool, it suports many formats you may need. What's more, it supports to shrink MP4 file size as per your requirements by allowing you to put in your desired file size. To spare yourself from too many steps, it can also be considered.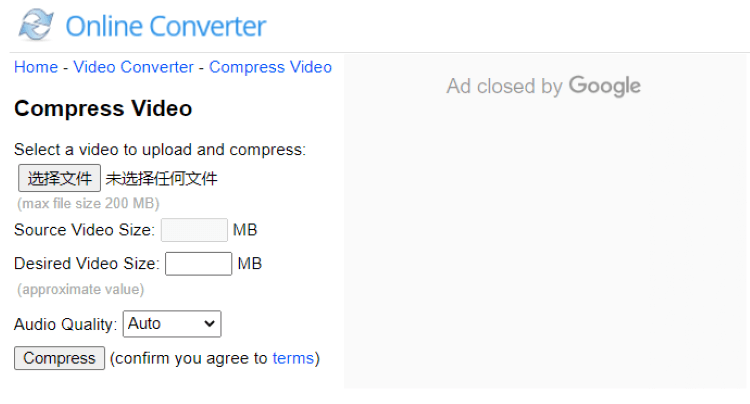 It supports a large number of video formats.
Shrink MP4 file size in two clicks.
Doesn't support to reduce multiple MP4 videos at a time.
Comes with a lot of ads.
04

VideoSmaller

To shrink MP4 online, VideoSmaller is also an online free service here. Differ from other MP4 shrinkers, this software here can guide you to choose whether to scale your video width, which may suits certain need. Likewise, you can easily upload your video to be compressed and then transfer it to other devices. If you want to use the low compression level, you can keep the best quality.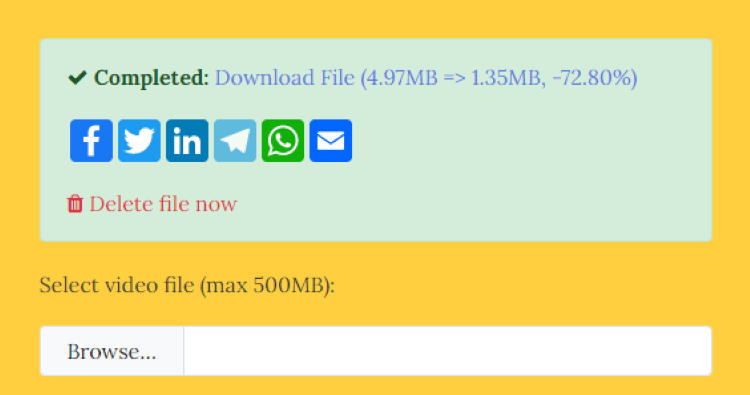 Free to use for compressing videos individually.
Shrink MP4 file size directly from your web browser.
Support many video formats like MP4, AVI, MOV.
Limit videos of up to 500MB.
05

Zamzar

The last online tool to shrink MP4 is Zamzar. It allows you to reduce the size of your MP4 file while ensuring that no noticeable impact to the quality will show up. And common to other online MP$ compressor, Zamzar is also an extremely one to be used for video compressing. With just one click, your video can be compressed succesfully.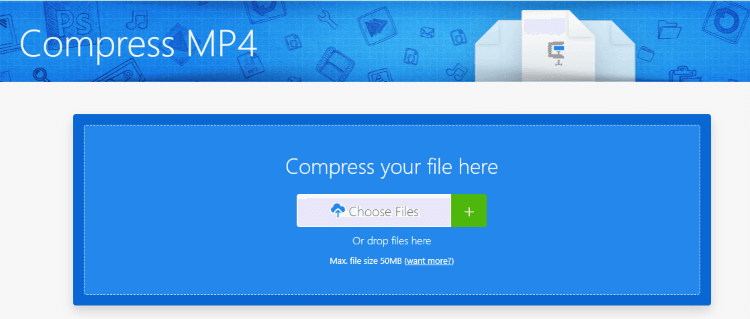 One click to shrink MP4 file size.
No ads with clear interface.
Can't compress many videos at once.
Support to upload video of maximum 50MB for free.
Part 4: FAQs about Shrink MP4
1

How do I make a MP4 file smaller?

You can easily do this by using desktop software like iMyFone AnySmall or online tools mentioned.
2

How do I make an MP4 file smaller online?

You can shrink an MP4 file smaller by uploading it to any online tool for free, setting the desired size and starting the process. The video will be compressed through the web browser.
3

How do I compress an MP4 without losing quality?

Although there are many tools available on the market, there are a few which do not compromise the quality. You can use iMyFone AnySmall and you will get the perfect video.
Conclusion
In a nutshell, it would not be wrong to say that video compression nowadays is quite important. So it automatically becomes crucial for you to use a credible tool like iMyFone AnySmall to shrink MP4 without any compromise over the quality and in no time. You can get AnySmall to get this job done in a matter of seconds.