Those who have lost data search for data recovery tools. They also come across Ontrack EasyRecovery, which is also a tool specifically to retrieve lost data. In this article, we will give you a complete review of Kroll Ontrack EasyRecovery and explain how you can use it. We will also share a better alternative that you can use to get your data back without any hassle.
Part 1. Kroll Ontrack EasyRecovery Revieww
1.1 Kroll Ontrack EasyRecovery Professional Features
Ontrack EasyRecovery Professional can help you to recover data in case of data loss, deletion, reformatting, and many more. It has a wide range of features that you can take advantage of.
Allows you to search or look for files by name and data type.
It can recover data from internal as well as external hard drives.
It has a quick scanning speed. This tool also provides deep scanning.
Has a unique feature of data recovery from corrupt and inaccessible RAID 0,5, and 6 volumes.
It supports the 4K sector and many different formats.
1.2 How to Use Kroll Ontrack EasyRecovery
If you want to recover your data using Ontrack EasyRecovery Professional, then you need to consider a few things. Firstly, make sure that there is no physical damage to the hard drive. Once you know that your hard drive is good and working, only then proceed to DIY data recovery.
Secondly, if you suspect that you have lost your data, immediately stop using your computer so that there is no further damage to the hard drive. Now that you know there is nothing physically wrong with your hard drive, you can start the data recovery process using Ontrack EasyRecovery Professional. It is a simple tool and requires only a few steps to restore your lost or deleted data.
Step 1. After installing the tool, open it. Select the data type that you want to recover. If you want to recover different types of data, then click on All Data.
Step 2. The second step requires you to specify the location from where you need to recover the data. However, this tool can also recover data from multiple locations. Make sure that your drive is connected and detected by the computer.
Step 3. Click on Scan so it can begin scanning the location for the specified data type. You can perform a quick scan or a deep scan according to your requirement. It may take a while, depending on your device and the size of the hard drive.
Step 4. After the scan, the tool will show you all the recoverable files. You can also apply a filter to narrow down your search. Preview the data and select the files that you want to recover, and click on Recover. Select the path where you would like to save your data.
1.3 Kroll Ontrack EasyRecovery Professional Full Version Free Download
Ontrack EasyRecovery Professional has a free trial version, but it has limitations. You can only recover 1 GB of data with a file size of less than 25 MB. However, it has different price plans according to the needs of users. You can buy a Home plan that costs around $79/year, a professional plan for $109/year, and a premium plan for $149/year. It has other different price plans as well, depending on the features and recovery.
1.4 Kroll
Ontrack EasyRecovery Coupon Code
Just search Ontrack EasyRecovery coupon code in the google.com, and you will find many coupon codes there. You can get up to 50% off with those coupon codes.
Part 2: Better Alternative for Kroll OnTrack EasyRecovery
to Recover Lost Files from Drives and Computer
2.1 Main Features of D-Back for PC
iMyFone D-Back is a better alternative than Ontrack EasyRecovery. It is much simpler, easier, and cheaper. It supports more file types and requires fewer steps to perform data recovery.
Allows the user to perform selective data recovery.
Supports numerous file types.
Compatible with Windows and macOS.
It can recover data from RAW partitions, formatted partitions, and corrupted partitions.
Provides the user with a trial version.
2.2 How to Use iMyFone D-Back
iMyFone D-Back for PC is one of the easiest tools that you can ever find to recover deleted files. It has a simple and user-friendly interface. Anyone with simple knowledge can use this tool. It has a very high success rate of data recovery and also supports more than 1000 file types.
Step 1. iMyFone D-Back is available on both Windows and macOS. Download the tool according to your operating system and install it. Open the tool. You will see all the hard drives, including the external ones that are connected to the computer. Choose the drive from which you want to recover the lost or deleted data.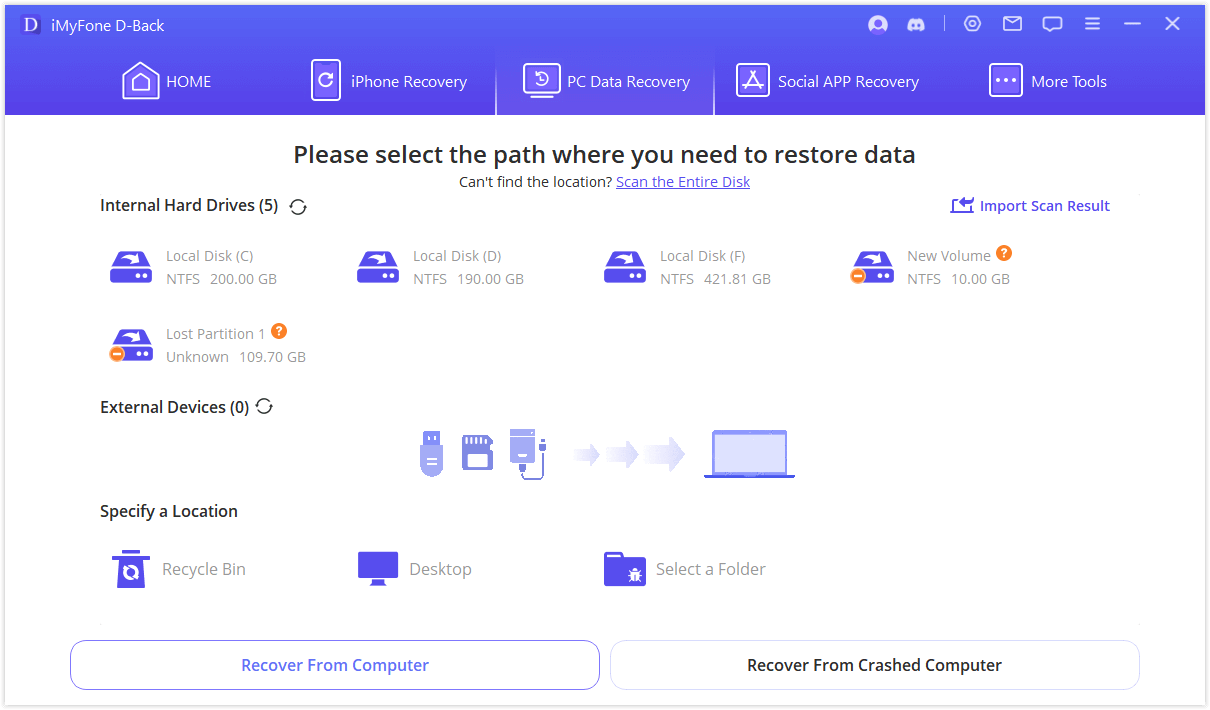 Step 2. Secondly, scan the drive to find all the lost files. You can see the progress of the scan and also pause/stop it in between if you have found the file you were looking for.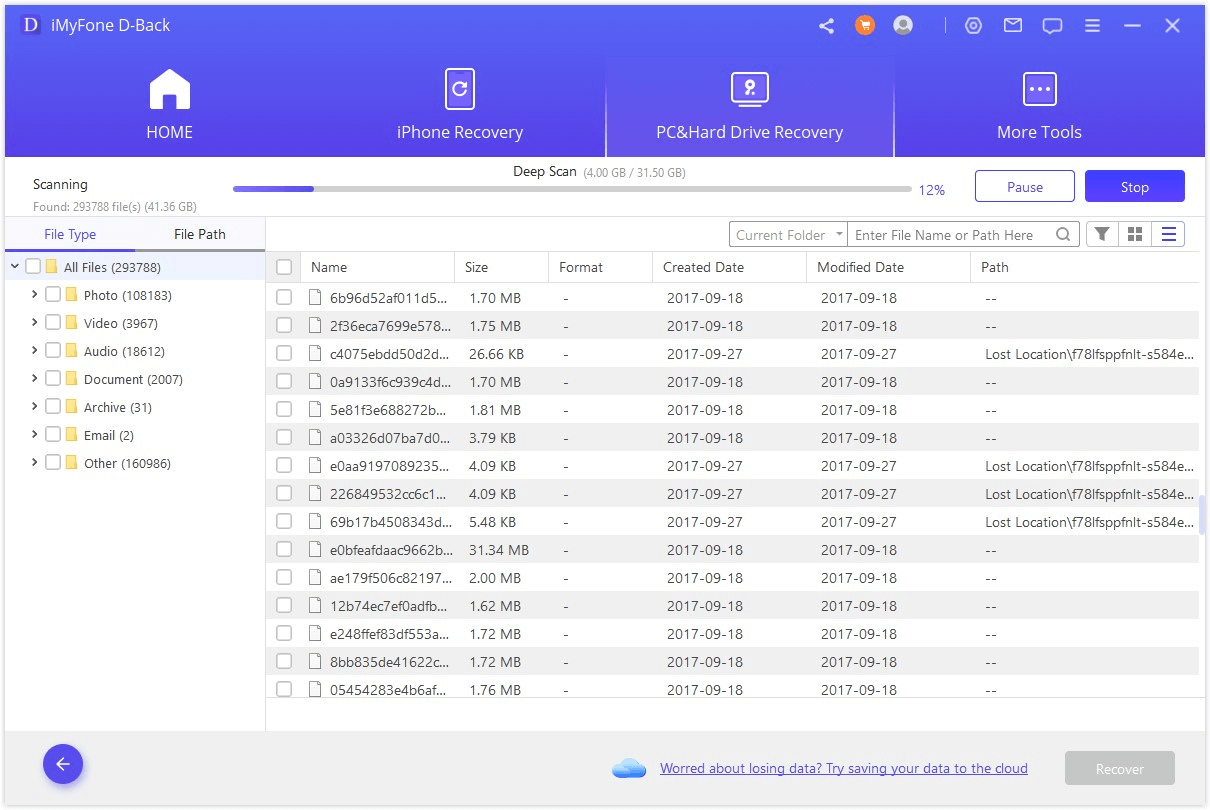 Step 3. You can now preview all the files. Choose the files that you want to recover and click on Recover. This tool allows you to select the location where you want to save the recovered file.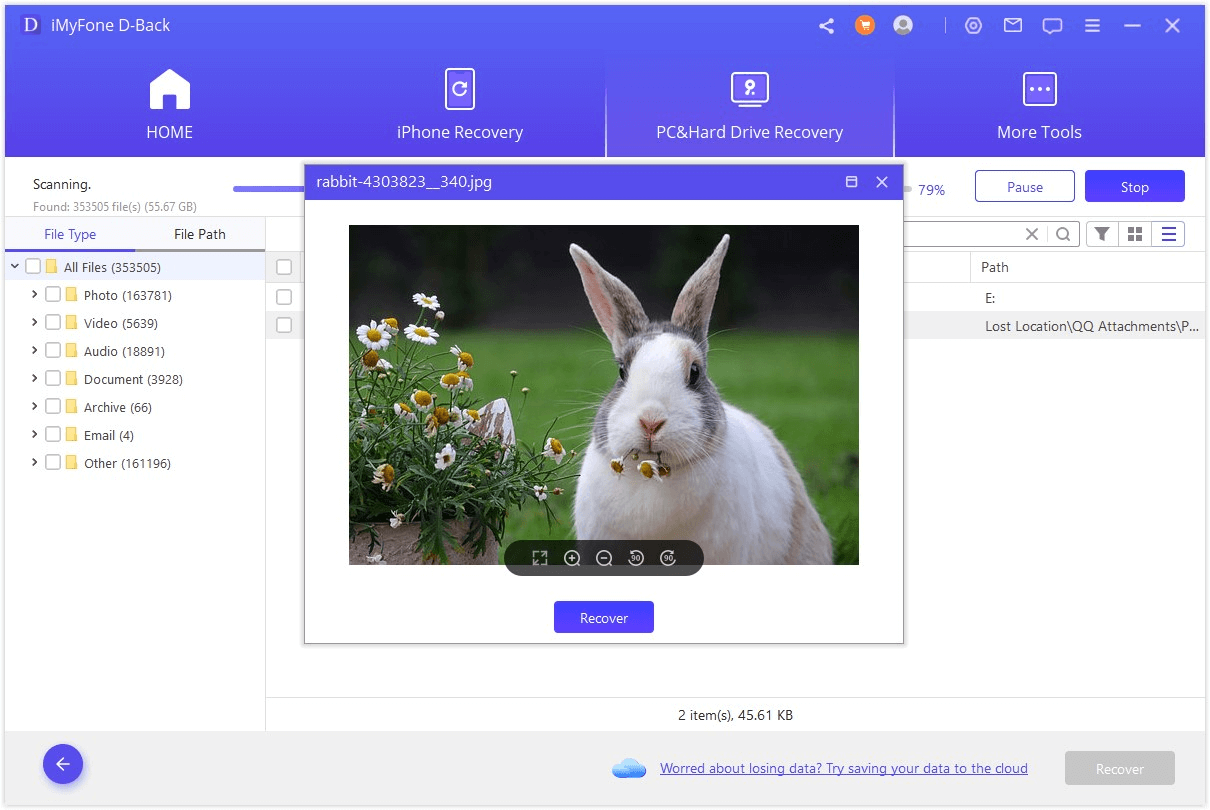 2.3 Is iMyFone D-Back Free?
Yes. iMyFone D-Back has a trial version that is free for all users. You can download it easily. However, you cannot enjoy all its features because it is a trial version. To be able to use all the features, you can buy the tool.
iMyFone D-Back costs $59.95/month, $79.95/year, and $99,95 for a lifetime. The same is the price plan for Mac users.
Part 3. Ontrack EasyRecovery vs. iMyFone D-Back
| | | Ontrack EasyRecovery |
| --- | --- | --- |
| Compatibility | Windows and macOS | Windows, macOS and Linux |
| File Support | More than 1000 file types | Different depending on the operating system |
| Data Security | Very High | Very High |
| Scanning Speed | Ultra-Fast | Fast |
| Selective Recovery | Yes | Yes |
| Price | $59.95/month, $79.95/year and $99.95 for lifetime | Different plans starting from $79/month to $299/month |
Final Words
In this article, we have discussed two different professional data recovery tools. Both of these tools are effective and work in the long run, but one has a slight advantage over the other. iMyFone D-Back is a better alternative because it is diverse. It supports different file types and can recover data from critical situations like partition recovery. It has a faster scanning speed as well. Download the trial version of both tools to compare them yourselves.