Documents are mostly shared in PDF format because it is a versatile format for sharing. People keep their important files, such as resumes, reports, research, and other things in PDF format. Unfortunately, these files can get corrupted as well.
However, they can be recovered using the right tools and methods. In this article, we will discuss how to recover damaged/corrupted PDF files for free in Windows/Mac/Online.
Part 1. How to Recover Corrupted or Damaged PDF Files on MAC/Windows
Here, we will discuss whether it is possible to recover corrupted or damaged PDF files on Mac/Windows. There are different ways of recovering a damaged or corrupted PDF file. However, we will discuss the most effective and the easiest way to recover PDF files.
The first recovery method that we will discuss is via a third-party data recovery tool, iMyFone D-Back. And the second is the default method of the operating system.
1.1. Recover Corrupted PDF Files with Advanced Tool
iMyFone D-Back is a professional and advanced tool that allows users to recover all types of files. However, in this case, we are going to discuss the recovery of damaged or corrupted PDF files.
iMyFone D-Back can recover files from different types of devices, including Hard Drive, USB Drive, External Disk, Memory Card, SSD, and many more. It supports more than one thousand file types. To recover a corrupted or damaged PDF is not difficult for it at all.
Let us look into the steps that go into the recovery of corrupted PDF files using the iMyFone D-Back.
Step 1: iMyFone D-Back is compatible with both Windows and macOS. Download the version according to your operating system and install it on your computer. Open the tool and choose the location of the PDF file that you want to recover.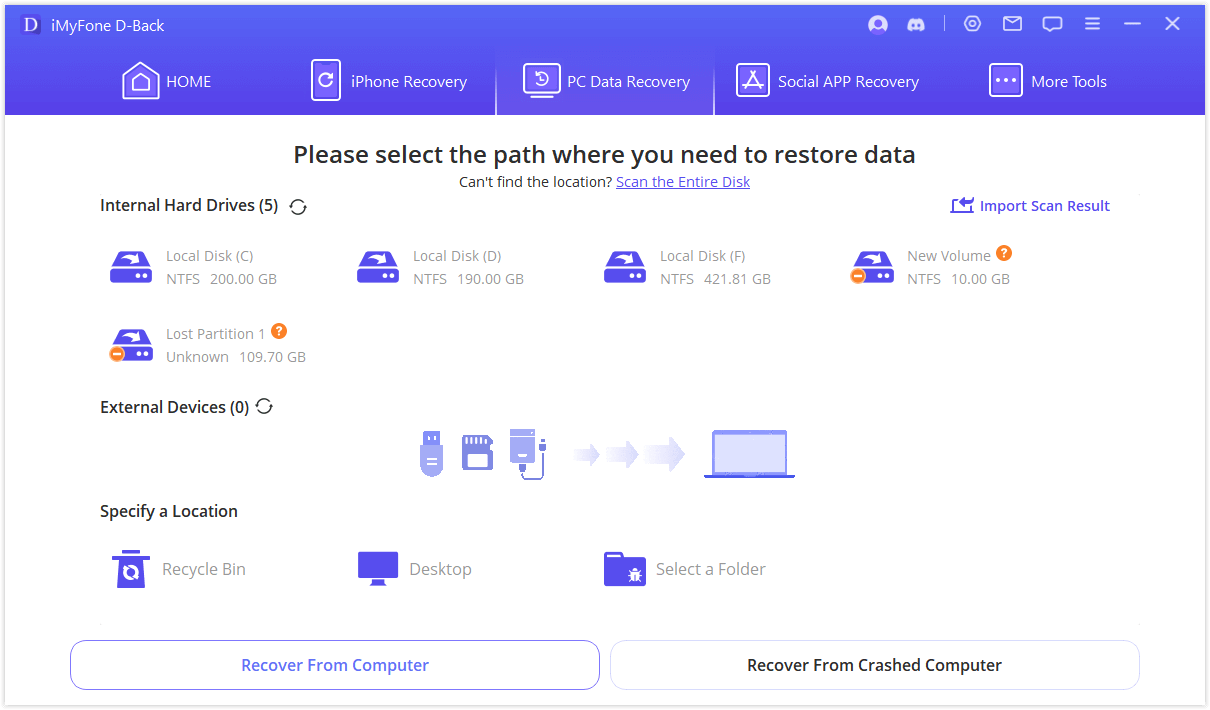 Step 2: The tool will then perform a scan on your selected location, and the user can monitor the progress. If the user wants, the scanning can be paused or stopped if the PDF file is found.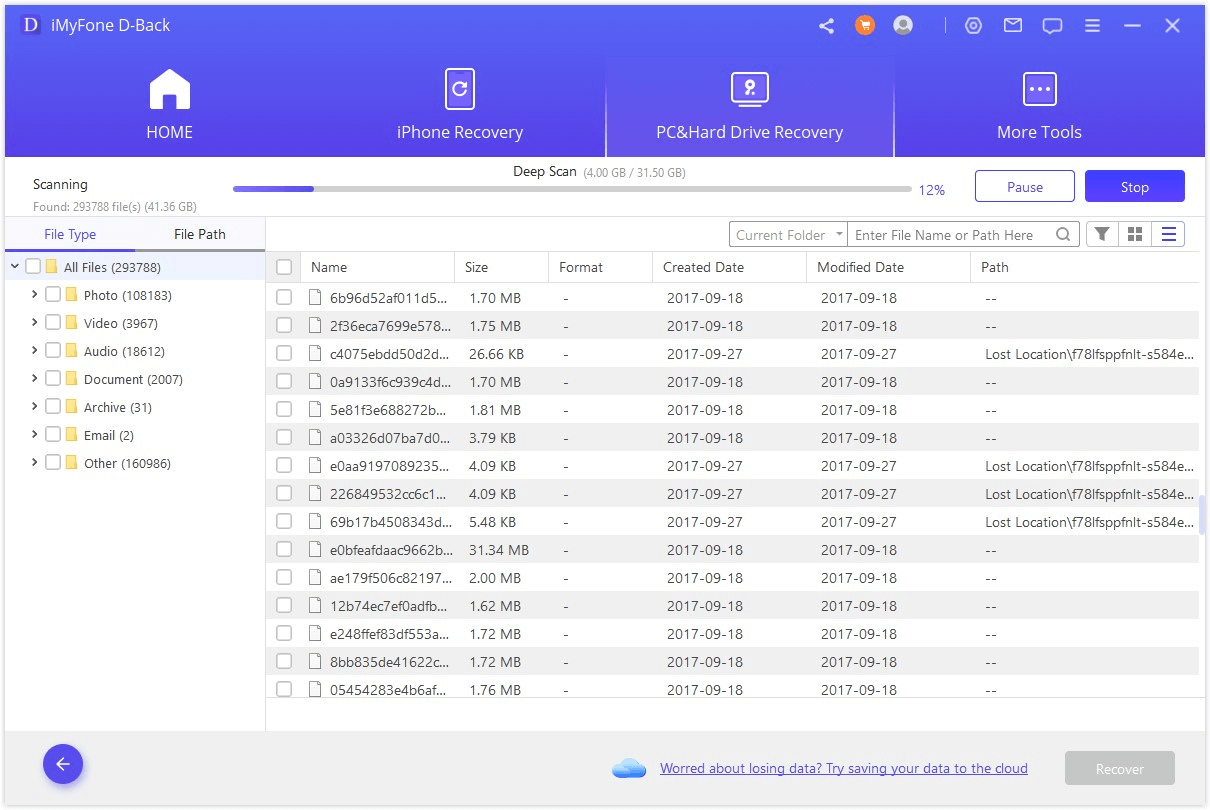 Step 3: Once the scanning finishes or the user stops it, all the data files can be previewed. The user can preview all the files and select the file that he wants to recover. Choose the PDF file and click on "Recover" to restore it to your computer.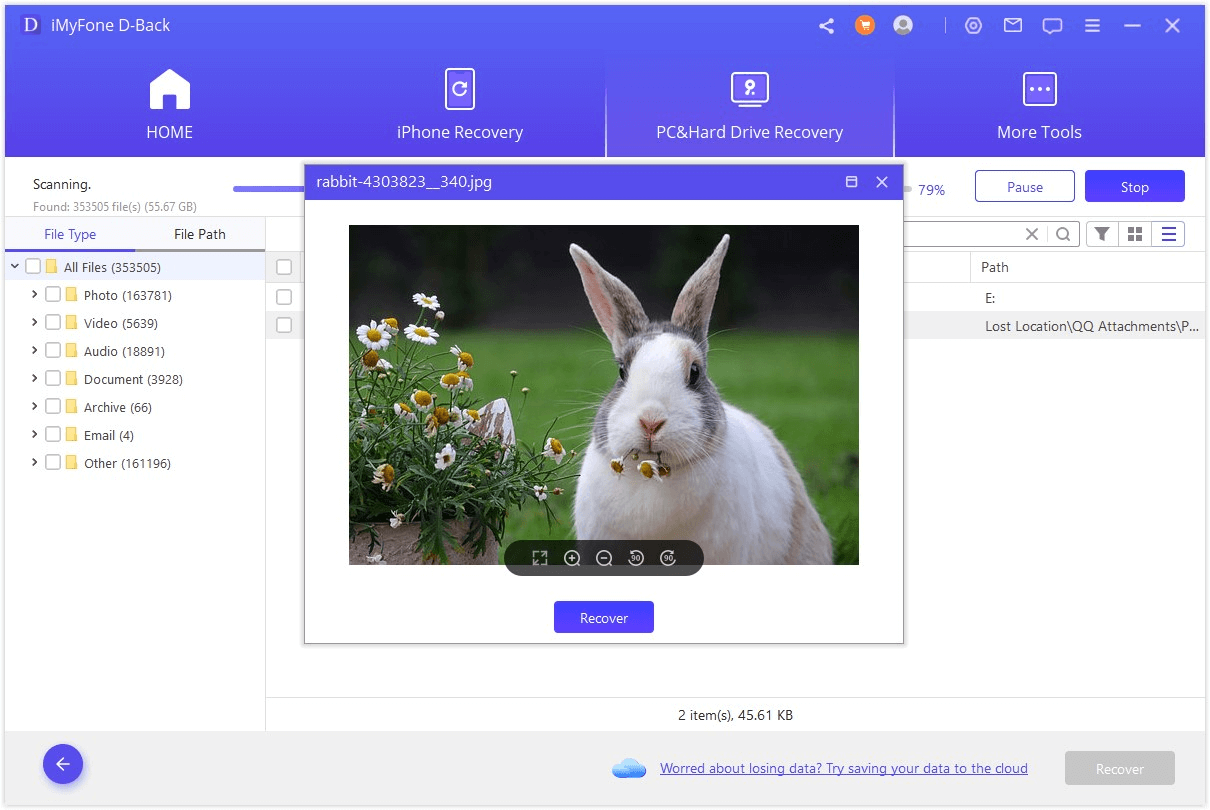 1.2. Recover Damaged PDF File Online for Free
Previous Version is another method to recover any deleted file from the computer. It is a free method and can be very helpful. The previous version is capable of restoring all the deleted files from a drive. It works for all types and formats of files. But keep in mind that it will work if the Previous Version feature is enabled on the drive.
Here are the steps to restore deleted damaged PDF files for free using the Previous Version.
Step 1: On your computer, open Windows Explorer. Locate the folder where your PDF files were stored previously.
Step 2: Right-click on the drive and click on "Restore Previous Versions". Choose the relevant version that includes your damaged PDF file. To check the version for files, you can open it as well.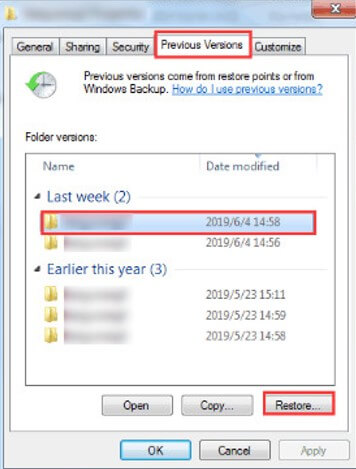 Step 3: Once you know that your PDF file is in one of the previous versions, choose that version and click on the "Recover" option to restore it to your computer.
Bonus Tip: How to Fix Damaged/Corrupted PDF files for Free
Adobe Acrobat Reader is the most famous PDF reader. People with any operating system use this tool to read the PDF with ease. Sometimes, PDF files don't open without Adobe Acrobat Reader. It not only reads the document or PDF file but is also able to fix damaged/corrupted files for free.
Look at the steps below to fix damaged/corrupted PDF files for free.
Step 1: One of the reasons that your PDF file won't open is because you may have an older version of Adobe Acrobat Reader. Make sure to update your tool.
Step 2: If your PDF file still won't open, launch Adobe Acrobat Reader and go to "Help > Repair Installation".
Step 3: Lastly, if the PDF file still doesn't work. Go to the file's location and restore it to its previous version. It will then open without any problem.
Part 3. FAQs
1) Why do my PDF files get damaged/corrupted?
There are many reasons why PDF files get damaged or corrupted. Some of the most common reasons are unfinished download or error during the download, virus attack, hard drive problem, not using a compatible PDF reader, and using different PDF readers (each tool makes modifications to the file and corrupts it).
2) How to recover a crashed PDF file?
If you are using Adobe Acrobat Reader as a PDF reader, then you don't have to worry. It automatically recovers the PDF files that are not saved. Moreover, if the Adobe Acrobat Reader is restarted after the crash, any change will be restored. It autosaves the change.
3) How to recover permanently deleted PDF files?
iMyFone D-Back is the best recovery tool to recover or restore permanently deleted PDF files. It requires only three simple steps, and all the deleted files are displayed. The user can then select the PDF files and recover them easily.
4) How to recover a replaced/overwritten PDF file?
Overwriting a file and then saving it means that your previous version is lost forever. However, the user can try and use the "Previous Version" feature of the computer to restore an overwritten PDF file. Otherwise, it is nearly impossible to recover such a PDF file that is replaced or overwritten.
Conclusion
In this article, we discussed different methods to recover and restore deleted PDF files. If the PDF is corrupted, then it can be fixed or repaired. iMyFone D-Back is the best data recovery tool that you can find on the internet.
It is free, reliable, and secure. It has a high success rate of recovery and can recover files in every scenario. Download the trial version to recover your deleted/corrupted PDF file.