Are you worried about your lost PowerPoint file and don't know how to recover it? Take a deep breath because you are at the right place. This article is all about how to recover deleted slides in PowerPoint. You will learn different ways of restoring lost or deleted PPT files from different locations very easily. Stay with us and read this article carefully.
Part 1: Can I Recover Deleted PowerPoint Slides?
The answer is "Yes". It is very easy to recover permanently deleted PPT files from various platforms. You can restore the deleted data in a few minutes, whether it is your computer, iCloud, PowerPoint, or any other platform. The common methods are recovering data from Recycle Bin or by software. We will show you both these methods in detail. So, let's start!
Part 2: How to Recover Permanently Deleted PowerPoint Files on Mac/Windows
In this section, we are going to discuss the three most common and effective ways of recovering permanently deleted PowerPoint files on Mac and Windows.
2.1. Recover Permanently Deleted PowerPoint Files with Advanced Way
D-Back Hard Drive Recovery Expert is a data restoring software developed by iMyFone. This software works with a powerful and fast-working algorithm to support various data recovery within some minutes.
It is available in both Windows and Mac, so deleted data from both platforms can be recovered through it. When it comes to its ease, it is a simple and beginner-friendly hard drive recovery tool. Beginners and professionals can help use it because of its simple and self-explanatory user interface. It can recover data from various locations on your computer, including internal storage, Recycle bin, Desktop, etc.
Main Features:
Supports data recovery of 1000+ file types.
Extracts and restores data from various sources, including internal memory, external memory, USBs, and many more.
Allows previewing data before recovery.
Supports smooth Window partition recovery.
Works fast with 100% satisfactory results and safety.
Step 1: Launch iMyFone D-Back on your PC and open it. Now different locations will appear on the screen. Select the one from where you want to restore your file or where your file was previously located.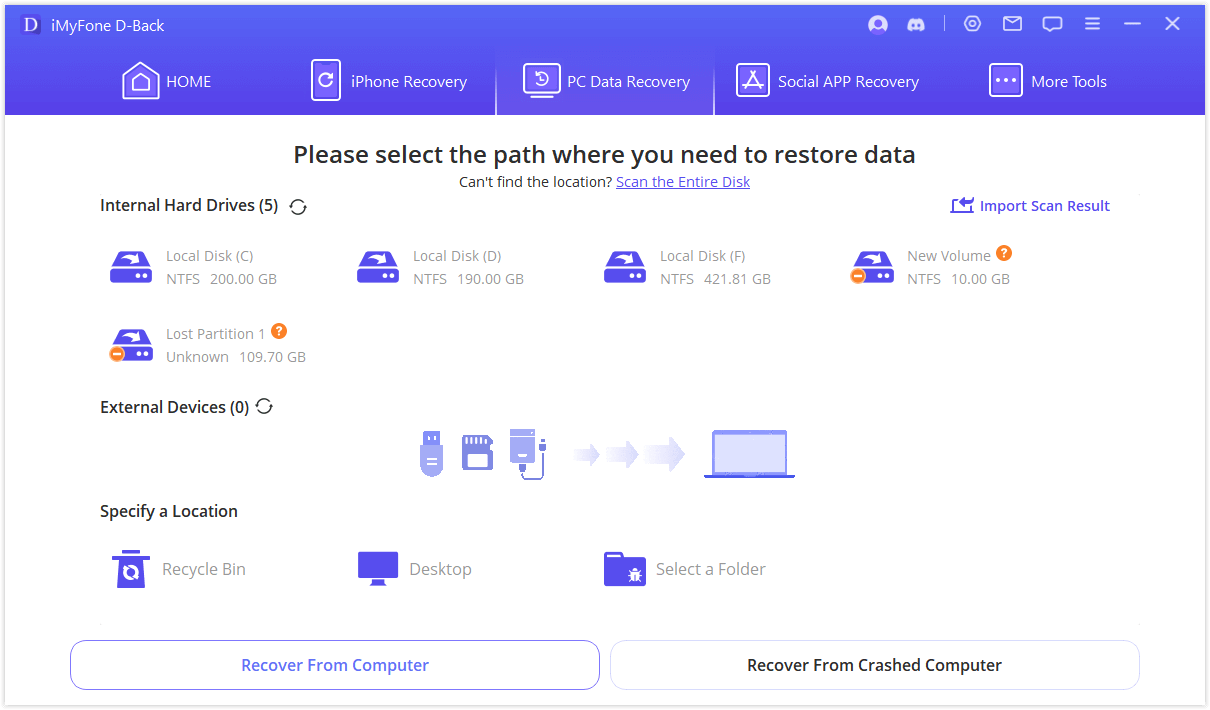 Step 2: Clicking on any particular location will start scanning, extracting, and displaying recoverable files from that location. The scanning process will take time, according to the data size. For your ease, you can pause and resume the scanning process where you want.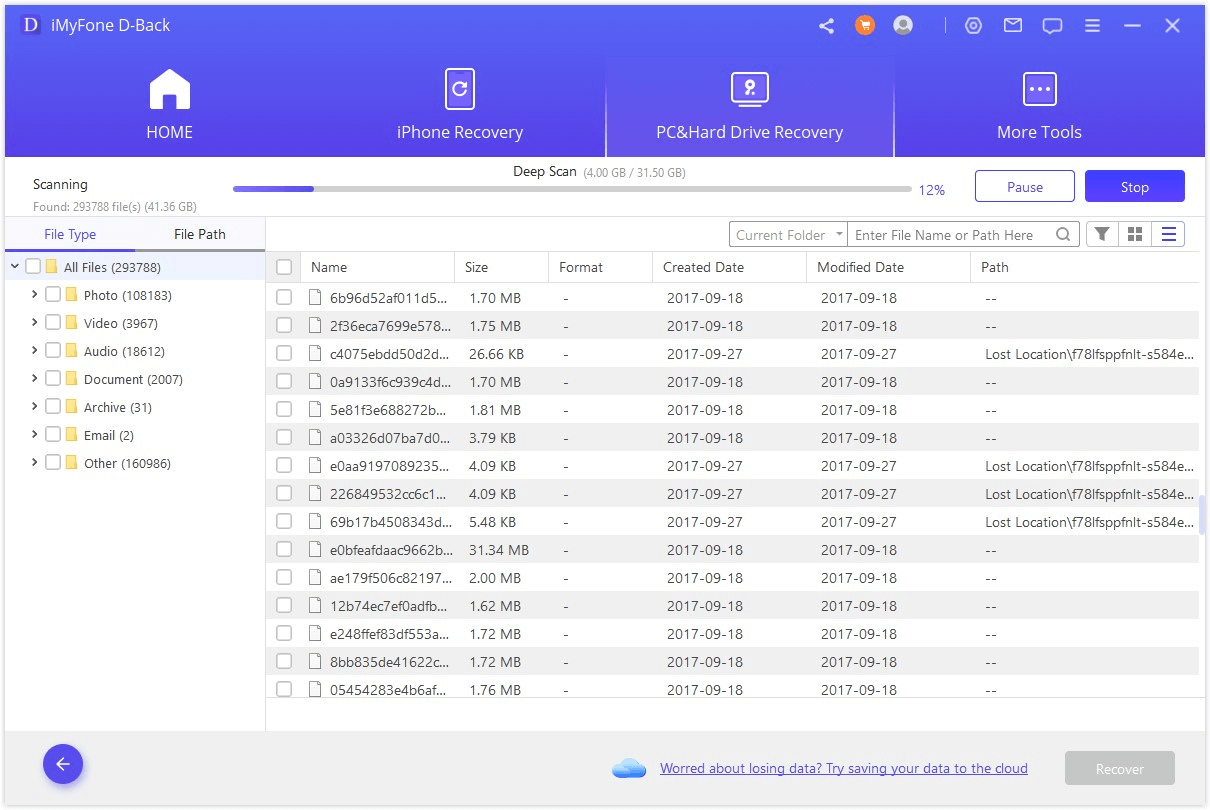 Step 3: After scanning, search for your file and preview it if you want. When you are confirmed and satisfied with the file, click the Recover button and restore it on your computer at the desired location.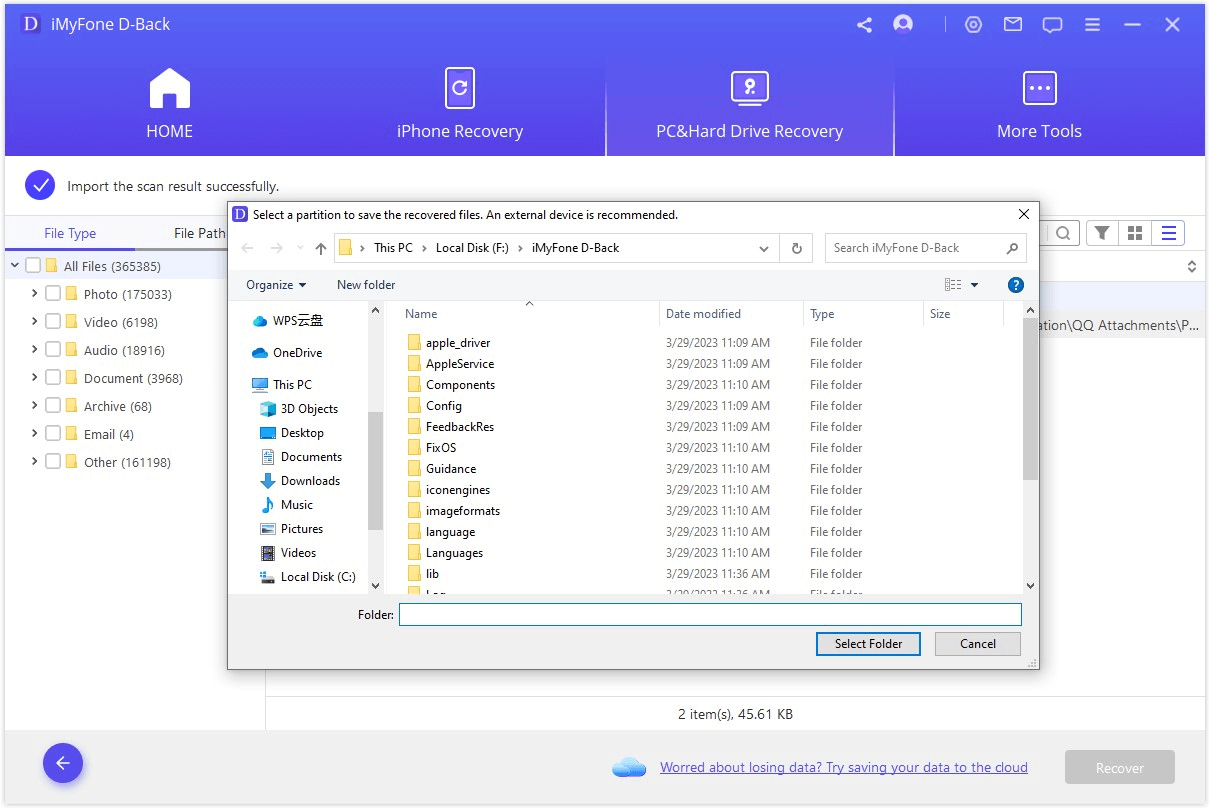 2.2. Recover Deleted PowerPoint Slides in Recycle Bin/Trash
Deleting any file or data from the computer does not delete permanently. There is still a very easy way of getting them back with a few clicks. Yes, the computer's Recycle Bin is a place/folder that collects all the deleted files automatically. All deleted files from the computer are saved in it.
Any of your deleted PowerPoint slides from your computer storage can be retrieved from the Recycle Bin. You don't need any software or tools required for this process. Let's have a look at the steps on how to recover deleted PowerPoint slides from Recycle Bin.
Step 1: Click on the Recycle Bin folder from the desktop and open it. In this folder, you will get all the deleted files. You can look for your PPT slides manually or use the search bar from the top of the screen to find the PPT slides quickly.
Step 2: Once you have found your file, right-click on it. A drop-down menu will appear on the screen. Click on the Restore option from this menu.
Step 3: Clicking on the Restore button will recover and save it again at the location where you saved it earlier before deletion.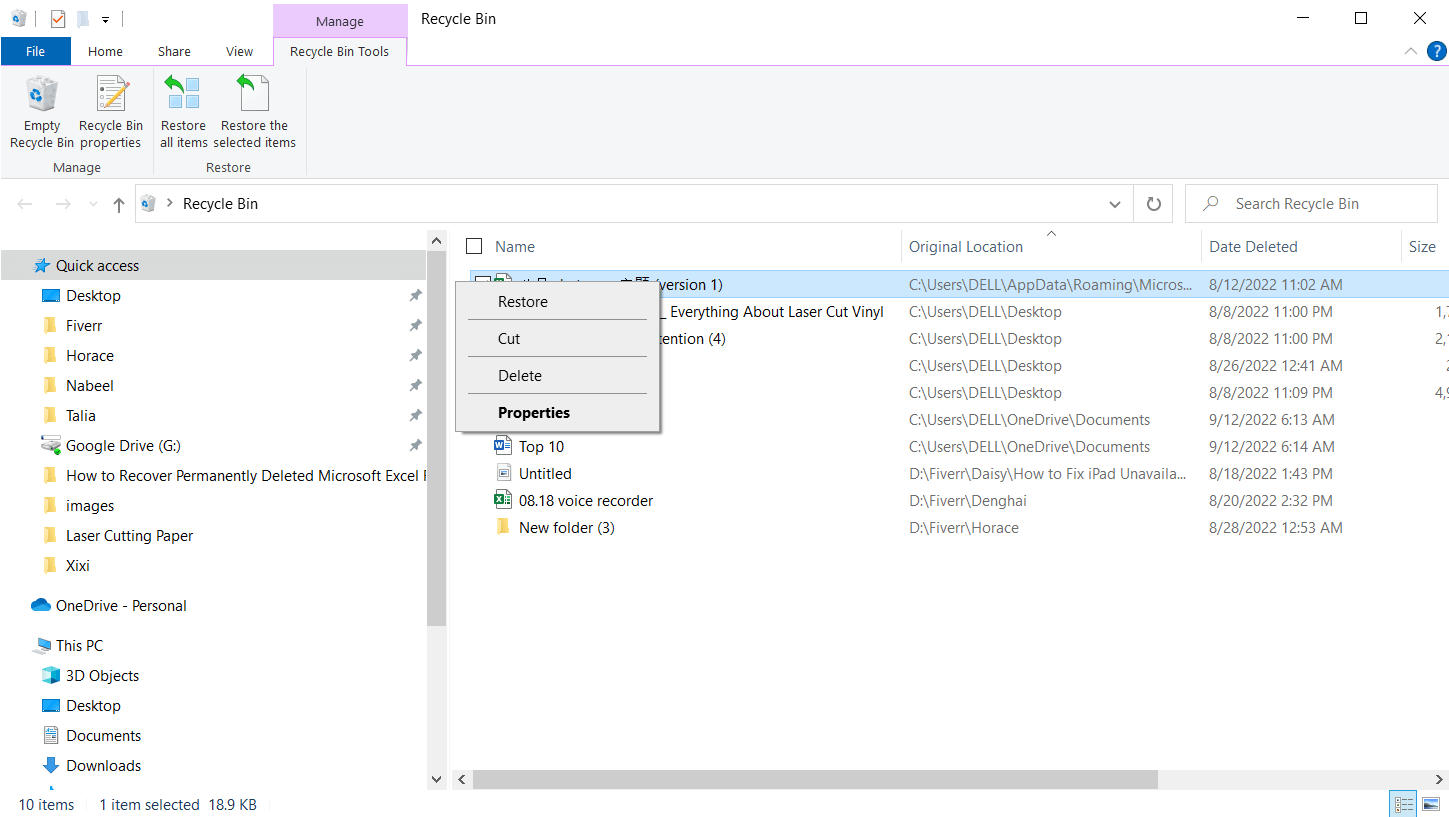 2.3. Restore Deleted PowerPoint Slides With Cloud Backup
One Drive is a cloud-based service for Windows users, while iCloud is cloud storage for Mac. Those who use synchronization between their devices and cloud storage can also retrieve the deleted PPT files from these two cloud storage platforms. Here, we will see how to recover the deleted PowerPoint files from both One Drive and iCloud storage spaces.
Restore PowerPoint Slides from One Drive Cloud Backup
Step 1: Go to the One Drive website and log into your account using MS credentials. Open your account and click on the option Recycle bin.
Step 2: All the deleted recoverable files will appear in the Recycle bin folder. Look for your file and click on it. You can also choose multiple or all files at once.
Step 3: In the end, click on the Restore button at the top of the corner and recover all of your deleted files in an easy way.

Restore PowerPoint Slides from iCloud Backup
Step 1: Go to iCloud.com from your Mac desktop and log in to your account. Once you are logged in, click on the Account Settings option under your account name.
Step 2: This will show you an Advanced option at the bottom of the screen. Under this Advanced option, you will see another option with the name Restore files. Click on this option.
Step 3: This Restore files option will show you all the files that you can restore. Select your files and click on the Restore button at the bottom right corner of the screen. After this, your files will be recovered, and you will receive a confirmation message.
Part 3: FAQs
1

How Do I Recover a PowerPoint That Was Not Deleted from The Recycle Bin?
It is so simple to restore the PowerPoint file from the Recycle Bin that was not deleted. Go to the Recycle bin and select the file. Right-click on the file and click on the Restore option from the dropdown menu. Your deleted file will be restored at the location from where it was deleted.
2

Where Do Deleted PowerPoint Files Go?
When you delete a PowerPoint file or any other drive from your computer, it goes into the Recycle bin. It means the file was not permanently deleted, and you can restore it from the Recycle bin. All cloud services also have a recycle bin where you can easily get your deleted files. Other than this, PowerPoint has its own built-in unsaved presentation option that allows you to recover unsaved files.
3

How to Avoid PowerPoint Slides Deleted Accidentally?
It is suggested to turn ON the Auto Save option of PowerPoint before starting working or always. If you save the files on your computer, then try to save its copy at more than one location. You can get the second copy if you accidentally delete the original one. Try to save the file every minute while creating it.
Conclusion
PowerPoint is a digital platform or workspace, so it always has chances to lose your files accidentally or unintentionally. Many people face this situation and lose their files because they don't know how to recover deleted slides in PowerPoint. We have tried our best to guide people wondering how to get their deleted PPT files back. We have shared the top three ways of retrieving PowerPoint slides on both Mac and Windows platforms. D-Back Hard Drive Recovery Expert is the best option for both platforms. It extracts and restores data smoothly and safely. You only need to follow a few simple steps, and your data will be back.