Losing your Maya file gives a pretty hard time to a designer as each file takes so long to be completed. But what should you do to get it back? Is there any way to know how to recover an unsaved Maya file? Whether your file didn't get saved or corrupted, following certain recovery methods will surely help you out. That's what we'll be covering in this article. Let's dive into it!
Part 1. Free Way to Recover Crashed/Unsaved/Deleted Maya Files
Maya file is the 3D animation project primarily associated with the ma. Extension and restore its data in the textural format. Yet, once the Maya file gets corrupted or deleted, you'll be at risk of losing all your data.
Thus, just a single mistake can wipe out all the work you've been doing for hours. But you don't need to be stressed over it when the iMyFone D-Back is there to help you out. You can recover any of your files within seconds using three steps. Scan>Preview>Recover.
What else one can expect from the recovery tool. The responsive dashboard and easy-to-use interface make it more manageable for the users. Whatever the situation you're stuck in, the iMyFone D-Back is always the best choice to recover any files.
To help you find out the answer to your question: How to recover an unsaved Maya files, we've listed some of the best methods for recovering from using software to doing it manually.
1.1. Recover Crashed/Unsaved/Deleted Maya Files with iMyFone D-Back
When it comes to Maya file recovery, then the priority of everyone is using data recovery software that might help you come out of the problem. When the software is like an iMyFone D-Back, one can recover almost every file with less effort and minimal time.
Still unsure what this software is capable of doing? Well, the features we've listed below will surely do the rest for us to make you understand why it's best to use the iMyFone D-Back.
Main Features of iMyFone D-Back:
It has free scanning and preview features to make recovery easier for you.
A deep scan ensures the file recovers by digging out all the buried data.
Filter up your data with the filter option to align things swiftly.
1000+ file types are recoverable, and it is compatible with Windows and macOS both.
You can recover data from almost every storage device.
If you're wondering how you can use this software to recover your file, it takes just a few steps to recover your file with the iMyFone D-Back.
Step 1: First, Install the software by going to the site and clicking install. After launching, go to the software dashboard and select the device where your file is located.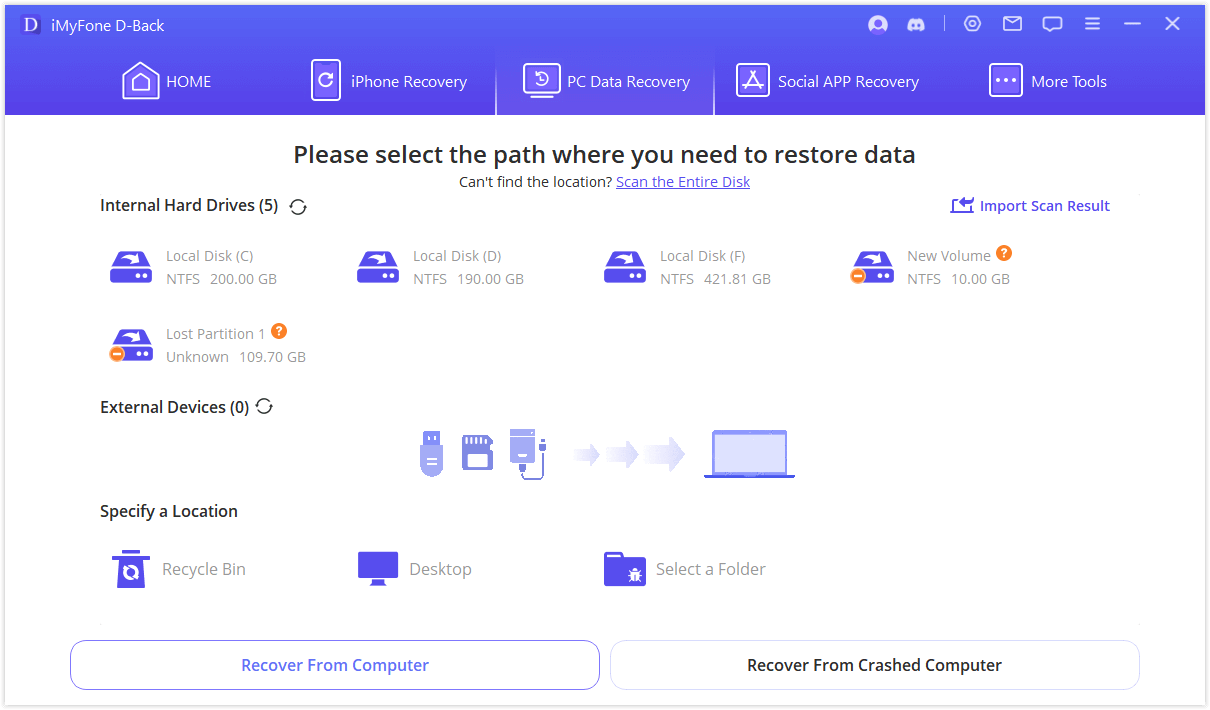 Step 2: As you click the file, the deep scan will start that will last for just a few minutes.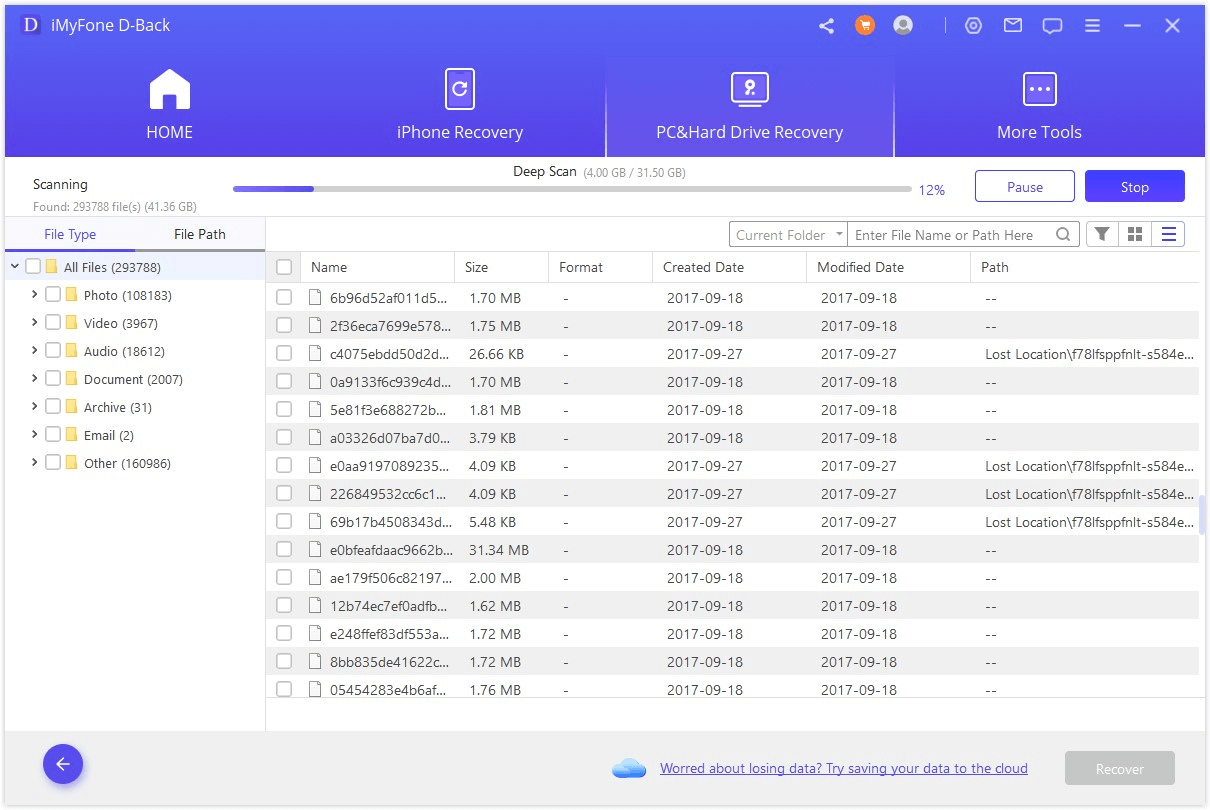 Step 3: After running the scan, preview your file and click recover. After recovery, you can save your file at your desired location.
You must have gotten an idea on how to recover an unsaved Maya file with data recovery software like the iMyFone D-Back. Now, let's find out some manual methods for the recovery.
1.2. The Possible Method to Recover Unsaved Maya Files
If you don't want to use any software, we've also combined some manual recovery methods for our readers. Keep reading to know about them.
Method 1. Recovering Maya Files Using Recycle Bin and Trash on Windows/Mac
You can recover your deleted Maya files using the recycle bin in windows. Just follow the steps given below to recover it.
Double click the recycle bin icon on the desktop.
Locate the Maya file you want to recover.
Right-click on the desired file and click restore.
Note:
After restoring the file, you can find it in the original folder you saved it in before.
You can restore a Maya file by using a trash bin on Mac. Here's how to do that.
Double click the trash icon on your Mac.
Select the file you want to recover.
Now, drag and drop your desired Maya file into the folder or right-click the file and click put back into restoring it.
Method 2. Using Windows Files History
If you can't find your file in the recycle bin, then you can use this method to recover your file. Here's how to do it.
Search the file history on the start menu.
Open the restore files with the file history.
Go to restore personal files on the left side.

Locate the folder where you saved your Maya file and browse the available backups. Now, click the green recovery icon to recover the file as you found the file.
Part 2. FAQs about the Maya Files
01

Where is Maya's crash save file location?
Maya's crash file location; varies on both windows and mac.
In windows you'll find it saved under Users\ \AppData\Local\Temp/ .
While in mac it get saved under /Documents/tmp.
02

How to open maya files?
If you are wondering how to open a Maya file, it's simple.
To open a new scene, select the file in the Maya toolbar and create a new scene.
To open an existing scene file, select the file and then open the scene; the dialogue box will appear in the scene folder of the current project. Then continue with it.
03

Maya file corrupted, how to recover it?
You can recover Maya files corrupted by using any of the methods we've given in this article. But instead of any manual method, we prefer using the iMyFone D-Back.
04

How to make a Maya file backup?
You can create a backup of the Maya file by transferring it into any other storage device like a hard drive. To do so, connect your hard drive with your computer. And then create a folder in the hard drive named Maya. Lastly, copy and paste your desired file into it.
05

Where is Maya's backup file location?
Maya backup file location is different on mac and windows.
For windows it is located under Users\ \AppData\Local\Temp/ .
In mac you'll find it at /Documents/tmp.
Conclusion
It's quite stressful to see your hard work getting lost just because of your single mistake. But not anymore. In this article, we've reviewed all the methods used to recover unsaved Maya files.
Whatever the reason behind the deletion of your file when it comes to recovery, then nothing is better than iMyFone D-Back. You can just download it and then start recovering your file. So what are you thinking about? Download it now!