Data loss can occur due to various factors, including logical mistakes such as data deletion or corruption, or unreadability. You may face a variety of problems if you lose critical data. However, you might be saved from hassle with the right solution in your hand.
One of the most dependable ways to recover data is to use data recovery software. Salvage Data Recovery is a sophisticated program that can recover your data rapidly. This article will look at the Salvage Data Recovery Review and see how successful this data recovery tool is. We will also take a glance at what makes the iMyFone D-Back a better data recovery alternative.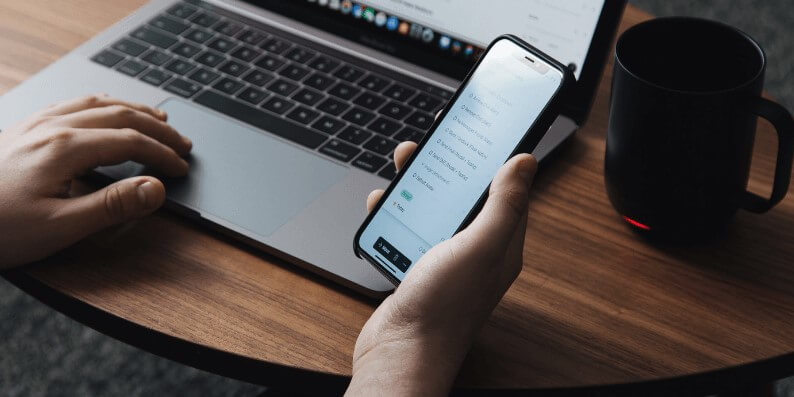 Part 1. A Detailed Review of Salvage Data Recovery
Salvage Data Recovery offers some of the most effective data recovery services available. They can recover any type of data, regardless of size, and this software can help you manage your database better. Their services are affordable and can protect your personal and business data.
1.1 What Is Salvage Data Recovery?
Salvage Data Recovery is a free data recovery program for Windows that helps you recover data from your hard drive or external storage that has been lost or destroyed. This Hard Drive recovery program is highly effective and is created so that even the users who are not so tech-savvy can use it to retrieve any lost data efficiently.
With the following advanced features, this data recovery program provides the most excellent experience for free data recovery for Windows:
The program uses cutting-edge methods and algorithms to recover files and data from various file systems.
It can give a comprehensive assessment of your device's present status, alerting you to any malware you should be aware of to avoid data loss.
The sophisticated user interface produces accurate results, and quick examination of native Windows FAT and NTFS damaged disks.
It is a comprehensive solution that works with various file systems, including Mac HFS, HFS+, Linux Ext2, Ext3 XFS, and ReiserFS.
It can recover data from SSDs, flash drives, HDDs, SD cards, RAID, CDs, DVDs, floppy disks, mobile phones, etc.
1.2 How Much Does Salvage Data Recovery Cost
Salvage data recovery cost is not fixed. The company will tell you the cost of recovery services after the amount of data recovered has been established. The recovery's complexity primarily determines the final price. Data recovery after logical errors costs less than physical errors.
Part 2. Great Alternative to Salvage Data Recovery-D-Back Hard Drive Recovery Expert
Salvage Data Recovery has a strong reputation as a data recovery expert, and it frequently carries through on its commitments. However, the feedback has been varied. Despite the high success rate of recovery, customers have reported specific issues.
Unlike other data recovery solutions, you cannot use Salvage Data from the comfort of your own home. You must submit your problems online, after which you will be sent to the nearest Salvage Data lab. Furthermore, you will be uncertain about the final cost of data recovery. All of this may lead you to seek a more dependable and superior alternative.
Given these shortcomings, an iMyFone D-Back may be the best option for you. It can effectively recover any lost data while maintaining your comfort and dependability.
This program comes with everything you need to get your data back quickly. Before we get into the procedure, let us go over the software's main qualities because of which it is the most reliable and brilliant data recovery option and better alternative.
Features of iMyFone D-Back
It is a powerful data recovery program that can recover over 1000 file types.
It allows the user to locate the missing data for free and preview it before the scan.
It works on both Windows and Mac computers.
Even a beginner may comprehend the program's digital interface, which is incredibly simple.
Without risking data loss, this software runs a comprehensive scan on the given place to find every missing file.
Thanks to its smart algorithms, you can halt and continue the scanning process as needed.
It has a filter feature that allows users to search for recovered files based on specific characteristics.
Procedure
In order to recover lost data with iMyFone D-Back, follow these simple steps:
Step 1. Download and install the software
The first step is to download the software. Once it's downloaded, double click on the downloaded file to install it on your system.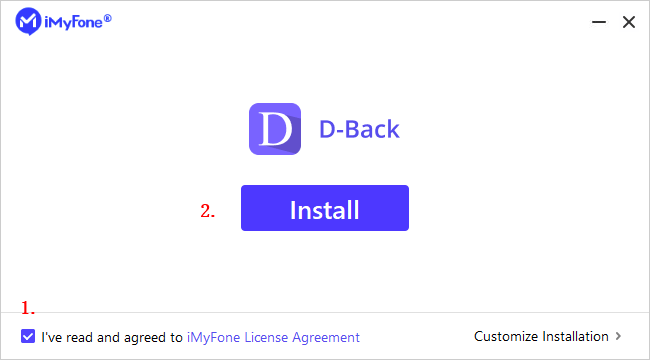 Step 2. Select the location
Once you launch the software on your system, you will be asked to choose the location from where you lost the data.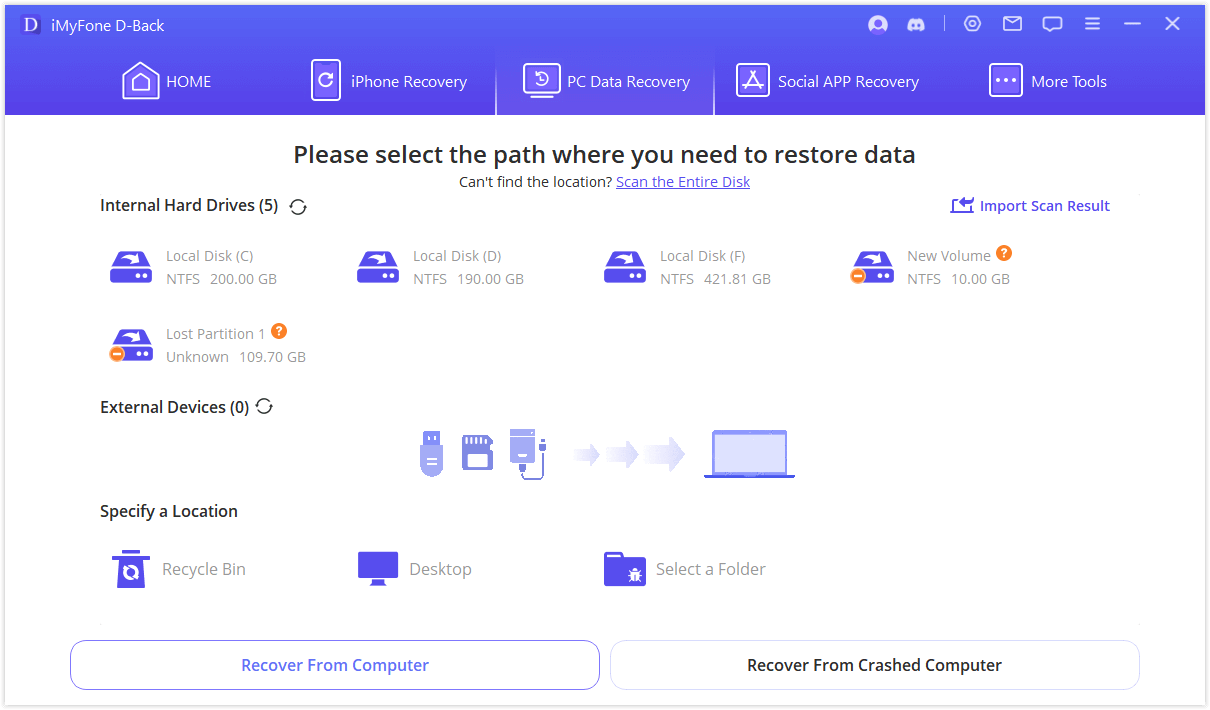 Step 3. Scan the location
The software will scan your selected location thoroughly to locate all the lost files that are available to recover. The software allows you to pause or continue the scanning process as per your convenience. Moreover, the progress of the process will also be shown on the interface.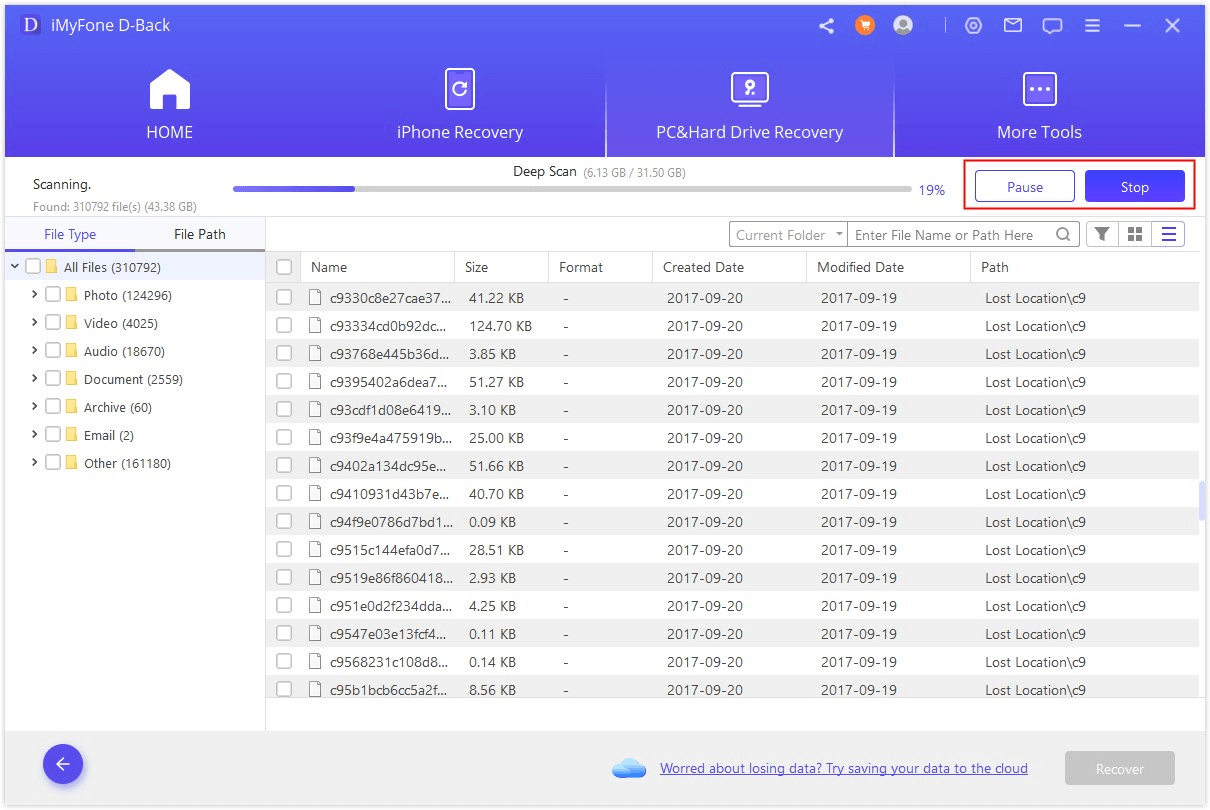 Step 4. Preview and Recover
After scanning the location, the software will neatly show all the files that are available to be recovered. The software will allow you to preview the items and individually retrieve them.
When you double-click a file, a pop-up window appears with a preview of the content. Click the "Recover" option if that's the file you're looking for.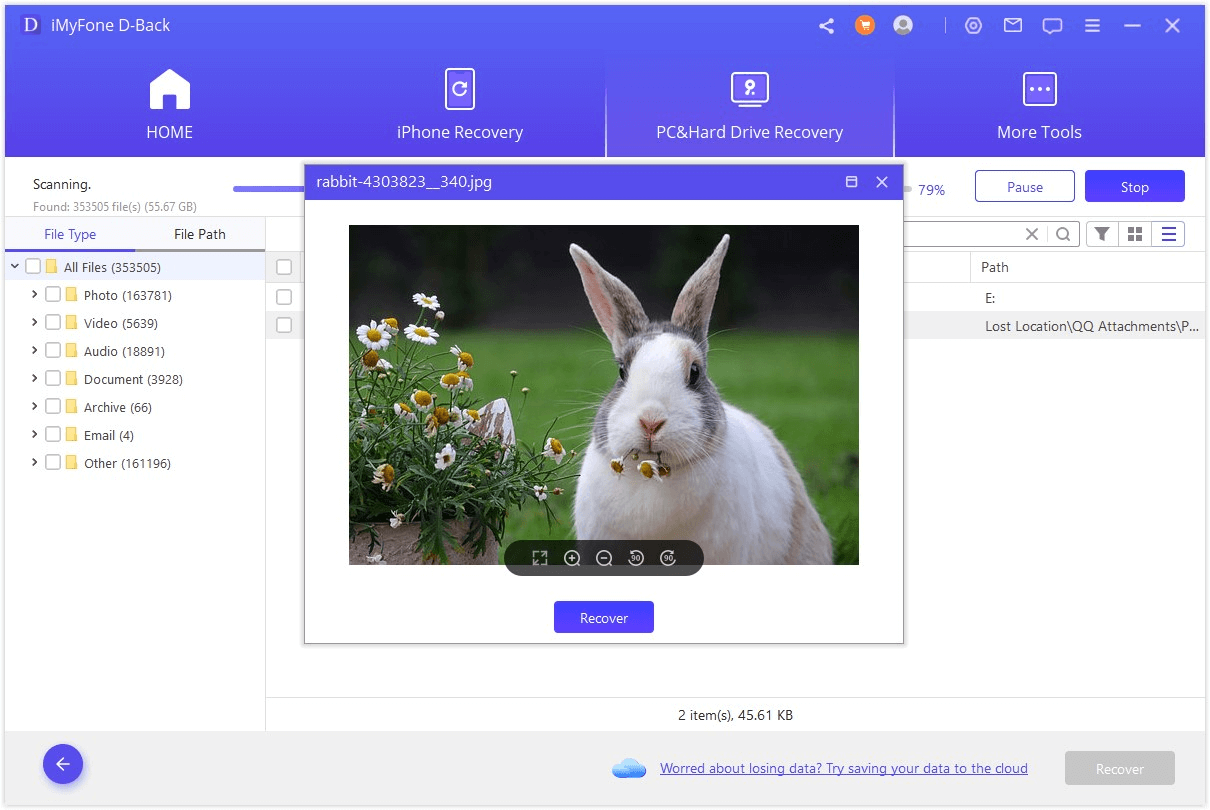 Part 3. FAQs about Salvage Data Recovery
3.1 How Can I Download Salvage Data Recovery?
You can access the services of Savage Data through their official website to recover data.
3.2 What Can Salvage Data Recovery Services Do?
The Salvage Data Recovery services can efficiently recover your data that is lost to any logical or mechanical error in any format and from various sources.
Conclusion
Losing data is inevitable but it may cause you trouble if you lose important data. With the right software, data recovery becomes a breeze. Salvage Data Recovery is an effective data recovery program that allows you to retrieve any kind of lost files easily and the costs will be determined depending on the task.
However, this software comes with certain shortcomings and there are mixed reviews about it which may lead you to seek for a more dependable alternative. If that's the case, the iMyFone D-Back can be your comprehensive solution. This software employs top-notch features and sophisticated algorithms allowing you to effectively recover lost data with ease.