Unless you take frequent backups, sensitive data kept on devices is not secure. Data saved on any storage device is vulnerable to harm due to mechanical wear and tear, mismanagement, and other factors. It's never enjoyable to lose data, whether it's for work or personal reasons.
Professional data recovery is the process of recovering data from various storage devices that are inaccessible, lost, corrupted, or formatted; with the availability of Blizzard data recovery, such situations can be dealt with efficiently.
Blizzard data recovery offers some new tools that help figure out the issue and restore the data as swiftly as possible.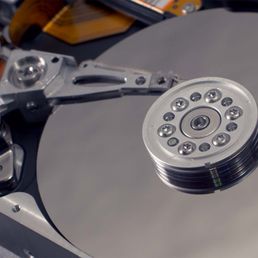 Part 1. Blizzard Data Recovery Reviews
We're going to mention the detailed information about the Blizzard Data Recovery, but before moving on, we'd like to let you know that there's another tool, the iMyFone D-back Hard Drive Recovery Expert. This tool is much better, faster and available at lower prices than Blizzard Data Recovery tool.
The Blizzard Data Recovery is a professional solution for anyone who has experienced data loss of any kind. The team is well-known for its ability to recover files from a wide range of devices, including digital cameras and hard drives. They allow users to send their damaged or dead drives to them, and they will recover them. Further, they provide free shipping to the products that are sent to them.
The process is designed to recover data from hard drives and CD-ROMs, such as photos, videos, and documents.
1.1 Blizzard Data Recovery Reviews
Blizzard Data Recovery promises to be able to recover lost or deleted files from a variety of internal and external storage devices with ease and speed. This is standard for a data recovery programme, but what sets it apart?
Using the Blizzard Data Recovery team, individuals don't have to do the recovery by themselves. They can simply send their devices, and the task is done.
What are its advantages? What are the disadvantages? In our Blizzard Data Recovery reviews, we'll take a detailed look at everything so you can make an informed decision if you want to give it a shot.
Features
Can recover data from multiple devices.
The data can be restored, even if the backup is not available.
Feature of secure overwriting.
Files can be recovered from damaged or newly formatted hard drives.
Allow free shipping of the devices.
Pros
Users don't have to do the recovery process themselves.
Only charges the payment when the data is actually restored.
The use of professional tools can save devices from being damaged.
Cons
Costly in comparison to alternative technologies with higher success rates.
Can restore limited data.
Can't preview the files during the recovery process.
Pricing
The price starts from $395. In this package, it can restore upto 250GB data.
1.2 Is Blizzard Data Recovery Reviews Safe/Trustworthy?
Blizzard Data Recovery Reviews state that its service is legitimate and safe. They have been in this business since 1995 and offer quality services to the customers.
Part 2. Better Alternative for Blizzard Data Recovery - iMyFone D-Back Hard Drive Recovery Expert
Above we talked about the Blizzard Data Recovery services, but if you want to recover data by yourself and are looking for the best software, then you should try Imyfone D-Back Hard Drive Recovery Expert.
This programme has many advanced features that can assist you in recovering offline files quickly and without putting your data at risk. Before we begin, let us review the key features of this software that make it the most reliable and excellent option for data recovery.
iMyFone D-back Hard Drive Recovery Expert is a powerful data recovery programme that can recover data from various devices and folders and supports over 1000 file types.
It can find and recover data that has been lost, damaged, or is no longer accessible.
This program's specific algorithms allow you to scan at high speeds while pausing and restarting the scanning process as needed.
It allows you to recover missing data for free and preview it before scanning to ensure that you only recover what you need.
It has a simple digital interface that allows even inexperienced users to quickly recover data.
The filter function of the software quickly locates a missing file by its type, date, and filename, saving time and effort.
2.1 Retrieve Hard Drive Data with iMyFone D-Back Hard Drive Recovery Expert
Now that we've gone over the unique features of the apps let's get started on the process of retrieving hard drive data with it.
Step 1: Download and install the software for Windows. Allow a few minutes for it to install before running it on your computer. You will see a simple interface that lists all possible data recovery locations when you run the programme. Select the directory in which your files were saved.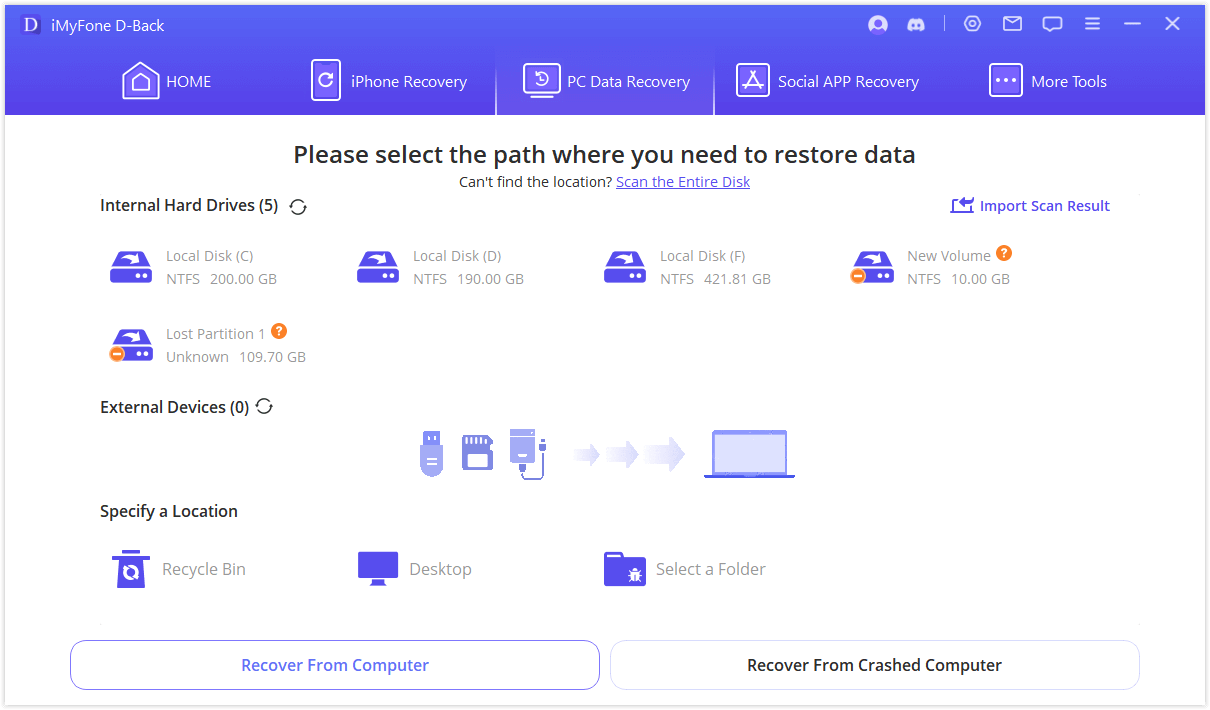 Step 2: The program will perform a thorough and all-around scan of the location, which will be displayed in the progress bar. The scanning findings will also be displayed in real-time on the interface, allowing you to examine the results quickly. When it is convenient for you, you can pause or stop the scanning process.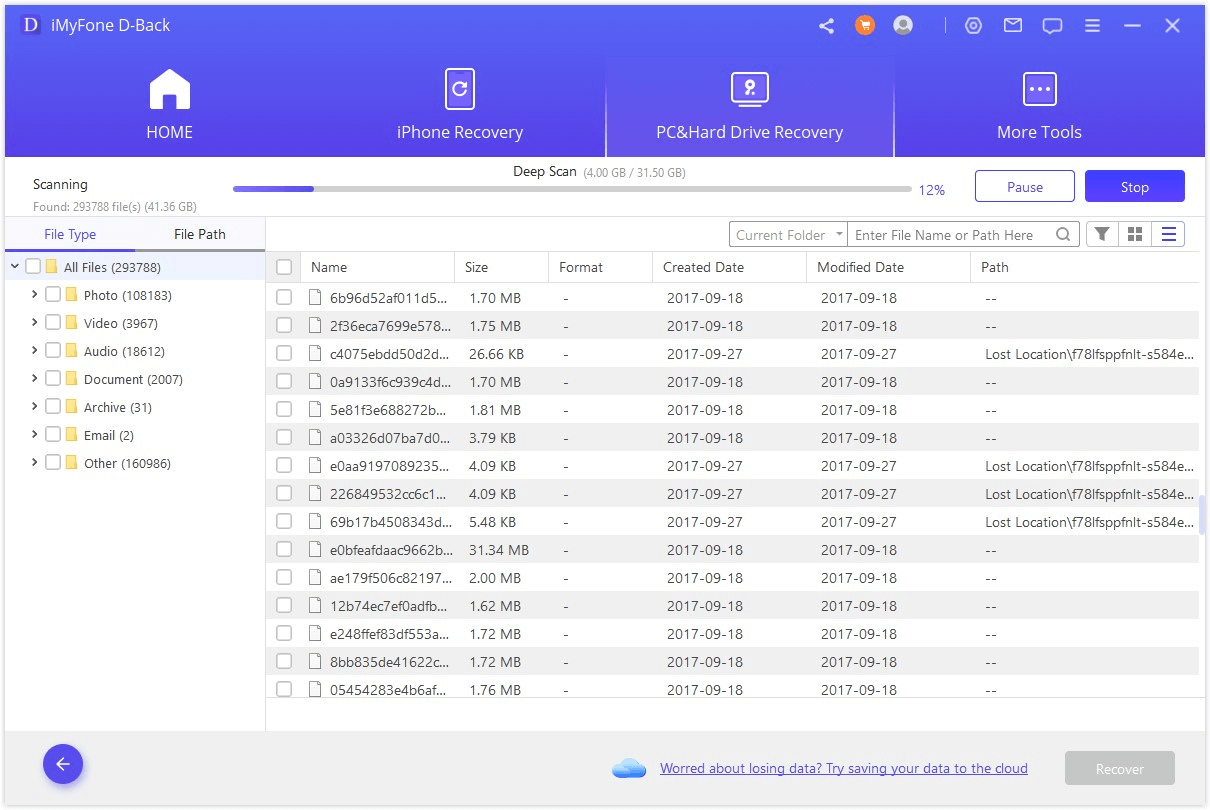 Step 3: After the scanning is completed, all files will be neatly listed. The software will allow you to preview the files and selectively restore them. Simple select the file and click recover.