SharePoint makes great document management and collaboration solution that works on the web. It lets Microsoft Office 365 users share the data with a shared storage location, so everyone on the team can access that.
While deleting a file on a SharePoint can be troublesome, knowing how to recover deleted files on a SharePoint not in recycle bin can save you from all the hassle, and here you will learn how to do it.
Part 1. Can You Recover Deleted Files from SharePoint DataBase?
Yes, you only need to know how to recover files on a SharePoint if you delete them. Luckily, deleting files permanently from a SharePoint is not that simple as it uses 2 stages of deleting files. Those stages are:
End-User Recycle Bin Stage here, the file goes when it is deleted for the first time. So, whenever an end-user deletes files, those files go to this location.
Admin Recycle Bin Stage where the files deleted from the end-user recycle bin is moved. This stage is only accessible by the site-collections admins.
Due to this 2-stage method of deleting files, things get extremely reliable even if you accidentally delete something.
Part 2. How to Recover Deleted Documents from SharePoint DataBase Recycle Bin
As SharePoint uses 2 stages for deleting files, you can easily recover deleted files if they are in your recycle bin as this will be a stage 1 recovery. Remember that the SharePoint Recycle bin does not save the deleted files permanently, as the file only stays here for 93 days after the deletion date.
Open the SharePoint home page, and from the settings option, you need to go to Site contents.

Locate the Recycle Bin option and click on it to open it.

Select all the files in the SharePoint to recycle bin that you want to restore, and then hit Restore Selection option and confirm the prompt message.
With these 3 simple steps, you can easily perform the SharePoint recovery of deleted files to process. Note that meeting the requirements for this method to work is necessary. The major requirement here includes the presence of files in the stage 1 Recycle bin.
Part 3. How to Recover SharePoint Deleted Folder Not in Recycle Bin
If your deleted SharePoint files are not in your recycle bin, those might be in stage 2 recycle bin(admin). The procedure for recovering files from there is a bit different. Remember that the files will also stay for 93 days only in this recycle bin before they are permanently deleted from here.
You need to open the SharePoint recycle bin as in the previous method and then go to the stage 2 recycle bin.

Click a file to select and click Restore to restore that file to its original location.
Like the previous method, this method also comes with some limitations, which include the following:
Stage 2 recycle bin can only be accessed by an admin. So, if you want to restore your files, you will need to contact them.
Even the stage 2 recycle bin does not store the files permanently, so it can only restore them within a specific period.
Part 4. How to Recover Deleted Files from SharePoint Not in Recycle Bin
Most files are created on computers and saved before they are uploaded on SharePoint. After uploading, the users mostly delete those files from their offline storage. That can be helpful if you are not finding the files inside the SharePoint recycle bin.
With the help of D-Back for PC, you can easily recover old, deleted files from your computer's storage even when they are not present inside the SharePoint recycle bin.
Features:
It supports recovering formatted data from your storage devices.
Works on different drive partitions, including raw and lost partitions.
Supports system crash recovery.
You can recover data from external storage devices.
Recover 1000+ types of files with it.
Steps:
How to get back deleted SharePoint files with data recovery software is pretty simple. The software takes care of most of the work; you only have to see and recover the lost files. Here are the steps to follow for recovering your deleted SharePoint files not in recycle bin.
Step 1.Download and install iMyFone D-Back for PC on your computer and launch it. Select any location where you want to recover the deleted files from.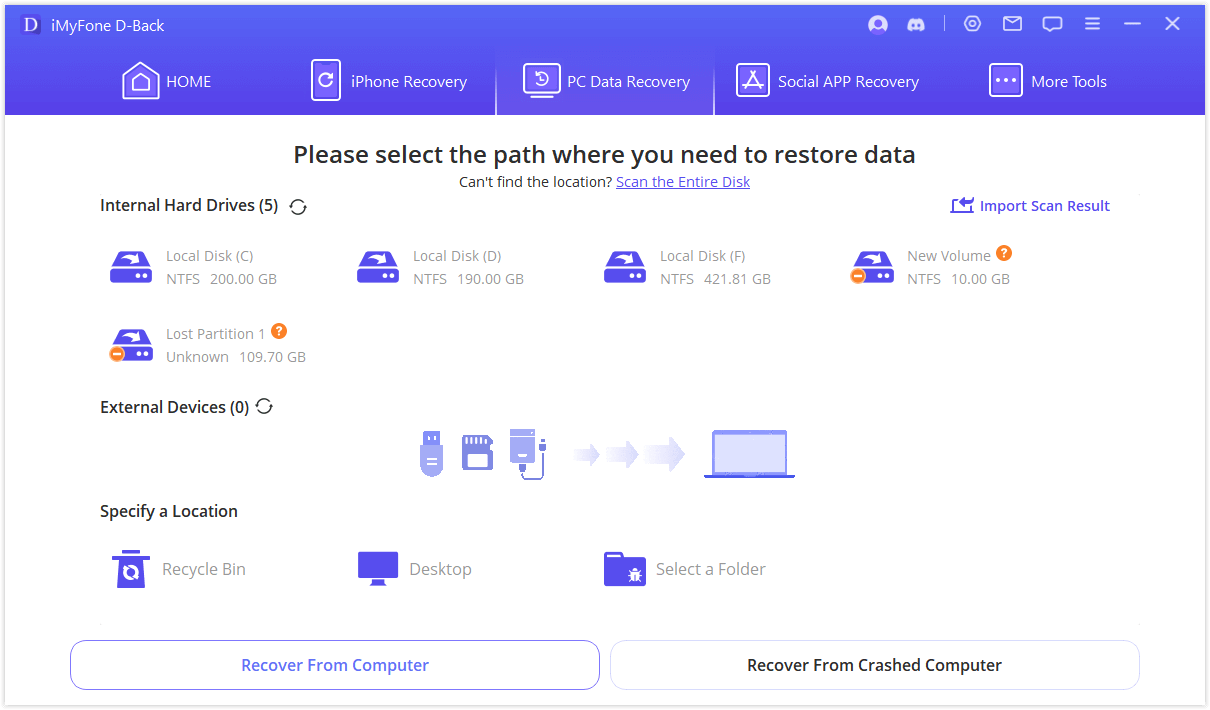 Step 2.Scan the selected locations with the press of a button. You can select different locations, including drive, recycle bin, and even specific folders.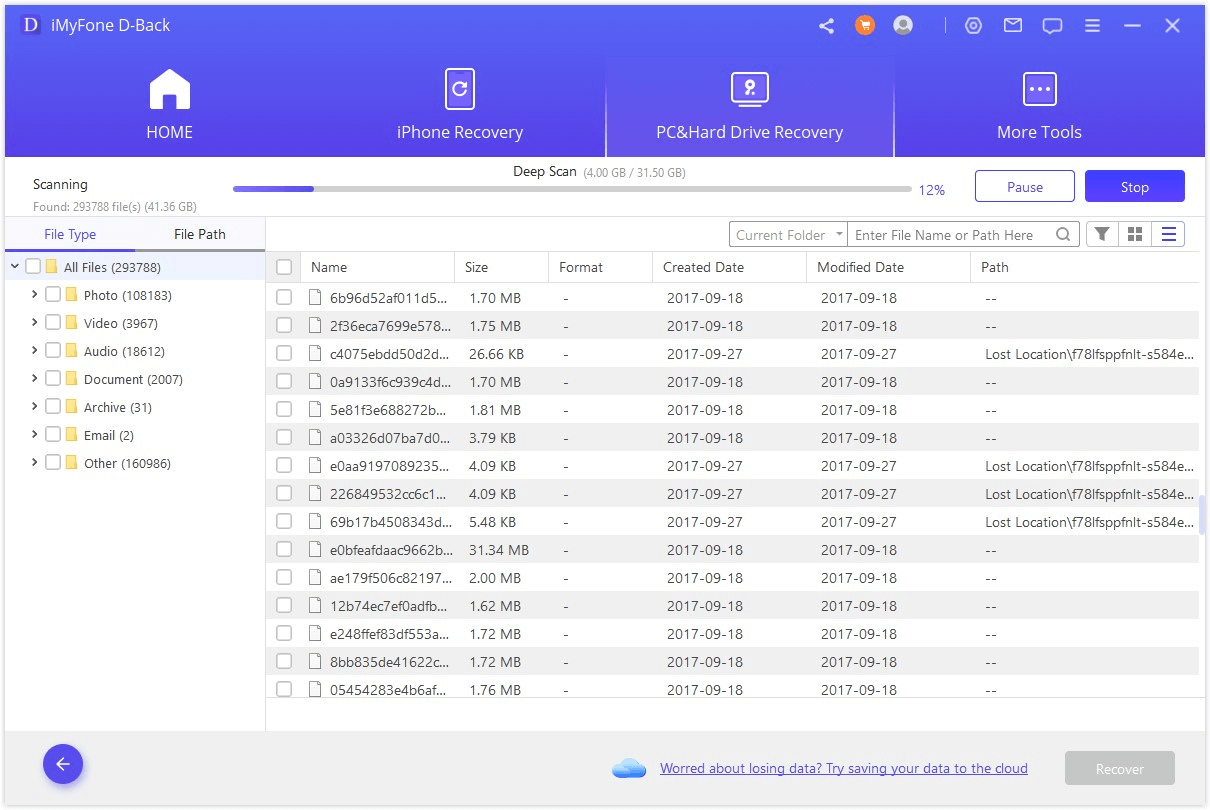 Step 3.As the scan completes, you will see some recoverable files. Recover them after previewing, so you only recover the needed ones.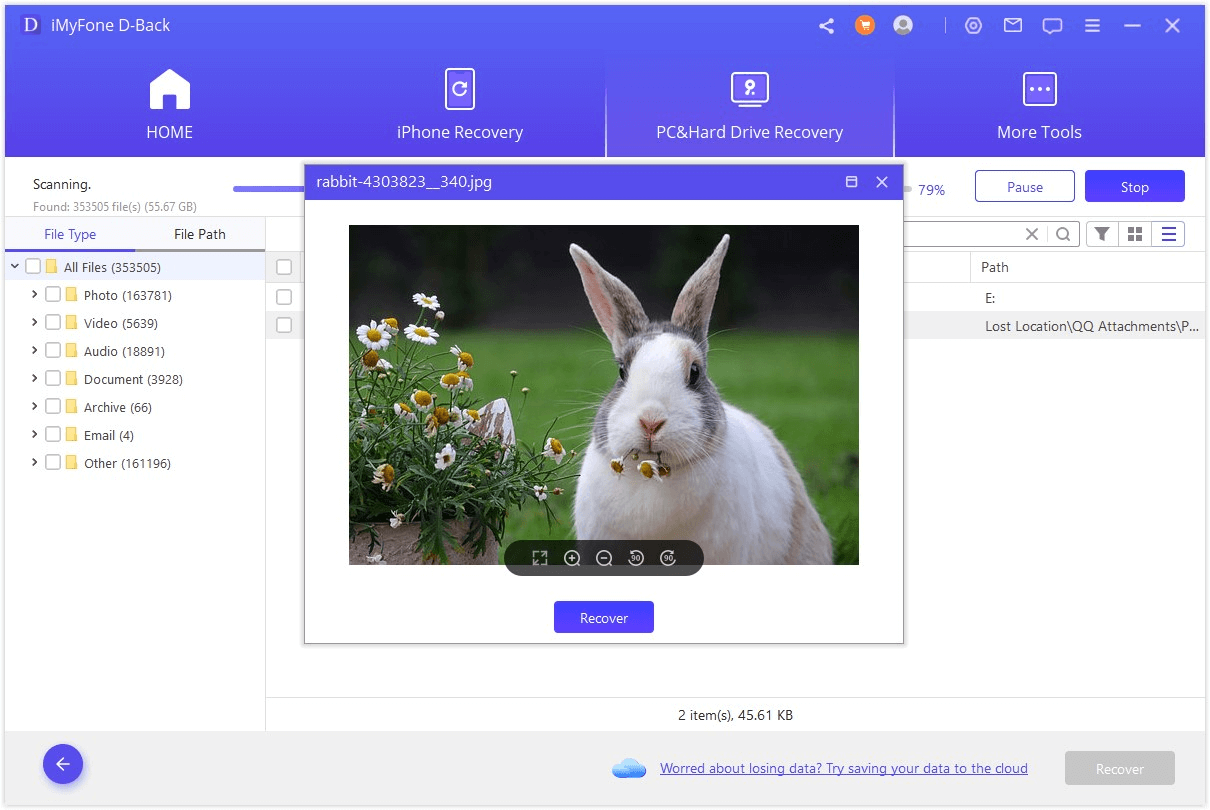 That's how you can recover SharePoint files that are no longer available in the SharePoint recycle bins.
Conclusion
You first need to look in the SharePoint recycle bin to recover deleted SharePoint files. However, if the file is not present, you can also try other methods. Using reliable software that safely and securely does all the work for you will be your best way to recover deleted SharePoint files.