NTFS format issues on Mac external hard drives typically call for an NTFS driver. One such driver is Tuxera NTFS for Mac, which makes it simple to delete, rename, relocate, or add folders and files to NTFS-formatted disks.
You are in the right place if you are considering this software for your NTFS format issues. You can discover all there is to know about Tuxera NTFS for Mac in this article, including how to use it, its key features, how much it costs, and every other important detail.
Part 1. Tuxera NTFS for Mac Review
Microsoft NTFS for Mac by Tuxera offers the read-write capability for NTFS-formatted hard disks with unbeatable dependability. Let us go through Tuxera NTFS for Mac review and look at every aspect.
1.1. What is Tuxera NTFS for Mac?
Want to know "what is tuxera ntfs for mac"? then here is the simple answer. Tuxera NTFS for MAC plays a leading role in developing file systems and embedded software. With reliable consistency, this specialized tool can assist you in opening, copying, deleting, and moving data on an NTFS drive.
It is the quickest way for Mac OS X, which does not allow writing to NTFS volumes out of the box, to read and write Windows drives. It integrates and expands upon the open source NTFS's established reliability to give your Mac a fully functional, high-quality NTFS driver.
You may effortlessly access your Windows drives using Tuxera NTFS for Mac. Its innovative, sophisticated cache layer provides the fastest NTFS data transfer rates possible while safeguarding your data.
Features
Tuxera NTFS for mac offers complete read and write functionality for NTFS-formatted devices.
Videos, images, crucial papers, and other items are left unchanged and undamaged by the NTFS driver.
Tuxera NTFS for Mac's clever caching technology and excellent sustained file transfer rates let you quickly store or copy files across your external device and Mac.
It functions well in dual boot or virtual machine configurations.
It can make new NTFS partitions.
It works with the current macOS (10.4 to 11) and the older Mac OS X.
It also includes the Tuxera Disk Manager app, which simplifies formatting, checking, and fixing NTFS disks.
Pros
It has a 15-day free trial period.
You may use it to check and fix an NTFS disk.
With sophisticated caching technology, file transfers take place more quickly.
Four license reactivations are permitted on various Macs
Cons
It features a primitive user interface that is less easy to use.
To properly delete the software from Mac, you must go through the uninstalling process twice.
It is incompatible with macOS Monterey.
1.2. How to Free Install/Download Tuxera NTFS for Mac?
The majority of MacOS programs that are downloaded outside of the App Store are in a DMG format. If you want to know how to install Tuxera NTFS for MAC, follow these steps; you will instantly receive the.dmg installation file into your MAC.
Step 1: From the website, download the installation file for Tuxera NTFS for Mac.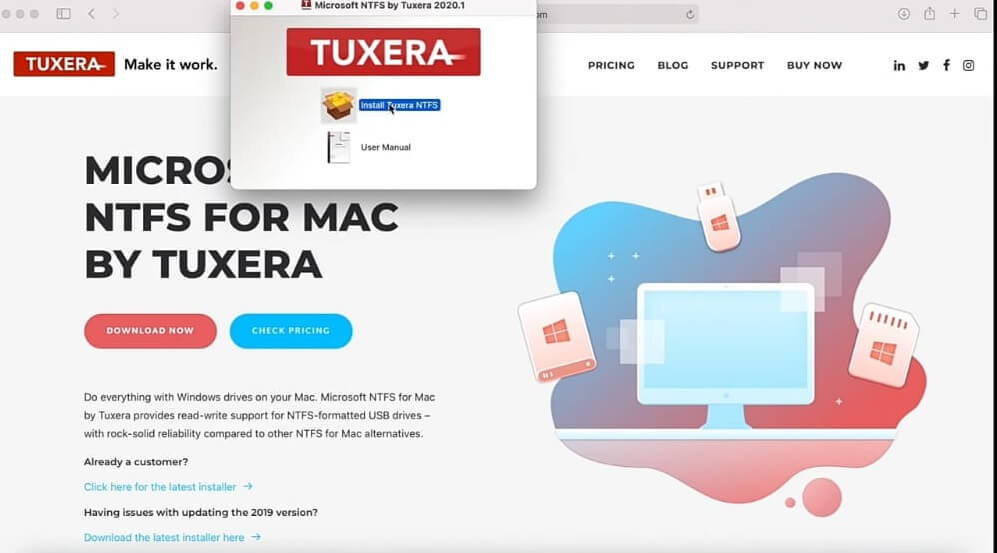 Step 2: Once the download is completed, click on the Install Tuxera option. After that, select the Open option.
Step 3: To install Tuxera NTFS for Mac, click on the allow button.
Step 4: Now, click on the continue and follow the on-screen instructions to complete the installation process. It will also ask for the Mac user name and password to continue the process. Fill in the details to continue the installation process.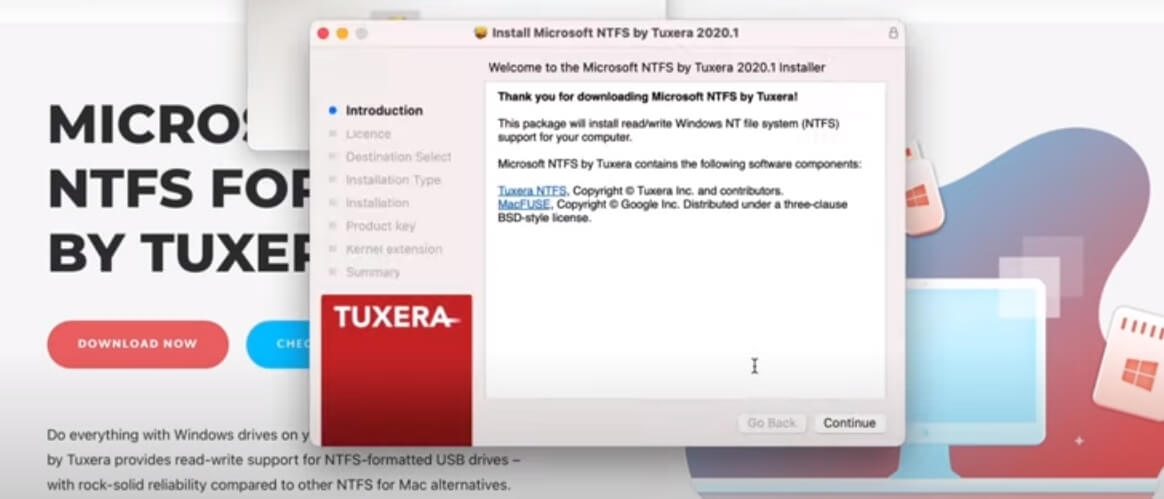 1.3. How to Use Tuxera NTFS for Mac?
How to use Tuxera NTFS for MAC is the next question to be addressed after the program has been installed. Just adhere to these steps to read-write an NTFS disk on a Mac using Tuxera NTFS for Mac.
Step 1: Open the tool. And click on the Lock button and enter your Mac username and password.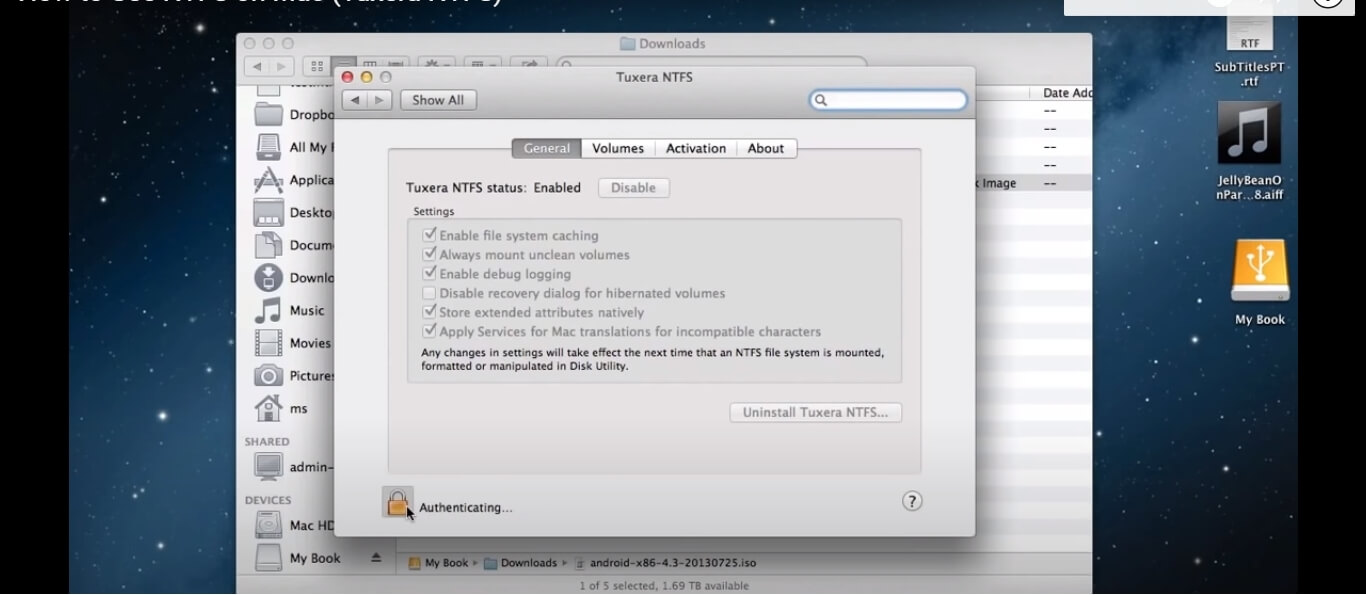 Step 2: From Volume options, you can see your external drive location.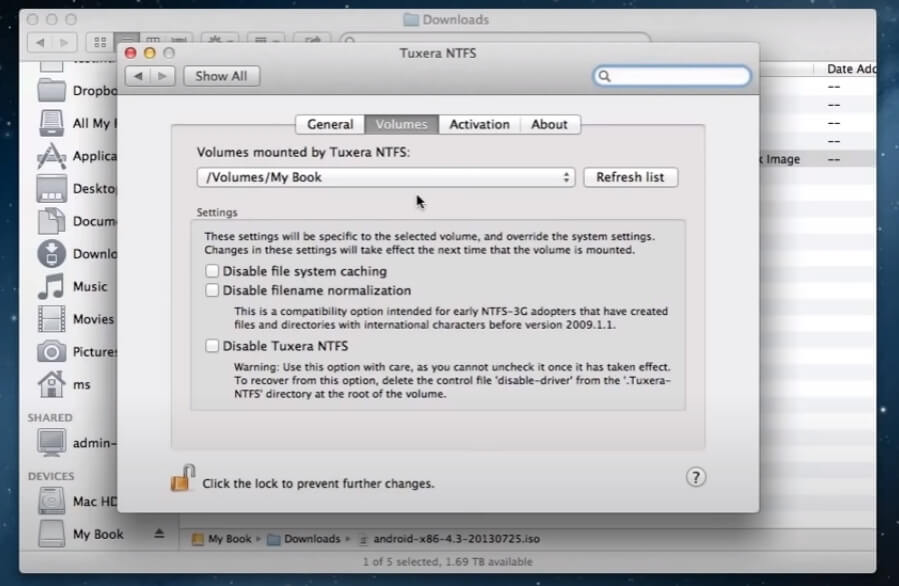 Step 3: Now, you can easily shift your data to your external device. Just drag the file from your home screen and paste it into the external device location.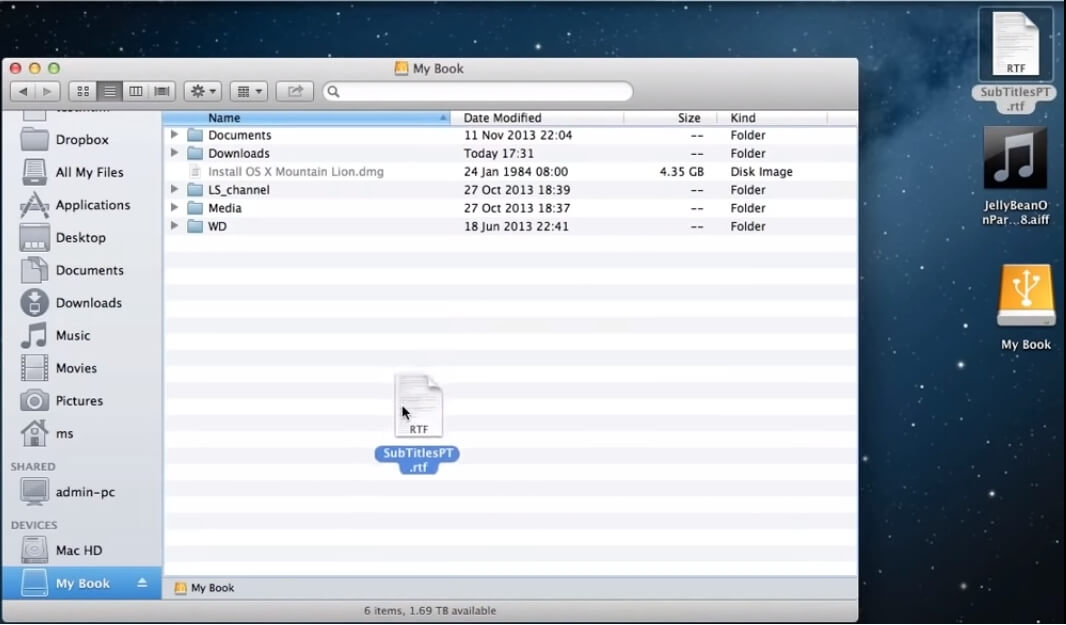 1.4. What is the Price of Tuxera NTFS for Mac?
There are three editions of Tuxera NTFS for Mac: Personal, Business, and Education. Only one individual may use the Personal license, which costs $15. The number of users determines how much a Business and Education license costs.It costs $15 for 1-2 users; $14 for 3-5 users; $13 for 5–50 users; and $12 for 51–200 users.
Part 2. FAQs about Tuxera NTFS for Mac
1. Does Tuxera work on M1 Mac?
Yes, Tuxera NTFS for MAC M1 is available and works smoothly.
2. How to uninstall Tuxera NTFS for mac?
Drag and dropping the Tuxera application's icon to the Trash appears to be the most straightforward approach for the ordinary Mac user to uninstall it from their system; however, this only partially removes the program from your computer. To uninstall Tuxera NTFS for Mac properly, go through the following instructions.
Step 1: Drag and drop the Tuxera Disk Manager. App file to the Trash after opening the Applications folder and picking it.
Step 2: Open Finder, choose Macintosh HD, and then Library in the right-hand menu. Find and remove all unnecessary Tuxera-related files and folders in the Library folder.
Step 3: Within the given directories, remove all folders and files that have Tuxera in their names. To complete the installation process of Tuxera from your Mac, empty the trash bin.
3. Is Microsoft NTFS for Mac by Tuxera safe?
NTFS by Tuxera is totally safe for your MAC and keeps your data safe and intact.
4. What if Tuxera NTFS for the Mac product key gets invalid?
This error message, "Invalid Product Key," typically arises from corrupted configuration files or improper file permissions. It is safe to delete the settings file since a new one will be created automatically if one does not already exist.
5. What if Tuxera NTFS for Mac trial expired?
You would need to purchase the premium version from the official website if the Tuxera NTFS for Mac trial expired or has run out of time. Several versions are available; pick the one that best meets your needs.
Conclusion
An NTFS driver is required on Microsoft NTFS volumes from a Mac computer if you need to read or write data from an HDD, SSD, or flash drive that was formatted. The dependable choice that will enable you to complete the task successfully is Tuxera NTFS for MAC. With Tuxera NTFS for Mac software, writing an NTFS disk is no longer a complex operation. This comprehensive article must have provided a thorough overview of how to utilize this effective program and other valuable info linked to it.