Years ago, if you wanted to create a video of an event, you needed to carry around a heavy and expensive video camera. But things have changed due to cell phones and tablets. With a smartphone and the right type of software or app, you can create professional-looking videos for you and your friends or family to enjoy. Besides, you can even take advantage of a free video splitter to edit videos into what you want. Below are the tips for choosing a video splitter and top 5 recommended free video splitters.
Part 1. Top 5 Free Video Splitter Apps And Reviews
Below we'll look at the top 5 video splitter programs available.
#1. iMyFone Filme - with Every Basic Editing Tools You Need
If you want to split a video, then you can try iMyFone Filme. This is an easy video editing software for everyone, especially for beginners. No matter how you want to split your video or want to do more tricks like cutting, trimming, cropping or rotating, Filme can easily help you with that.
It can help you make your video more attractive by using its built-in features like filters, elements, transitions, texts and different types of musics.
Main features of iMyFone Filme are:
Easy to split video as well as to trim, crop, rotate
Support most common used video formats
Offer rich free built-in resources
Instant preview of video
Support to change video speed
Different titles offered
Different types of music
One click to make a fast video
Review of iMyFone Filme:
Here we have a video to show you why you should use iMyFone Filme, let's check it out!
Get 1-Month FREE License (Limited Time)
#2. Apple's Official Free Video Splitter – iMovie
iMovie is the official video splitter of Apple. This application gives you basic video editing features, such as navigating easily between scenes and saving the files to the digital format. It provides you with quality movie files and is easy to use.
Main features of iMovie are:
Crop and rotate your video clips
Import photos and music
Themes and backdrops are pre-built
Color settings
Video support for HD and 4K
Video transitions and effects
Can have more than one project open at the same time
Video editing is automated
Can change video speed
Titling in real time
Audio and music editing
Timeline
Stabilization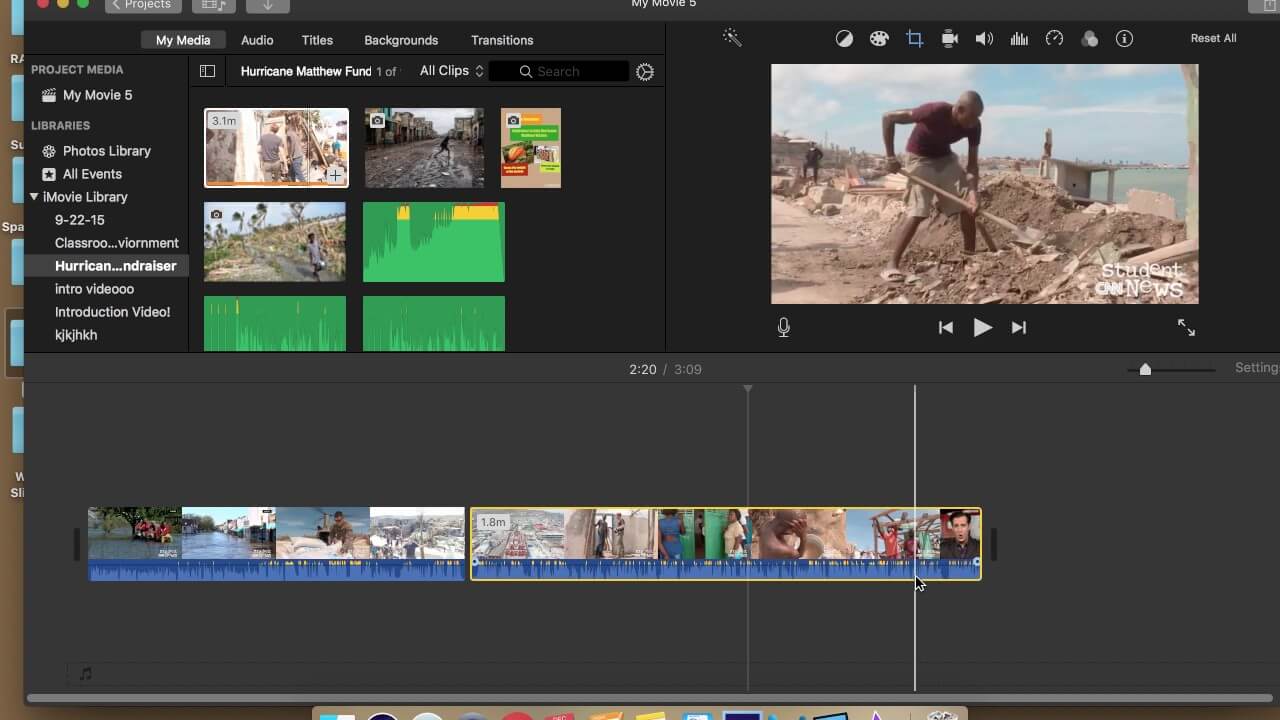 Review of iMovie
Below are some of the benefits that iMovie offers(pros of iMovie):
You can fix video that is shaky.
You can change audio that's on your video clip.
You can edit each of your clips up close.
You're able to add visual effects and background music.
You can easily add text and create credits.

Below are the cons of iMovie:

Many users find that not all MP4 varieties are supported.
Limited storage space, so you may need an external hard drive.
Many users have found that it crashes when editing is being done.
#3. Microsoft's Official Free Video Splitter - Windows Movie Maker
Windows Movie Maker is Microsoft's tool for free video editing. It comes with Windows desktops and laptops. It's among the most popular tools available for video editing.
Main features of Windows Movie Maker are:
Tool for customizing titles
Tool for customizing credits
Options for auto movies
Options for special effects
Extensive selection of audio tracks
Timeline narration
Transition overlays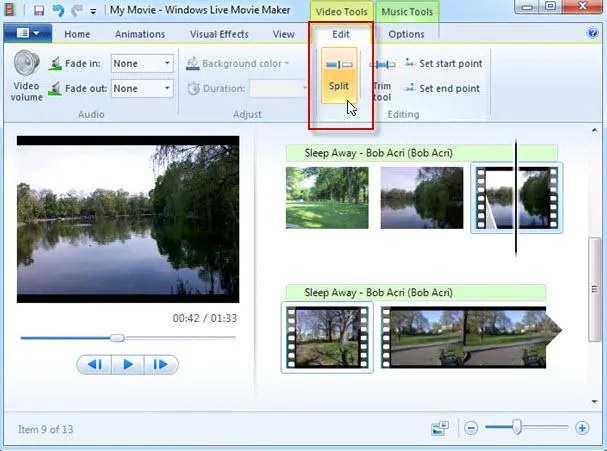 Review of Windows Movie Maker
Pros of Windows Movie Maker:
It's available on any computer that runs Windows.
It's very simple to learn.
It's straight forward.
It's not necessary to have video editing experience to use it.
There are over 100 credits, effects, titles and transitions available.
After capture, you can drag and drop clips anywhere on your timeline.

Cons of Windows Movie Maker:

The program has frequent crashes.
The program will often freeze.
You can't uninstall the program through your control panel.
You can't do any complex video editing with it.
#4. An Open Source Free Video Splitter - VLC Media Player
VLC is an open source and free cross-platform framework and multimedia player that will play most files and Audio CDs, DVDs, VCDs, and many streaming protocols.
Main features of VLC Media Player are:
Tool for customizing titles
Tool for customizing credits
Options for auto movies
Options for special effects
Extensive selection of audio tracks
Timeline narration
Transition overlays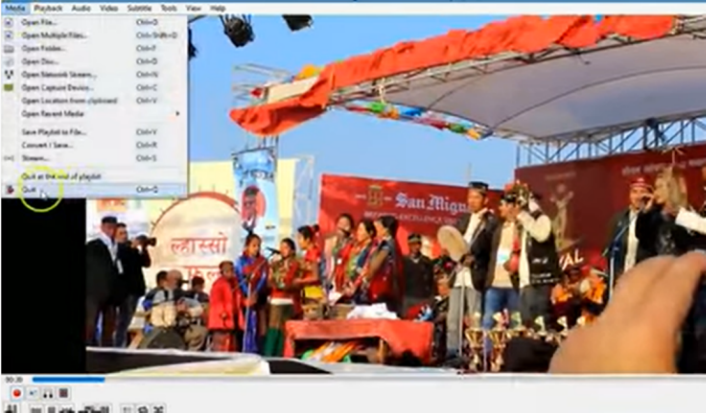 Review of VLC Media Player
Pros of VLC Media Player:
It's easy to use. Chances are that you have it already installed on your laptop or desktop. This means you won't have to install it for splitting your video.
It can split audio files as well as video files.
Your video output's quality will be the same as your original video.
You will not lose anything on quality.

Cons of VLC Media Player:

It's not good for finely cutting your video. It doesn't offer precision cutting.
It will take a long time to split your video. If your extracted part lasts 10 minutes, it's going to take 10 minutes to split it.
It's not really splitting your video. It's simply recording your chosen part and then saving it separately.
#5. Google's Free Video Splitter - Google Slides
It's not a surprise that Google Slides has made it onto this list, since Google is such a big corporation and they have so many products that are easy to use and that can go anywhere with you. Google Slides are similar to PowerPoint and have many features and benefits that make them a popular choice for many people.
Main features of Google Slides are:
Charts
Chat
Comments
Master Slides
Simple to create slides
Templates
Time Editing
Video Presentations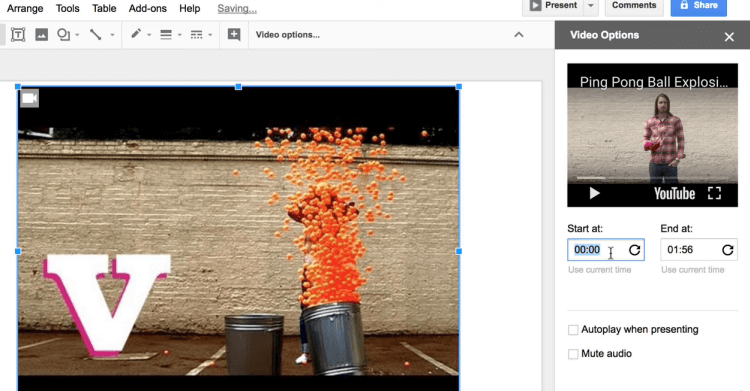 Review of Google Slides
Pros of Google Slides:
Real time cloud collaboration.
Live saving.
Version history.
Can be accessed just about anywhere with internet.

Cons of Google Slides:

Limited design and layout tools when compared with PowerPOint and Keynote.
Is less stable and requires reloading when there are many collaborators or is a huge presentation.
Does have any timeline and split videos by selecting starting and ending time.
All in all, if you are looking for an affordable option for presentations that you can access just about anywhere, Google Slides is the perfect choice.
Part 2. 6 Tips for Choosing A Video Splitter
There are a lot of video splitting programs out there. So how do you choose the one that is right for you? Below are some questions to ask yourself to help you find the right video splitter program that you can choose for your needs.
What do you want to do with it? The first thing you have to do is to decide what you want to do with it.
How much technical knowledge do you have? If you don't have a lot of technical knowledge, it's important to choose one that is easy to use.
What features are you looking for? If you don't need a lot of bells and whistles, you might be okay with a basic splitter.
What kind of OS do you have? Some video splitters only work with Windows or Mac.
How much support do you want or need? This goes back to the amount of knowledge you have. If you are new to video splitting, you will want to choose one that gives you more support.
How much are you willing to spend? If you are only doing this for fun and you don't need a lot of fancy features, a free program may be what you want or need.
Chances are that you have a better idea of what you want or need from your video splitting program. So, we've given you some of the ones that you might want to choose.
Conclusion
These are the top 5 video splitting programs that you can choose from. All of them have different features and they offer different benefits. When you are looking for a video splitter, think about what you plan to do with the program and what features you want it to have. Then you can find the one that is best for you and that will give you the things that you want from it.