What is quick start and how do you use it? Quick start is a new feature in iOS 11 /iOS 12that makes setting up your iPhone a lot easier. Basically, you can use your other iOS devices that are nearby to quickly set up your data and settings on a new device. This can save you a lot of time and effort, and your device can be set up within just a few minutes automatically. The device (iPad or iPhone) that you will use for setup just needs to already be running iOS 11/12/13/14/15.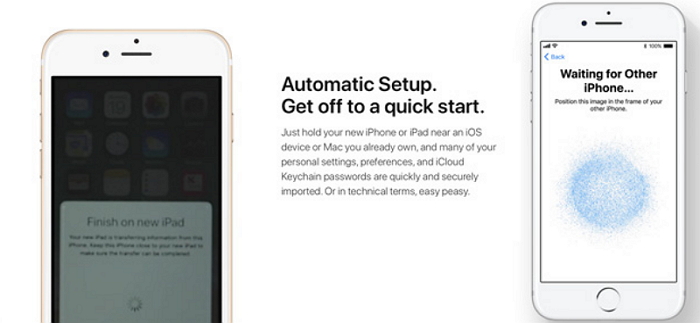 How to Set Up your iPhone 8 using Quick Start?
So, how do you set up your iPhone 8 using the Quick Start method? It's all very simple. Here is what you do:
(1) First, your devices need to be close together. Grab your current device and place it near your new device. It should automatically detect the presence of the new device and a screen should pop up asking if you want to set up the new device with the current device's settings.
(2) It will present you with your Apple ID. Make sure it's the right ID that you want to use, and then tap where it says Continue.
(3) An animation should come up on your new device. Take your older device and hover it over your new device. Hold the viewfinder over the animation, and you should soon see a message that says Finish on New [iPhone/iPad].
(4) Go to your new device and input your passcode when it asks. It will also walk you through setting up Touch ID.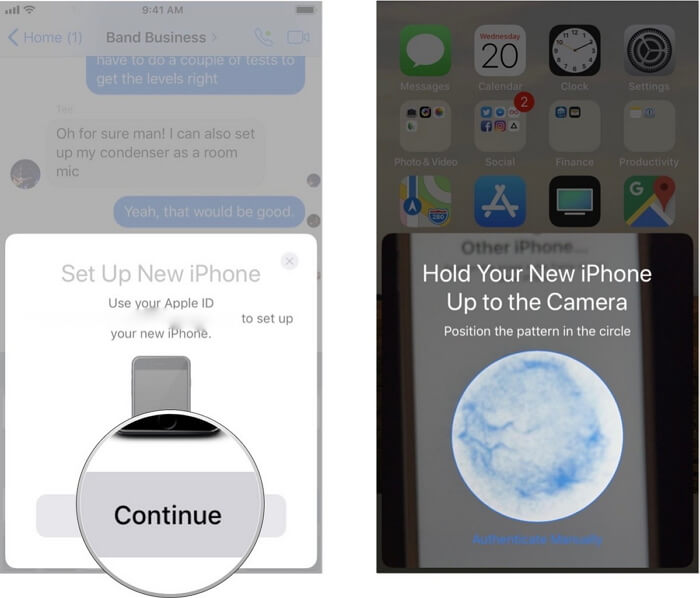 (5) When that's done, input your Apple ID and password on the new device if you are prompted.
(6) From there, you can restore all kinds of data from backup if you want. Just follow the directions on the screen.
(7) Keep the two devices close together until all of the data and settings are done transferring.
Other Ways to Transfer Data from An Old iPhone to iPhone 8
There are other ways to transfer data from your old iPhone as well that don't involve using Quick Start. You might want to try these methods if Quick Start is not available—for example, if your old device has a version of iOS that is older than iOS 15. You can refer to this link for more information on the various ways to transfer your data from an old device to a new iPhone 8.
Quick Start is a very convenient way to transfer your data from an older iOS device to a newer one in a matter of minutes. Just remember that you can only transfer data from a device that is already using iOS 15 to another iOS 15 device. If one of the devices is using an older version of iOS, you will have to use a different method. Luckily, there are many ways to transfer your data.