Recently, a frequently reported case is that the camera and flashlight buttons don't work on the lock screen after updating to iOS 13/14/15. While this is justifiably something to get you stressed, you should not drop a sweat now that you have come across this piece. In this article, we've introduced 7 ways to fix flashlight and camera icons are greyed out, inaccessible or missing on the lockscreen on iPhone XS/XS Max/XR/X. Now try these solutions below to get them working again.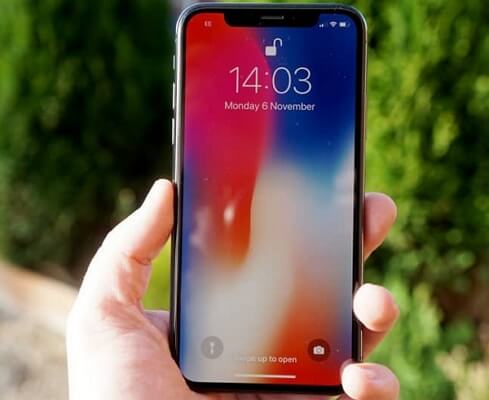 Part 1: Common Solutions to Fix Flashlight and Camera Buttons Doesn't Work on Lock Screen on iOS 13/14/15
Here are 6 easy and ordinary ways you can try to get the issue fixed, they include:
1. Restart your iPhone
Restarting your iPhone is the first solution to handling any phone issues. You just need to:
Press and hold the Side button until the power off slider appears. Then drag the slider to turn your device off. After your device powers off, press and hold the Side button again until you see the Apple logo.
2. Soft Reset iPhone
The soft reset is not very different from the restart option. You need to press and hold on the sleep or wake button, release them once the power off slide shows up on the screen, just move the power off slider from left to right. Then press and hold on the sleep or wake button once the phone shutdowns, after that releasing the sleep or wait for button once the Apple logo appears and waiting for the iPhone to complete restarting.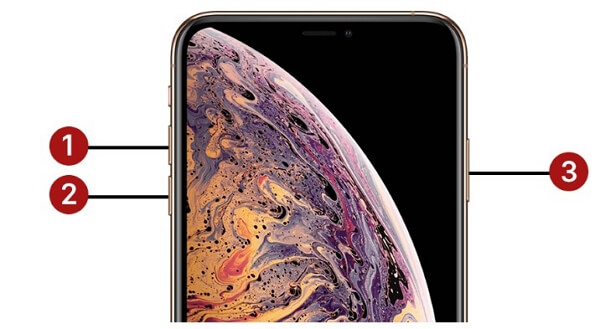 3. Reset Your iPhone's Settings
Sometimes some apps possibly change settings on your iPhone that will lead to your flashlight and camera app on the lockscreen to stop working or malfunction. You can eliminate this possibility is to reset your iPhone' s settings. It will not erase all your data, but it will surely delete the screensaver and wallpaper. Luckily these can easily become downloaded. The steps for this option are:
Go to phone settings>>Select General after scrolling down>>Select reset after scrolling down again>>Choose Reset all settings.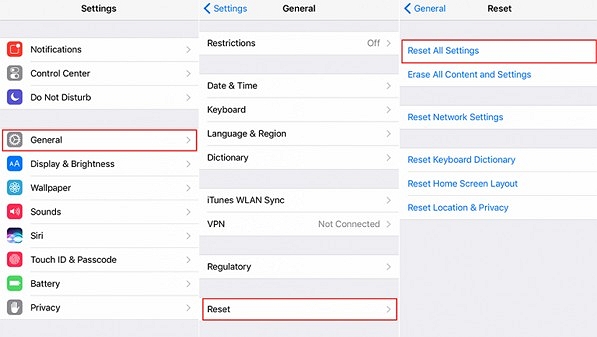 4. Restore your iPhone to the Previous Backup
Restoring your iPhone to previous backup is possible to fix this issue. To do so:
Step 1: Open iTunes after connecting your iPhone to a computer.
Step 2: At the top-left corner of the iTunes screen, select the iPhone icon and choose the Backup Now option.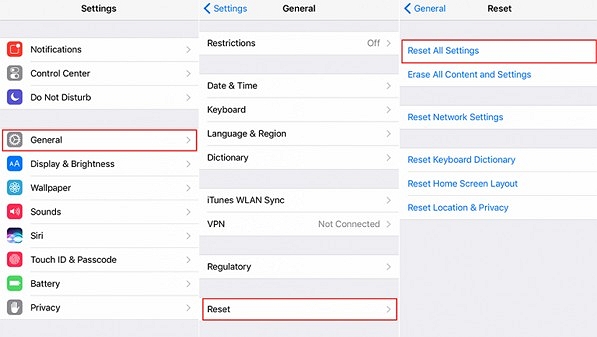 Step 3: Select Restore Backup and after choosing the preferred back up, just select Restore.
5. Restore the iPhone to Factory settings
The last option is using fixing the problem by restoring the iPhone to factory settings. However, this will erase all your data and applications. The procedure involves:
Step 1: Connecting your device to a computer or laptop and opening iTunes
Step 2: Choose the Phone icon that appears in the top-left corner of the iTunes screen
Step 3: For the purpose of creating a backup for your phone select Back Up Now.

Step 4: Choose Restore iPhone and select the restore option
The options set up as new iPhone and restore from this backup will appear. You should select the later and click on continue.
6. Downgrade iOS 13/14/15 to Previous Stable Version
If you are fed up with the unstable iOS 13/14/15, just uninstall it and go back to the stable iOS 12/13/14. Now follow the steps below to fix iOS 13/14/15 camera and flashlight on the lockscreen :
Step 1: Connect your iOS 13/14/15 device to computer with a USB cable,  then launch iTunes.
Step 2: Put the iPhone or iPad into recovery mode manually according to the device type. For the detailed steps of each device, just read: How to Enter Recovery Mode.
Step 3: Next, when you see the option to Restore or Update in iTunes, choose Restore. Then click Restore and Update to confirm. After all these, iTunes will download the latest stable iOS software.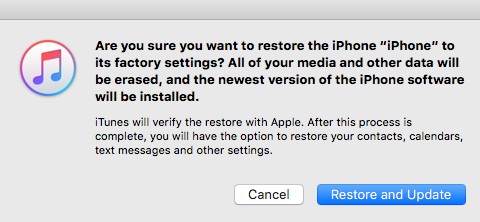 Once the restore process completed,  your device will downgrade from iOS 15/14/13 to iOS 14/13/12.
Part 2:  100% Working Way to Fix Flashlight and Camera Not Working on Lock Screen on iOS 13
All methods above don't work for you? Then the issue might be caused by the operating system errors. In such a situation, you need to repair the operating system to get the flashlight and camera app working again. The easiest and 100% working way to fix the iOS is using a professional iOS repair tool. There are many tools that can become used to solve the presented problem. However, more success rates have been reported by users who tried out the iMyFone Fixppo Tool.
It is designed to resolve all iOS/iPadOS issues with 100% success rate.
Instantly get all iOS issues resolved without any data loss or stuck.
Within a couple of simple clicks, you can get your iPhone and apps working normally at home on your own.
Don't know how to go about it? Well, there is nothing to sweat about since the procedure is as follows:
To get started, download, install and launch the iMyFone Fixppo software on your computer.
Step 1: From the options that appear, select the "Standard Mode" and connect your iPhone to the computer through using a USB cord.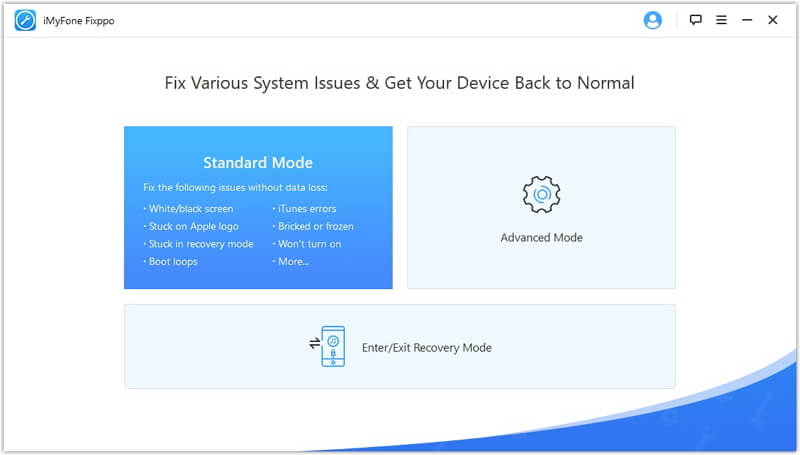 Step 2: The program then detects your iPhone and show all the available iOS firmware matched your iPhone. Fixppo will automatically match the firmware for your device or you can choose the appropriate one. Click on the "Download" button to get the matching firmware.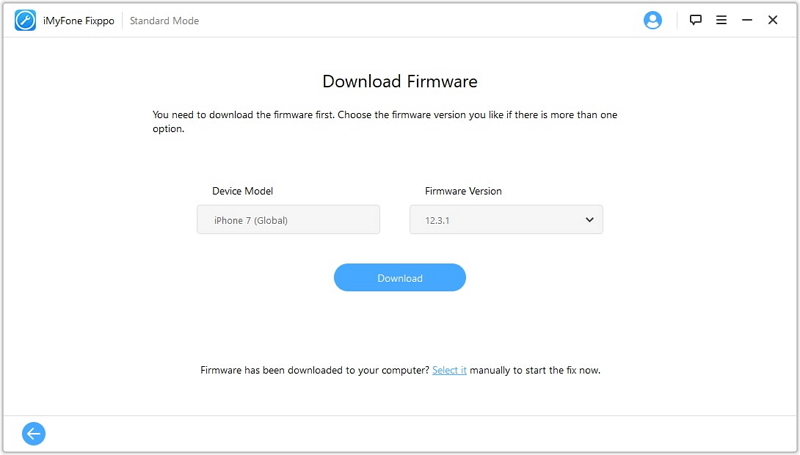 Step 3: After the process is done, click on the start to fix option. Clicking on this button will trigger the device to reboot and go into its normal function, which is what you want.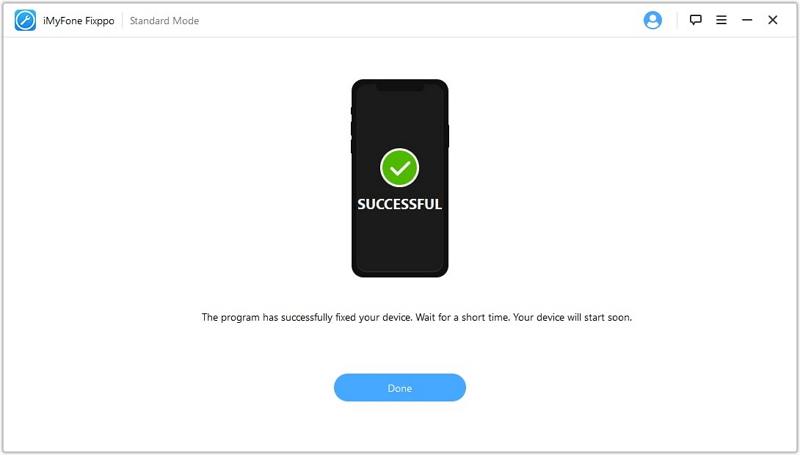 Conclusion
You should not cause an alarm if your "camera and flashlight don't open on the lock screen" issue when updating to iOS 13/14/15. All you have to perform is to apply either of these procedures or multiple in case the others do not solve the problem. Also, if none of the solutions fix your problem, it is recommended that you contact an Apple store for assistance.