Question
I just upgraded my iPhone to the latest iOS 16. Everything else is working just fine apart from the cameras. Every time I try to take pictures, the screen is always black. At first, I thought to restart the device, but the problem persisted. I really need to take some pictures. Is there a way I can fix this?
If you have recently updated your iPhone to the latest iOS 16, you might realize that your front or rear camera shows a black screen when you try to take pictures. If you are faced with this problem, then you are in the perfect place. This article will provide solutions for iPhone camera black screen problem after upgrading to iOS 16/15/14.
1. Try Some Basic Troubleshooting
Before thinking too much about your problem, it is good to first try out some simple solutions and see whether they will fix iPhone camera black screen. Here are some easy methods that you can use to solve your issue:
Follow these simple steps to restart your device: Press the Power button for a few seconds. When the Power Slider appears, slide it once to turn off your iPhone. Wait for a few seconds and then press the Power button to turn your device on again.
At times, the camera application might not have loaded properly, causing the black screen issue. The best way to go about this is to close the app forcefully by double tapping the Home button, and then swiping up the Camera interface to close the application. Then restart the Camera app again after a while.
Switch Your Camera to Front or Rear
At times, one of your iPhone's cameras might not function properly. Switching to the other camera (front or rear) can help resolve this problem.
2. Turn Off the Voiceover Feature
If you are pretty sure that you have preserved the camera setting you prefer but the phone still keeps resetting, closing and reopening the Camera app is sometimes enough to fix the problem.
You can do this by going to Settings > General > Accessibility. Then turn off the Voiceover feature. After doing this, wait for a few minutes and then launch the camera again.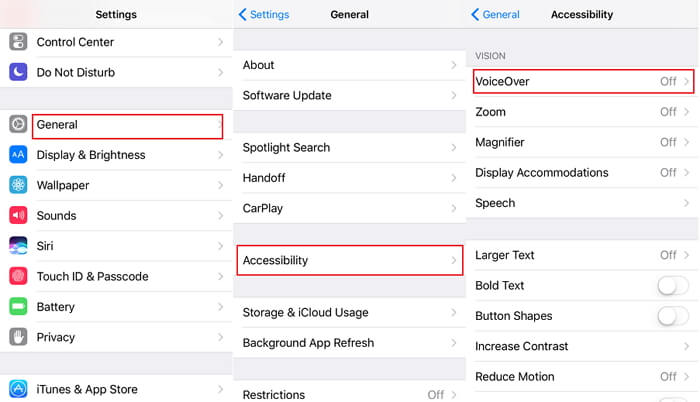 3. Reset All Settings on iPhone
Another way to go about fixing the issue is to reset all your device's settings. You can do this by going to Settings, General, Reset, and then click on Reset All Settings. Confirm your decision by entering your passcode.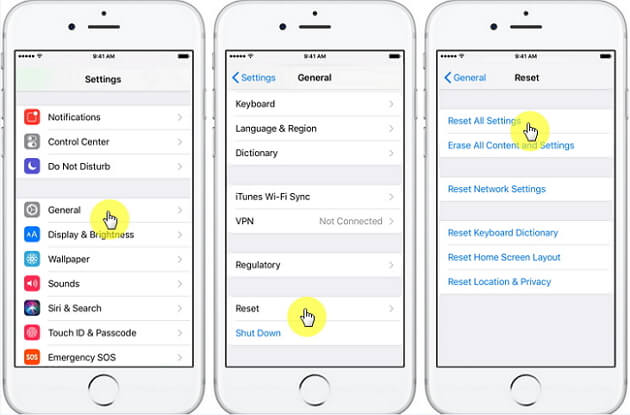 4. Update iPhone to Latest iOS Version
If the aforementioned methods did not work, there are high chances that your camera's black screen issue could be because of running on an outdated iOS version. The good thing is that this issue can be handled by updating your iPhone to the latest stable iOS.
You can do this by going to Settings > General, and then Software Update. While here, you can update your device to the latest iOS version by clicking on Install Now or Update and Download. For now, the latest version is iOS 16.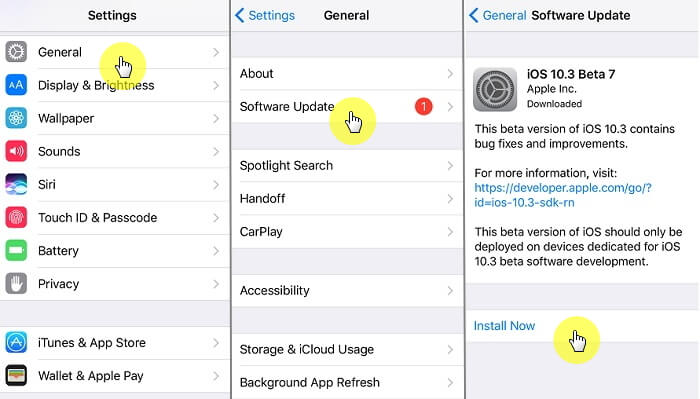 5. Fix iPhone Camera Issues via iMyFone Fixppo
If you tried all the stated methods and they did not work and your iPhone camera keeps black screen, it is time you tried a third-party application to help resolve the issue which might be caused by iOS problems. One such software is iMyFone Fixppo. The app is compatible with all iOS devices (including the iPhone Xs/Xr/Xs Max) and versions (including iOS 16) and is ideal for fixing most iOS-related problems.
Features of iMyFone Fixppo
Fixes your iOS devices with no data loss at all.
Comes in three modes – Standard Mode, One-click Repair Mode, and Advanced Mode, which solve issues with different severity.
Besides iPhone camera issues, it can fix iPhone stuck in Recovery Mode, iPhone won't charge or turn on after iOS 16/15/14/13 update and much more.
It is 100% secure, easy to use and offers one-to-one customer support.
With these incredible features, you can be sure that iMyFone will resolve your black screen problem.
Steps to Fix iPhone Camera Black Screen via iMyFone Fixppo
Follow the following simple steps to fix your iPhone camera black screen using iMyFone Fixppo – Standard Mode:
Step 1. Install the iOS repair tool on your computer and launch it. Connect your iPhone to the computer, and select Standard Mode as your preferred method.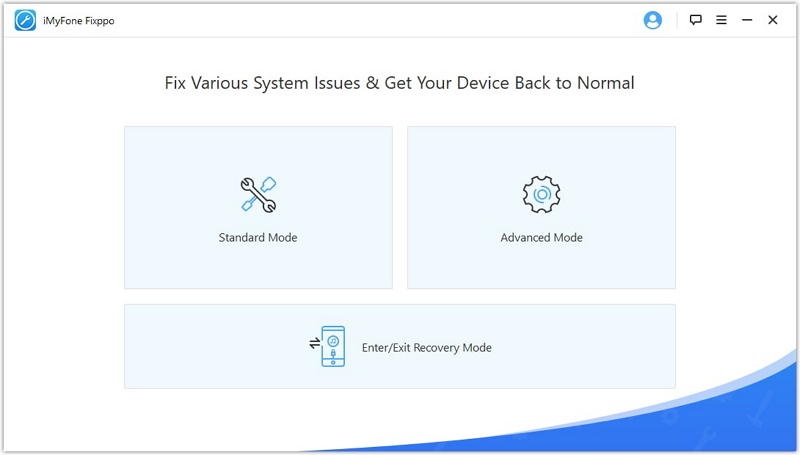 Step 2. You will be required to put your device into either Recovery Mode or DFU Mode. You can put it in Recovery Mode by pressing and holding the Sleep/Wake and Home buttons simultaneously until you see the Apple Logo, and then Connect to iTunes icon.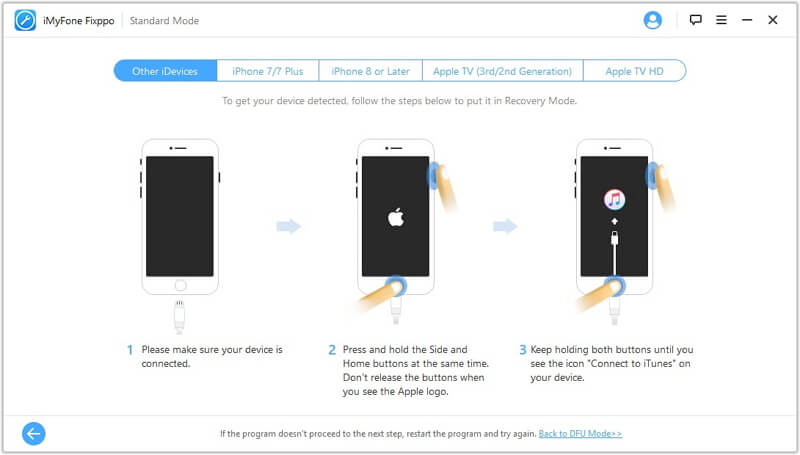 To put the device in Device Firmware Update Mode, press and hold the Sleep/Wake and Home buttons for about 10 seconds. Let the Sleep/Wake button go, but continue holding the Home button for 5 seconds.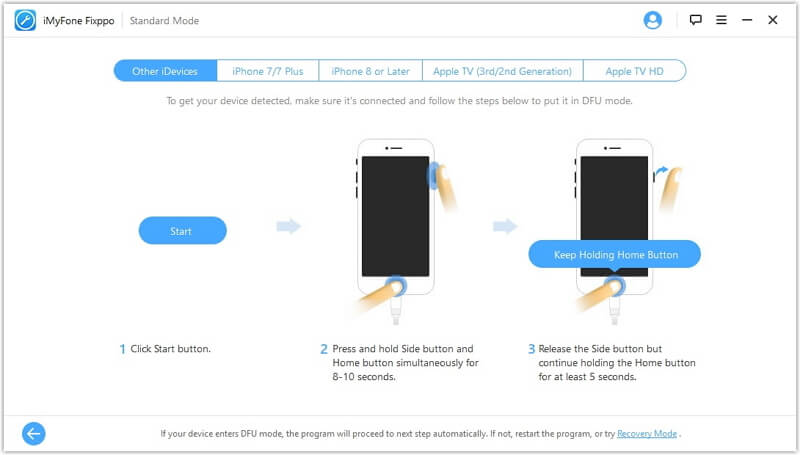 Step 3. On the next page that appears, click Download to install the latest firmware for the iOS version on your device.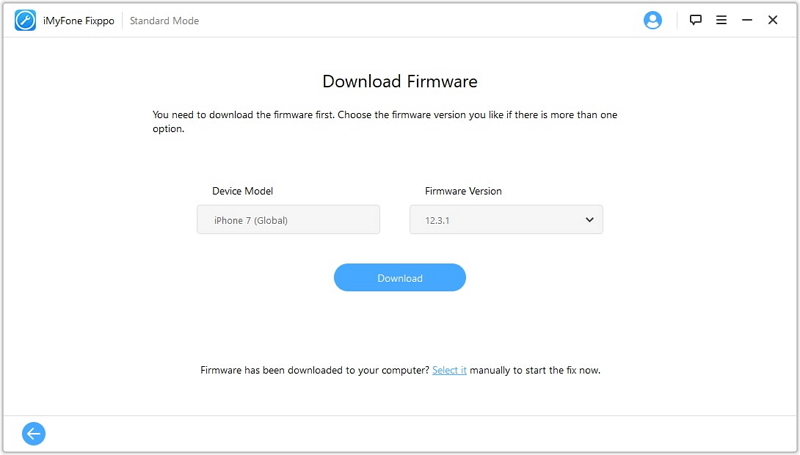 Step 4. Click on Start to Fix and the software will start fixing the issues automatically.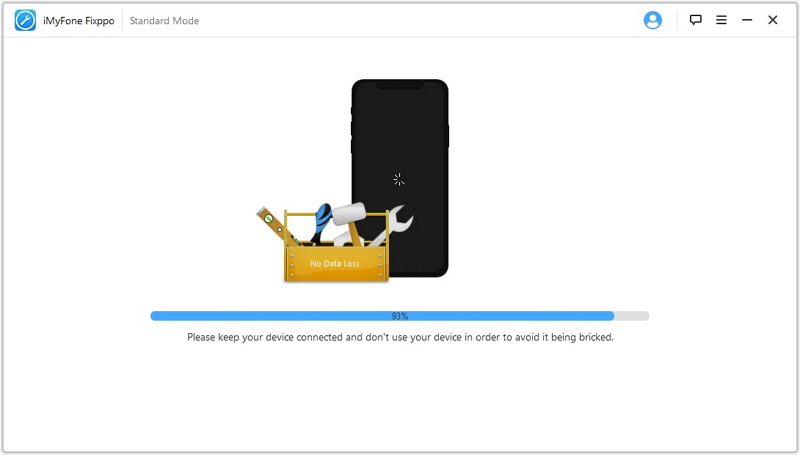 6. The Last Recommended Way – Factory Reset Your iPhone
You can try doing a Factory Reset on your iPhone to see whether it will help resolve the problem. Follow these steps to go about doing this:
The first thing you must do is to create a backup of all your important data. You can do this using iTunes, iCloud or iMyFone.
After creating your backup, you can go ahead to do the factor reset by going to Settings > General > Reset > Erase All Content and Settings.
Enter your passcode and confirm your decision to Erase iPhone. Confirm these actions by keying in your Apple ID Password.
Everything on your device will be wiped out and it will go on the first setup screen. At this point, your problem should be solved.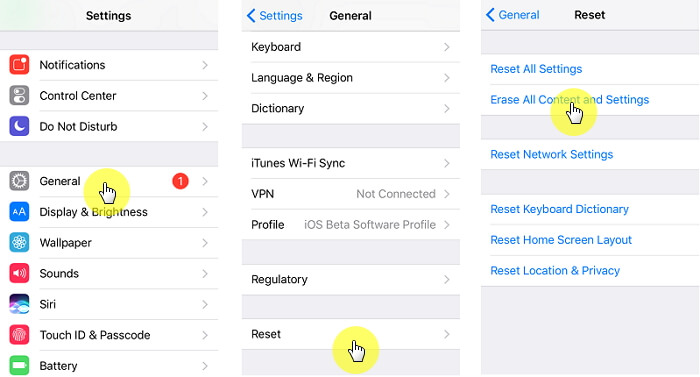 You may interest in: how to restore backup to iPhone after factory reset?
Experiencing black screen on your iPhone's cameras can be quite frustrating especially when you want to take some memorable pictures. In case you are faced with this problem, you should try out iMyFone Fixppo before trying out any drastic measures such as factory resetting your device. The program is highly reliable. It will help you fix the black screen issue without causing unwanted damage.