You can also read this guide in Français.
Messages may contain important content,such as commercial info, which you do not intend for others to see, hence your privacy might be at risk. If you are trying to hide text messages on iPhone to protect privacy, you are in right place.
1. How to Hide Messages on iPhone by Impressive App - iOS 15 Supported
The most recommended way to hide messages on iPhone is to use iMyFone Umate Pro or iMyFone Umate Pro for Mac. It is an all-in-one package for iOS delete messages. Not only is it an effective data eraser, but it can also perform other tasks very conveniently.
When it comes to erasing data, iMyFone removes your data completely making it 100% unrecoverable so that even the most advanced data retrieving tools are not able to access the information.
Below is a list of iMyFone's main features
One – Click Cleanup – this feature allows you to save up storage space with just a single click. You can delete unnecessary files to optimize your device's memory.
Erase All Data - As the name suggests, the feature lets you wipe clean your phone and restore it as if it were new.
Erase Private files – The option is very useful as it lets you selectively erase private files from your phone permanently.
Erase Deleted files – Files that you normally delete can be retrieved through various techniques. However, using this feature lets you remove deleted files and hence make them 100% unrecoverable.
Compress and Export photos/Delete Large files – You can easily use iMyFone Pro to compress photos or export them to your PC in a jiffy. You can also delete large files that can take a lot of time to get deleted if done manually.
Steps to Hide Text Messages on iPhone
Step 1:Launch iMyFone Umate Pro and connect your phone to the computer.
Step 2:Select the "Erase Private Files" option and click "Scan". iMyFone will start scanning your device.
Step 3:Once scanned, it will display all the private files on your computer. You can select the ones you want to remove.
Step 4:Click "Erase Now"
Step 5:Type in "delete" to confirm and click "Erase"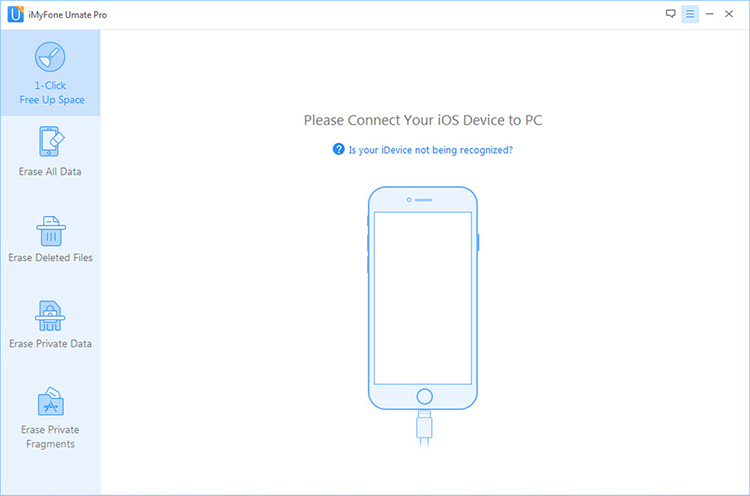 Of course you can try third-party app to hide iPhone message, but they are quite ineffective since they can take up a lot of space. Furthermore, sophisticated techniques can reveal the hidden data as it is not completely removed from the memory of your phone.
2. How to Hide Text Message Preview on iPhone
Preview on your iPhone's home screen is indeed quite convenient. Nevertheless, sometimes this can become a nuisance if you constantly have messages popping up.
As such, below are the steps that you can follow to hide your messages preview.
Go to Settings app and tap on Notifications.
Tap on Messages.
Switch off "Show Preview".
This applies to all versions of iOS.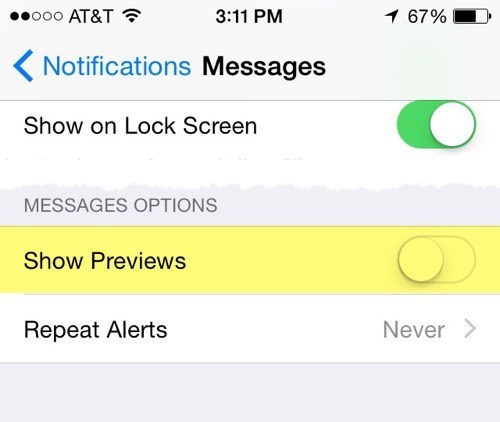 Tips
How to unhide messages on iPhone?
Look in your messages. Find the message thread. Swipe left. If you have hidden the notifications you will have the option to "Show Alerts" instead of hide.
3. Top 5 Best Apps to Hide Text Messages on iPhone from Girlfriend
You can use a variety of apps to hide your text messages and hence protect your privacy. Below are the top 5 apps that you can use to do so.
1

Block SMS and Call
Block SMS and Call is a simple hide messages app that can hide your text messages effectively. In addition, not only can you conceal text messages, but also block unnecessary calls and texts altogether.
Primarily, the app is equipped with 6 different modes that you can adopt to conceal or block any sort of call or message.
Its primary mode is called the "Phone in other hand" mode. When this is disabled, only the calls that you have blacklisted will be concealed.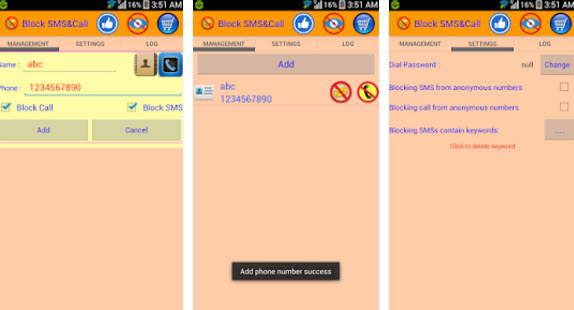 The app has a lot of flexibility as it allows you to create your own private lists and block contacts accordingly.
The app will require different types of accesses to be granted in order for the app to work.
2

Shady Contacts
Shady Contacts is a useful text hiding app that can easily let you hide your calls and messages. All you need to do is install the app and set up a pattern to lock and unlock the phone. You can then hide messages through its incredibly user-friendly interface.
The best part of using the app is that it locks automatically if you do not use it for a while. Also, you can retrieve call logs and messages to and from stock apps.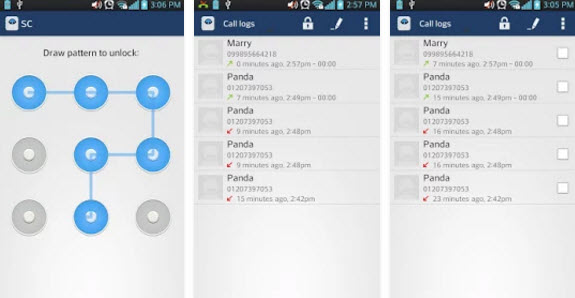 One downside of the app is that it has a very complicated interface. Also, it can be quite inefficient when it comes to hiding large amounts of data.
3

Hide SMS
As simple as the name, Hide SMS is an incredibly easy to use app that safely hides your messages behind a PIN of your choice.
xIt is a completely free app and has an unlimited storage space.
The app may not be compatible with some android devices.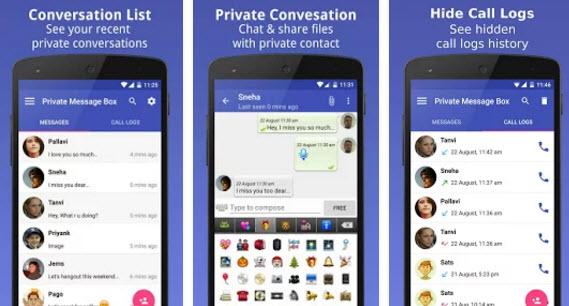 4

Vault
A small yet powerful app, Vault has all the necessary features that you need to hide your calls, messages and private contacts effectively.
Your calls and messages are protected in a Vault that is password protected. You may also lock any number of apps if you are a premium user.
The good thing about the app is that it will take a snapshot of a person who is trying to access your private folders.
Since the app uses heavy encryption to hide data, it may cause the device to slow down.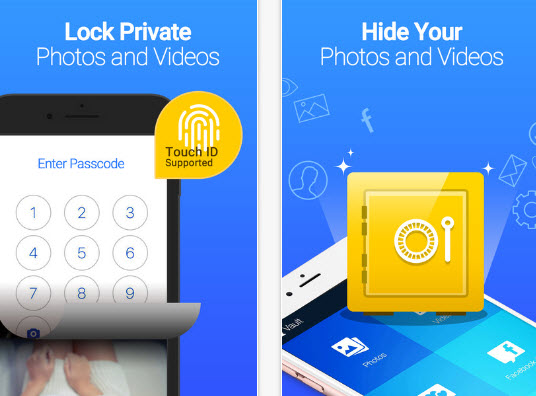 5

Private Message Box
Private Message Box lets you hide your messages, calls and contacts behind a PIN.
It automatically hides incoming and outgoing messages as well.
Private Message Box allows you to send and receive unlimited number of texts to those who are using the app.
The app has a few bugs that can bring down the app's performance.